Late extra(10/2000): The compiler of The (new) Cadillac Database© admits to being less familiar with Cadillac models from 1970 and later. Many of you have asked for more information and photos regarding these later models. I am pleased to inform you that there are other sites on the Web devoted also to Cadillac history and particularly to what I call "modern" Cadillacs, i.e. those built after 1970. So, for additional, pertinent information about Cadillacs from 1970 and later, please visit these excellent, informative sites:

Professional cars now have a page of their own; click here to view the Professional cars section for 1987-up.


1987

[Unknown, USA] Cadillac station wagon

[Unknown, USA] Cadillac convertible (below)]

[Unknown, USA] Cadillac convertible (below)]

[Unknown, USA] Custom Cadillac-powered roadster. Does anyone recognize it?

[Unknown, USA] Custom wagon

1988

Cadillac (USA) Custom Voyage concept car [article in AW 15.2.88, cover and pp.15-19]. Sometimes seen spelled "Voyáge" or "Voyagé" [GM loves to give an unfortunate pseudo-French intonation to some of its creations !]. Designed by Jerry Brockstein and inspired by the Seville sedan, this prototype was first shown at the GMT&T exhibition, in New York, in January,1988; styled as a 4-dr., 4p. sedan and powered by a V8 motor pf 4467cm³ giving 279 HP, it was mounted on a 304cm wheel base (540cm overall length) and weighed 1725kg (pictures in CLCA 30th anniversary issue, pp.65-67; also in Cadillac news sheet, Vol. 2, issue 1, top, side and interior views).

Cadillac (USA) Alleged stretched DeVille offered for sale on EBay in October, 2005. CML member, David link, wrote: this '88 Cadillac Fleetwood Brougham is the "60 Special" which came with 6" extra leg room inside; I believe on the front drive DeVille's there was a Fleetwood or Sixty Special option with a longer wheelbase/overall length that was put in the rear seat legroom.

[ image ]

1989

Cadillac (USA) Custom Solitaire V12 concept car

Left: Cadillac Solitaire (1989); right: Cadillac Voyage (1988)
[Photos: © GM Heritage Center]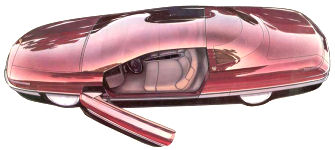 Car Craft (USA) Coupe Deville convertible modification by the Lima, Ohio, company (now named Accubuilt). The latter build professional cars. The car illustrated has a conversion sticker on the inside of the driver's door. Heavy modifications were made to the body, suspension, and interior.


Photos and information: courtesy of the owner, Tim Gitzinger


Same car ... seen on Internet?

Giugiaro (Italy) is said to have designed the interior of this car (info from Rik Gruwez, Belgium):


[ Photos: Internet, 12/2001 ]
Picasso Coach Builders Corp. custom creations for Cadillac, BMW and Lincoln.

Car Craft (Ohio, USA) Cadillac Coupe Deville convertible. The company is now Accubuilt. They build professional cars. This car has a conversion sticker on the inside of the driver's door. Heavy modifications have been made to the body, suspension, and interior.

[Unknown, USA] [Internet 7/2002] 1989 El Dorado "San Remo"in Deep Garnet Red with matching leather interior and custom ½ vinyl roof. The San Remo is a limited edition trim option which includes a stainless steel roof laminate (similar to the previous series Biarritz) and a ½ vinyl roof styled to match the roof treatment of the Fleetwood Brougham Coupe. a trunk mounted luggage rack with Mahogany stained Teak wood trim.The window sticker (included) for this car when new is over $32,000!
1990

Cadillac (USA) Custom "Aurora" concept car

Unidentified (USA) Custom stretched 6-door limousine

Custom Coach, Lima, OH (USA) Father and son team, Dick and Tony Baker sent me in 2007 a CD-ROM of photos of many of the conversions he and his late father, Dick Baker, had done on the Cadillac chassis. This custom, front-wheel-drive, stretched limousine was commissioned by a businessman in Tennessee to shuttle fans to and from the home and grave site of late, great country singer, Dottie West.


[ Photos: © 1990 and courtesy Tony Baker ]

Sunrise Auto Corp [Ross Vick, custom builder, Seattle, WA - USA] (entry updated and corrected, Jan. 2008) Cadillac El Grande Royale [being an awful mixture of Spanish and French !] built in 1990 on a stretched 1980 Coupe de Ville chassis. It is one of only 25 units built, this one being the only coupe (2-door). The complementary and corrected information below was supplied kindly by the car's owner, Glenn R. McLeod of London, England. A former mechanic specializing in Cadillacs, Glen is technical advisor to the Cadillac Owners Club of Great Britain for Cadillacs from '68 and later. The El Grande below is from his personal collection. When Glenn bought the car he had no idea how to value it for insurance purposes, so he contacted the coachbuilder for more information. He learned that 25 of these custom jobs were built; there were 21 4-door models, 3 convertibles and a single 2-door version (this one).They were made basically for people in the Hollywood film industry, film stars, producers, directors etc. The 2-door was made for the owner of the company, himself, but such was the interest in these cars in the industry, that he was eventually persuaded to sell it to Sammy Davis Jr. Sunrise Auto Corp deliberately limited this series to 25 to maintain exclusivity. Glenn's insurance company contacted the coachbuilder for a technical report on the method of construction, which resulted in them valuing the car at $115,000. He has owned it for 2 1/2 years now [2008], and the mileage is still only 67K. He has only ever come across two others in all these years; one was a convertible that had been acquired by a member of the Saudi Arabian royal family; it was temporarily based in London before being sent to his villa in Italy; the other was a 4-door model which came up in one of the well-known American auctions about 3 or 4 years ago [2005-05]; that one sold for $73,000; it had a much higher mileage and obviously had a lot more wear and tear. The car is 21.5 feet long!


[ Photos: Internet, 2004 ]

Vick, Ross [Seattle, WA - USA] (see Sunrise Auto Corp, above)

[Unknown, USA] I photographed this "custom" full-sized sedan with phaeton roof at a mall in Winston Salem, in 1998.


[ Photo: © 1998, Yann Saunders ]

[Unknown, USA] Mildly customized Fleetwood Brougham

[Unknown, USA] This one was offered for sale on eBay in March 2007. The grille cap carries the letters "CC" (probably "Custom Classics").

1990s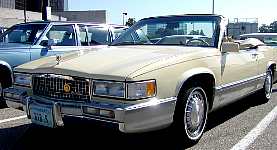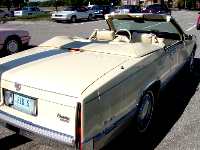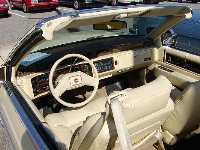 This 90s DeVille convertible creation was photographed in Detroit
in August 2002, during the CLC Grand National meet
[ Photos: © 2002, J. Scott Harris ]
1991

Coach Builders, Ltd (High Springs, FL, USA) Custom Cadillac Brougham convertible (I saw one of these outside a restaurant in my home town of Chapin, S. Carolina, in 2002)


[ Photos from period promotional sheet ]

E&G Classics, Inc. (Maryland, USA)


Custom roofs, grilles and Continental kits

1992

GM/Cadillac (USA) Eldorado design proposals; photos, ELD, p.143

[Unknown, USA] Faux Eldorado "convertible". This car was offered for sale on e-Bay in 2003; all door handles and locks have been shaved and are remote; it has a custom grille and rear window treatment, as well as a power-operated "moon roof" ...built into the faux convertible top [IMHO, the epitome of excess - who ever saw a sun (or moon) roof in a convertible top?]


[ Photos: Internet, 2/2003 ]

[Unknown, USA] Player's Edition custom Fleetwood Brougham.

1993

Cadillac (USA) Pace car for Indianapolis 500 track race

Cadillac (USA) special Luxury Sedan for Europe (LSE), show car

(Catera Concept Car [LSE]), "Press Kit": Portfolio, 9x12. Contains seven color slides, seven press photos and twenty-three pages of press release information. Dated Jan. 4, 1994.


Designer's sketches of the proposed European-sized Cadillac


The finished product: a luxury Opel Astra ...at three times the price


The front cockpit and instrument board

ASC, Inc (USA) special Seville coupe conversion [from sedan], Southgate, Ill. [info from The Detroit News - Autos, 27.1.93].

Steinmetz (Germany): An article on the Steinmetz Catera - along with the same picture as below - was published in the June '99 issue of Road and Track, on page 60.


Steinmetz (Germany) is responsible for tuning this 1993 Catera
[the picture was identified by a reader in Moscow, Russia]

1994

Fleetwood (?) (USA) LSV concept vehicle

[Unknown, USA] Cadillac STS pickup conversion.

1995

Coach Builders (USA) Cadillac Eldorado Convertible The model illustrated has White Diamond Pearl with parchment leather interior. Power is the 4.6 liter Northstar V-8 with a four speed automatic with overdrive transmission.

<<<<< 95eldcv >>>>>



1993-1996
(Unknown, USA???]

Unidentified convertible conversion on 1995 (?) Cadillac De Ville, chassis

1996


Stretched limo by Krystal Coach

1997

Fleetwood (USA) special Seville Executive sedan for the busy business man.


[ Factory photos courtesy GM / Cadillac ]

Geiger (Munich, Germany) A member of the CML [Cadillac Mailing List] asked in September 1997 if anyone knew about a coach builder doing new Eldorado convertibles? He had seen one and said it looked great. Ruben Baeten of the Netherlands replied that he knew of a company named Geiger in Munich, Germany, who built an all-new 1997 Eldorado Touring Convertible with a base price of DM 115,774


[ Could this be the car, or is this a more recent custom convertible? ]

Unknown (probably USA) A pickup conversion nof the '97 Eldorado [or id it the Seville?].


[ Photos: Forum of he Cadillac Club de France (ACCF), 2008]

1998

Cadillac (USA) Not precisely a "dream car", but interesting on account of its RHD configuration, the first RHD Cadillac since the thirties, designed to make inroads into the United Kingdom and other countries where cars drive on the right.

International Armor and Limousine, IL, USA This armored car was advertised in the Robb Report (not sure of the year but it looks like an early 90s model)

[Unknown, USA] This mildly customized Cadillac needs to be identified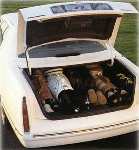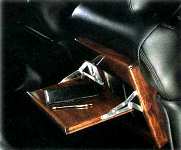 c
1998-1999

Cadillac (USA) Not sure of the build year for this customized Catera PPG sedan

Coach Builders Limited (USA) Not sure of year, but saw one outside a restaurant in my home town of Chapin, SC, in August 2002. Nice, modest custom conversion. Subsequently saw this piece by Bradley Nevin in Car and Driver (September, 1998): What do a Ferrari Testarossa, a BMW 850i, a Mercedes-Benz 560 SEC, a Dodge Stealth, a Jaguar XJS, a Buick Riviera, a Cadillac Eldorado, and a Lincoln Mark V111 all have in common? Each has been artfully decapitated by Coach Builders Limited, a company that turns hardtops into convertibles at its facility in High Springs, Florida. Coach Builders currently converts just one model, the Cadillac Eldorado you see here. Since 1992, the after-market company has built a convertible Eldorado that uses a soft boot, one of those snap-down fabric covers that hide both the top and its unsightly support structure. Now there's a hard-boot model that conceals the top with a metal panel between the trunk and the rear seat. With the touch of a dash-mounted button, the panel rises and the top moves downward into the well, and the panel closes over it -- a procedure similar to a BMW 328is's. Covering the top mechanism completely requires that you install two little panels to cover the openings behind the rear side windows. This Eldorado is Coach Builders' first-ever hard-boot design. Lowering the top takes about 28 seconds after two latches are released and the top button is pressed. But there are two steps that the owner must follow with the hard boot. First, make sure the trunk is closed, lest the boot collide with the trunk lid. (Coach Builders disconnects the trunk release button on the dash to prevent accidents.) Second, when lowering the roof, the top's latches must be closed after they clear the windshield or they may damage the fabric when the top Is down. To find out how a chop job would affect the Eldorado's driving manners, we borrowed a model from Don Gooley Cadillac near Detroit. On the freeway, we noticed extra wind noise, much of it coming from the T-joint where the front and rear side glass meet the folding top. Our sound meter logged 71 dBA while cruising at 70 mph2 dBA louder than an Eldorado Touring Coupe. Acceleration from 0 to 60 mph is an eye blink slower in the convertible -- 6.9 versus 6.8 for the stock Eldo Touring Coupe. Braking from 70 mph to a standstill is identical at 196 feet. The lack of significant body flex impressed us. As we drove over railroad tracks, the structure felt stiff and secure. Twisting and creaking of the body were never concerns. What we did notice, however, was some vibration and shudder in the steering wheel over bumps and potholes. On that subject, Coach Builders' sales manager, Larry Moran, says: "No, it isn't the same as the coupe, but we think we have it soundly reinforced. The car is very strong." Coach Builders adds structural reinforcements under the top well, behind the rear seat, and between the rear wheel wells and door jambs, and welds extensive bracing to the undercarriage. The finished convertible's weight is 4020 pounds, 20 pounds less than the last Eldo we tested. With the top down, trunk space shrinks by only 10 to 15 percent, according to Moran, which leaves enough room to carry two sets of golf clubs. Rear-seat room, at 45 cubic feet, is exactly the same as in the Eldorado Touring Coupe. (In Coach Builders' soft-boot Eldorado, rear-seat room is slightly narrower.) Only the $360,000-plus Bentley Azure convertible, with 40 cubic feet of rear-seat room, comes close to matching the Eldo's. Coach Builders converts Eldorados for a dozen dealers across the country. If you own an Eldorado and live near one of these dealers, Coach Builders will refer you to that dealer to handle the conversion. "Wherever we have a stocking dealer, we won't sell to a customer," says Moran. If you live outside the dealer's area, you must contact Coach Builders directly. Coach Builders requires five weeks to convert an Eldorado into a convertible. In February, however, the wait was 13 weeks because of high demand. Coach Builders has so far made only about 50 hard-boot Eldos and 600 to 700 soft-boot models so if you desire the most uncommon car on the block, this hard-boot Eldo may be your ticket.

[ no image; did not have a camera with me at the time ]

Superior (USA) Based on the DeVille platform, the Fleetwood Limited is being converted by Superior Coaches of Lima, Ohio, and sold through authorized Cadillac dealers. Essentially a six-inch stretch edition of the DeVille, the Fleetwood Limited sits on a unique 119.8-inch wheelbase, six inches longer than the standard one. The trunk is also lengthened by six inches, so the overall length of the Fleetwood Limited is a foot more than that of the standard DeVille. As a result, rear seat leg room is increased by six inches to 49.3 inches, while trunk capacity rises from 20 cubic feet to 23.5. In addition to stretching the existing Cadillac platform, the Fleetwood Limited benefits from a number of strengthened components. Included are heavy-duty suspension and steering systems, special heavy-duty ABS, and heavy-duty cast aluminum wheels of a design unique to the Fleetwood Limited. The new model, which is intended as a replacement for the rear-drive Fleetwood that was discontinued after the 1996 model year, was designed by Earle Moloney, a long-time figure in the custom conversion industry. Cadillac approached Superior, however, for actual manufacturing.

A total production run of 340 is planned for the 1998 model year. Production for 1999 is anticipated at about 800 units and sources at Superior say that molds and dies are already being planned to continue the model into Cadillac's next major body change in the model year 2000. The 1998 Fleetwood Limited carries a base price of $49,995. The full Cadillac warranty applies, while Superior warrants the body components it is manufacturing.

[Unknown, USA] One more pickup conversion on the Cadillac chassis


[ Photo: ACCF Forum ]

1999

Cadillac (USA) Noticeable at the Geneva Motor Show, in March, following its debut in New York in January, was the Evoq [pronounced "evoke"], a concept vehicle designed for the new millenium. The Press Kit is similar to the one for the Le Mans racing prototype (see below), with a silver-colored card cover. Nine colored photos are included as is also a CD-ROM [which my PC, unfortunately, seems unable to read].


Artist's impression of the new car and its interior layout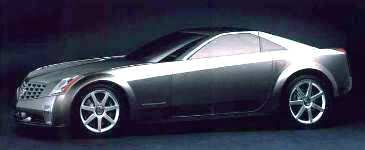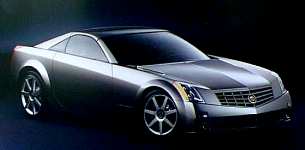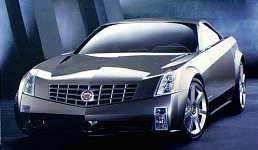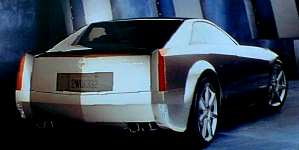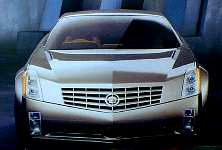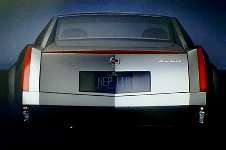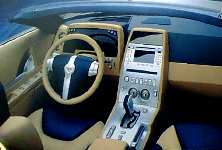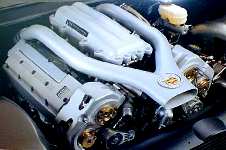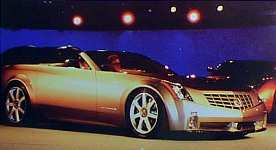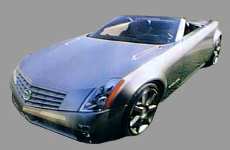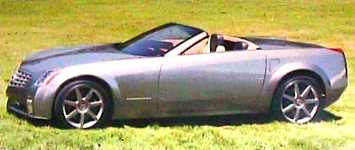 Will this be the car of the new millennium, to replace the bespoke Eldorado
model of 1953, or the fabled Eldorado Brougham models of 1957 and 1958?
Cadillac (USA) The big surprise at the 1999 Geneva Motor Show, in March was Cadillac's announcement that it would return to Le Mans in the new millennium to celebrate the golden anniversary of their first (and only) participation in the 1950 edition of the renowned 24-hour race. A press kit was distributed at the show. In the card folder were five large photos of the racing LMP [Le Mans Prototype] powered by the Northstar engine and built by Ridley & Scott (R&S). Also enclosed were some black and white photos of the 1950 Series 61 coupe that raced previously at Le Mans.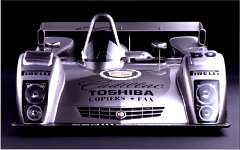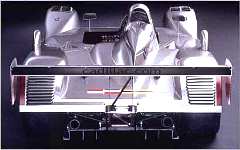 (Far left and far right) one of the original entrants in the 1950 edition of the Le Mans race was this
stock 1950 Cadillac Series 61 coupe; (right) Cadillac made a comeback in 2000
to celebrate the 50th anniversary of its historic participation in the renowned road race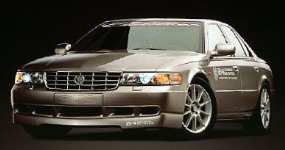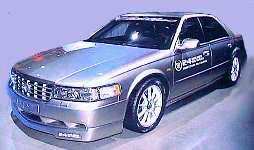 This mildly customized Cadillac DeVille paced the 2000 edition of Le Mans
LATE EXTRA: France, June 18, 2000 Three out of four Cadillac Northstar LMPs finished in 20th, 22nd and 23rd position overall with Bernard/Collard/Montagny leading home Wallace/Lagorce/Leitzinger and Taylor/Van de Poele/Angelelli. A fourth place overall looked increasingly likely for the Motorola-DAMS car until two hours before the end of the race a suspension failure put paid to the team's efforts to score Cadillac's highest ever finishing position.

Said Cadillac Northstar LMP Program Manager Jeff Kettman: "Throughout the white-hot crucible that is Le Mans, the difficulties Cadillac faced were nothing short of colossal. Still, the Argentinium silver car, along with their European counterparts, fought along bravely as their Cadillac Northstar engines raced along with near flawless perfection. As certain ancillary aspects of the car suffered failure (clutch and gearbox), the Northstar engine performed up to Cadillac's ultra-high standards. Sure, everyone here is disappointed that we didn't finish higher, but we are extremely pleased with the durability of this engine. And this crew put in a Herculean effort to get us to the finish. Now that we know some of the weak spots with these cars, we will certainly work to rectify it. We know where and when our competitors were faster. We come away from this track confident that we will do better next year. So, really, there's a lot of great news for Cadillac in our first year at Le Mans. "

Said Motorola-DAMS Cadillac team boss, Jean-Paul Driot: " We are just glad to have been a part of Le Mans and this great experience that goes with it. Our team worked hard and I am proud of the valiant effort that we made to include the drivers who started out in 9th position, continuing to climb to our highest one at 4th."

Superior Coach Corporation (USA) this mildly customized Cadillac originally listed as "Unknown" was identified by Database user Greg Morgan [gregoryamorgan@hotmail.com] who writes: I really enjoyed everything! The photos in the 1999 [Dream Cars] section captioned as mildly customized are the fabulous 1999 Fleetwood Limited models made by Superior Coach Corporation (the hearse people).

Mosler (USA ???) Twin-engine Eldorado. This car was kindly identified by Chris Hardegger, a Swiss friend who is also a Cadillac toy car collector. Called the Twin Star, this unusual creation is manufactured by a company named Mosler. The car is equipped with two Northstar engines, the standard one in front and a second one in the trunk. It has a top speed of 200 mph. For more details, check out the manufacturer's Web Page: www.moslerauto.com. Chris kindly supplied also a couple more photos for the Database.


[Photo: from Chris Hardegger, April 2001 (Internet?)]

2000

Cadillac (USA) Much admired at the Geneva Motor Show, in March this year was the prototype Cadillac Imaj, the Cadillac of the new millennium. Its chiseled look is reminiscent of last year's Evoq show car.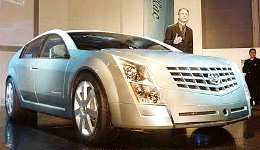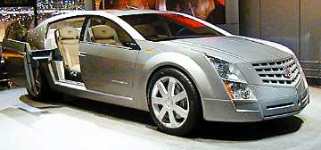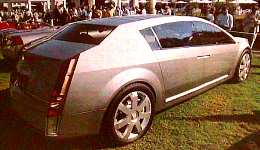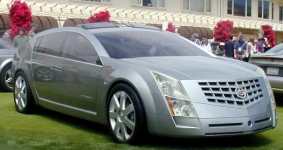 Left: this is how the Imaj ["image" with a French accent!] looked at the Geneva Motor Show
Right: in a "natural" setting at Paris' Bagatelle car show in the Bois de Boulogne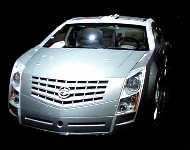 2001

Here is Cadillac's latest concept car [2001], the Vizón (with tonic accent on the last syllable, as in Spanish). It was on display at the New York auto show in January 2001. The angular styling is very reminiscent of the Cadillac Evoq and Imaj concept vehicles, above, that were much admired at Auto Shows in 1999.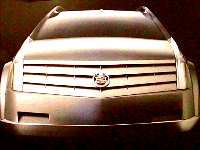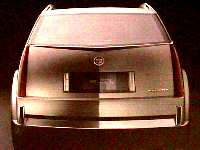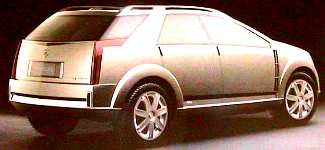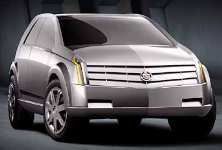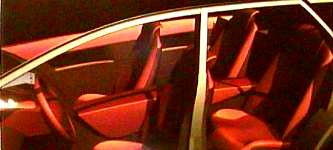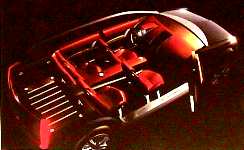 [Unknown, USA] Cadillac Eldorodo [not a spelling mistake]


Cadillac of the future: the Eldorodo [not "Eldorado"]

2002 [...Cadillac's 100th Anniversary Year]

Cadillac Design Studio, GM/Cadillac, USA: Here is Cadillac's newest concept vehicle, the Cien, possibly prefiguring the 100th Anniversary models of 2002-03 (the linguists among you know that cien is Spanish for one hundred). This is a mid-engine 2-seater car with a carbon-fiber body. The power plant is the aluminum Northstar 7.5 liter, V12 engine that delivers 750HP. Designed by England's Simon Cox, GM Executive Director of of the Advanced Design Studio in England, the car is said to be capable of speeds in excess of 200 mph.


[ Lower row photos: © 2002, Rusty Thomson - courtesy CLC Self Starter ]

In this writer's opinion a 2-seater sports car is not exactly the kind of vehicle on which
America's premier luxury marque built its well-earned reputation for high quality cars,
and yet, when you think about it, Cadillac's fist car also was this nippy little 2-seater [below]



Cadillac Cien (Spanish for "One Hundred"),
marking the 100th anniversary of the Cadillac company


The first Cadillac, October 1902

2003

A NEW V-16 FOR THE NEW MILLENNIUM?

Cadillac enthusiast, Jerry McGovern, suggested in April of 2009, that I include in the Database the "stupendous" V-16 concept car that was unveiled in Detroit, in January 2003, by GM-Cadillac.

Although I doubt this "prototype" will ever be put in to production, still I believe it has earned a place in this section of the Database AS WELL as in the section devoted to "Dream cars", "Prototypes" and "Concept Vehicles". Here is what the Press Release had to say about it:

January 6, 2003

Cadillac unveils 1000 horsepower 'Sixteen' super luxury sedan

Detroit, Michigan - Cadillac unveiled its answer to the super luxury Maybach automobile in Detroit on Sunday evening.

"The Sixteen is a modern interpretation of everything that made Cadillac the standard of the world and can again," said Robert A. Lutz, GM vice chairman for product development and chairman of GM North America. "It's a reminder of a glorious past as well as a progressive statement.

Aimed at "today's generation of exceedingly well-heeled customers of discerning taste," the rear-wheel-drive Sixteen has a 32-valve V16 concept engine that displaces 13.6 litres and produces 1000 horsepower and 1000 lbs.-ft. of torque. The engine is mated to a four-speed electronically controlled automatic transmission. The engine features fuel-saving Displacement on Demand technology, debuting in 2004 on some 2005 GM models, which shuts down half of the cylinders during most driving conditions and automatically and seamlessly reactivates them for more demanding conditions, such as brisk acceleration or load hauling cylinders when the driver needs the engine's full power.

The extensive use of aluminum components and structure provide substantial weight advantages. The aluminum-steel chassis employs high-arm SLA suspension up front and independent semi-trailing arm suspension in the rear. Four-wheel steering enhances the Cadillac Sixteen's maneuverability. The front and rear brakes are six-piston calipers with 16-inch rotors.

The aluminum hood is long, giving the Cadillac Sixteen tremendous dash-to-axle dimension; the wheel arches were designed to accommodate the huge 24-inch polished aluminum wheels. The four-door hardtop incorporates an all-glass roof and is without B-pillars. Crisp-edged lines of the midnight silver aluminum body panels accentuate the Cadillac Sixteen's striking appearance.

The engine compartment features dual panels hinged about a center spine that runs the length of the expansive hood - the hood panels are power-operated.

The interior theme is evocative of the posh accommodations of 1930s-era Cadillacs, but with contemporary style. For instance, the dashboard features a center-mounted Bvlgari clock.

Seats are upholstered in hand-stitched, Tuscany leather, and the right rear seat features power adjustable slope to recline like a chaise lounge. Warm, hand-woven silk carpets the floor in a light cream colour that matches the leather upholstery. The dash, door panels, and front and rear consoles are trimmed with walnut burl veneer inlays.

Electronic amenities include a rear-seat DVD information system, Bose sound system, and the fifth-generation OnStar in-vehicle safety and security communication system.

"Cadillac's tradition is rich, but in the next several years it will be introducing vehicles as solid, dynamic and beautifully designed as anything it's ever done. And Sixteen is a harbinger of this new era," said Lutz.



The old and the new Cadillac Sixteens
Left: 1930 V-16 razor-edged Town Brougham
Right: 2003 prototype V-16


Sixteen interiors: (left) 1930, (right) 2003

The End


THE CADILLAC-LaSalle CLUB INC. AND YANN SAUNDERS, COMPILER OF
THE CADILLAC DATABASE ARE SEEKING QUALIFIED VOLUNTEERS TO BEGIN TO
DOCUMENT THE SECOND CENTURY OF CADILLAC PRODUCTION, FROM 2003 UP.
PLEASE LET US KNOW IF YOU ARE INTERESTED IN HELPING OUT
You may start with the 2003 models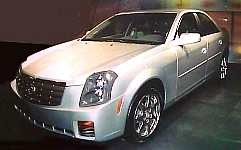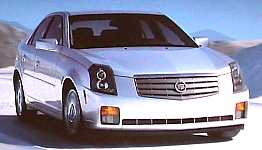 The second century of Cadillac production really starts off with a bang;
look at the chiseled sedan, above, named the CTS, that replaces the Catera;
this car was previewed in the CLC's Self Starter magazine, March 2002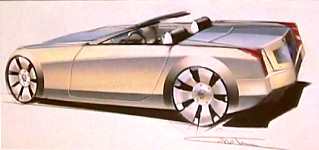 Designer's drawing of futuristic Cadillac XLR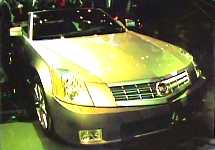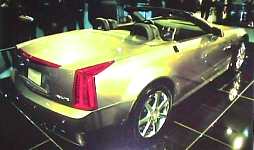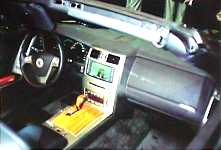 And how about this for size? This is the racy XLR, destined for production in 2003 as a 2004 model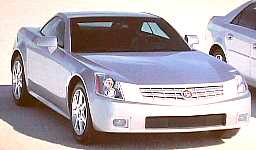 Production Cadillac XLR coupe,
inspired by the Evoq concept car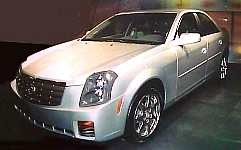 (Left) Cadillac CTS, (right) Cadillac SRX (inspired by the Vizón concept car)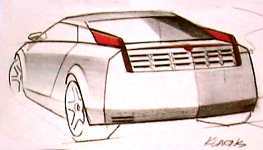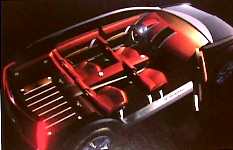 Designer's sketch of proposed future Cadillac tail and interior design


Will the future 4-door Cadillac look like this ?
2003 V-16 >>>>>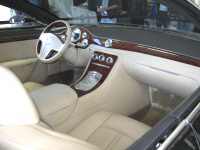 2003 "Sixteen"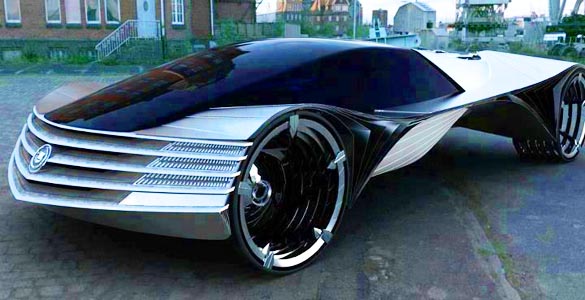 A "concrete dream" of things to come
2004

Neiman Marcus (USA): Limited Edition 2004 Cadillac XLR. This convertible hardtop luxury roadster comes with exclusive Ultra Violet exterior color and custom two-tone shale and ebony interior, plus metal accents in the interior, polished aluminum wheel finish, and a numbered ownership plate on the door sill.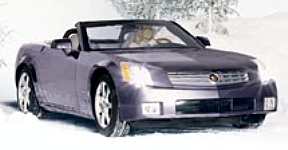 [ Photo: Internet ]
2000...and ?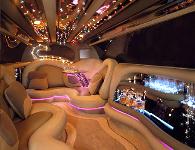 This one was kindly identified by Database visitor, Winfried Marwinski [aka Pierre Delamuraz]; in an e-Mail he sent from
Germany in March, 2993, he says: it is a conversion by Classic limousine, called "Mirage" [www.classiclimo.com] I am
sending you a picture of the "early Las Vegas" style interior [see above, right]. It is a very bold display of bad taste no
European would ever dare to build, which is precisely the reason why I love it. It is a pity those cars
aren't officially sold in Europe. Put your sunglasses on and enjoy...


Can anyone identify this one ?
1998 Cadillac ????
Six-Door Limousine by Miller-Meteor
This beautiful limousine is now owned by Mr. Ralph Rossell, Rossell Funeral Home, Flushing, Michigan.
1998hrs 1 2 3 4