1965

Many pictures in this section were supplied without proper ID so I will be pleased if any Database users can help to positively identify them.

Bacon, Bob (USA) contacted me in December, 2004. He was an associate of Bill Ciriello whom I met on my first trip to the USA in 1978 and who had for sale a custom-built 1966 Cadillac 4-door convertible Phaeton. Bob is the designer and builder of that car [see M&L Body Restoration, Indianapolis, below]. Bob's daughter came across this page of the Cadillac Database and sent it to him. Bob is the original designer of the 4-door convertible concept. He built a total of nine of them in his own workshop, between 1979 and 1985, when he left Indiana for Florida. Bill Ciriello was an auto dealer; he bought 2 of Bob's conversions in an unfinished condition; they were later finished by Mike Carrol. Bob was not aware that Bill had collaborated to build more of these cars; he says : That must be where Paul Scales came into it. He was a good friend and fellow collector who showed great interest in the concept. Bob sold the other cars privately; they got scattered throughout the country. The very first one was a white 1965 model that he drove to Scottsdale for the Barrett-Jackson auction; it was sold to a dealer in Tempe, AZ, and stayed in his museum for many years. The others went to Chicago, Miami, upstate New York, etc. Car #2 (also a white one on a 1965 Cadillac base) passed through a classic car dealer in Sarasota, FL; Bob saw that one again 4 years ago and it was still in good shape. As to the accuracy of my Database facts, Bob added: As you reported in your data sheet, Dean Kruse asserted [in error, obviously] that the car he recently had at auction was "one of six built for the Auto Show Circuit in 1966 and one of only 2 remaining". The classic car dealer in Sarasota asserted the same thing; he said the car was a conversion by Hess & Eisenhardt from 1965 ...until Bob showed him the original photos ! Bob concludes: I can well understand why, because who would buy a car put together by an unknown guy in New Palestine, IN, when they could have a famous custom car maker? That reminds me, Bob, of the 1937 V-16 roadster by Hartmann of Lausanne, Switzerland, that was passed off by the "experts" as a unique creation by France's Figoni & Falaschi team! Bob believes that the most beautiful of all the conversions he did was neither 1965 nor 1966, but a 1968 model. He only did one of them, and it went to Chicago. It was white and had a dark blue interior and top [photos below]; he put a set of genuine '53 Eldorado wire wheels on the car, with wide whitewall tires. Bob kindly supplied [below] the photos of six among the nine conversions for which we was personally responsible.


This conversion of a '65 model is white with a red leather interior and white top; this is the only conversion
that Bob was actually commissioned to do; the owner brought him the car and paid a fee to have it converted


Bob's first conversion of a '65 model was this car, sold
at the Barrett-Jackson auction in Scottsdale, AZ, in 2000


I wonder if this could be Han's car; it is a white '65 with medium blue interior and top


This is a conversion of a white '66 model with turquoise interior; Bob finished it in winter


This is an all-blue conversion of a 1966 Sedan de Ville


Bob's favorite is this white 1968 model; the wire wheels are genuine 1953 Cadillac issue


This is the '65 conversion currently [2007] owned by Han Van Gemert, an enthusiast in the Netherlands; it is possibly Bob's " car #2"; it was acquired
in Florida by some Dutch collectors in 2000; Han checked through his papers and provided some documentary information for the Database; it
was originally a 1965 Sedan de Ville (VIN B5128092); among the documents Han showed me was one prepared by a Mr. Joseph Proll of Bradenton, FL, that
says in extenso: Hess and Eisenhar[d]t did the conversion. They did hearses, flower wagons [sic], convertibles, limousines, ambulances. Made them for
General Motors from 1930-1968. Now out of business. This appears to be the car that passed through a classic car dealer in Sarasota, FL;
the photo and enlargement in the lower row were taken in Sarasota, FL, in the mid-nineties



Barris, George (USA) Elvis Presley's (?) special, gold-flake Eldorado convertible with guitar-shaped sun visors and rear armrest TV; this car was used in marketing operations by E.P. ["Elvis Presley"] Cosmetics. The car was offered for sale on e-Bay in April 2003 and described thus: 1965 Elvis Dream Cadillac, Designed by Elvis Presley and George Barris, Coach built by Barris Kustom Ind. Elvis Presley, for many years had several motor vehicles designed and coach built by his friend "The King of customizers" George Barris. One of Elvis dream designs was to have a unique gold plated Cadillac Eldorado Convertible created especially for and by him using his ultra show biz concept and styling. The car was designed by Elvis and George Barris in the late 60's. Regretfully, Elvis past away before his dream could become reality [Elvis died in 1977; are we to assume it took 8-10 years for Barris to complete the project ???]. In 1986, representatives from the Elvis Presley Cosmetic Company (E. P. Cosmetics) contacted George Barris to service their request for an Elvis promotion. The Dream Cadillac was completed for the promotion [this 1965 Cadillac was "completed" in 1986 ???] and it was insured for $250,000. The car was licensed by and sold to E. P. Cosmetics and as such debuted in presentation events held at The Equestrian Center in Toluca Lake California with Elvis father Mr. Vernon Presley as the spokesman officiating for the cosmetic company. The car began a national tour throughout 1987, sponsored by E. P. Cosmetics [the only "EP Cosmetics" company on the Internet is identified as "Edwin Paul Cosmetics" - no relation to Elvis]. They also sponsored a highly popular national sweepstakes contest and the real car became its grand prize. It was just like Elvis who enjoyed giving away expensive cars in the past. The Elvis Dream Cadillac was then purchased by Barris Kustom Industries in North Hollywood, California [so the "Grand Prize" was never won ???] to extensively tour as a "Feature" in the World-of-Wheels, Autorama, and Rod & Custom Auto shows throughout the U.S.A. and Canada. Mattel Inc. released their "Hot Wheels Legends" series collectible – toy version of the car. Then [when???], the car was sold and exported to Japan and came back to California last summer, July 2002. Features: 14 karat gold plated exterior components. Hand swirled gold leaf stripping by Bob Bond. 40 coats gold/pearl of essence lacquer paint. Machined formed gold E. P. hood ornament. Interior upholstery concept by Dick Dean. Rear seat entertainment compartment / color TV. Guitar styled rear seat speakers. Guitar styled sun visors. French white pearl phone. Gold RCA record discs mounted into tonneau cover. Ten year anniversary guitar pins by P.I.T.T.S. etc, etc. Condition: The car has never been restored, original condition. Paint and gold leaf stripping on the hood behind hood ornament is damaged. It was damaged while shipping. The car runs good but needs a new muffler. The Elvis statue --supposed to be mounted on top of TV/Audio compartment-- is missing. One of the guitar pins on the dash pad is missing. The car comes with an information package and certification from Barris Kustom. Mr. George Barris himself came to inspect the car and certified it. In the certification, the owner's name is left empty for the new owner. I don't have any old papers. They are missing since the car had been exported once before. The car was imported back to California under my name and the current papers are also under my name.


That's not the real Elvis in the photo (left) but simply a cardboard effigy
On the left (above) is a scale model of the Elvis car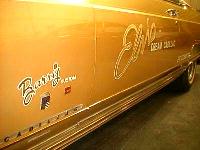 [ Photos (upper 4 rows): Internet, April 2003 ]


Other "Elvis Presley" cars may be seen in this section of the Cadillac Database

Cantor (USA), Wagon de Ville offered by Edward A. Cantor, of Cadillac Wagons Limited, 408 East Elizabeth Avenue, Linden, NJ. "For the man who thinks he has everything"; this costly toy [approximately $15,000 in 1965], based on the Cadillac Sedan de Ville, featured inter alia an electrically operated sun roof, a chrome-plated luggage carrier, a roof line and rearmost quarter panels extended like a large "visor" or nun's headgear over the rear window, with the Fleetwood wreath and crest on the rear sail panel and the name Wagon de Ville in decorative script on the lower front fenders, just behind wheel openings. The car could accommodate 8-9 passengers and featured a folding, rear-facing auxiliary seat; it had an automatic drop-down tail-gate, automatic level control, air-conditioning, wire [turbine?] wheels, tinted glass, a 6-way [front] seat, electric windows, seat belts, heater, radio, door guards, windshield washers and heavy-duty springs complemented by air lift suspension. The car weighed 5200 lbs. and delivery took from 8 to 10 weeks from order date. Full-page ad in my collection. Article in OCW, 22.8.91, Photo McC p.361. A similar wagon was converted from a Cadillac Calais for 1966.


[ Photo from 1965 advertising flyer, Yann Saunders collection ]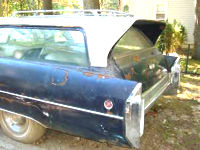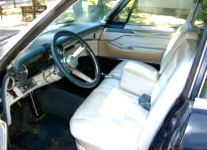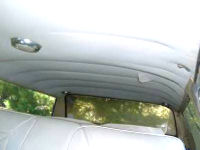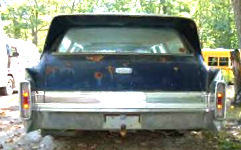 These photos show a RARE survivor that was offered for sale on EBay in October, 2005; I am just wondering if this one was
really built by the Linden, NJ firm, or if it may be an amateur conversion; that rear roof overhang just doesn't look right
[ Photos: Internet, 10/2005 ]
Fisher/Fleetwood (???) (USA) Eldorado project XP-840 (photos, ELD, p.83)






The XP-840 full-size fiberglass model

[Fisher/Fleetwood] (USA) World's Fair prototype 4-door convertible, XP838, special order #91610; this project was stopped in May 1965 [SS 4/94, p.5].

Fisher/Fleetwood (???) (USA) Fleetwood 60 Special with a glass division;

I chatted with the owner (Mr. Pierre Chevalier, in Macon, France) who believes the car once belonged to the French industrialist, Marcel Dassault of aeronautical fame.

Fisher/Fleetwood (???) (USA) Proposals ?


V12 coupe proposal by Wayne Kady on 2/20/1965


V16 coupe proposal by Wayne Kady on 1/27/1966

Ollier, Pierre (USA) SO 91610, special order from Cadillac, was to be a 1965 Series 60S four-door, dual cowl convertible for the World's Fair. However, it appears that no funds were allocated to the project. With no drawings or photos to go on, Pierre Ollier, a GM/Cadillac designer, decided to build the "missing" 4-door convertible himself. He started with one of fourteen conversions that had been built by a foursome of fearless customizers in Indianapolis (six were built on the 1965 chassis and eight on the one for 1966). Ten years and at least $36000 later, Pierre's car became a drivable mockup.The builders credited by Pierre for the 14 1965-66 cars are Bob Bacon, Paul Scales and John & Bill Ciriello, all from Indianapolis - see the entry for Bob Bacon, above. Gita and I visited Bill Ciriello in 1982 and were fortunate to get some photos of one of his 1966 De Ville Phaetons. Pierre's car features 1965 Eldorado trim, enlarged rear wheel openings, modified 1939 La Salle hood air intake vents, a custom grille as well as 1966 tail light housings and seat pattern. Pierre's car is NOT a "factory " custom; it is his own labor of love. In his own words, it is NOT the car that Bill Mitchell built. It is not what it is and it is what it is not. Article in SS, 6/96.


[ Photos: © and courtesy Pierre Ollier and the CLC ]

[Unknown, France?] Here is a mildly customized Eldorado (upholstery, dash and trim only)


...unfortunately the car fell in a ditch !
[ Photos: Jocelyn Lococq ]

[Unknown, USA] Here is another 1965 phaeton different to the one described above; it appears to have a Plexiglas windshield.


This is a less inspiring, amateur-looking conversion
with what appears to be a Plexiglas windshield and no top
It was offered for sale on Internet in August, 2004

[Unknown, USA] Here is another 1965 wagon different to the one described above, from Cantor; it has no visor over the rear window]. I photographed this one in Denver, CO, on the occasion of the CLC annual Grand National meet held there in August, 2001.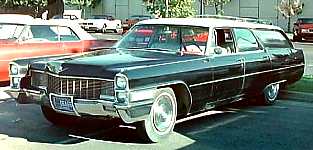 [Photo: © 2001, Yann Saunders]
[Unknown, USA] I have a couple of photos (below) of yet another 1965 wagon, very similar to the one above but with a front grille from a 1966 Cadillac. The owner posted this info on a specialized website on May 7, 2010: Hello! I am a new member to this forum and have been trying for many years to find out information on a certain 1965 Cadillac Sedan de Ville station wagon I owned back in 1989-1992/94 .... I have included a couple of photos of my unique Caddy [below]; one is the day I brought it home (front 3/4 shot) and another is of the rear, taken by a friend's father who was really taken by the car. I realise these aren't the best shots, and the original photos have degraded over time, but at least they will give someone a pretty good idea of what this vehicle looks like. I can't imagine there were too many 1965 Sedan de Ville wagons painted in black with a white top and white leather interior [and especially mot witzh a 1966 Cadillac grille]. I think this car was originally painted in a Seafoam green, because I can remember seeing a couple of spots on the framework under the jumpseat in the rear, where the black paint had chipped-off and exposed the original colour. The center seat did not fold flat like the rear did. Also, only the front seats were leather, and the rear seats (including the rear-facing jumpseat) were upholstered in white vinyl with a cloth insert in the centre of the back and seat portion. The photos show the hubcaps that came with the car when I purchased it, and the rear shot of the car shows what looks to be Buick rims. I had eventually replaced the Buick rims with standard Caddy rims and found a perfect set of Caddy hubcaps to bring it back to its original looking state. The black paint was almost grey when I bought it, due to oxidation. But, I had it buffed-out and it looked like black glass, it was so smooth. I imagine the paint has gotten pretty weathered since 1989 as well as the interior. I had always wanted to give it a proper restoration, but at the time, I was short on cash. I could have done a few things here and there, but I figured that if I couldn't do it properly and to a high standard, then I should just let it be. I miss this car, as I had a lot of great memories during its time with me. If anyone has any info or more recent photos, I would be very glad to hear about it or see them. Thanks in advance for any help you can lend me!

[Unknown, USA]

[Unknown, USA] Should I file this under "1965 custom" or "1959 custom"? I photographed this amateur conversion in someone's front yard during my first ever trip to the USA, in 1978. I've forgotten the location, but I believe it was Indiana. Much later I got first hand information about this odd-looking car from Bob Bacon, who converted a few cars himself [as you will see at the top of this page]. He has personal knowledge about this car that goes back to 1970. Bob wrote: The owner who was responsible for adding the tail lights was "Whitey" Prescott of Indianapolis, IN. (where you saw the car and took the picture). Whitey was a millwright for Ford Motor Co. for a number of years. He called the car the "Batmobile" and drove it regularly to work and around town. The very heavy metalflake gold paint job was done by Ray Baxter, who also worked at Ford and painted cars part time. Whitey had a decal on the rear windows of the car saying "caution, live snakes", I guess as a deterrent to theft. Whitey died shortly after retiring around 1975 and I don't know what happened to the car after that. John Pappas of Indianapolis added: The photo was taken in Indianapolis in the 2400 block of N. Keystone Ave in the late 70s early 80s. This car sat in someone's drive for years ... I never saw it move ... I don't know where the car ended up. (nor do I care). It was a unique take on someone's admiration of Cadillac Design ... certainly not mine, but it was a memorable sight.



[ Photo: © 1978, Yann Saunders ]

Unknown (USA), another interesting station wagon combination on the Cadillac chassis for 1965 [poor photo, below]

[Unknown, USA] This original and unique (?) flat-bed truck was built from a 1965 Cadillac Fleetwood Series Sixty Special sedan.

1966

Cantor (USA) [???] This one looks very much like the custom wagon built by Cantor in 1965. According to a CML member and custom Cadillac enthusiast, the car is currently at St. Louis' Kemp Museum workshop. The mileage is original and the car was used as a service vehicle for a park in the area.


[ Photos: Internet, 5/2008 ]


Fisher/Fleetwood (USA) "XP820", "XP825" prototypes, CA 12/91, p.22; saw in GM Styling archives, 9/94, clay model of XP825 photographed in auditorium, 14.11.1965 (E-body Cadillac); second view of same car: ¾ front view RH side; next photo in set was dated 27/5/64 and was identified as an Eldorado (could be an early version of the 1967-68 front-wheel drive Eldorado)

Hess & Eisenhardt (USA) custom station wagon (article in CLC 8/97). This wagon is "one of a kind". It was commissioned by Cadillac Motor Car Division of GM from Hess & Eisenhardt, in Ohio, a long-standing firm that specializes in building commercial vehicles (mainly hearses and ambulances), many of them using Cadillac mechanicals. It was first showm at the NY auto show in the hope of generating some interest. The car has survived. Cadillac enthusiast, Jim Jordan, told me was in the Forney Museum of Transportation in Denver, where it was offered for sale on this Web site. Currently (2009) the odometer reads 31K miles.


Despite the assertions of the "experts" only ONE of these was built

M&L Body Restoration, Indianapolis [???] (USA) Special Cadillac 4-door Phaeton [convertible sedan]. One of three converted by Mike Carrol from Cadillac's 4-door Sedan de Ville. Have many color photos taken in Indianapolis, Indiana, in 1978 when Gita and I visited Bill Ciriello's Nostalgia Motors. There is a fine article on these post-war 4-door phaetons by Pierre Ollier, former GM designer, in SS for May and June 1966. A 4-door convertible did come on the Cadillac styling books in 1962 with a proposed release date in 1965 but it never made it anywhere near production. One Special Order car (SO #91610) was to be a 4-door convertible for the World's Fair, but production was abandoned in May 1965. There are no factory photos of any kind, nor were any funds ever released for the project. Pierre Ollier built one for himself, but that only happened 25 years after the original project had been nixed ! He used as a base, one of fourteen "amateur" conversions (six on the 1965 chassis and eight on the 1966) that involved Bob Bacon Paul Scales and John & Bill Ciriello, all of Indianapolis - see the entry for Bob Bacon, above. One of the seven 1966 conversions was offered for sale in August 2002 by the Kruse Auction group; The Kruse people asserted it was as one of only seven built for the Auto Show circuit in 1966 ... It is believed to be one of only two that survive in running condition.

Pierre's article mentions having researched the styling books of XP [experimental?] and SO [special order] numbers. He says that "SO numbers were given to styling prototypes"; I believe he meant that "XP" numbers were given to these vehicles and "SO" numbers to individual, special orders derive from a regular body type. He also mentions having come across a number of special Cadillacs for 1965 including a "mini limousine" in the shape of a Series 60S with glass divider. I had a close look at such a car in Macon, France, in 1993; I was surprised that it did not carry an "SO" number on the body tag; this car had been order by the late French aeronautical engineer/industrialist, Marcel Dassault.

Late Extra (Nov., 2010): Database visitor Mark Dobrowolski of New Jersey brought some insight on the issue of GM/Cadillac "XP" and "SO" numbering. He wrote: The early XP concept cars all had SO numbers too: '55 Eldorado Brougham concept XP-38 (SO 2253), '55 LaSalle II hardtop sedan, XP-32 (SO 2217), '55 LaSalle II roadster, XP-34 (SO 2220), '56 Eldorado Brougham Town Car, XP-48 (SO 2491), '59 Cyclone, XP-74 (SO 90450) and so on, though the SO numbers do seem to be less 'available' after the '50s. No doubt you've seen David Temple's excellent book 'GM's Motorama"; on page 35 he mentions that the three '54 Olds F-88 roadsters built -- though all branded as 'XP-20' -- each had their own SO number. Temple recounts how retired Olds engineer John Perkins said that the SO numbers seem to have been a method of accounting, to keep tabs on a project's cost. In that I have been compiling XP (and SO) numbers into a comprehensive list for a few years now... if there is one thing I can testify to, is that GM's internal workings remain puzzling, inconsistent at best. Both Perkins & Chuck Jordan talked to Temple re the numbers, in less than certain terms... and they were there! Anyway, just thought I would pass on my findings on this numbers issue. Seems amazing to me that no one I've ever heard of has demanded a listing of these - many well-known concept cars NEVER have had an XP number associated with them. I appreciate your help, Mark; if you have a compilation of "XP" numbers, with their equivalent "SO" number ( for "specials" or "experimentals" built on the Cadillac or LaSalle chassis), I will be glad to include it in the "Dream Cars" section of the Database, giving you full credit for the research.


[ Photos (top and lower RH): © 1982, Yann Saunders ]
A car like this one was being offered for sale in Florida, in January 2003


This one was offered for sale by the Barrett Jackson auction group in 2007(?)


This survivor belongs to Jimi Marshall; it's a 1966 Cadillac Sedan DeVille that has been converted to a convertible; the conversion is rather nice with the metal being reworked
on both sides through the rear cowl; Jimi has completely stripped off the paint, repaired the minimal rust (made new panels) and is in the process of re-doing the body from the front cowl forward;
the car is white with the aqua-blue interior and is nicely appointed with tilt-telescope steering wheel, a/c, auto dimmer, power windows and seats as well as cruise; he has bought a sedan
with a stunning interior and will switch it out with the convertible; Jimi purchased the car from a man in Sheppardsville, Indiana (across the river from Louisville) and the title indicates that
the previous owner had the car for the last 12 yrs; that owner had bought it from a small used car dealer; no earlier history is known


Could these two images (above) be of the same car (white with blue interior and custom wire wheels)?


This one was photographed at the CLC Grand National, 2007
[ Photo: © 2007, Jeff Hansen ]
UN TORPEDO DE 1966 (ci-dessus)

Appelé "Phaeton" ou "Sport Phaeton" aux Etats-Unis, le torpédo (version US) est une voiture découvrable à quatre portes dont la fabrication en série, chez Cadillac, a cessé avant la deuxième guerre mondiale, bien qu'il y eut, en 1942 un ultime "phaeton", dessiné par Bill Mitchell.

On doit cette curieuse carrosserie à Mike Carrol de la firme "M&L Restorations". Trois furent réalisés. Le véhicule de base est une berline Cadillac hard-top "Sedan de Ville" de l'année 1966, modèle fabriqué à 60550 exemplaires et vendu $5581 à l'époque. Je pense que la modification a dû coûter $5000 de mieux!

J'ai trouvé cette curieuse auto dans l'Indiana à l'occasion d'un périple à travers les Etats-Unis en 1980, voyage qui avait pour but de dresser une liste de toutes les Cadillac "Eldorado" de 1959 encore en état de rouler. A cette occasion, Gita et moi avions rendu visite à Bill Ciriello, un marchand de voitures d'occasion de classe qui "tient boutique" à Indianapolis; Bill possédait un superbe coupé "Seville" que nous avons pu ajouter à notre liste.

Sur le panneau publicitaire ont peut lire (traduction de l'anglais): "Phaeton Cadillac de 1966, construit à 3 exemplaires; celui-ci fut réalisé par Mike Carrol de la firme M&L Restorations sur la base d'une Sedan De Ville 4-portes de première-main. Propriétaire Bill Ciriello, Nostalgia Motors, tél. 786-3433."

Seule indication qu'il s'agit d'une Cadillac "unique": le sigle "Phaeton" à la place de la plaquette "Sedan De Ville" à l'extrémité des ailes AR.
Stengel (USA) special town-car design for H.E. Shaikh Shakhbut bin Sultan, the Sultan of Abu Dhabi; it is not know whether this car was actually built; all I have is an impressive color rendering of the designer's drawing. Peter Stengel is a Hollywood designer. His offices are [were?] located at 8610 Sherwood Drive, Los Angeles. He specializes[ed] in custom Coach work on Cadillac, Lincoln and Rolls-Royce chassis, that was made to order in London, England, by artisan craftsmen and journeymen specialist coach builders. This town-car design was used for promotional purposes; on the back of the color postcard, presumably printed in 1966, it was stated: Over one-quarter century of experience and studious application in automotive aesthetics; the integration of unsurpassed quality, exquisite craftsmanship, embodying correct and superior design.

[Unknown] Mildly customized wagon in the style of the Cantor model shown above; this one has a custom grille cap.


This is a custom job with an after-market grille cap and hood ornament

[Unknown] Mildly customized Coupe de Ville with fabric covered roof and quarter panels, and ugly imitation landau bars [color photos].

[Unknown] Interesting "low rider" on Cadillac sedan chassis.

[Unknown] Customized professional car [hearse or ambulance body]

[Unknown] "Tex Avery" style conversion of 1966 coupe

[Unknown] This luxurious "camper" probably was built on the Cadillac commercial chassis for 1966.