1981

American Standard Coach Builders ASC (USA) offered six and nine-passenger estate carriages like this Cadillac Fleetwood Brougham de Elegance [pardon the awful French!] Paris station wagon. These were conversions on the Cadillac Fleetwood Brougham 4-door cars; the rear roof portion was raised and a full rear door was added. A chrome roof luggage rack was also part of the package. The rear roof was vinyl-covered. Premium chrome wire wheels were optional. Note the wind deflector above the rear window. Retail price was about $54 000. Very elegant! One of these cars was offered for sale, in Sweden, in March 2000 for 100.000 Swedish Kronor [color photo, below, from Internet]



This one was found on Internet, 10/2004

American Custom Coachworks, Ltd (ACC) (Beverly Hills, USA) Custom Seville Paris roadster. This is described by the vendor as a very rare piece of art made in the oil boom era of 1981! It was given as a gift to my uncle by the previous Governor of Arizona, Rose Mofford for his assistance to the state. My brothers and I inherited the vehicle and we are sure there is someone out there who would give her a nice home. More pictures of the interior to come. All 100% original. The interior is unreal! Everything is in perfect condition minus the upholstery on the roof which is separating and sags in a few places. There is an enclosed wet bar in the middle of the two seats that can be chilled or heated with two cut glass tumblers and matching decanter. This is a real classic! The vendor added: Back when the NAFTA agreement was first being discussed (over ten years before it was signed) there were eight of these cars custom built and given as gifts to the governors of California, Arizona, New Mexico and Texas, as well as to the governors of the four bordering states with Mexico, Baja California, Sonora, Chihuahua, and what was then Nuevo León. The governor of Arizona was a personal friend of my uncles and gave the car to him and told him all about the history.

(PHOTOS???)

Baker, Dick & Tony [see Custom Coach, Lima, OH, below]

Bayliff Coach Corporation, Lima, OH, USA: Custom 1986 Cadillac "Baywood". Someone brought this to my attention. It was described as: an extremely rare and unusual piece of American history! Cadillac only built 50 Baywoods each year for just a few years. I asked if anyone had more information on this model; I got a very helpful reply from enthusiast and owner, Patrick J. Martin. Here's what Patrick wrote: I know about the Baywood. Cadillac had nothing to do with the car [other than having built the base model used for the re-trimmed car]. It was solely a project of the Bayliff Coach Corporation of Lima, Ohio, USA. Bayliff was an automotive conversion and customization company that would do whatever the customer hired them to do. They, however, also endeavored to build, promote, and sell products of their own design. The Baywood (the name obviously comes from Bayliff and Fleetwood), was simply their idea to fit then-new Cadillacs with a classic era-inspired vertical grille. I do not know how many Baywoods were built, but I'm sure it was few, maybe a couple dozen at the most. They didn't really catch anyone's eye. I have a promotional brochure from Bayliff for the Baywood. The Baywood that is pictured on your site has been customized by unknown sources even farther than Bayliff orginally did on the car. Bayliff took stock Cadillacs and merely customized them with the vertical grille. The pickup body conversion on the car on your site is not Bayliff's work. Bayliff is most known for building modern era Packards during the 1980s. I own one of those. Most were heavily customized Buick Rivieras, but a few were also Cadillac based. I'm attaching a photo of a Bayliff-Packard sedan that was built from a 1981 Sedan deVille. The Bayliff-Packards were much better received than the Baywood, and a couple hundred of the Packards were built. .


Bayliff-Packard sedan, built from a 1981 Sedan deVille
[ This image: © 2009 and courtesy Matrick J. Martin, its owner ]

Cardin, Pierre (France and USA) custom Eldorado coupe, Evolution I. Introduced in 1980, this custom creation was again available in 1981 and possibly 1982. In October 1981 the inventory still included these cars: #7 (color Warm Cognac, brown on brown interior, blackwalls - probably the car used for the brochure and publicity shots below - reduced price was $28,000), #13 (Wesselton White, creme de la creme interior, whitewalls, bar - $37,500), #26 (Warm Cognac, brown on brown interior, whitewalls - $38,000), #32 (Glace d'Argent, red on red interior, whitewalls - $42,000), #36 (Glace d'Argent, red on red interior, whitewalls, video, bar and remote starter - $50,000), #37 (Blue Empire, blue on blue interior, whitewalls, video, bar and rain sentry - $44,000), #42 (Wesselton White, red on red interior, video, TV, bar, remote starter, whitewalls - $50,000), #45 (Champagne, brown on brown interior, whitewalls, video, TV, drinks server - $50,000), #46 (Glace d'Argent, red on red interior, whitewalls, video and drinks server - $50,000) and #47 (Wesselton white, red on red interior, whitewalls, video, TV, drinks server - $50,000). Optional extras: (1) refrigerated computer beverage server - $2,000, (2) video cassette player - $3,000, (3) telephone - $3,000, (4) remote starter - $250, (5) rain sentry - $225 and (6) page alert alarm system - $178. Around 1982-83 I saw #12 for sale for $49.5K by Simon Motors of Indio, CA [also for sale and for the same price was a 2-door, bustle-back Seville Opera coupe]. Car #3 has survived; it is owned by enthusiast Jacob Bartlett and may be for sale [contact: jakeandniki@hotmail.com].


[ Photo far right: Pierre Cardin, the French stylist ]


This is car #9 of the 1981 Cardin production run; it was up for sale on Ebay in November, 2008

Caribou Motor Company (Grover City, CA, USA) According to one of its own advertising flyers, in 1986, this company built Cadillac pickups since 1954, combining the luxury of a regular automobile in a pickup. The designer and engineer behind most Caribou pickups is Lou Schorsch. A power operated tail gate was a first on the 1986 version. These conversions were available through Cadillac dealers or directly from the Caribou Motor Company, on Coupe de Ville models from 1974 to 1986. The company boasted in 1978: Every Caribou is a show car that stands out for years to come as one of America's truly practical automobiles. The Caribou is the ultimate passenger car pick-up. Cadillac standards are used throughout the construction of your Caribou, along with numerous inspections, to maintain the highest quality possible. To order your Caribou, you must use your [own] automobile. Select the finest car you can find. Try to avoid using a wrecked or damaged car. It's best to start with the best. Orders were taken with a 50% deposit, the balance being due on delivery. The advertised costs in 1986 were as follows: conversion from a 1974-76 Cadillac Coupe deVille, $10,500, from a 1977-79 Coupe deVille, $12,500, and from a 1980-86 Coupe de Ville, $14,500.

Custom Coach, Lima, OH (USA) Father and son team, Dick and Tony Baker sent me in 2007 a CD-ROM containing photos of many of the conversions he and his late father did on the Cadillac chassis. Many of the pics are digital copies of Polaroids, hence the mediocre image quality. This one has got to be the "ultimate" in conversions, seeing as it is based on Pierre Cardin's costly 1980-81 Evolution (above)


This RARE piece of automobilia is a conversion of Cardin's own conversion,
from Evolution coupe to custom pick-up truck by Custom Coach of Lima, OH

Gaines (USA) custom, stretched limousines and armored vehicles


[ Sample interiors of some Gaines' stretched limousines ]

Global Coach & Armor Manufacturing, Inc. (Florida, USA) custom Seville and Eldorado convertible conversions; these cost $10,800 and the suggested retail price, $39,900 for the shortened Seville edition, below.

Global Coach & Armor Manufacturing, Inc. (Florida, USA) custom Alpine Edition convertible on Eldorado chassis; the basic conversion cost for this full-sized edition was $12,800 and the suggested retail price was $41,900.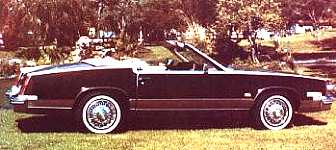 Above two rows: a surviving car in the New Millennium
[ Photos: Internet ]

Global Coach & Armor Manufacturing, Inc. (Florida, USA) custom El Ballero convertible on Eldorado chassis. The cost of this conversion was $22,000 and the suggested retail price was $50,900 !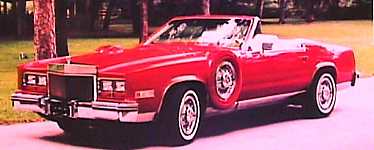 Features of this custom conversion include one-piece reinforced hood, side mounts with authentic
wire wheels (6 wheels included), elegant custom grille, stainless steel windshield header cap, reinforced
chassis and body, full power top mechanism, plush interior headliner, acrylic lacquer custom paint
Global Coach Corporation (Florida, USA) custom Formal Sedan, based on the front-drive Seville
Global Coach Corporation (Florida, USA) custom Eldorado

Grandeur Motor Car Corporation (USA) Opera coupe, based on the front-drive Seville; this two-seater coupe design, according to the manufacturer, is only for select and discriminatory owners who stand apart from the crowd and who want to reaffirm their commitment to automotive grace and style... One of these was offered for sale by auction at the Kruse venue in Ft. Lauderdale, FL, in January 2000. It was bid to just $3,800 but found no buyer.


This conversion was produced during more than one year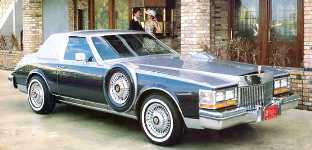 These two pics are from a factory promotional item published in 1981


I believe this convertible edition is from the same manufacturer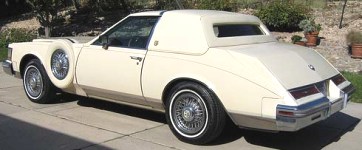 An elegant survivor on the Internet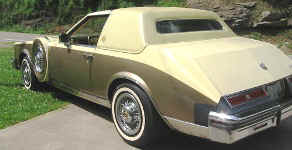 ...and here's another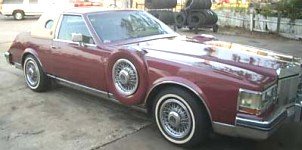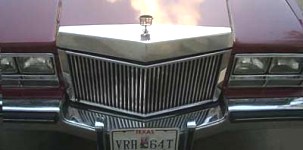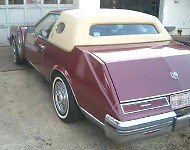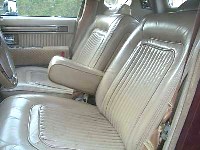 These 2 rows: Coupé version with oval quarter windows
[ Photos: Internet ]


Possibly another Opera coupe from Grandeur Motor Car Corporation
Hess & Eisenhardt (USA) Eldorado custom convertible [Also check out this site in the UK, devoted to these Hess & Eisenhardt custom jobs.] This conversion cost over $40K ...in 1981! It is believed around 20 were built. Hess and Eisenhardt were factory approved to convert coupes to soft tops, sold by official Cadillac dealers. H&E added more framing support (over the ASC conversion, for example); they actually welded in supports on the frame.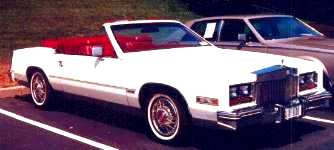 Above: a survivor
[Photo: courtesy Frank Perch of the CML]
Taifun's Gold-Plated Eldorado: (restored in Austria) [for more information, please visit this Web site: http://prodtz.vtz.net/sk8/tayfun/tayfun.html



[Unknown, USA] custom Seville roadsters (2); Chad Ueker of the CLC writes: has anyone heard of a 1981 Cadillac Biarritz Seville Roadster? It is a 2 door car that has a golden plaque on the dash that says '1 of 5 in the world'. I is also supposed to have appeared on the T.V. show 'Dallas'. Could it be one of the two models below, Chad? Only the four-door model (below, left) differs from the Insbrook conversion on the Seville chassis by Global Coach Corporation. The color scheme of the car on the right, below, is reminiscent of the 1982 Seville Paris roadster, a similar conversion by American Custom Coachworks, Ltd (see below).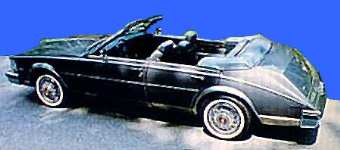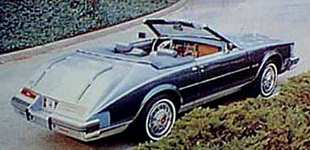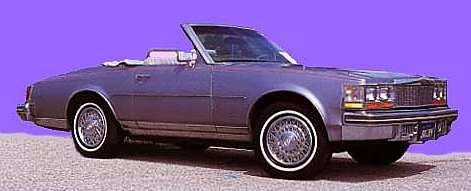 [Unknown, USA] custom Eldorado Classic coupe. About this and the car below it, I received these clues, in March 2004, from Database visitor and Cadillac enthusiast, Eric I. Spoutz, President of the Eric I. Spoutz Collection of Fine Art: After reviewing the "Dream Cars on Cadillac Chassis 1980-84" section, I noticed that you have photos of two vehicles which are rather reminiscent of conversions produced in Turin, Italy during the late '60's, through the early '80's by Stutz... As you may be aware, Stutz which was incorporated in the State of New York in 1968 produced "conversion automobiles" typically based on Pontiac Chassis. These cars evolved in the the "automobile of the stars" with celebrities, and dignitaries alike commissioning construction (i.e. Elvis Presley, Liberace, Sammy Davis Jr., Dean Martin, Frank Sinatra, Lucille Ball, Desi Arnaz, Mohamed Ali, Joe Frazier, etc...) ... It is my belief that the following vehicles [this one and the next] are either Stutz conversions, or at least strongly Stutz inspired.
[Unknown, USA] Seen for sale en e-Bay in February 2003 was this retro-"Packard" built on a Cadillac Fleetwood coupe chassis. This car was featured in Special Interest Auto Magazine [date unknown!)

[Unknown, USA] Seen for sale at auction by the Kruse organization, on e-Bay, in April 2003, this car (lot #931) was described as a custom built Mary Kay Opera Coupe. It resembles very much a conversion by the Grandeur Motor Car Corporation (some of these are shown above). So-called "Mary Kay" cars usually are painted "shocking pink"; not this one. Perhaps Mary ordered this one for herself; she may have wanted her own car to be different from those of her high-volume producers.


This one was for sale on e-Bay in April, 2003

[Unknown, USA] Seen for sale on EBay in May, 2008, this one falls into the category commonly called "Pimpmobiles".


Note shaggy sheepskin interior trim and twin moonroofs

[Unknown, USA] Cadillac's "last" convertible was built in 1976 ...then brought back into production, briefly, in 1983-84. Meanwhile there was still a public demand for the luxury soft-top. That demand was met be a few individal coach-builders who converted this stock Eldorado coupe, inter alia.

[Unknown, USA] These Cadillac station wagon conversions have always been in limited demand by "the man who has everything". Few were built. Some survived better than others.


The upper survivor appears to be in fine condition; the same cannot be said of this one