1948

Barris, George (???) (USA) George Barris built a number of customs in this period. Sometimes he would take a Buick and make it look like a Cadillac. This could be one of the latter.
Coddington, Boyd (USA) [actual design by Gibbons, Coddington, Erikson and Naff] Custom 1948 Cadillac CadZZilla coupe for Billy Gibbons, lead guitarist of ZZ Top. Sustomized 1948 coupe powered by a state-of-the-art 8.2 liter Cadillac fuel-injected engine. Only the traditional horseshoe-shaped instrument housing and the "Goddess" hood mascot remained untouched on this unique coupe christened appropriately "CadZZilla" for Billy Gibbons, lead guitarist of "ZZ Top". Sadly, Boyd Coddington, who helped to build CadZZilla, passed on in Feb., 2008.


On the right are two scale models of "CadZZilla" [in 1:25 and 1:64 scale]


At top, right: two scale replicas
[ smaller toy is circa 1:66 scale ]


Derham (USA) special "Sixty Special" with light-colored padded roof and small rear window. Very elegant car.

Derham (???) (USA): [The following text is copied from an Internet website devoted entirely to Derham coachwork] Derham modified a number of postwar Series 75 Cadillacs, and a trio of 1948's were the subject of a feature in the June 1989, Classic Car [quarterly magazine of the Classic Car Club of America?]. All were converted from standard Series 75 4-door limousines. Two were made into Town Cars by removing the roof area over the front compartment and modifying the top of the windshield and vent windows so that the removable roof could be easily fitted and snapped in place when the compartment was closed during inclement weather. The header board above the division window was reworked to seal against moisture, and the front lip of the roof above the B-pillars included a slot for the roof material to slide into when not in use. The third was a Series 75 convertible sedan (or phaeton) built by removing the entire "greenhouse" of the donor limousine. As on the Town Cars, the top of the windshield was modified to accept the convertible top which was locked in place as on a normal Cadillac convertible. The 1948 Series 75 was still based on the pre-war limousines which featured a windowless rear quarter panel. The large rear quarter of the convertible sedan was also windowless and when lowered, resides inside the rear of body shell below the beltline. Derham had to narrow the rear seat cushion to accommodate the top mechanism. During the late Forties and early Fifties, demand for Derham's Chrysler conversions fell while orders for their Cadillac Series 75 limousines increased.

[ no images ]

Fleetwood (USA) clay model of 60S sedan, Sch40, p.127

Fleetwood (USA) prototype of 60S sedan and 62 sedan, Sch40, pp.128-9

Fleetwood (USA) proposal for Series 75 limousine [Sch40, p.165] One of these was built to show the feasibility of building a 7-8 pass. limousine from modified sedan stampings; the wheel base was a little over 140 inches. Roy A. Schneider, who authored the superb book, Cadillacs of the Forties, says that according to factory archives, this car was subsequently sold to one Henry J. Taylor. I wonder where it is today!




Fleetwood (USA) Interceptor prototype design, CA 12/92. p.12.
GM [Cadillac] (USA) This drawing of a 1951 proposed sports roadster is by Bill Mitchell and Don Lee; it is dated 07.17.48 (were they thinking already about Cadillac's possible participation in the Le Mans road race in 1950 ???)


[ Information and photo: courtesy CLC and Steve Wolken ]

Hooper (UK) this interesting sketch was obtained off the Internet [eBay] on a tip from toy-collector friend, Chris Hardegger in Switzerland. It reflects Hooper Coachwork for a touring limousine on the Cadillac Chassis. Was it ever built ? The original drawing measures 21x12". It is Hooper Design #8247.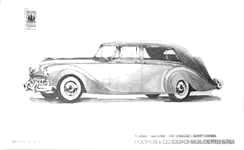 Hurley, Lon [USA] Amateur (?) custom (low) roadster. In the early/mid '50s a Cadillac enthusiast bought this custom Caddy convertible, The Californian, built by a Mr Lon Hurley. Very low (claimed to be 36" to the top of the windshield). very long, custom made curved Plexiglas windshield, no top, no wipers, no rear seat, small package tray. The car was sold later to entertainer Martha Raye.

photos to be added

Saoutchik (France): [[EDITING MAY BE NEEDED - there seems to be some confusion between these TWO almost identical cars]] These custom Cadillacs were bodied by Jaques Saoutchik of Paris, France (I understand the VINs are #4862-34577 and 4862-37307). Saoutchik was an expatriate Russian cabinet maker; he was known for his extravagant designs, taking many risks with sweeping shapes and copious amounts of chrome. These two cars may have been inspired by a Delahaye Type 175 designed by the same French coach builder (the latter car was exhibited at the London Auto Show in 1948 - TQ7-8/83, p.20 - so we must assume that the Delahaye preceded the Cadillac). The genius of Saoutchik's design on such large Cadillac chassis is demonstrated in his ability to minimize the overall scale of the car by concealing the size of the wheels as well as using painted lines to reduce the height of the cowl. One of these large, 2-door, 3-position, drop-head convertible coupes has decorative canework applied to the doors and quarter panels. One of the two cars was shown at the Paris Auto Salon in October 1949. It appeared also on the cover of Mechanix Illustrated, presumably some time in 1948. The only "visible" indication of the cars' Cadillac heritage is the horseshoe instrument cluster and the steering wheel. I have many photos of both cars in my collection (below), including the most recent ones taken following their full restoration. After restoration of version #1 was completed (it's the one with the canework appliqué), the car was shown at the annual Rétromobile car show in Paris, in 1996. It was later offered for sale in Scottsdale, AZ, in January 1998, during the annual Barrett-Jackson auction there, where I first photographed it. It was offered again by the Barrett-Jackson auctioneers in January 2002. The car was shown again at the Meadowbrook Concours d'Elégance in Michigan, in August 2002. One of the owners of first car below (version#1) was Louis Ritter, founder of Ritter Brothers Furriers of New York; he was a wealthy eccentric known for this extravagance and flamboyant lifestyle. The other car (version #2) was owned by a Mr.Paul Kassoff (history unknown at this writing); his initials ("PK") were added (later?) to the front grille during the car's restoration. One of the two cars was on display at the 1947 Paris Salon. The story goes that one of the owners drove his car (#1?) to Hollywood and used it there for only a few months before tiring of it and selling it. It was then acquired by a mid-western business man (Harold McLean) from Santa Barbara whose wife's favorite colors, it seems, were lilac and purple. The upper body was repainted a less flamboyant color (white) in the seventies (see older photos, below) but retained its original canework and pale lilac lower body; it was seen at various old car meets over the next 10-15 years. It was for a while (2002) in the Blackhawk Collection (Don Williams, owner), Danville, CA and has been advertised for sale a number of times on the Internet. No doubt we shall see and hear more about this gaudy "European" Cadillac. The second car was once shown at the 1997 Grand National in Chicago. See also Sch40 p.171, McC p.277. A "hot" item on various auction blocks around the country, the black and purple car (version #2, below) was offered for sale at the 2006 RM Auction held on Monterey, CA; this was a good move by RM considering that car #1 was being shown a few miles away at Pebble Beach. In 2010, car #2 appeared again on the block at the Gooding & Company Auction in Scottsdale, AZ. It was sold for $649,000, inclusive of buyer's premium. Late Extra [6/2006]: CLC member, Cliff Graubard, told me the car was owned by the same collector who has the Zagato-bodied 1970 Cadillac Eldorado [see this page]. He sent me some updated color pics, below. Thanks Cliff.



This 1948 Delahaye by Jacques Saoutchik, may have inspired his subsequent designs for the two Cadillac creations, below

This original sketch #2413 by Saoutchik came up for sale on Ebay in 2012;
although labeled CADILLAC "60 Special" it features (at top left) a line drawing
of a full convertible very similar to the actual car shown in the photos below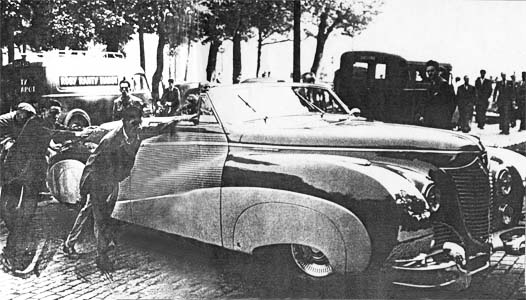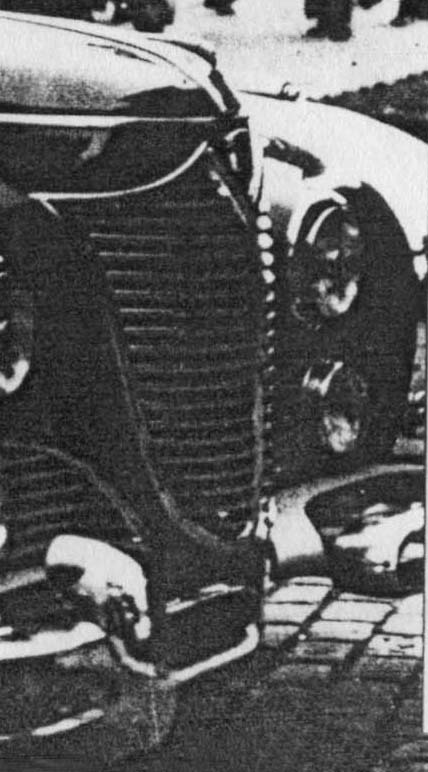 One of the two Saoutchik dream cars arrives at the Grand Palais for the 1949 Paris Salon in October; note bumper guards and crest emblem (right)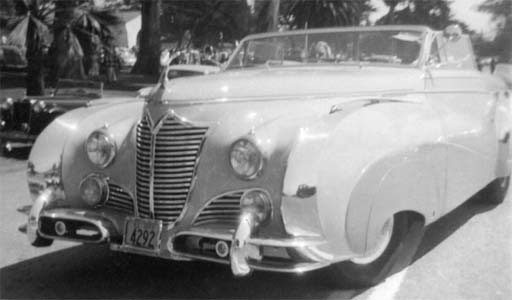 One of the two custom jobs participating in an old car meet, in the USA, in the seventies; note round parking lights
combined with "fat"bumper guards (as above); there appears to be a standing mascot on the hood, but no crest emblem

This "color" image is actually "off color"; the bumper guards have changed ... or is this the 2nd car?

Presumably the same car as above, but with a different color balance; again the special "blade" front bumper guards are clearly visible

I'm guessing this and the previous two "color" snaps of the same car were taken in the USA, in the seventies, before it was restored;
I call this one "Car #1", below, because of the "blade"-type bumper guards and absenve of crest emblem above the grille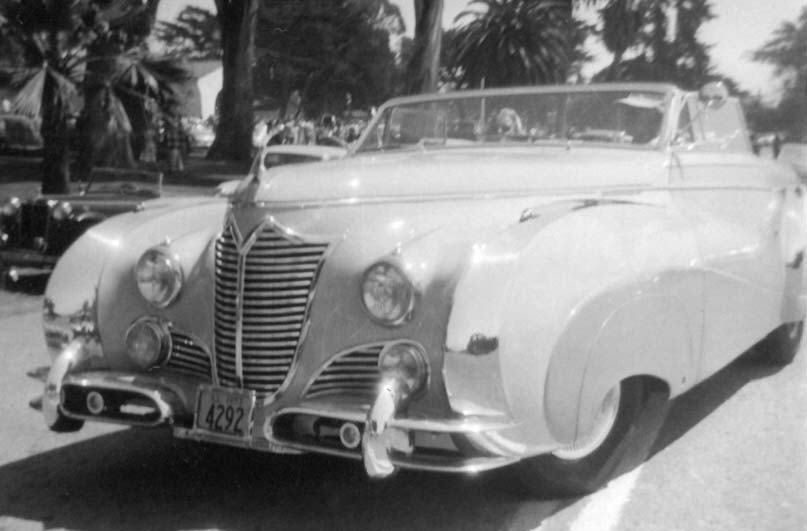 This B&W photo, presumably "Car(#1", was also taken at a car show in the USA in the70s; note again the special bumper guards

Both of these "wild" custom jobs were built by Jacques Saoutchik for the US market; both were sold to prominent individuals; this is an artist's view of one version (VIN 4862-37307)
that was purchased first by Louis Ritter, founder of Ritter Furriers, NY;
Saoutchik convertible (version 1)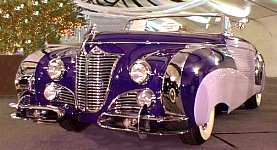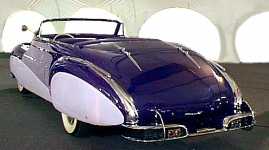 (Left and right): front and rear ¾ views; (center) the Saoutchik hood ornament consisting of the intertwined initials
"JS" above the nameplate featuring the coach builder's address "J. Saoutchik, Av. Jacques Dulud, Paris-Neuilly"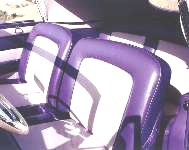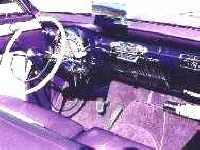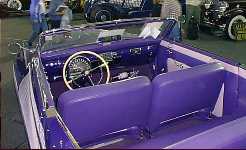 (Left) profile view; could you tell this is a Cadillac? Top half of door and quarter panel have applied cane work
(other photos, this row) Interior upholstery and trim color is reminiscent of my 1960 Eldorado Seville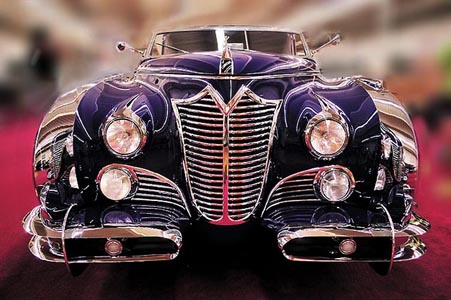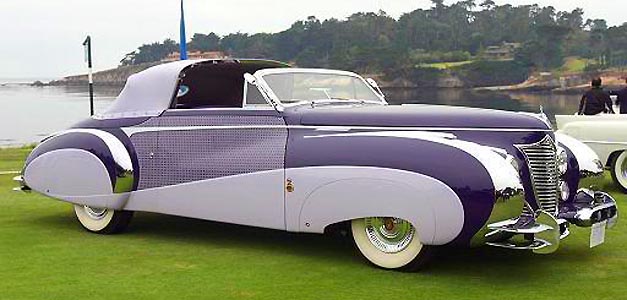 This version features the Saoutchik hood mascot and nameplate; the front and rear bumper guards are solid metal plates;
it was part of the Blackhawk collection for several years and made some appearances at Pebble Beach, CA (2003, 2006, 2012)

Saoutchik convertible (version 2)

[On "YouTube" there is a video clip of this car
on display in the Imperial Palace "Auto Collections" in Las Vegas]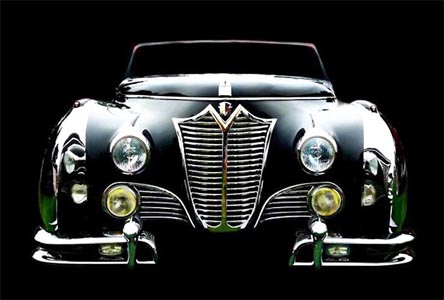 The second car (believed to carry VIN #4862-34577) initially was white (upper) and pale lilac (lower), with faux canework on the doors and ¼ panels; it may be the one
featured in the (poor) press photo (above), being wheeled into Paris' Grand Palais; this one features a Cadillac-style grille crest bearing the initials "PK" [for Paul Kassof];
the "fat" front and rear bumper guards differ from those on the B&W press photo and on the car below it (photographed in the USA); they appear to be modified versions of
stock Cadillac items from 1942 or from 1946-47; the restored car also has different parking lights; in some of these snaps the car sports regular Cadillac "sombrero" wheel covers;
one source has suggested that Kassof car was acquired at one time by) Hollywood star Dolores del Rio (hey ... if it helps to sell the car!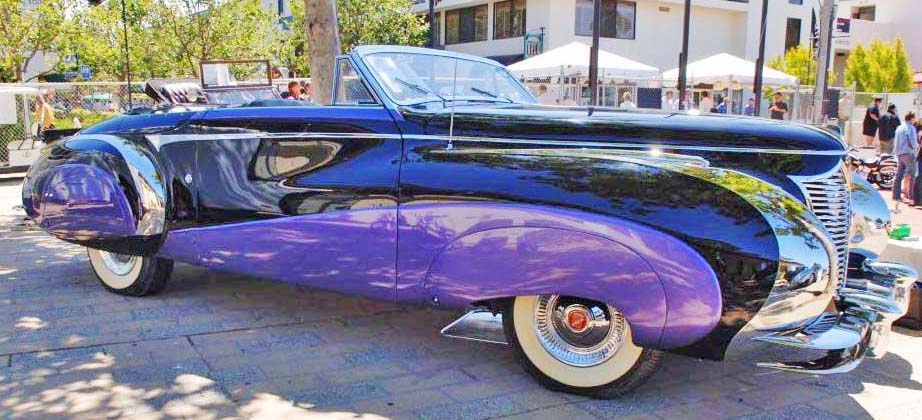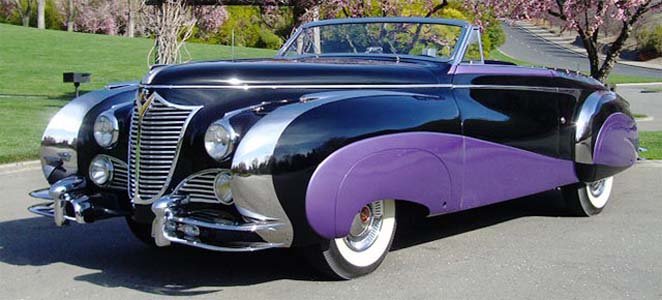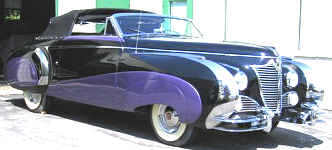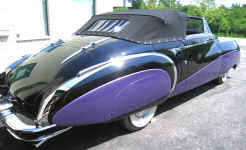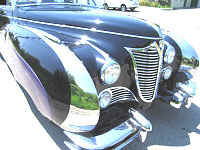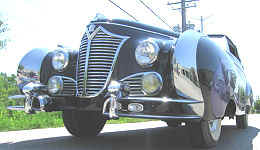 [ Photos in these two rows: © 2006 and courtesy Cliff Graubard ]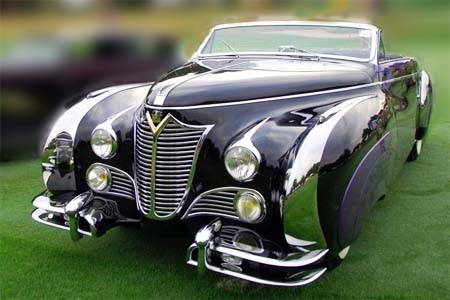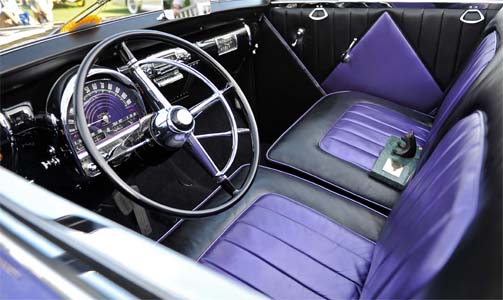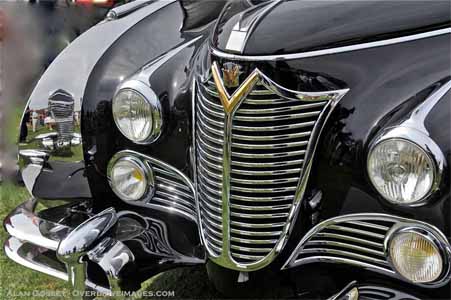 Photos in the two preceding three rows were snapped at the annual Amelia Island Concours d'Elégance, 2012 edition
[ Photos: © and courtesy Alan Gosley - OverdriveImages.com ]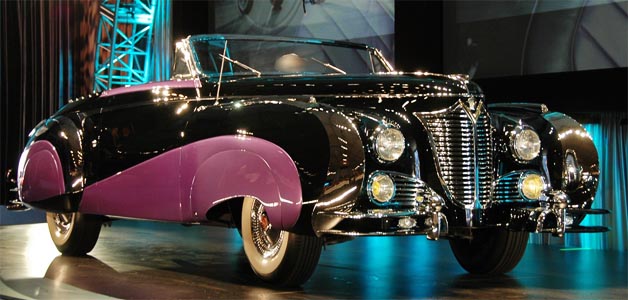 Sold at a Gooding auction

[Unknown, USA] Custom low-rider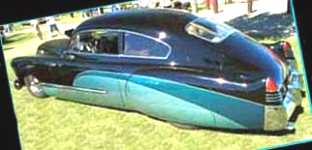 [ Photo : Internet, 2004 ]
[Unknown, USA] I'm not a great fan of low-riders, hot-rods and the like, but you have to admire the sheer effort that goes into creating custom jobs like this one and the one above it..

[Unknown, USA] Twin-engined Cadillac tractor used to haul gliders aloft.

[Unknown, USA] Imperial limousine, chopped-top, customized show car, with Ford 429 engine, offered for sale by Kruse, 8/1996

[Unknown, USA] Imperial limousine with custom wheels

[Unknown, USA] Custom red

[Unknown, USA] Custom hot rod made up from 1948 4-door sedan

[Unknown, USA] This image is from an old Motor Trend issue (Feb., 1951) that was for sale on Ebay in Oct., 2008. It was brought to my attention by Cadillac aficionado, Barry Keating. Barry believes it is the same car shown on gthe "Dream Cars" pages for 1946-47, which I guessed was put together in the forties or early fifties.


[ Photo: Internet (eBay), 2006 ]

[Unknown, USA] Possibly Hess & Eisenhardt custom,(armored?) Series 60 special sedan, for gangster Mickey Cohen


The thickness of the laminated glass (RH image) gives an idea of the armor on this car

[Unknown, USA] Custom pickup on Cadillac chassis; this one was seen offered for sale at auction in the year 2000; it was said to have 36,000 actual miles and was painted maroon. It sold for $8,750.

[Unknown, USA] Custom pickup on Cadillac chassis; this one was seen offered for sale at auction in the year 2000; it was said to have 36,000 actual miles and was painted

[Unknown, USA] This one was signaled to me by Hugh Nutting, a regular visitor to the Cadillac Database: Another Cadillac custom in Palm Beach at the time [the early fifties] belonged to Briggs Cunningham. It was a 1948 fastback 2 door painted dark metallic green. The hood was cut down to look something like a 1953 Studebaker. It had re-worked '48 Olds 98 rear fenders, and the vertical grill bars were removed. I told Jim Sitz, the Cunningham Historian about it several years ago. He came up with a picture of it in an old magazine. Jim thought it belonged to one of Briggs' friends who was a Cadillac engineer at the time. The engineer actually had a '51 Cadillac convert with Borrani wire wheels.

[ hoping for an image ]

[Unknown, USA] This photo was brought to my attention on the web site of the Cadillac & LaSalle Club, Inc. It appears to be a custom "woody" on a 1948 Cadillac chassis.

Van der Stricht, Patrick (Belgium) Patrick is a devoted Cadillac enthusiast. This is his artist's proposal for a 1938-39-40-41-48-49-51-53-54-55-56-57-58 custom Eldorado coupe (...and I may even have missed a couple of years in my speedy examination of this delightful drawing!


Drawing courtesy of Patrick Van der Stricht

1949

Allard, Sidney (UK) special Cadillac-powered racer "J2"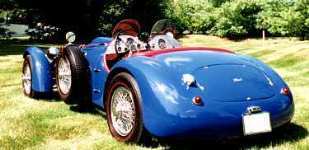 Photos: Internet, 5/2000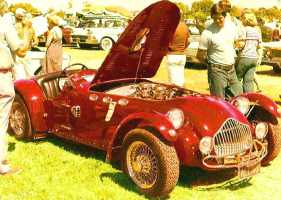 Here's a J2X I photographed in California in 1978
Bohman & Schwartz (USA) special woody wagon for MGM studios; the car services; it is fitted with a long, roof-mounted luggage carrier. This 7-passenger car currently [2001] is owned by Charles Cawley of Wilmington, DE.


[Photo: © Larry Wright, Detroit News Online]
Bohman & Schwartz (USA) [unknown] on a tip from a friend, I sent a fax to this number, in France, on March 3, 1999: (33) 1-4-043.1908. The person in question was said to own a 1949 Cadillac with a body by this coach-builder. I never got any reply and appeart to have mislaid the contact address. If this rings a bell, anyone, please contact me.

Coachcraft Ltd. (USA) custom, shortened, de-chromed, 2-passenger coupe for Mr. and Mrs. Morgan Adams. This car was reported as having been offered for sale in a rather poor condition in the mid-eighties. According to SS member Hollis Weihe, it was still owned (1996) by a Mr. Phillips, Mrs. Adams' brother. Photos Sch40, p.173, SSA93, pp.10-11. The Hollywood firm had been commissioned also to build for the Adams' a custom town car but owing to a disagreement between them and Coachcraft with regard to the cost of this coupe, the project was given over to Maurice Schwartz for completion [see below, Schwartz, Maurice].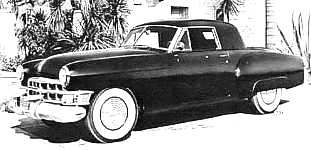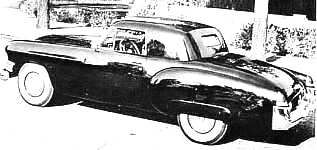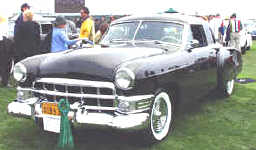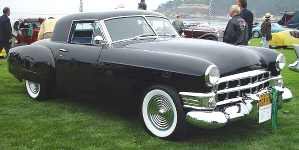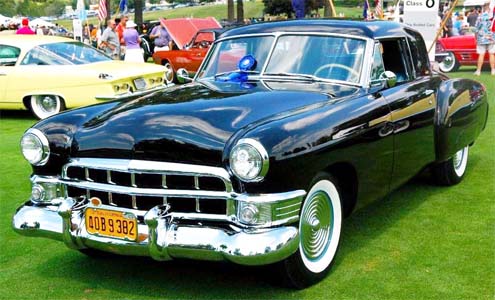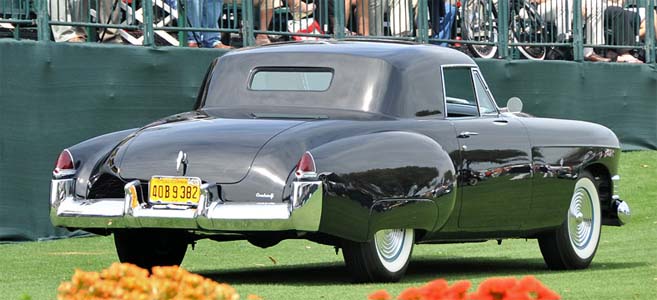 The restored car at Pebble Beach, 2008
Friend and Cadillac admirer, Jeff Stork had this to say about the Adams' cars in March 2001: The Mrs. Morgan Adams car, in it's circa 1962 modified condition (blood red, modified front clip) disappeared off the face of the earth for decades and resurfaced two years ago at the classic car auction at Pebble Beach. I have several friends who recognized the car. The Town car was last seen publicly in 1963. I have not heard of a trace of it since then - has anyone else?

Another "Database" user, Dick Benjamin said he did not personally know the data on this car. He told me that Joel Shapiro has followed the car since new and has talked to the first owner. He says: I believe he also has some documentation on the car. His contact information is in the message I posted, and I assure you he will be more than happy to tell you what he knows about the car. If you would like me to pass along an address for you, I can do that, or you can short-circuit the middleman and call him directly, at 323 664 2873. He is an accountant, so this is a very busy time for him, but if you call and he is not in, his office will take the message and he will contact you. Later [01/2008]: More on this car in the Self Starter issue for January, 2008, thanks to enthusiast, Joel Shapiro. Latest [12/2009]: According to auto buff, Joe Manna, the Coachcraft Coupe is now owned by a collector in NJ who is a successful used car dealer and a well known Packard collector; he lives not far from Joe, who knows him.


In this B&W photo, the car was actually painted blood red!
Photo at right, courtesy Joel Shapiro and Self Starter shows (IMHO) horrible nose job


The Coachcrfaft coupe, restored to its former, original appearance
[ Photos: Pebble Beach, CA, Concours d'Elegance, 2007 ]

Derham (USA) modified 60 Special with padded leather roof and small back light. Photo: Sch40 p.161.

Derham (USA) modified Series 75, with padded leather roof and small back light. Was for sale in the CLC Self Starter in 2002 (located in St. Charles, MO)

Derham (USA) stretched 4-door, 6-passenger convertible sedan on 163" wheelbase Series 86 commercial chassis, built for eastern potentate; this car had wide tires for added traction on sand-bound desert roads; Sch40 p.174, McC p.294

Derham (USA) custom limousine, SS 3/94, p.23


This car has a light colored cloth or leather roof covering

Dore, Dick ( USA) Custom "lead sled" conversion, built in 1995, painted Candy Tequila Sunrise. Cadillac 472 engine, show chrome. This car will be offered for sale at the annual Barrett-Jackson venue in Scottsdale, AZ, in January, 2003. Here's part of the catalog description: Bill Reasoner chopped top - 4" in front and 5" in rear with all chrome trim shaved off, headlights frenched, and many more body modifications. Painted in a toned candy Tequila Sunrise (orange), suspension was lowered with dropped front spindles and a set of "Unkel Al's" low glide springs. A 472 Caddy motor rebuilt by Desert Cylinders in Phoenix. Completely show chromed. Automatic transmission - 3 speed. New radial white wall tires, tan cloth and similar leather custom interior. Power steering, power brakes, 12-disc CD player with LCD display screen. 8092 miles on odometer since built. The real "Majestic" by Rick Dore.


[ Photos: Internet, 2001 ]

Fleetwood (USA) prototype Series 75 limousine [1948 design]; sadly, it did not go into production. It was a beautifully balanced car for its size; artists' proposals, SIA11, p.14.

GM [Cadillac] (USA) This drawing is entitled Cadillac Tomorrow and is dated 02.21.49


[ Information and photo: courtesy CLC and Steve Wolken ]

GM Styling (USA) Special "The Caribbean", custom Series 60 Special built for the 1949 GM Autorama at the Waldorf Astoria. The rear seat back incorporated fold-down trays masking smoking and vanity sets. The car featured door saddles, a design trait more common to classic cars of the early thirties. The interior was trimmed in French broadcloth piped and trimmed with iridescent green leather. The headliner was green broadcloth and the instrument panel was painted to match the exterior, painted a metallic color called "Caribbean Daybreak". Photo: , Sch40. p.166, McC p.283.

GM Styling (USA) "El Rancho", special convertible for 1949 Autorama, Sch40 p.170, McC p.283.


The 2-year-old "cowboy" (right) is Larry, the son Cadillac employee, Howard B. Lucy;
today (2013) I guess he's gotta be a much bigger "lad" of some 65 years of age!


This comical letter to the editor was released by "Associated Newspapers" at the time: Gents, I have just read the advertisement for your new Cadillac model called the El Rancho convertible. It reads "this model is upholstered in waxed saddle leather selected from hundreds of hides for colour and texture, trimmed in dark sueded kip's hides and saddle-stitched in white cord; all interior trim is antiqued and hand-engraved silver in the western motif." Well, I am breathless, as it is just what I have wanted all my life. I have been riding around with unwaxed saddle leather long enough, and if any man has felt frustrated on the highways through a lack of selected hides I am that guy. There is no true happiness in today's traffic until you know you have leather upholstery and that it has not just been taken from any old cow but that somebody with the right taste has gone over the hides and selected some with taste. I crave the feeling that behind my car stands a skilled hide-picker and I don't mean a traffic cop with a spear. Also I am a sucker for waxed hides, not just hide that has been gone over quickly with some polish, I want wax, and plenty of it when I go out motoring. I have not been very happy when out in an automobile for some years; maybe it was the lack of wax, the feeling of humility that comes with a realisation one is improperly waxed and on the red light where everybody can see. I liked your emphasis on colour and texture. What good is a hide if the color and texture are not up to snuff? The wrong shape can ruin a Sunday trip to Mulligan's cove and I have a friend who went to a house party with leather the wrong texture and got treated like a mere nobody as soon as the word got around. I would like a rich oxblood shade. On the matter of kip's hides I will take a chance; I have never been much of a kip's hide motorist but the saddle stitching in white cord sounds good. My saddle stitching requirements have long been neglected by the auto industry. I got on a waiting list for white cord some years ago but never heard any more about it. White cord will give me a greater feeling of self-confidence on the road. The interior trim of hand-engraved silver is swell, especially in the western motif; I like western motifs in heavy traffic and trust you will throw in a sombrero, lariat and a couple of six-guns. Could I get autographs of Hopalong Cassidy and Tom Mix on the back seat? Also some spurs and chewing gum. Hey-ho, Silver! You have no idea what the mere description of the El Rancho model has done for me. Yours with enthusiasm,

[signed: Elmer]

P.S. send an extra can of wax, the big economy size.

GM Styling (USA) "Embassy", another special 60S for the 1949 Autorama. It had a leather-covered top and a small back light. The rear fender simulated air-scoop was special as was the chrome beading around the front wheel openings. Black leather was used throughout the front compartment and a tool kit [with chrome-plated tools] was recessed in the RH front door. There was a similar pocket in the LH door for maps. On the RH side of the front seat was a special tubular storage pocket for an umbrella [a popular feature of some 30s classic Cadillacs. There was a hydraulically-operated division, with a clock, between front and rear compartments. Rear seat upholstery was custom-woven broadcloth; door panels were done in black leather; all the hardware, including the clock case, was finished in brushed silver. The LH rear door housed a VHF radio and in the RH door there was a vanity case. The back seat had a wide center arm rest [11 inches]. Photo: Sch40 p.167, McC p.283.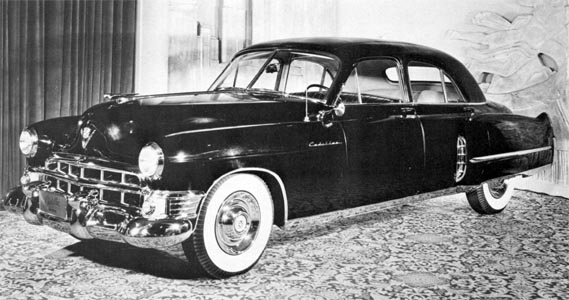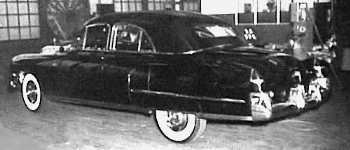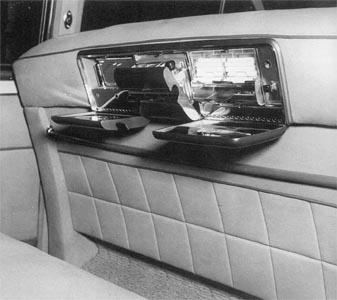 GM Styling (USA) special 60S "Coupe de Ville" on 133" wheelbase chassis (7" longer than the production coupes) for the 1949 Autorama show in New York named "Transportation Unlimited"; it lasted 8 days beforeit was transferred to the convention center in Detroit. The car appears in factory records as style #6037X. The Coupe de Ville was powered by the (new for 1959) Cadillac 331-cid overhead-valve V-8 motor mated to a four-speed Hydra-Matic transmission. Features included a simulated rear fender air scoop (as used also on the Cadillac Embassy), rear fender stone guards, a short, chrome-plated kick-pad below the doors [later extended the full length of the doors], chrome edging around the front and rear wheel openings and Coupe de Ville script on the rear fenders, above the rear wheel openings; this trim as well as the Cadillac script on the front fenders was later removed and protective fender spears were added front and rear. Contrary to the other Autorama cars for 1949, this one had a full-width curved windshield in lieu of the standard split windshield; the back light, made of three pieces, like the one used on the 1950 Series 75 sedans and limousines. All windows including front vents were hydraulically operated, as was the front seat. The interior, including the headliner was upholstered in light gray leather to match the roof color; during restoration the upholsterty color was changd to a darker woodland green. The original exterior color is not known but was probably a metallic dark gray. A short-wave radio transceiver (early 2-way radio) was installed in the glove compartment; the rear arm-rest received a vanity case (the recent source mentioned refers to a "lipstick holder" and "perfume atomizer" as were used, later in the production Eldorado Brougham models of 1956 and 1957. A writing pad (or "secretarial kit") was incorporated in the rear compartment. The first Coupe de Ville is reported to have taken two months to build, at a cost of some $30,000 (of 1949). When Charles E. Wilson, who was GM President from 1946 through 1953, left GM to serve as Secretary of Defense from 1953 to 1957 in the Eisenhower administration, he received the Coupe de Ville as a farewell gift from GM. In 1957, Wilson in turn presented it as a gift to his secretary - a lucky lady without any doubt. Late Extra (Jan. 2013): Little is known of the car's whereabouts between the late 50's and the late first decade of the New Millennium; it did appear "For Sale", briefly, in the magazine Cars & Parts (April 1980); CLC member, Bob Hoffman, recalls having seen it for sale near San Diego (around that time?) for $3,500. It re-surfaced and was acquired circa 2011 by well-known Canadian collector, Steve Plunkett of London, Ontario. Steve restored the car and showed it at the Amelia Island Concours d'Elégance in March, 2013. To try to grasp the extent and quality of Mr. Plunkett's collection (as of 2010-11), click here. This prototype remains the only surviving example of the four that were built in 1949. The others were the Caribbean, the Embassy and El Rancho, all decsribed herein. For more photos: Sch40 pp.168-169. McC p.283.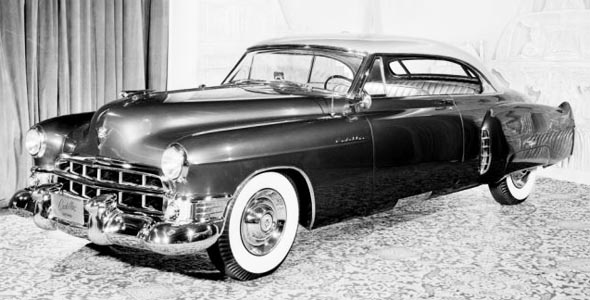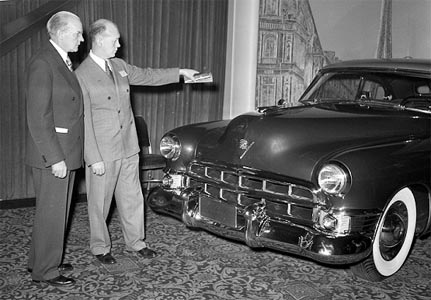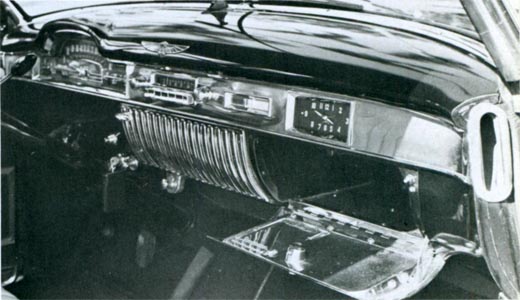 This Autorama show car was used by GM President Charles E. Wilson; in 1957, he gave it to his secretary;
the glocebox contained a number of vanity items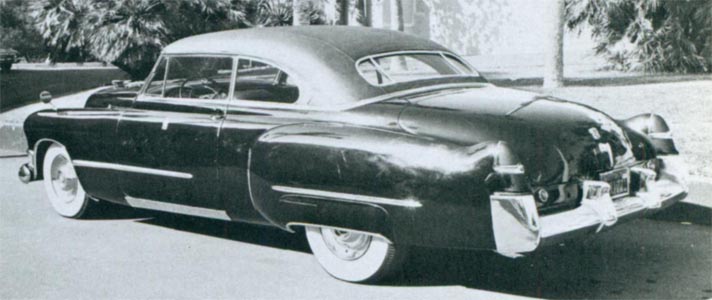 These photos below show how the car looked in the late fifties; protective chrome fender spears
were added to the rear fenders at one time, but removed again during the restoration in 2012




Classified ad from Cars & Parts, April 1980
[BTW, the correct spelling of Roy's name is "Schneider"]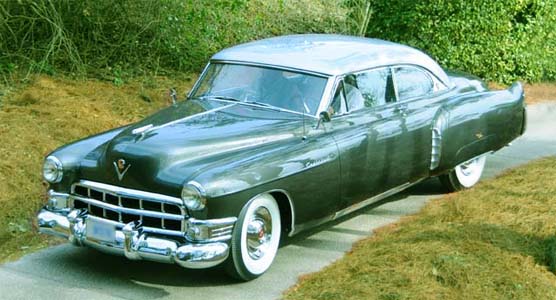 First public appearance since the late fifties: Amelia Island, March 2013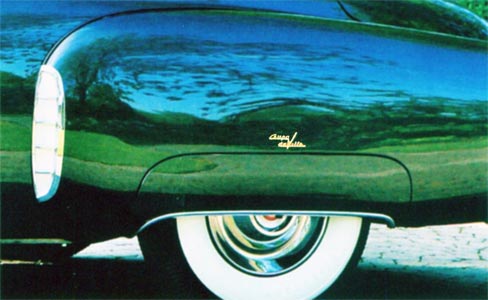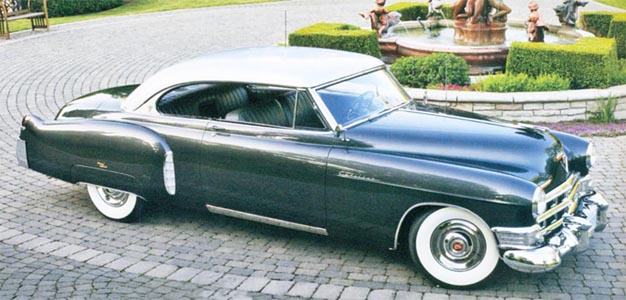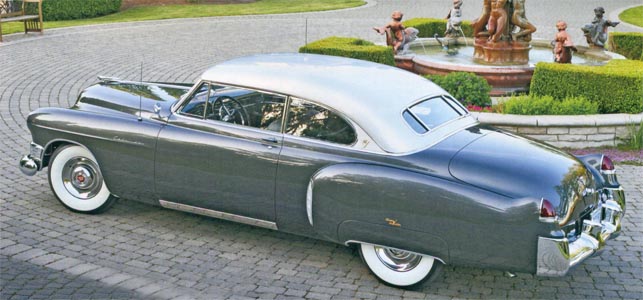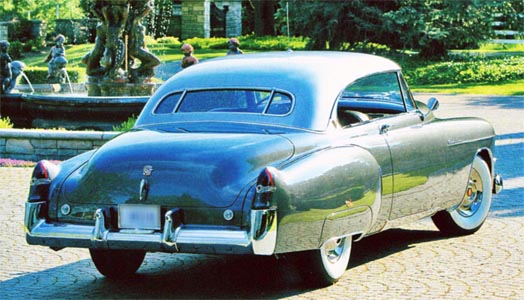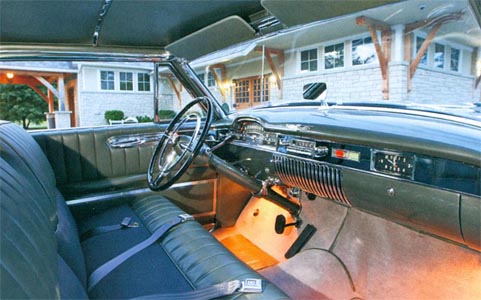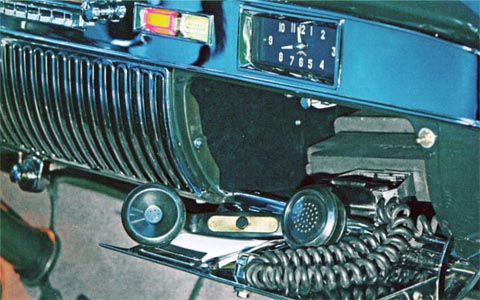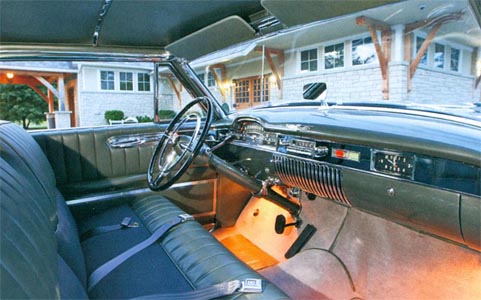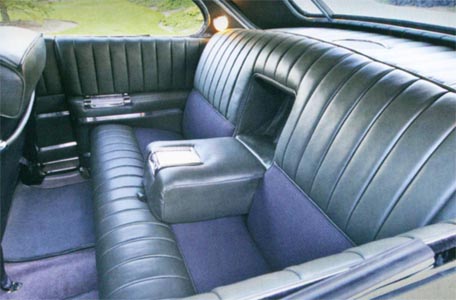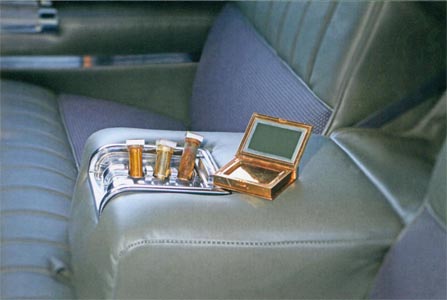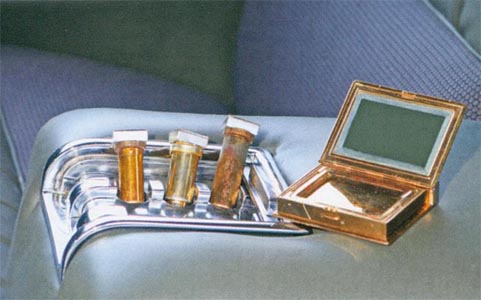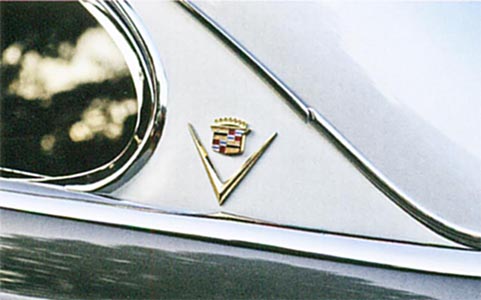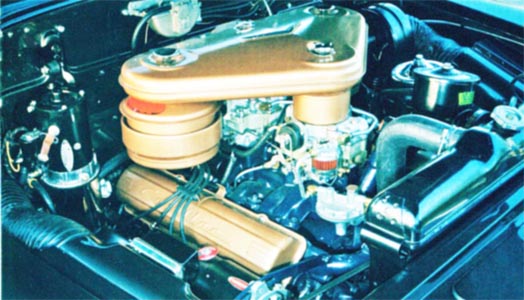 Photos above 8 rows: courtesy Self Starter magazine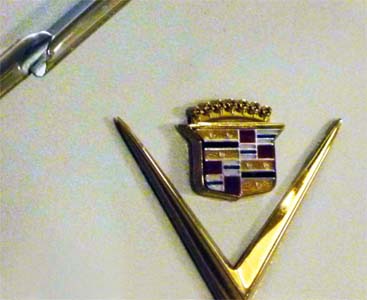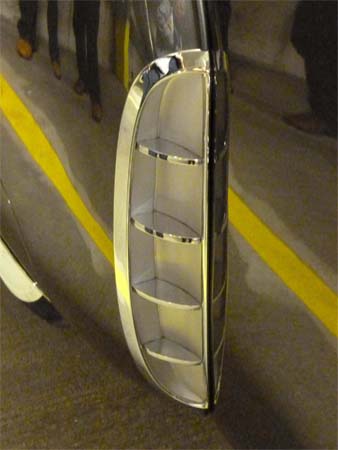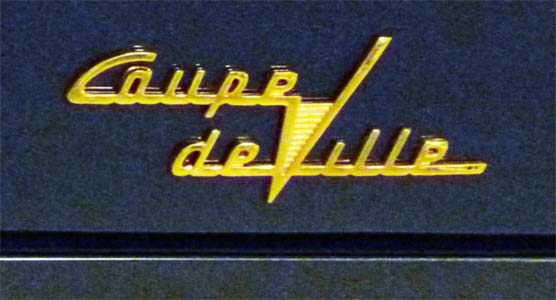 Photos © 2012 and courtesy of Gita Saunders


Ad photo for David Temple's new book (2014) - GM's Legendary Show and Concept Cars
Pinin Farina (Italy) 2-door fastback coupe proposal by the Italian-based coach-builder; note the Alfa-Romeo style grille (a PF Trademark) and the typical 1949 Cadillac impact guards on the front bumper. It is believed that PF did not build this one ...the more's the pity!

Schwartz, Maurice (USA) custom coupe by Maurice Schwarz for a Mr. W.A. Woodward, an Oregon resident, Sch40 p.121, McC p.283 and MH, p.279

Schwartz, Maurice (USA) custom woody wagon on stretched Series 62 chassis, built for Mexican President, Miguel Aleman, Sch40 p.175, McC p.284 (has vent windows also in rear doors, roof rack, high sprung).

Schwartz, Maurice (USA) custom town car for Mrs. Morgan Adams. Originally commissioned from Coachcraft Ltd. of Hollywood, it was completed by Maurice Schwartz following a disagreement on the price of the custom '49 coupe ordered and completed previously by Coachcraft), Sch40, p.121 and MH, p.279. Roy Schneider reported this car as having been sold in Pasadena in 1962 for $2400 when it had fewer than 30000 miles on the odometer. Late extra [4/2006]. This from enthusiast, Dan Orosco: First I'd like to say I found your Cadillac database very informative, your efforts are much appreciated. I'd also like to report that as of April 2006 the 1949 Coachcraft/Maurice Schwartz custom town car originally built for Mrs. Morgan Adams is alive and well and owned by a Los Angeles collector residing in my neighborhood. The town car appears to be in very good original condition and has a black leather upholstered driver's compartment with a striped gray broadcloth upholstered passenger compartment trimmed with light blue painted moldings and door caps. In addition to the two piece dividing glass the rear bulkhead contains a clock and a single hatch that appears too small for a jump seat, a liquor cabinet perhaps(?). I believe the concentric circle hubcaps shown in the photo have been replaced by original Cadillac "sombero" caps; it's interesting to note that the concentric circle or "flying saucer" -type hubcaps were a common aftermarket accessory of the period and are still available today.

Latest [01/2008]: Check out the Self Starter for January, 2008, where enthusiast, Joel Shapiro, tells his story about this car.


The subdued elegance of the blue cloth interior trim of the passenger compartment unfortunately is lost in this B&W photo
[Photos (center and right): © 2007, Mark Masumoto, courtesy Self Starter]


These two photos, © 2007, Joel Shapiro, courtesy Self Starter


Photos [above 2 rows] were taken at a recent [2006] car meet


Schwartz, Maurice (USA) custom woody wagon for Marie McDonald, wife of shoe-magnate Harry Karl, Sch40, p.121.

Schwartz, Maurice (USA) custom Woody wagon on Cadillac "75" Series chassis for MGM studios in Hollywood. Between 1947 and 1949, MGM Studios ordered six Series 75 Cadillac chassis from Hillcrest Cadillac, the Beverly Hills dealer. These chassis were dispatched to Maurice Schwartz ro receive custom, "woody" bodies. This car was the sixth in the series. Schwartz was possibly inspired by an earlier, six-door woody he built in 1947 for cowboy star Gene Autry (see Database). Like the other MGM cars, the vehicle was used to transport actors and support staff to and from location shoots. On one such trip, the car was damaged and lay abandoned thereafter until it was acquired more than 10 years later by a Los Angeles collector whoe intention was to restore it. Various work was begun done but never completed and the car was subsequently bought by the Ramshead Collection in Sacramento who completed the job, including rebuilding the motor and fitting a completely new interior with some alligator trim. The restored car was acquired by a New England collector in the mid-1990s and carefully maintained. The metal parts of the body were repainted from red to dark green. Late Extra (Jan. 2011): The car was sold at auction by the RM group at their Arizona venue.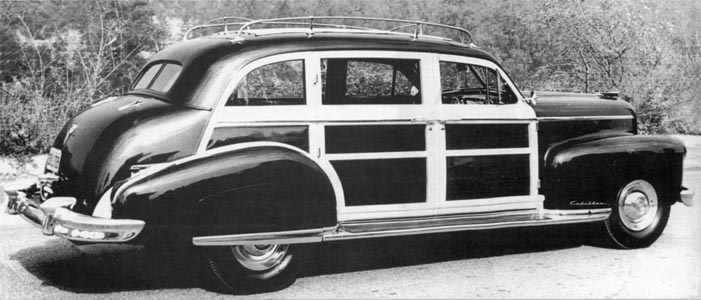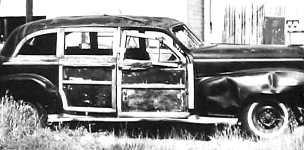 "Before" and "after" restoration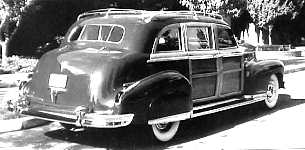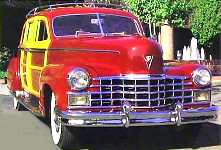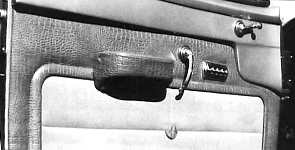 (Left) First repaint to red
(Right) Alligator trim on doors and seat backs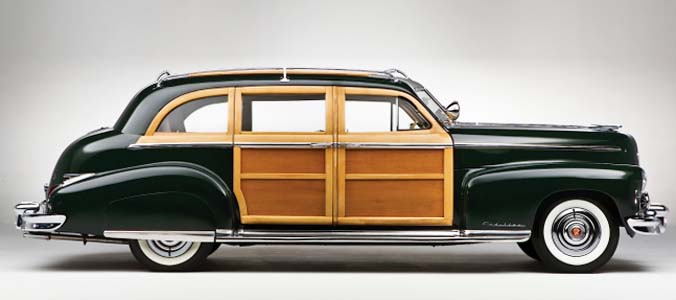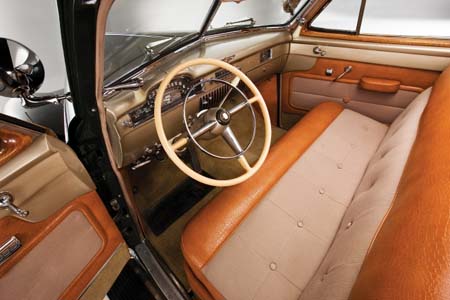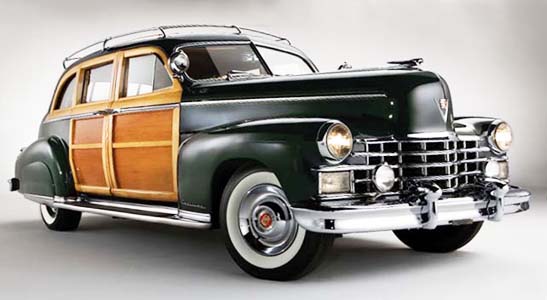 The restored car after the second paint job
[ Photos: © 20121 and courtesy RM Auctions ]

[Unknown, USA] custom Woody wagon on Cadillac "62" Series chassis.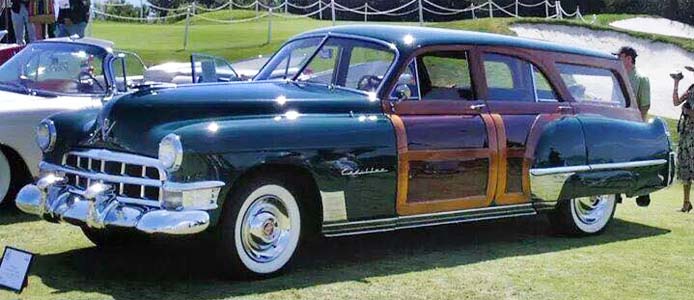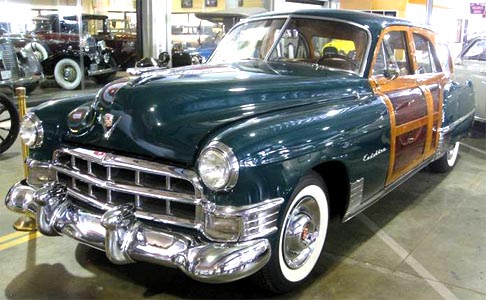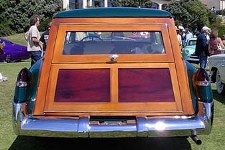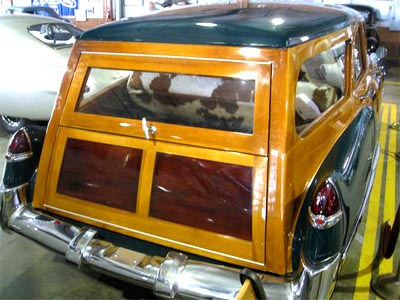 Unknown (USA) Town car conversion (?) of Series 75 style 7533X imperial sedan for 7 passengers. Offered for sale at auction in Scottsdale, AZ, in January 2005, it was said to have been completely restored in 2002 and that all numbers matched. The car was bid up to $34,000 but apparently did not change hands.

[ image to be processed ]

Unknown, USA: These two photos were kindly sent in by Peter Berendi, an auto enthusiast from Hungary. He found them on the Pantera International Web site (for all De Tomaso Pantera buffs) covering the club's 2002 Monterey meet. Obviously, whoever built this fine-looking pick-up knew his business, as well as being an admirer of the Cadillac. Perhaps he will see this entry and give us more details about the car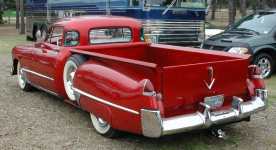 [ Photos: courtesy Peter Berendi, Hungary ]

Unknown (USA?): These two photos show a car in need of restoration but seemingly complete

Unknown (USA?): These one looks to be a good candidate for a full restoration too.

Unknown, (probably USA) Another side-step pick-up in bad need of restoration. This one was brought to my attention by Robert Johnson, an enthusiast, who found the "remains" of the car in southern Georgia. Compared to the previous photos, it appears that the rear half of a regular pick-up truck (owner was told it could be 46-54 Chevy) was grafted onto a '49 Cadillac front end. Interesting !


Photo: © 2005 and courtesy of Robert Johnson

Unknown (probably USA) 1949 Series 62 sedan powered by a nineties "Northstar" engine. While you are there, you should have a look at the other Cadillac photos on this incredible Web site run by my young Dutch friend. Ruben Baeten.

Unknown (probably USA) These "lead sled" conversions are not the kind of "dream car" I had in mind when I decided to create a section of the Database devoted to "unique" or "exceptional" Cadillacs; nonetheless, it is typical of a certain category of automobile that enjoys great popularity with some collectors.


Photo right © 1998, Yann Saunders
[I wonder if the car on the right might be the Dick Dore car mentioned above?
I did photograph that car in Phoenix, AZ, about four years ago]

[Unknown, USA???] 1949 Cadillac with matching golf cart. This car has been chopped and frenched; it features 1998 Mercedes-Benz headlights and high beam park light assembly. All the stainless on the side windows has been custom made. Side moldings are from a 1965 Chevy 210. The golf cart is made from another 1949 Cadillac; it has Cushman front steer and suspension. The charger is in the trunk of the car.

[Unknown, USA???] Formerly thought to be a customized, low-riding 1949 Cadillac, this car was recognized by auto enthusiast, Joe Manna, who knows the car and identified it properly as a 1950 Chevy with Caddy rear fenders. Joe added that it was built in 1988 in Kansas City, Mo. Thanks Joe. It looks so much like a Caddy, I'm gonna leave it in the Database for now.

[Unknown, USA???] 1949 Pro-Street rod, prior to completion (offered for sale in this unfinshed condition, on eBay, 2/2005

[Unknown, USA???] The "Penny" car ... decorated (apparently) with thousands of pennies. In another Database entry (Dream cars for 1976) you will see a 1976 Cadillac covered completely in 120,000 1976 vintage coins. The car weighs a total of 3.5 tons, and the coins are responsible for 1/3rd of that weight! To top it all off, they've been very meticulous about their coins, placing them all heads up
and in an orderly fashion. It only took 2 years!


[Unknown, USA???] Possibly a Series 62 sedan converted to delivery use, and probably post 1990.

[Unknown, USA???] Possibly the conversion of a Series 61 or 62 Sedanet (fastback).


[ Photo: Internet, 2013 ]

[Unknown, USA???] Low rider

Van der Stricht, Patrick (Switzerland) Patrick is a well-known Swiss automotive writer and cartoonist, as well as a devoted Cadillac enthusiast. This is his artist's proposal for a 1938-39-40-41-48-49-51-53-54-55-56-57-58 custom Eldorado coupe (...and I may even have missed a couple of years in my speedy examination of this delightful drawing!


Drawing courtesy of Patrick Van der Stricht