1975-76?

Sky Automobiles (Germany) Someone sent me these shots of a customized, souped-up 1975-76 Fleetwood Eldorado from Germany. If you recognize it, I'd appreciate more details and also give you credit for the photos.

1975-76

Traditional Coachworks (USA): I was contacted in December 2010 by Michael Kribbs. His dad, James Kribbs, was a manager at Wilshire Cadillac on Wilshire Blvd in Beverly Hills, California. He worked with a chap named Jack Patrick. Over a meal, one Friday, they chatted together about the possibility of converting Cadillacs into pickup trucks and station wagons. The following Monday James Kribbs went back to work and was shown 3 sketches that Jack Patrick had made during the weekend. James was impressed with the drawings and decided to start the company immediately, while continuing to do business with Wilshire Cadillac. He named the outfit "Traditional Coachworks", it was located in Chatsworth, CA. The very first conversion was a pink Cadillac pickup truck, bought by stuntman extraordinaire, Evel Knievel. He liked it to the point of ordering a second one, white this time, with extra chrome; that car was used in the movie about his life. On this and the coming pages, you will see many more examples of coachwork from this California company.


These 3 sketches: © 1976, Jack Patrick, courtesy Michael Kribbs


Left: James Kribbs and Jack Patrick in the mid-seventies, with their Cadillac pickup truck conversion
Center: this pink Cadillac pickup truck was acquired by stuntman, Evel Knievel
Right: Advertising flyer from Traditional Coachworks


This interesting ad for a CB unit features a pick-up truck that I assume
was built on the Cadillac chassis by the Traditional Coachworks Co.

1976

American Specialty Corp - ASC (USA) Shortly after the introduction by Cadillac of the all-new 1976 4-door Seville, this company, better known for its sun-roof conversions, planned to build a limited production 2-door version to be named Charisma. They were projecting completion of five cars monthly beginning in September 1975, climbing to 25 per month by January. Actual production figures unknown. I never actually saw one until the 2-owner car car below was advertised for sale on e-Bay in August 2001 and again in February 2002. There was enormous interest in the car, even though it was anticipated to sell at almost double the original price of the Seville. Several months production were pre-sold, and they were accepting orders well into Spring and Summer of 1976. The car was to be sold through Cadillac dealers. But only 5 cars are said to have been built in all. Two or three of them were sold through Cadillac agencies and the remaining two or three were shipped to Saudi Arabia (...who would have guessed?). Not even the San Remo convertible Seville matched the quality and elegance of the Charisma. The car below was owned originally by Robert Vlasic of Vlasic Foods (pickles, etc.); it has a custom "V" medallion on the quarter panels, indicating the car's ownership. The second owner purchased it in 1979. The vendor has had it since 1979.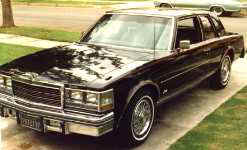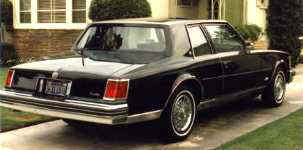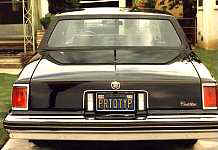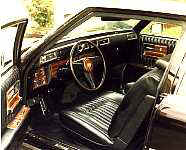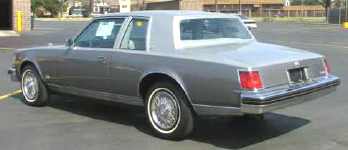 Here's another one, in equally fine condition
Baker, Dick and Tony (see Custom Coach, below)

Caribou Motor Company (Grover City, CA, USA) According to one of its own advertising flyers, in 1986, this company built Cadillac pickups since 1954, combining the luxury of a regular automobile in a pickup. The designer and engineer behind most Caribou pickups is Lou Schorsch. A power operated tail gate was a first on the 1986 version. These conversions were available through Cadillac dealers or directly from the Caribou Motor Company, on Coupe de Ville models from 1974 to 1986. The company boasted in 1978: Every Caribou is a show car that stands out for years to come as one of America's truly practical automobiles. The Caribou is the ultimate passenger car pick-up. Cadillac standards are used throughout the construction of your Caribou, along with numerous inspections, to maintain the highest quality possible. To order your Caribou, you must use your [own] automobile. Select the finest car you can find. Try to avoid using a wrecked or damaged car. It's best to start with the best. Orders were taken with a 50% deposit, the balance being due on delivery. The advertised costs in 1986 were as follows: conversion from a 1974-76 Cadillac Coupe deVille, $10,500, from a 1977-79 Coupe deVille, $12,500, and from a 1980-86 Coupe de Ville, $14,500.

Coach Design Group (Westlake Village, California, USA) A Database user from Oklahoma City, OK, asked in January 2005: Anyone have any info or literature on 1977-78 Eldorado "Majorica" [Mallorca ?] edition with T-Tops and filled in Quarter windows? I am told that approximately 40 were built by the Coach Design Group of California, makers of the Seville San Remo. Any information would be greatly appreciated. Jim Jordan. Jim wrote again to say that he had got a '76 "Majorca" and knew of a yellow '77 model from Scottsdale, AZ [see "Dream Cars" for 1977]. He said these conversions were unusual and very well done. The cars feature large, solid metal T-Tops (not the small glass Hurst units) that are cut to the contours of the windshield frame. The rear quarter windows are filled in solid, yet the cars do not have vinyl roofs. They feature a chrome band over the top that runs out to the front of the hood, similar to Biarritz trim, and are engraved "Majorca". Etymological note: although pronounced MA-JOR-KA by Anglo-Saxons, the correct spelling of the Mediterranean island located off the Spanish coast is in fact "Mallorca" and is pronounced MA-YORK-AH [the closest pronunciation of the Spanish vowel, "LL" corresponds approximately to the Anglo-Saxon "Y"]. It bugs me when I hear American pseudo-linguists attempting to put on a foreign accent to pronounce Anglicized words like Parmesan (the Italian cheese from Parma, which is correctly pronounced PAR-MAY-ZAN); many try to impress by pronouncing it PAR-MEE-JAN, in an attempt to mimic the correct Italian pronunciation, PAR-ME-GEE-ANO; note that the adjectival forms, "parmigianO" and "parmigianA" are perfectly correct when used to describe an Italian dish made or covered with grated Parmesan... Ok, so now let's get back to our CADDY-JACKS. Late Extras [9/2008]:

CLC member Gene Moscicki wrote: ... Some of the information I have about the car (mine), the side glass is 76 Pontiac Ventura, I would think Chevy Nova is the same. The "A" pillar had to be laid back and lowered 2" to meet the door glass. A new windshield must be modified to fit. it is not standard Seville, Rear 1/4 windows are plexiglass [sic] custom fabricated. Top assembly looks oem, mid 70s g.m., modified to fit, latches and sun visor brackets are mid 70 G.M., rear side markers are 75 Nova. The whole car is remarkably rigid; you can lift front or rear off the ground without any body flex and doors open and close fine. My Ultima has "floating headlights", no Seville side markers, markers on the car look to be period Mopar bullseye markers to comply with government regulations. Rear tail lights are 74, 75 Eldorado, single lights on each side. I have seen pictures, I think in a magizine, of a car with stacked tail lights on each side and a claim that Buick Riviera lights have also been used; I have yet to see an air scoop in place of the side marker; I do not doubt that such scoops exist. The cars I have seen have ALL been different in some way, body modifications, interior design and materials. I seriously doubt that there are two alike. A very custom design tailored to the buyers' resources. I am told that $55,000 was the cost of the car I have when new. That is far above the $32,000 base price listed in the brochure from Ogner Motors, aka Design Group Westlake Village Ca. The overall quality of the modifications is outstanding! It looks like a Factory made car rather than a modified 4 door hardtop.

CLC member, William Link wrote: I have had three coupes, one 1977 that was #6 /400 (if I remember correctly), another 1977 that is # 11/400 (which I still own), and a 1978 that was # 21/400 or so. All my cars have been numbered. I think the PLAN was to build 400 cars...but that never happened due to excessive pricing...later the cars were numbered xx/200 before they gave up on numbers altogether. The coupe was abandoned in 1978 due to poor sales....very few of those were built. San Remo also built the 'Majorca,' a custom Eldorado, in 1977 and a 1979 Eldorado convertible before a suspect fire ended all production in 1979. I think the numbers restarted with each model year. If anyone would like a coupe...let me know I have one left.

[ no images ]

Cadillac Truck and Station Wagon company (USA) a starter company begun by James Kribbs. He and Jack Patrick started to talk about this business while they were in Berverly Hill, Ca. Then, in one weekend, Jack Patrick made 3 separate drawings for customized Cadillac cars. The company was launched that weekend. Evil Knievel bought the first truck. Sometime later be bought another truck; it was the white Cadillac pickup truck used in the movie "Viva Knievel" which Parade magazine called the worst movie ever made. The photos of the two diffferent custom pick-up trucks, below, could be from this manufacturer; the vehicle in the upper three pics is built on the 1976 Seville chassis, apparently built for stuntman, Evel Knievel


This ID plate is attached to the LH side of the tailgate


Yet another custom pick-up or "truck", based on the 1976 Cadillac Coupe de Ville.




Cadillac Motor Car Division of GM (USA) Rare, but not as rare as the majority of cars in this section, here are some views of one of the final 200 "last" Cadillac convertibles delivered by the factory in 1976. The "last" factory convertible turned out to be untrue ...as the factory built another (short) run in 1984-85.


Each of the last 200 cars carried a brass plaque like this one

Center City Cadillac (Philadelphia, USA) Custom Calais coupe.


This illustration is from a dealer flyer of the time;
a survivor is shown below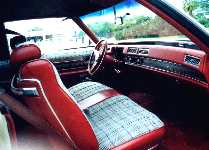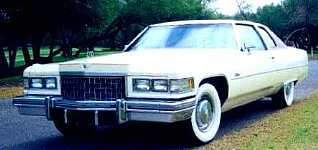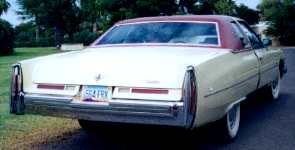 Center City Cadillac took a base Calais with cloth seats, put some extra padding on the roof
and had side scripts made up for what they called it: the St. Moritz
[Cadillac Motor Car Division, GM, showed their own St. Moritz custom Eldorado in 1955!]

Custom Coach, Lima, OH (USA) Father and son team, Dick and Tony Baker sent me in 2007 a CD-ROM of photos of many of the conversions he and his late father, Dick Baker, did on the Cadillac chassis. Many of the pics are digital copies of Polaroids, hence the mediocre image quality.


[ Photos: © 1976 and courtesy Tony Baker ]

Fisher Body [Cadillac] (USA) - unless disproved by that company - Custom Eldorado convertible with added rumble seat. This one is owned by Tom Astor, a well-known "Country" singer in Germany. Enthusiast, Ingo Marx, who kindly supplied the photos wrote: The rumble seat car is a 1976 special conversion for 8 passengers. These conversions were carried out by Fisher Body in a limited edition of about 10 cars. They were so rare that even many Cadillac workers didn´t know about them. We [Müller & Hensel] sold the only one in Europe several years ago. This car was not a Bicentennial model, but it was provided with a similar style. It is still in service. Well, Ingo, this is news to me. I sure would be interested to hear from anyone at Cadillac who can confirm that these conversions were done by the Fisher Body Co.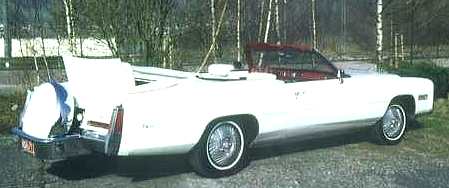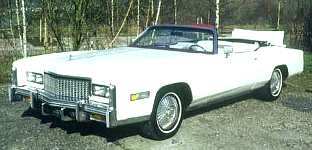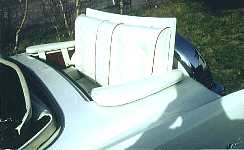 [ Photos: Internet, courtesy Ingo Marx, German Funeral Car Archives ]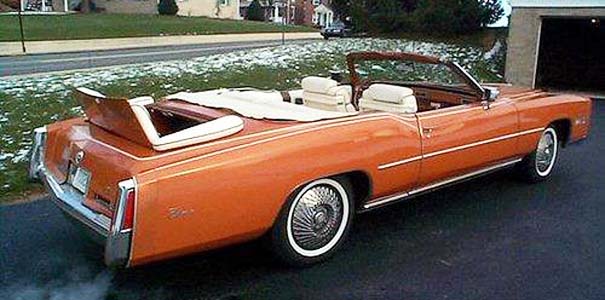 Similar creation ... but without the Continental Kit
Fleetwood (USA) Production for the Talisman option package was as follows: 1974: 1898 units, 1975: 1238 units, 1976: 1200 units. Pricing for 1975 was $1,788 above the base price of $10,414, and $1,813 above the $10,935 base price in 1976. A car thus outfitted was offered for sale in NJ in September 1996 [SS, 9/1196, p.19-20]


Factory Promotional photo (left); interior of surviving car (right)


Fleetwood (USA) Special "bicentennial" Eldorado convertible; although many more than 10 were built, still it is an interesting collectors' item, being a regular production 1976 Fleetwood Eldorado with custom interior trim, as seen here: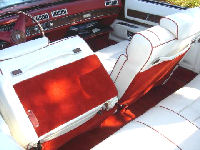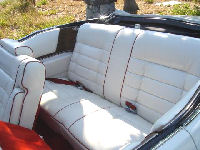 Formal Coach Corporation (USA) Aside from this conversion on Eldorado chassis, illustrated below, FCC, a relatively unknown coach-builder, also did a pick-up conversion on the Cadillac chassis

Milan Convertible Co. [or Milan Coach Builders ?] (Simi Valley, CA, or 5830 Los Virgenes, Calabasas, CA, USA) Offered conversion kits costing $1495 allowing conversion of Seville to 2-door Milan Roadster Convertible (1976 through 1979); kit included instruction manual and all parts needed. The Milan Roadster was a handcrafted luxury convertible featuring most Cadillac Options. The Roadster incorporated a custom-designed hood and stainless steel grille [Milan Roadsters with a standard Seville hood and grille were also produced later in the production cycle], as well as a specially designed convertible top covered in the finest European cloth [a vinyl top was standard and the cloth top optional became, later in the production cycle] The wheel base of 96" and overall body length of 15' 6" made the Milan Roadster extremely responsive and maneuverable both in the city and on the highway. The car was designed as a two-seater and overall length was comparable to the Mercedes-Benz 450SL. The overall height was 58" and weight is approximately 4,000 lbs. It was available in standard Cadillac color combinations plus two-tone and pinstriping to a buyer's specification. The retail price was $39,500 (Cadillac dealers could get one for $29,995).

Moloney (USA) Stretched model on the Cadillac Seville chassis. The photo, below, was found on the Internet.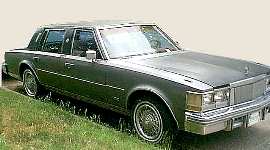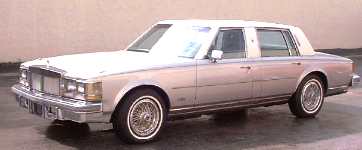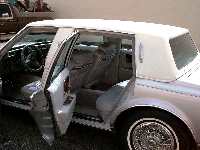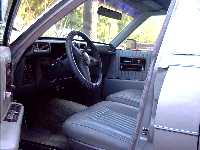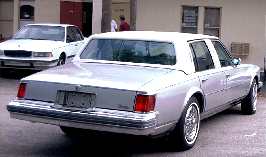 The owner of this Moloney conversion, who lives in Lancaster PA, informed me (April 2004) that this is
a 1976 model. Only that year had the clear (white) lenses on the turn-signal/parking lights below the headlights
Trivia: According to a Wall Street Journal article about Earle Moloney, published circa 1977, one Middle-Eastern sheik ran up a tab of 1.4 million dollars with his company for 18 stretched Cadillacs and a dozen customized Eldorados, plus a few MBs.

Tomaso of America, Inc. (USA) the Seville Tomaso coupe

Traditional Coachworks (USA) Custom Cadillac pick-ups. One of these was sold at a Kruse auction in Fort Worth, TX [lot #354], in April 2000. It was bid up to $2,700. The ad said that only 240 were ever built.



This one is getting ready to be restored
[ Photos: © and courtesy of Steve Crum, owner ]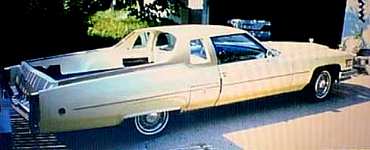 This one is already restored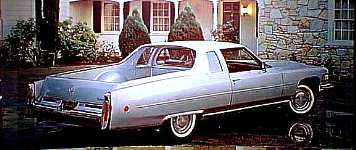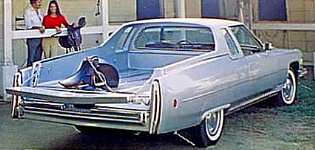 Illustrations from manufacturer's brochure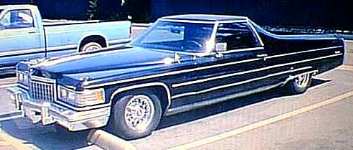 These two rows: more survivors

Traditional Coachworks (USA) Custom Cadillac estate wagons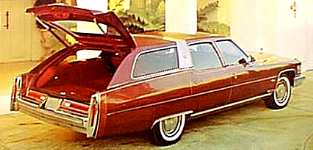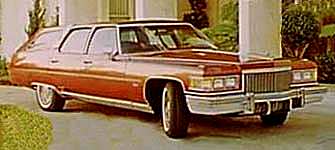 A reported 50 units were built but I cannot guarantee the reliability of that figure
[ Photos (above two rows): from contemporary product brochure ]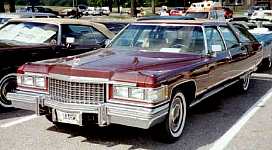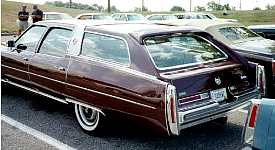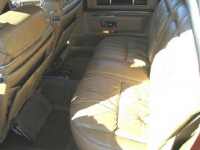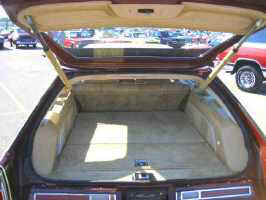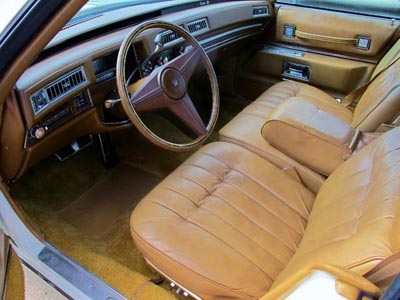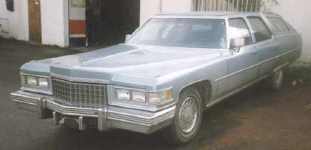 Three rows immediately above: a trio of rare survivors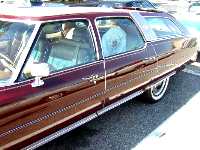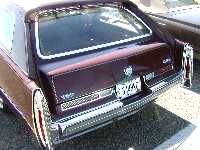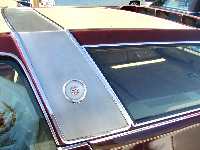 A similar wagon to those illustrated in the preceding five rows
was on display at the CLC Grand National, Detroit, 2002 (bottom row)
[ Last three photos: © 2002, J. Scott Harris ]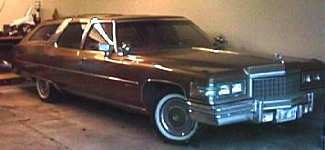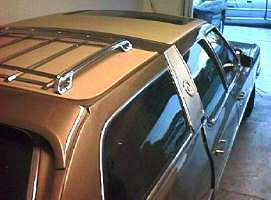 This Castilian wagon was offered for sale on eBay in January, 2004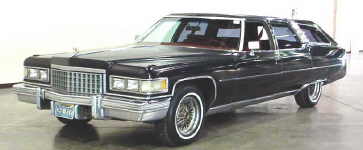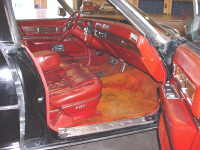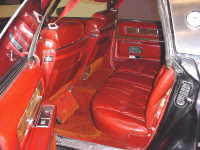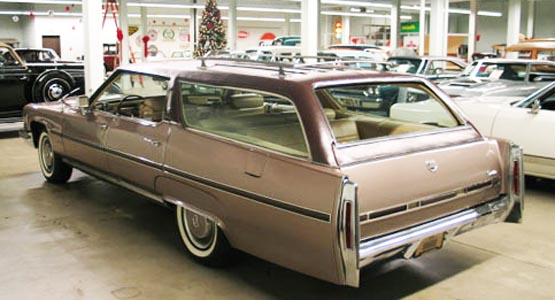 Nice one; not sure of the custom builder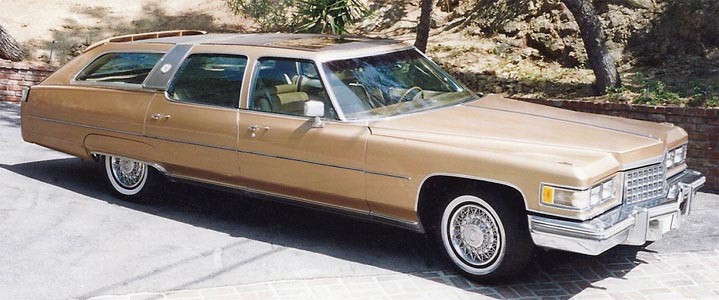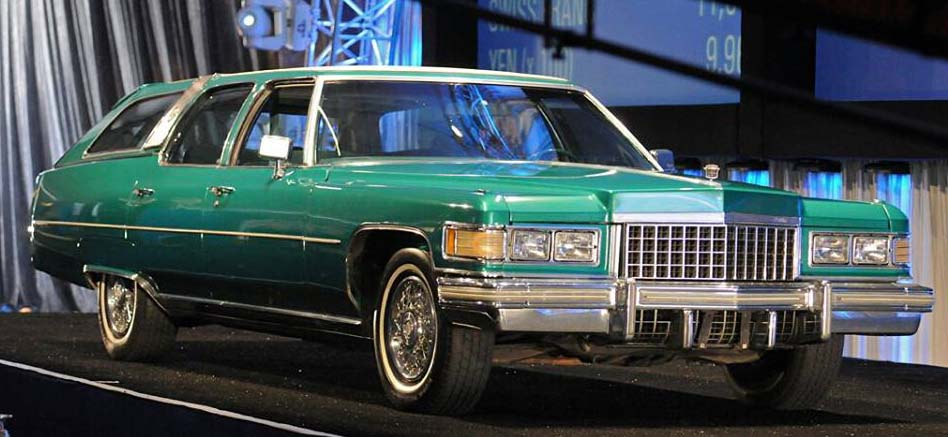 The hood crest on this car is from an older Cadillac model (1974?)
[Unknown, USA] Castilian special-bodied station wagon. Very similar to preceding car. Photo SSA89, p.32
[Unknown, USA] Another custom wagon on Cadillac chassis. This one was for sale on the Internet, "as is", in April, 2002.


[ Photos: Internet, 4/2002 ]


This one (in much better shape) was offered for
sale in the CLC Self Starter classifieds in March, 2003


This one could be a close relative of the previous wagon; note the custom grille cap and the absence of
the "B" pillar, suggesting the conversion was made from a 1976 Sedan de Ville or Calais 4-door sedan

[Unknown, USA] customized Eldorado convertible, found for sale on the Internet in March 2001, with this description: This beautiful, one of a kind collectors piece features a louvered hood and fenders, ground effects 360 degrees around the car's lower portion. Remote controlled (electric) doors, dual French style antennas, custom grille, with dual exhaust extensions, complete with ORIGINAL El Dorado wheels. This piece of machinery offers a custom luxurious button tufted, white with navy blue piping, interior not to mention the perfect dash console. The trunk space is fully upholstered, matching the interior seats, including a spare tire cover. Adding to the back of the car is a spoiler, which most certainly does everything but spoil the car's unique style, is fashioned to add a sporty zest...
To each his own!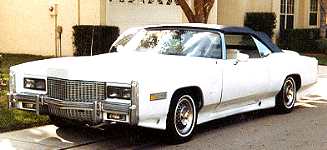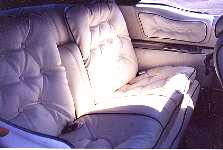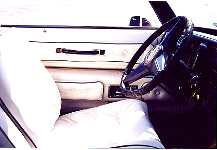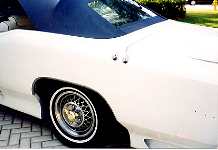 [Unknown, USA] Painted Firethorn (or was it Mandarin Orange?), with white leather trim throughout, this rumble seat convertible was advertised for sale in an older issue of Collectible Automobile. It was said to be "one of five built with electric rumble seat". It had a reported 16K miles and was priced at $20K.


[ Photos: Collectible Automobile, Cars for Sale ]

[Unknown, USA] Cadillac Eldorado El Deora; this, again, was no "custom" job like those of the independent coach builders of the twenties and thirties. It was simply a stock Cadillac Eldorado with various pieces of additional trim like the fancy radiator grill, padded saddle top, opera windows and faux continental kit. Enthusiast Tim Stephens of Belgium wrote, in May 2003: There is (in Sydney, I think now) a triple-white El Deora on a 1975 Eldorado chassis ...a hideous monstrosity imported by the Deen family (you've heard of them, no doubt) in the late 1970s. It has the RR grille, bug-eye headlamp treatment, faux-continental bump in the trunk, vile red "fur" for the headlining which looks like shag carpet upside-down, and is right-hand-drive and registered. I last saw it at the 25th Anniversary of the CLSCA, in Sydney, in 1995 driven by a hippie! I did not waste film on it! Well said, Tim!

[Unknown, USA] special-bodied station wagon on Eldorado chassis [see photo]

[Unknown, USA] special-bodied station wagon [photo] - one of these crossed the auction block at Auburn, Indiana, September 1997. It was said to be a conversion of a Cadillac 60 Special.

[Unknown, USA] convertible coupe on shortened Cadillac Seville chassis. This photo, below, was found on the Internet

[Unknown, USA] customized Seville El Camino type pick-up truck

[Unknown, USA] customized 8-wheel 1975-76 Eldorado T-top. Possibly in Brisbane, Australia. Was for sale with this description: The world's first 4-axle, twin steer Cadillac Eldorado Birritz [sic]. Great promotional vehicle. Brisbane motor auction late February [what year?], Ph (07) 3268 2800, Information line 0416 334 737. Late Extra (Feb. 2013): Kim Miller of Newcastle, Australia, said the car was currently for sale in Melbourne and provided this (temporaryl) link. Thanks, Kim.


Jacuzzi Jacuzzi "Barbie"



[Unknown, USA] This westernized 1975 Eldorado was the (favorite) car of Nudie, the man who dressed the Hollywood stars


At right: the car is often featured in promotional stunts, as here for a taco restaurant; note the Elvis Presley gold lamé suit !

[Unknown, USA] This photograph is reproduced courtesy of Jim Eccleston of the Cadillac Mailing List (CML); like the Nudie car, this Eldorado too sports a pair of longhorns and two large trumpet horns.

[Unknown, USA] Mirage pick-up truck (now you see it, now you don't?)


[ Photos, above two rows: Internet, 2/2001 ]


This Mirage pick-up was on display during the CLC Grand National, Detroit, 2002
[Photos, above three rows: © 2002, J. Scott Harris ]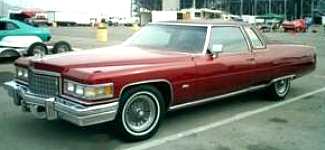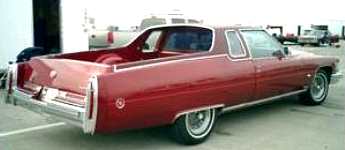 This one was offered for sale on eBay, in March 2004
[Unknown, USA] Here's another similar looking pick-up truck on the 1976 Cadillac Eldorado chassis. This one was for sale on e-Bay in April, 2003.


[ Photos: Internet, 2003 ]


Another pick-up wagon: maker unknown

[Unknown, USA] Slightly customized [shortened] Cadillac Seville

[Unknown, USA] In addition to being highly customized, I would rank these three jobs as "pimpmobiles". They appear to be all from the same customizer. Does anybody recognize them. They were featured in an issue of Playboy in the mid-seventies.

[Unknown, USA] "1977-59" custom coupe. The pictures say it all.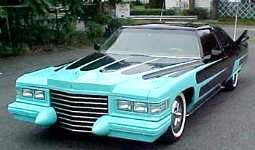 [ Photos: Internet 9/2001 ]
[Unknown, USA] Custom Eldorado convertible, offered for sale on the Internet in April, 2002. The VIN identified it as a 1975 model and it was advertised as a Special Biarritz Custom Edition. In outward appearance it looks like an Eldorado model from 1977-78 (Cadillac did not make a convertible in those two years) but the hood lettering is from a 1978, tail-lights from 1977-78, steering wheel from 1985 and interior apparently from the Custom Biarritz coupe of 1977-78. I would call it the Cadillac Hodge-Podge.



Whatizzit ??? Vendor claims it was custom made for Frank Sinatra, the interior alone is reported to have
cost $10,000! Yeah, right, like ol' Blue Eyes would order an expensive custom job on a used car ?!?! In any case,
I saw this car for sale a few months earlier and THAT vendor's story was quite different. Caveat emptor!

[Unknown, USA] Not sure whether to list this converted limousine under "Dream Cars" or "Cadillac Art".

[Unknown, USA] Same again. "Car" or "rolling sculpture".

[Unknown, USA] Custom "Elegante" coupe with continental kit.

[Unknown, USA] Quite a few pennies went into decorating this 1976 Fleetwood limousine. Another similar treatment was accorded a 1949 Cadillac. You can check it out here.

Wisco (USA) Customized Eldorado El Clásico [frequently spelled erroneously as El Classico]; the photos appear to depict a trimmed-up De Ville model and not an Eldorado.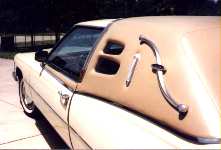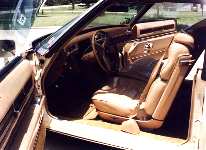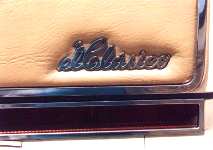 Trivia: In the mid- to late-seventies it was not uncommon for some major Cadillac dealers like Potamkin in New York or Center City Cadillac in Philadelphia, to dress up basic Cadillac models like the bottom-line Calais (adding some special trim items like a Cabriolet padded roof, a grille cap, script ID badges) and to sell them as custom jobs with such fancy, French-sounding names like Régent, d'Etoile, d'Marchand, etc. Those unfortunate de and d' prepositions are largely overworked in the pseudo-French practised by many coach-builders in the USA.

[Unknown, USA] "Modern Classic" roadster. Information about this custom job was provided kindly by Cadillac enthusiast, Bill Hooey of Califonia. He wrote (in Oct. 2011): I recently purchased a 1976 Cadillac "Diamante". Here is what I've been told about this type of car. A company near Sherman Oaks, California, was buying Cadillac frames with a complete suspension, steering system and a drive train. Then they were attaching a custom made body that looked something like a late 1930's luxury roadster such as a Bugati or Duesenberg. These cars sold for $70,000 and only thirteen were made. I recently acquired one of these cars. It was stored in the backyard of a warehouse for several years (see color pictures below). I did some research online and I was able to find a picture of what these cars looked like when they were new (see B&W pic below). I was told they were very fast cars because they had a 425 Caddy engine. The owner of the car was going to sell it to a movie company and they were going to crash it on camera and totally destroy it. I bought it instead and saved it from being demolished. I work in the film business too here in Hollywood. This car does need a lot of work to come back to life again but at least the entire body is there. It does a have a motor and trans but I have no idea what condition they are in. Can you tell me anything about this type of car? I plan to put it up on line for sale in a few days and I would like to have some accurate information about its origin. Does anyone have an idea what it might be worth? [sorry, Bill, it's the first time I've heard about it; perhaps some enthusiast from California could tell us more]. There are three picture below. The two color prints show the car in gray primer; it is the car that in my driveway. The B&W pic was copied from a company brochure when these cars were for sale, back in 1976.

[ pics still to come ]