1955

d'Agostino, John (USA - Probably the West Coast's best-known and mutiple-prize-winning customizer). This is a stunning example of the artist's work on the basis of a 1955 Cadillac Eldorado. It is called the "Elmerado".


[ Photo (top left): Barrett-Jackson auction catalog for Jan., 2008 ]

Bailon, Joe [USA] Initially I thought this might be a creation by Kalifornia Kustom King, George Barris. Late extra [1/2007]: I just got the answer to my open question from another enthusiast who owns a custom, stretched '56 Eldorado Seville [see "Dream Cars" for 1956]; this custom job was built by Joe Bailon and is featured in R&C [Rod & Custom] magazine for April, 1956. More pics to follow.

Barris, George [USA] Not 100% certain that this custom job was made by Cadillac's Kustom King. It certainly looks like a Barris creation. It ressembles his Cadillac "Parisienne" from the previous year

Carrozzeria Rocco Motto, Turin (Italy) on a unique design by Birdsall & Mascari (USA). This one was brought to my attention by enthusiast, Alexander Glorieux. He was able to identify it as a creation by the Italian customizer so known also as Rocco Motto or Ca. Mo). Modeled after the 1954 Cadillac "La Espada," Motorama showcar and built from a stock 1953 "Series 62" convertible (VIN: #536262805), this $30,000 gold and mother-of-pearl custom creation designed by two racing boat enthusiasts from Westchester, Conn, Harry Birdsall and Joe Mascari, caused quite a stir when it was unveiled to the public at the Intermational Auto Show at the Cross Country Center at the Cross Country Center in Yonkers, in April 1955. the car was completed in April, 1955. It has some unmistakable Cadillac features like the side trim from the Cadillac "La Espada" show car of 1954, and tail fins closely resembling those of the stock 1955 Eldorado. The modified and cropped image below is from the archives of www.autopuzzles.com, with grateful acknowledgement. The excerpts that follow are from the New York World Telegram & Sun for Tuesday April 26, 1955: ...as one admiring young lady exclaimed, "Why, it's so beautiful, it's indecent" ... headlight, windshield, mirror frames and hubcaps are gold-plated. The hard-top that features a wrap-around rear window and which disappears into a rear compartment, is of aluminum anodyzed in a gold finish. The paint job is of iridescent mother-of-pearl. ... The custom car is 8 inches lower and 800 lbs lighter than a standard model. The owners figure it'll do 130 miles an hour ... The two men plan to take orders for no more than a dozen of their snazzy sports cars for men of distinction [I wonder if any were ever built, other than the proto]. They'll cost $20,000 in this limited edition and the upholstery will come in leather, doeskin or Alaskan seal. Late Extra (July 2010): This excerpt is from Motorsport for July-August 1055, Col. 7: Thanks to one keen-eyed Database visitor, I was able to contact the current owner of this sporty custom Cadillac who sent me a long article about its creation. Of note is that the car remains today in the Birdsall family collection. As a tribute to their father, the Elegante is currently (2010) undergoing a 100% restoration by Harry Birdsall's two sons, Dick and Bob, in lake Worth, FL. It is anticipated that the car will once again create interest among show crowds, as automotive history buffs soon will have the opportunity to see and enjoy it up close. It is expected that, in the coming months, the newly refurbished Elegante will be featured at a number of high-profile auto shows. To the best of the owners' knowledge, Motto built only one of these aluminum-alloy Cadillac roadsters between 1953 to 1955. Here is an excerpt from Motorsport, July-August 1955, Vol. 7: The gold plated Cadillac really came to life when Harry Birdsall, New York Advertising man and Joe Mascari, Long Island contractor outlined their dreams to MOTORSPORT's stylist Albrecht Goertz over two years ago [1953]. Goertz's designs were turned over to Carrossier Mollo at Turino, Italy and the result is the shimmering gold and mother of pearl sports job with red doeskin upholstery. Chassis is stock 1955 Cadillac. The car has disappearing hard top and real gold plating. Several copies will be built to sell for about $20,000 each. The first job cost about $30,000; were any others built? Finally, here is another excerpt from the catalog that was prepared for the 2014 RM auction at Amelia Island in March 2014; it is dated around Fall 2010: THE CADILLAC "ELEGANTE" … THIRTY YEARS BEFORE THE SEVILLE "ELEGANTE" --- About the time when jet-powered airplane styling played a heavy influence on the future styling of Detroit's design community, years prior to the finned designs actually making it onto production, a pair of enterprising speedboat racers devised a plan of their own; to build a tastefully styled unique sports car. They did this by incorporating a clever design that did not exist at the time. As racers and competitors, Harry Birdsall, a commercial artist, and Joe Mascari, a New York contractor, conceived their plan for a high-end luxury two-seat convertible hardtop, based on a 1953 Cadillac chassis. They called their convertible hardtop, the Elegante. With the talents of a local designer/engineer and an Italian master metal craftsman, their automotive dream did become a reality. Their plan was aggressive for the times, as their vision was to build a limited edition two-seat sports car to appeal to a well-heeled American automotive buying public. Complete with a hand-tailored concept, their two-seat convertible hardtop amounted to a tastefully styled, individually personalized convertible coupe that featured a unique automatic two-piece folding hardtop. The Elegante promised carefree motoring unlike anything available in its day. But because of its cost, the concept aimed well beyond mass appeal, and instead was created to entice only a discerning few. This proved true from the very start as the design, engineering and hand-built construction of the prototype cost the two investors $30,000. Their business recovery plan, however, was to construct ten more cars, selling each custom-built Elegante for $20,000. They introduced their new hardtop convertible design to the motoring public at the 1955 International Auto Show in Yonkers, New York. The two-seater was well trimmed, and featured a modern low-slung design, along with its novel automatic two-piece folding hardtop. The car was an absolute showstopper, unfortunately the vast majority of mid-50s show goers could only dream of owning a $20,000 custom-bodied hardtop convertible. When you consider the price of the Elegante in mid-50s dollars, you could purchase a new 1955 Chevrolet convertible for less than $3,000. As a result of its hefty price tag, only the prototype Elegante was built, no additional cars were ordered. Still, there was much to be admired about this bold new design and engineering effort. Look around today and almost every car brand has a version of a sports coupe with an automatic retractable hardtop! Initially the brainchild of Harry Birdsall, the concept is all the more interesting when you take into account the fact that the Elegante was actually on the drawing board as early as 1951. This was a design concept well ahead of its time. As the idea progressed, Al Gurtler, who reportedly worked for Mercedes-Benz North America at the time, was retained to help in the final design and engineering, as well as the overall ride and drive of the new car. His handiwork included the articulation for the operating system for the self-concealing top. Operated by a driver-actuated switch, the top retracted automatically and stowed in the rear trunk. And when inclement weather dictated, the concealed hardtop could just as easily be closed. The specially designed hydraulic system and the carefully articulated mechanism provided a smooth and convenient operation. All these years later, the top still works today. The smooth long-nosed aluminum body was hand-fabricated by Italian craftsman Carrozzeria Rocco Motto in Turin, Italy. In 1953 a new Series 62 Cadillac convertible chassis was shipped from the U.S. to his Turin, Italy facility. Within 30 months time he hand-fabricated the aluminum body and mounted it on the lightened and lowered (by 8-inches) 128-inch wheelbase chassis. The low, sleek nose was carefully formed around the big American 331 cubic inch Cadillac V8, with not much room to spare. And just as carefully, handmade floorboards were nicely shaped for driver and passenger comfort, as well as accommodation for the GM four-speed Hydra-Matic transmission. Dual exhausts exit through a hand-made chrome rear bumper, and most remaining Cadillac underpinnings were retained. Motto crafted the Italian inspired egg crate grille, and hand-formed the front Cadillac-like bumpers. Starting with 1954 Cadillac bumper bullets, the metal master cut-n-fit tubing to form the twin front bumpers that nicely accent the sweeping body design and Italian-like grille. Following the provided designs, the two-piece folding aluminum hardtop was also built by hand, as was the top operating mechanism. In the little Turin shop, quad headlight rims, the sleek swept back windshield frame, door handles, front and rear "V" hood and trunk trim, as well as a recessed license plate insert, were hand-fabricated in bronze and plated in 24 karat gold. The aluminum body was painted iridescent white mother-of-pearl, and for a further degree of elegance, the brushed aluminum top skin, the side-trim body inserts, the wheel covers and much of the dashboard trim were gold anodized. The attractive and well-appointed interior was handsomely trimmed in deep red wine Italian leather, around an innovative, if not dazzling, dashboard design. The completed car was shipped back to the U.S. in time for its New York show debut. While a huge crowd pleaser, due to its rather substantial price tag, the Elegante remained the stuff of automotive dreams. Fast-forward to today, the fortunate news for automotive historians and Cadillac enthusiasts everywhere, is the fact that the original (and only) Elegante still exists. The car runs, is fully operational, and is as fresh as the day it was created. As a tribute to their father, the Elegante is undergoing a 100% restoration by Harry Birdsall's two sons, Dick and Bob, and the car remains in the Birdsall family collection. We anticipate that the car will once again create interest among show crowds, as automotive history buffs will have the opportunity to see and enjoy the car up close. We expect in the coming months that the newly refurbished Elegante will be featured at a number of high-profile auto shows. Late Extra (March 2014): The car has been fully restored and was shown the the annual Concours d'Elégance at Amelia Island in S. Carolina, which Gita and I attended.

1 2 3
Images #1 and 2 are shown courtesy of the owner; image #3 is from the archives of www.autopuzzles.com, with grateful acknowledgement

4 5
These images (#4 and 5) are from the New York World Telegram & Sun for Tuesday April 26, 1955


IMAGE: © Bettmann/CORBIS, April 26, 1955, Yonkers, New York, USA; from the Bettman collection

Original caption to the above photo: Now It's Mother-and-Daughter Automobiles. Yonkers, New York: These two cars were featured today at the opening
of the International Auto Show at Cross County Center in Yonkers. The bigger car is a $30,000 gold-plated mother-of-pearl, hand-built job, mounted
on a standard Cadillac chassis. The fold-away hood is of anodized gold aluminum. The wheel-mountings, headlights, interior trim, windshield, and other
accessories are gold-plated. The car was built in Turin and is owned jointly by Harry Birdsall, an advertising man, and Joe Mascari, a contractor.
Beside it, a: [miniature] Replica of a 1955 Chevrolet convertible valued at $30.00. The wee driver is Cynthia Dariano, 4, of Mt. Vernon.
The girl in the Cadillac is Ursula Spyes, a model. April 26, 1955.


Gita took these snapshots during the 2014 Amelia Island Concours d'Elégance


Hardtop operation looks to be quite complex ... and must not leave much trunk storage; interior trim is a symphony in gold and blood-red


Instrument panel with a slight Le Mans look about it; as for the body, it could be an early design for Cadillac's La Espada and El Camino models by Birdsall & Mascari


I do not ordinarily accept to show "people" in Database photos of old Cadillac cars;
but how could I possibly NOT show the lovely lady in the RH photo ???
[Thank you, Mr. Houlsby, for sharing this beauty with us]

Cunningham, Briggs (USA) is reported to have worked on some sports cars with bodies by the Italian coach builder, Vignale. The power train was a regular 1955 Cadillac motor coupled to the reliable, dual-range Hydra-Matic transmission. Vignale also supplied bodies to Perry Fina in NY and to Bill Frick [see below].

Derham (USA) modified a limousine body on the Cadillac chassis. A few years ago I saw this car offered for sale for $2500; the phone contact number was (412) 668-7696


I believe this may be the car, photographed at Carlisle, PA
[ Photo: © and courtesy Frank Perch ]

Fina, Perry (USA) His specialty was building and tuning fine imported cars. Among the creations made by the American-Italian duo was this 4-passenger sports roadster. Here are excerpts from the press release describing this 18-foot long convertible [complete with spelling and other mistakes: In addition to such fancy accessories as Carlo Borrani wire racing wheels with "knock-off" hubs, Continental mounted spare wheel and tire, radio, heater, defroster, 6000 rpm tachometer, the Italo-American creation also features fully adjustable airplane type reclining seats and a manually adjustable André Tele-Control shock absorbing system. The sleek body ... is upholstered entirely in genuine calfskin leather ... the tire size is 6:50 x 16". Suspension in the front is by coil springs, aircraft shock absorbers and manually adjustable tele-control shocks; the rear suspension is the same except semi-elliptical springs are employed instead of coil springs. The Fina Sport is fitted with two sets of Marchal lights, one for driving in normal traffic, another for night-time highway touring; these are fitted gracefully into the radiator grill. The very proffesional [sic] looking steering wheel is of the competition type being made by Nardi-Denise of Italy. The wheel frame itself is made of aircraft dural and polished Hunduran [sic] mahogany; lock to lock 2½ turns. Other features of this automotive masterpiece includes a panoramic "wrap-around" windshield, Rochester 4-barrel carburetor, automatic windshield washer, electric windshield wiper, 22 square feet [sic] of luggage space and triple-chromium plated fittings. The car had optional power brakes, a 3.31:1 rear axle and an estimated top speed of 120 mph. Overall height with top up was 56" [compared to 54.4" for Fleetwood's prototype Eldorado Brougham, below]; wheelbase and width were 114" and 74", respectively. Late Extra [3/2011]: this car was offered for sale on Ebay with a "Buy-It-Now" price of $275,000 by the vendor identified as "Pamelas 1957"; his/her description of the car - and photos shown below - all are identical and probably came from the same source.


This image is from an original press release for the
Fina Sport 4-pass convertible with body by Vignale


These three photos are from an article published in Automobile Topics for July, 1955;
a copy of that article was provided kindly, for the Database, by enthusiast, Alden Jewell


This is how theVignale car looked in March, 2011 when it was offered for sale on Ebay

Fisher/Fleetwood (USA) pre-production styling clays and bucks of Eldorado Brougham; photos from JMR collection and in ELD book, pp.39-44

Fleetwood (???) (USA) XP38, Eldorado Brougham (special order #2253), SSA 30th anniversary issue, pp.47-49, CS12, p.106. This dream car was first shown in New York to a discrete audience of 5100 people starting at 4 p.m. on 19 January 1995 (the public only got to see the car next day in the Grand Ballroom of the Waldorf). It was the center-piece of the GM Motorama in 1955. A publicity shot shows Cadillac President and General-Manager Don Ahrens holding the door open to a pretty model; it shows also the swiveling driver's seat, facilitating entry and egress; this interesting feature was not retained for the production Eldorado Brougham two years later, but Chrysler Corporation seized on the idea [or was it a Chrysler idea in the first place ???] and incorporated it in all their production models for 1959. The tail-fins and recessed tail-lights are in the purest Cadillac tradition; this particular design was never used on any later production models. Exhaust gasses were channeled through the ports in the rear bumper; while this arrangement eliminated ugly exhaust pipes hanging below car, it caused severe corrosion of the rear bumper ends in earlier and later production cars that used that arrangement. The press release for the Boston edition of the Motorama, starting April 23, 1955 reads: Cadillac Announces New Luxury Show Car: A compact, 4-passenger, 4-door steel-bodies sedan in dignified and efficient motor cars will be un veiled by the Cadillac Motor Car Division at GM Motorama, April 23 through May 1, at the Commonwealth Armory, Boston.


The Eldorado Brougham prototype is shown here on the special
revolving stand at the New York auto show in January


The Eldorado Brougham prototype on display againthe following year (possibly at the Motorama)
[ Photo (left): David Temple collection; (right) after PhotoShop adjustment by me, to remove ugly ropes and folks ]


Called the Eldorado Brougham, the luxury show car reveals wide departure from conventional automotive styling and construction.

Completely functional in every detail, the grace and sleekness of the car is augmented by its extremely low over-all height of 54.4" and the absence of a center door pillar. The smoothness of the fender lines and characteristic tail fins is complimented by a tinted brushed aluminum roof panel which extends from the newly designed "Panoramic" windshield to the painted sash above the rear window. Subtly aircraft styled fresh air intakes on top of the sweeping front fenders are aerodynamically efficient. Bearing a resemblance to the traditional Cadillac side panel treatment the outlets are located in the rear doors flush with the body panel.

Dual headlamp assemblies provide the most efficient road lighting yet devised. The outer lamps are flat beam city lights; the inner lamps are highly penetrating highway lights. Both sets are automatically controlled by an Autronic Eye mounted at the top of the windshield. The grille and air intake which provide efficient cooling are nestled between redesigned "gull" bumpers. The clean aerodynamic hood profile exemplifies the finest taste and progressive continuity of Cadillac styling.

The use of separate protective chrome bumper pieces at the rear of the car mounted flush with the body and integrated with the structural members of the chassis maintains an unbroken profile of the rear deck lid which sweeps down to the bottom of the body.

Projectile shaped rear fenders flow back into the outer rear bumpers forming the "Quad" exhaust system. Executed by jewelers with the most meticulous care, the "V" and Eldorado script on the hood and deck exhibit the finest of craftsmanship available.

With the use of entirely new methods of construction, all the outside dimensions have been reduced without sacrificing passenger comfort in an effort to gain ease of handling and flexibility of performance. The external dimensions are:

Wheelbase of 124"1 Overall length 209.6 "

Overall width 77.5" Overall height of 54.4"

Developed especially for the Eldorado Brougham is a highly iridescent exterior color - Chameleon Green. The interior is luxuriously trimmed in matching paint, leather and imported French ripple silk.

The four individual seats are tailored to give each person the utmost in uncompromised comfort. The driver's seat [in fact, BOTH front seats, as evidenced by the control button seen on the passenger seat, below] pivots outward making entering and leaving the car almost automatic. With no center door pillar, comfortable entrance to the rear compartment is greatly facilitated.


Left and center: Cadillac General Manager, Don Ahrens, with curvaceous model demonstrating the proposed
swiveling driver's seat; the latter was not retained for the production car (I believe Chrysler may have patented it first)


There are no photos of the passenger seat swung outward; nevertheless, the knob
at the front of the seat side suggests that it too swiveled outward, like the driver's seat


The Eldorado Brougham show car on display,
later, at the 1956 Chicago Auto Show


Another view of the same car at the Chicago Auto Show venue


The components of the control panel are designed to give the driver the greatest possible visibility of instruments and accessibility of controls, whether guiding the car through traffic or travelling at expressway speeds. Two storage compartments are provided for the driver and front passenger - one in the control panel and another between the front seats, the latter very accessible for road maps and traveling incidentals. The courtesy light which also serves as a convenient map light is located in the front of this compartment..

In the usual Cadillac manner, the control panel is covered with shock absorbent material and all controls are recessed for greater safety. The front radio speaker located below the control panel and tilted upward is positioned for the greatest fidelity of tone and reception. For greater sonic balance than ever before there is also a speaker between the two rear seats. The coupled heater and air-conditioner control are simple to operate and automatically stabilize interior temperature when once set for the operation. To gain even greater road visibility through the Panoramic windshield, the rear view mirror is mounted on top of the control panel. A vanity compartment, ash receiver and lighter between the two rear passenger seats provide the utmost in passenger convenience.

Blending the ultimate in functional styling, design and construction, Cadillac's Eldorado Brougham is truly a masterpiece in automotive craftsmanship.

[ref. O'Hk 5 11255]

GM's latest Motorama creation was given some press coverage in Car Life for May 1955, where the following description appeared:

On a more practical plane, Cadillac has also introduced the Eldorado Brougham with an overall height of 54.4 inches and without a center door pillar ["B" pillar]. Fenders and characteristic tail lines are complimented [complemented?] by a tinted brushed aluminum roof. Dual headlight assemblies, Cadillac says, provide the most efficient road lighting yet devised. The outer lamps are flat beam city lights and the inner lamps are highly penetrating highway lights. Both sets are controlled by an Autronic-Eye mounted at top of windshield.

Using new methods of construction, Cadillac has reduced all outside dimensions without sacrificing passenger comfort. All seats are individual and are tailored to fit the body, Wheelbase is 124 inches, overall length is 209.6 inches and width is 77.5 inches. A highly iridescent exterior color - Chameleon green - has been developed expressly [like Priscilla and Lisa, both "ex-Presley", ha-ha!] for the Brougham and the interior is trimmed in matching paint, leather and imported French silk. An artist's view of the car that was to give birth to the limited-edition Eldorado Brougham in 1957 shows how the front was retained almost unchanged although the roof line and rear end styling were modified considerably on production models. The hood ornament, a re-vamped Goddess of pre-war days was not used on the production Eldorado Brougham in 1957; in fact that ornament disappeared altogether with the 1957 production cars. Photo McC p.310
___________________________________
1 five inches shorter than the shortest Cadillac for 1955, that is the Series 62 models

Fleetwood (???) (USA) XP32, LaSalle II sedan (special order #2217) shown at 1955 Motorama [currently in the Joe Bortz collection, Chicago]. This was the companion car to the La Salle II roadster described below and shown on the same occasion. It was loaded with futuristic, practical items including a light, aluminum, fuel-injected, double OHC V-6 engine, independent rear suspension, brake drums cast directly in alloy wheels. Photo McC p.310. Noteworthy on this sedan is the so-called dog-leg "A" pillar and the compound-curve windshield extending far up into the roof area. The latter was featured again on the production Cadillac Eldorado Brougham models for 1959. The GM news release for LaSalle II [the sedan] mentioned a new concept of passenger sedan styling directed to recapture the distinctive exclusiveness [sic] and high quality of craftsmanship of the original LaSalle.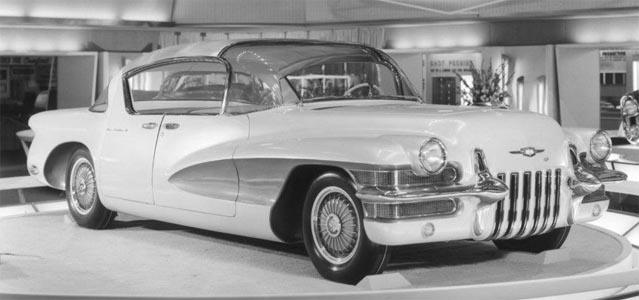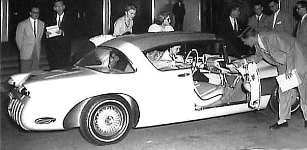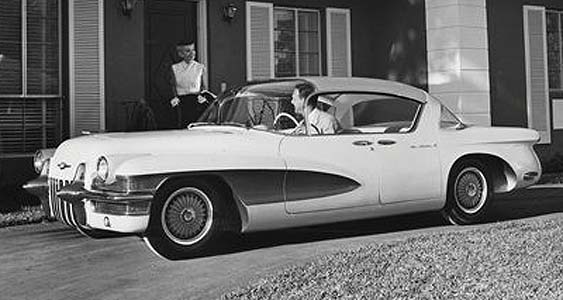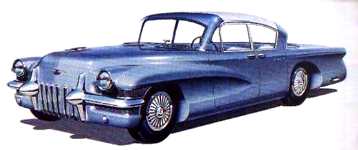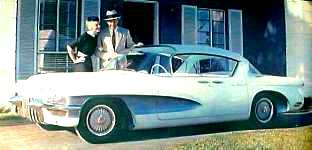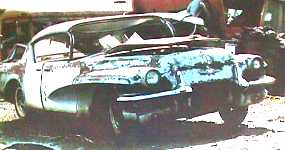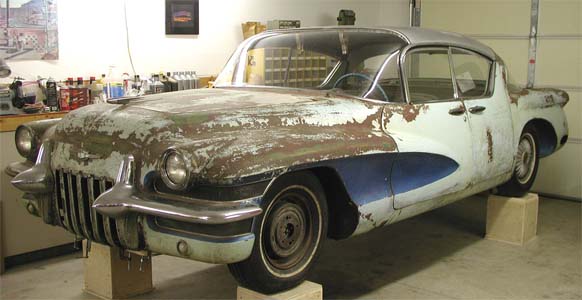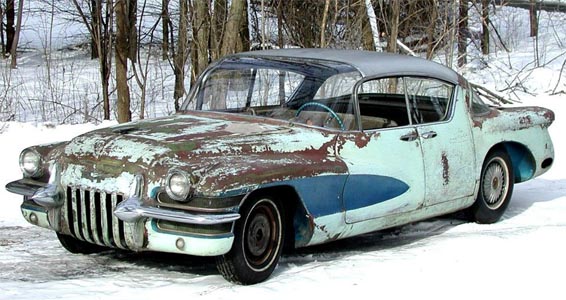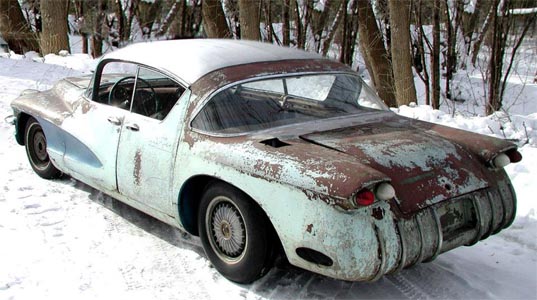 The La Salle II sedan has survived and is owned by Joe Bortz of Chicago, IL;
I spoke to Joe in Amelia Island, in 2013; he says he may leave the car "as is"
Fleetwood (???) (USA) XP34, LaSalle II roadster (special order #2220), CS12, p.105, shown at 1955 Motorama, car also currently in Joe Bortz collection, Chicago. Photo McC p.310. This was the companion car to the Cadillac La Salle II 4-door pillarless hardtop (above). The front of both cars is atypical of other Cadillac show cars of the fifties although the small fender grilles above the front bumper ends reappeared on production Cadillacs in 1957. The rear of the Cadillac La Salle II show-cars emulates that of early Chevrolet Corvette models. These two show cars were attempts by Cadillac to revive the La Salle name, which had gone out of circulation in 1941 Other similar attempts were made again in the mid-sixties, and a third time in the early seventies, when the name was proposed for what later became the compact Seville.

The unrestored sedan and beautifully restored roadster on show at Amelia Island in March, 2013






Like the sedan, the sporty little La Salle II roadster also has survived
and has been fully restored; it too is owned by Joe Bortz of Chicago, IL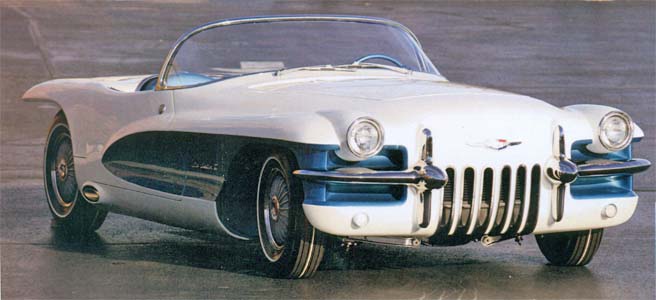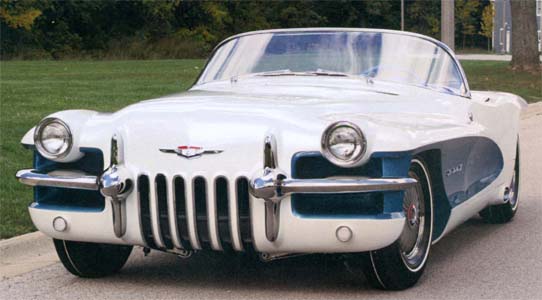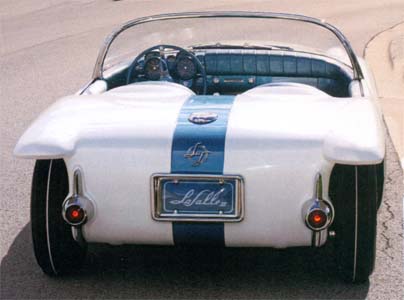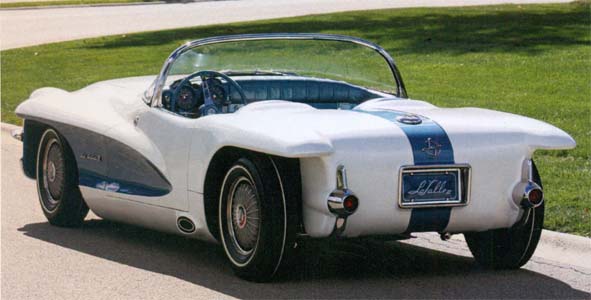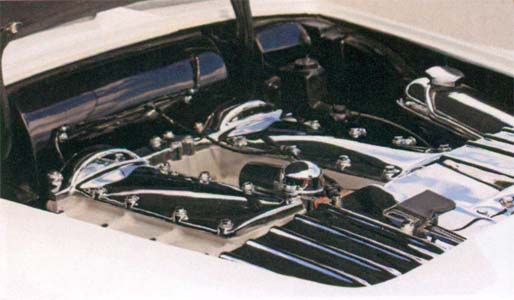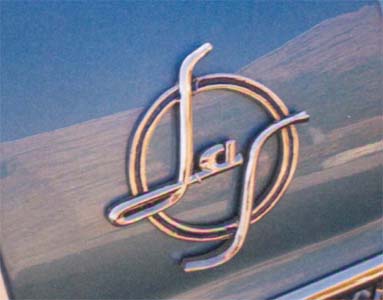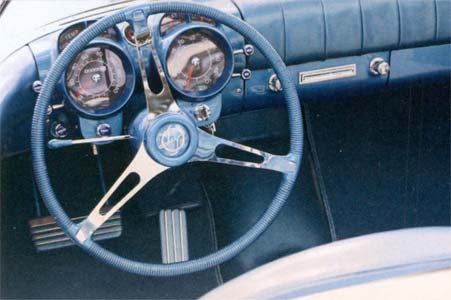 Fleetwood [???] (USA) customized 1955 Eldorado (in 1956 Eldorado Biarritz guise), specially ordered by then Cadillac Design Studio chief, Ed Glowacke; the photos were taken in March 8, 1955.


Car has the name ELDORADO, in block letters, in the center of the hood "V";
twin tail-lights have red lenses; reversing lights are incorporated (clumsily)
between the outer pair of vertical chevrons on the rear skirt
[ Photos: Dave Holls collection - Self Starter annual, 1998 ]

Fleetwood (???) (USA) Based on the 1955 Eldorado body, this probably is the precursor to the Cadillac Celebrity (below); it is a custom from Cadillac's design studios from circa 1954-55. Note the lovely Florentine curve to the roof quarter panel. It is also the prototype for the Eldorado Seville hard-top coupe that went into production the following year.

Fleetwood (???) (USA) Celebrity, a special mood car shown at 1955 Motorama CC 2/1977, p.31. This is the precursor to the lovely Eldorado coupe, the new "Seville" that found almost 4,000 buyers in 1956. The press release issued at the 1955 Motorama had this to say about it: Completing the display of production 'show cars' will be the 'Celebrity', a dramatically styled Coupe de Ville combining a long-grain [red] leather covered roof with a brilliant red lower body. Matching the exterior color treatment, the interior trim design utilized Red Silver threaded V-Pattern cloth seat inserts and Red leather bolsters trimmed with chrome buttons and Silver finish welts. Two color views of this graceful, air-conditioned, one-of car can be admired in a Cadillac advertising catalog published in line with the 1955 Motorama and entitled A Trip to the Motorama [pp. 4-5 and p.10] The car had the Eldorado sabre-spoke wheels. The name Celebrity was used later (1982) for a Chevrolet model. Photo McC p.311




The top two photos are excerpted from a beautiful Cadillac mailer catalog
from 1955 entitled A Trip to the Motorama. Rear view (lower left) is from a GM photo of
the 1955 itinerant Motorama show; right is a B&W factory photo

Fleetwood (???) (USA) Eldorado St. Moritz, another special mood car shown at 1955 Motorama. The press release described it thus: Establishing a new trend in luxury passenger car styling, Cadillac's 270 horsepower, 1955 Eldorado, ST. MORITZ, combines a White Pearlescent body with a smartly styled interior upholstery of White Ermine fur and Pearlescent finished, White English grain leather. White Mouton fur carpeting with brushed aluminum floor mat grids and aluminum treads bordered with White Mouton complete the interior styling. For the convenience of lady passengers a combination vanity is built into the Eldorado armrest [front or rear?]. A photo is included in SSA 1977, p.31, also SSA 1979, inside front cover. A number of color views of this graceful, air-conditioned, one-of car can be admired in a Cadillac advertising catalog published in line with the 1955 Motorama and entitled A Trip to the Motorama [pp. 5-6, and pp. 8 and 11]


These two photos are from a factory press release


Factory promotional shot, right] was taken at the 1955 Motorama show



Photos in the above two rows are three photos excerpted from the
1955 Cadillac mailer catalog entitled A Trip to the Motorama

Fleetwood (???) (USA) Westchester special 60S, also shown at that year's Motorama. The press release described it in the following terms: The WESTCHESTER, a distinctively styled 1955 Cadillac Series 60 Special Sedan, features a padded, black, long grain leather roof enhanced by a Korina Gold lower body.

Interior treatment of the sedan's rear compartment, which is separated from the driver's compartment by a glass partition, includes Korina Gold wood paneling and upholstery tailored in black cloth interwoven with gold metallic thread. Harmonizing with the upholstery, the floor is covered with Black Mouton carpeting. The front compartment is formally upholstered in black leather.

Providing the utmost in passenger comfort and luxury, functional conveniences such as a telephone, a tape recorder and a wide-angle 14-inch television set, believed to be the first such practical installation of its kind, are combined in a built-in unit located in the rear of the front seat. See also SSA 1979, inside front cover. A color view of this graceful, air-conditioned, one-of car can be admired in a Cadillac advertising catalog published in line with the 1955 Motorama and entitled A Trip to the Motorama [p. 7].


The lighting in the LH photo makes the car look slightly pink (above, left
and below, (right); in fact it was lemon yellow with a black, padded, leather
roof covering. These and the two B&Ws are factory photos from 1955


This photo is excerpted from the 1955 Cadillac mailer catalog entitled A Trip to the Motorama
Bird's eye view (lower right) is from a GM photo of the 1955 itinerant Motorama show;


Frick, Bill (USA) Bill Frick acquired early a reputation for his sporty, Cadillac-powered creations on Ford and Studebaker bases (the so-called Fordillacs and Studillacs), as well as the Cadillac-Allard and the two Cadillacs entered at Le Mans in 1950. Bill Frick Motors of Rockville Center, Long Island, offered no catalogue creations; all cars were special order and ran a minimum of $8750. There was a 4-5 month wait (7 months for a more spectacular creation). The Frick special illustrated below is 17 feet long and 6 feet wide; it cost less than the 1956 Lincoln MKII Continental yet provided superior appointments and performance (0-60 mph in 7.2 secs.) In an article by staff writer Charles Ericson, published in Sports Cars Illustrated in May 1956, we are told that the wheel base was 114 inches; there was also a double air cleaner to lower the hood height; the interior is upholstered in unborn calf hide; hardware is German silver; the car has a wood-rimmed 18¼-inch diameter. steering wheel; the Stewart Warner instruments have faces by Vignale; they include a clock, speedometer, tachometer, oil temp. and pressure gauge, water temp. gauge, manifold vacuum and fuel gauge. Frick Specials weighed from 3600 to 3800 lbs. The article cited mentions another Bill Frick special 4-pass coupe with sliding roof, in the making in 1956, with an Eldorado motor coupled to a 4-speed, manual, Pont-a-Mousson gearbox and Hi-Tork rear end [see Dream Cars section for 1957]. (SCI, 5/56)


The original Fina Sport (above 4 rows) looks slightly different from the restored car (below)
[ Photos: © 1956, Sports Cars Illustrated ]

Gaylord (USA) special Gaylord Gladiator, Cadillac-powered roadster for Jim Gaylord, inventor of the bobby-pin. Designed by Brooks Stevens, the Milwawkee auto designer and collector, like Die Valkyrie in 1954 it was built by Spohn of Ravensburg, Germany. Have many photos taken during showing of cars at Paris Salon, October 1955. Again, like Die Valkyrie, six were built. In an article published in SIA for Jan.-Feb., 1974, the authors state that these cars were powered initially by a Chrysler "Hemi" V-8 engine coupled to GM Hydra-Matic transmission. The second series had Cadillac Eldorado V-8s that put their price up to $17,500 ...more than Cadillac's own production Eldorado Brougham of the following year which, at $13,000+, succeeded in finding only 400 buyers.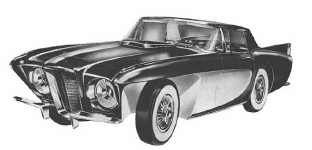 Artist's rendering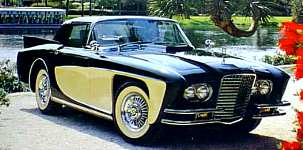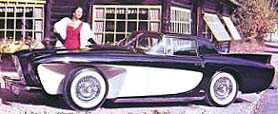 Photo at right was taken outside La Vieille Ferme, a well known restaurant in Paris' western suburb,
near Trappes, which is about 5 miles from Rambouillet where I used to live when I worked in Paris, 1960-63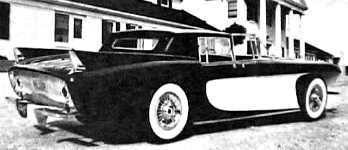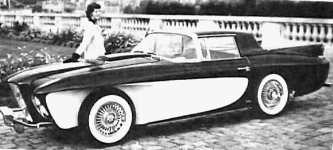 Available were a 4-door town car style (left) and 2-door coupe (right and top)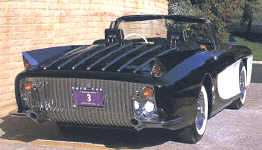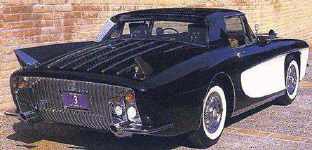 Above 2 rows show that the car has eye appeal, whether the hard top is on or off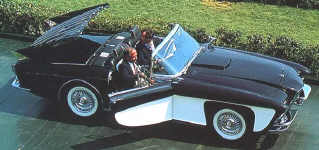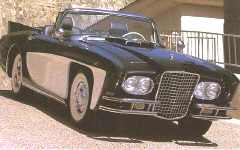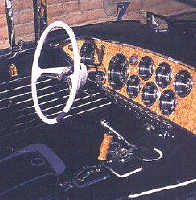 GM? (USA) Custom Series 62 convertible with fancy fins à la '59 Cadillac (a touch of things to come?). These photos (the RH images are cropped to add more detail) were found in some old GM archives by CLC member Jim Jordan of Oklahoma; they came from an album filled with assembly line and office pics. These photos have been the subject of an exchange of views on the CLC Forum (Jan. 2012). One member thought it might be a car customized at the plant for an executive. The general feeling was that of a used car, not a new model, although other (new?) cars in the line-up appear to be from 1955.

.

Hess & Eisenhardt (USA) Custom View-Master : At the well-informed suggestion of Professional car enthusiast, the late Bernie De Winter, I moved this series of cars back from the Professional Cars page for 1955 to this, the Dream Cars section. Bill Hess, who designed this wagon in conjunction with the Cadillac Motor Car Division of GM, was a graduate of General Motors Institute of Technology; in the fifties, he was considered one of the most advanced stylists in the industry. Unlike the Skyview tour cars, that used an extended wheelbase (commercial) chassis, these luxury station wagons were built on the Series 62 chassis (129" wheel base) using Series 86 commercial cowl and floor pan. Doors were by Fleetwood. The tail-gate glass was that of the Chevrolet Nomad wagon. Seven were built, each one being different in color and finish from the next; they stood two inches taller than the regular Series 62 Cadillac and each weighed around 5000 lbs. Most View Masters were built for 9 passengers, but a few dedicated 6-passenger cars were made, including the prototype. All had chrome window pillars all round and most had imitation wood side-paneling in Fiberglas as well as three rows of seats (only one was built with two rows of seats; its interior was styled like that year's Coupe de Ville). All the glass behind the B-pillars is unique to these cars except for the tailgates. 1955 models featured Chevy Nomad rear liftgate glass while 1956 model used standard Chevrolet-sourced 210 station wagon rear hatches. Buyers could specify any color at all (and not necessarily from the Cadillac paint palette). Options available included the Eldorado engine, cast alloy sabre-spoke wheels, a roof rack and a bulky air-conditioning unit. The first prototype View Master [car #1] didn't have the DiNoc and fiberglass faux wood paneling found on the remaining 11 cars; it was painted Sea Island Green from head to toe. That car and car #5 are owned by Kenni and Wayne Turner of Ohio (photos below); the Turner's have so far found and restored five out of the seven H&E Custom View-Master wagons). Prices ranged from $10,000 and up; car #1 cost over $13,000; this is possibly the one shown in MI 3/57 (p.62) or SS 9/92 (p.4) or in SSA89 (p.32). It may be also the fine, restored example that was photographed at the Gilmore Museum car meet in June 1993 (The Cadillac LaSalle Experience). Car #5 was first owned by shoe magnate, Harry Karl. Photos McC (p.312), SS 10/96 front cover; article in SS 10/96 (pp.12-13). The interior of car #4 was finished in a blend of red and Cloud Gray leather. Seven more Custom View Masters were built for the 1956 model year, making the grand total 19. Joe Louis is one of the many celebrities known to have owned a Hess & Eisenhardt-built View Master. One of these is owned by collector-enthusiast Marc Tuwiner. This from a chat group I visited in July 2009: I sold the Dayton folks #7 of 7 a couple of years ago and was the only car with 2-fours and batwing aircleaner. Babyblue in color with woodgrain trim but no woodgrain. Original owner - Earl Gamble (Procter & Gamble). The one on EBAY was a '56 and the black one listed belongs to the Dayton folks not Jay Leno. #5 car is still missing and I have followed it to Detroit area in the'70s but lost track. Could be wadded up in a junk yard or in some collection somewhere.


This is the first Custom View Master built
The late Bernie de Winter knew it well and even drove it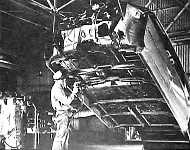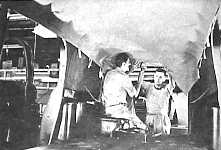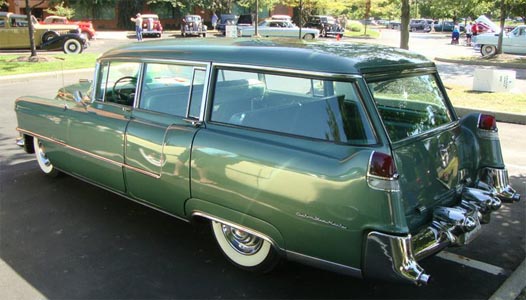 These four photos are from the March 1957 issue of Mechanix Illustrated
Lower row, right: Bill Hess in conference with his own engineers and some Detroit brass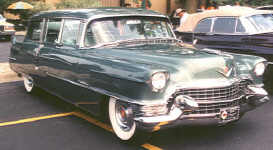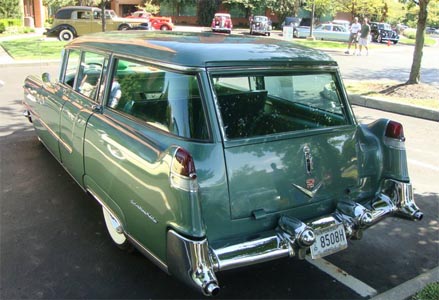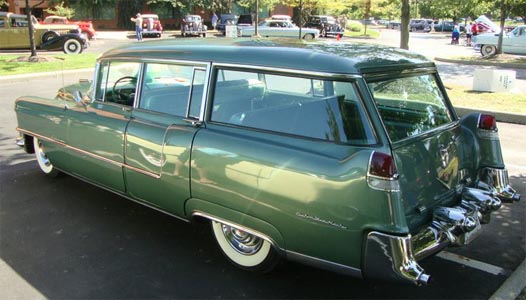 (Left) Kenni Turner relaxes in her H&E custom wagon, #1 of only seven built
(Right) in this photo, the Turner car appears blue, whereas it is in fact a metallic green color
[ Photos: (top and left) © 2002, Brad Stanley; (right) courtesy Katie Robbins ]


This second survivor (#4), with full-length roof rack, features the distinguishing hash marks of the 1955 Series 60 Special
sedan on the lower rear fenders; the car was reportedly built for boxing heavyweight champ, Joe Louis


Here is a third survivor; to the right you can just see
the tail-end of the car belonging to Kenni & Wayne Turner

Hess & Eisenhardt (USA) Custom parade limousine. It is not known with certainty for whom the car was commissioned; what we do know is that it was used principally by First Lady Mamie Eisenhower, wife of President Dwight D. Eisenhower. Features include the elimination of the "C" pillars, a Series 62 coupe rear window, a rear roof line with the so-called Florentine curve at its base, alloy "sabre wheels" and - in particular - a large, retractable roof panel over the rear passenger compartment. The car later found its way to France and was (is) on exhibit in a museum in central France owned by Olivier Delafon whom I had the pleasure of meeting in Touraine, France, in May 1992, at the inauguration (by his daughters, Magali and Geneviève), of the Robert Keyaerts Cadillac Musem. At latest news [1999], the car was still owned by Olivier, who has a small, museum collection of "Presidential" cars and cars of state housed in his chateau home near Auxerre.


Left: Factory publicity photo - Right: in the collection of Olivier Delafon, in France (note the French license tags from Paris)

Kurtis, Frank (USA) The Kurtis Sports Car Corp. of Los Angeles, CA built twenty units (20) of the 500M 2-door, 2-seater, sports car using the 1955 Cadillac motor (or others on request); it had a fiberglass body by McCulloch Motors (of outboard motor and lawn-mowers fame ???). With its 135 mph top speed, automatic transmission, V8 engine developing 250HP at 4600 rpm it was guaranteed to out-perform any other sports or stock car on the road at the time. AndrewWyderka, a visitor to the Cadillac Database in June 2003, wrote:
I do not believe that the top two photos are the Kurtis sports car. Consulting The Complete Book of Collectible Cars, it is my opinion that they are the Kaiser-Darrin roadster of 1954. The distinctive grille shape seems to confirm my suspicions, and the car in your photos may be wearing the detachable hardtop. The book states that the bodywork of the Darrin was also Fiberglass, and the 435 examples produced were initially fitted with inline six engines and unique sliding doors. At a selling price of $3668, it did not sell well, and the designer Howard "Dutch" Darrin purchased about 100 leftovers and fitted some with Cadillac V-8s. Whether all this is true or not, I don't know, but the Kaiser-Darrin is described in other books. I am no expert on Frank Curtis' creations, so Mr. Wyderka may well be right. I shall add his comments also in the 1954 Dream Cars section, with the two photos in question.


Lehman-Petersen Coachbuilders (USA) Built for a handicapped Senator, this car incorporates a wheel chair and metal ramps that exit the passenger side, much like the invalid cars designed on Cadillac chassis by Schmidt & Bartelt in the early forties. It has the regular limousinedivider window as well s factory air conditioning.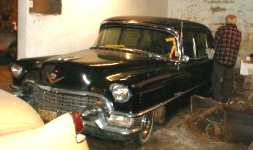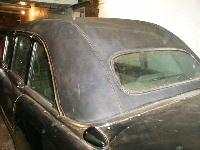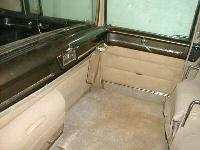 Meteor (USA) Hearse/ambulance conversion for transporting up ro 11 passengers: Of this custom-built "people-hauler", Thomas A. McPherson wrote: In much the same manner as Henney had done with the Super Station Wagon, Meteor attempted to appeal to a broader market segment in 1955. As such, Meteor produced an unknown number of eleven-passenger station wagons utilizing the Cadillac commercial chassis adorned with a standard limousine-style funeral car/ambulabnce body shell. These vehicles featured two rows of seats in the rear compartment that folded down into the floor, two small single-passenger folding seats at the extreme back of the rear compartment, a partition between the front and rear compartment complete with a large storage compartment and ash trays. The exterior body sides were decorated with special moldings and Di-Noc woodgrain appliqués. Although no more successfiul than Henney had been the previous years, this was a common and popularr concept which would be revived by various professional car manufacturers over the years.


[ Photos: Thomas A. McPherson collection ]

Miremont, Mark This heavily pin-striped 1955 Cadillac Series 60 Special sedan is the work of artist Mark Miremont of NY.


[ Photos: © and courtesy of the owner, Mark Miremont, NY ]

Spohn (Ravensburg, Germany) Joe Bortz of Blue Suede Shoes Enterprises in Highland Park, IL, has (or had in 1999) a 1955-56 custom Eldorado show car with body by Spohn [photo needed].

[Unknown, Belgium] Bubble-top parade car converted from Series 62 coupe, for Belgian royal family.


[Left] Still from Belgian TV video clip of royal wedding, December, 1960
[Center] Image © 2003and courtesy Jocelyn Lecocq
[Right] Press photo courtesy Jocelyn Lecocq


Offered again for sale, this time by RM auctions in 2008;
estimated value between £90,000 and £120,000

[Unknown, USA] Series 62 convertible with continental kit (two different models).

[Unknown, USA] Eldorado convertible with continental kit.

[Unknown, USA] Eldorado convertible with 1957 front clip and 1955 rear clip (see also Dream Cars section for 1957).


I took these photos at Reilly Cadillac in Kingston, PA, in 1990; although
I examined the car very closely, I saw so signs of any repairs or modifications!

[Unknown, USA] Another hybrid 1955 Eldorado "Seville" although, in 1955, the latter had not yet entered into production). My guess is that someone "cooked up" this car up after seeing the new Seville model in 1956. A similar car on the 1956 Cadillac chassis may be seen in the Dream Cars section for 1956).

[Unknown, USA] Cadillacs with a continental kit just don't do it for me. The red one on the left came from Canada to attend the 100th Anniversary Cadillac meet in Detroit, 2002.


[ Photos: Left: © 2002, J. Scott Harris; right: Internet, 2/2004 ]


This one turned up on the Internet in 2014

[Unknown, USA?] Here's a custom "Eldorado" (?) seen on the Internet that looks like it may have begun life as a coupe (you can still see part of the roof attached to the windshield header bar !

[Unknown, USA?] Here's a custom Eldorado Seville coupe (the Seville model was not offered, in fact, until the following year when it became a sister-car to the Biarritz convertible). Is this an amateur conversion ...or could it be a rare prototype, like the Celebrity coupe shown at the 1955 GM Motorama?


Shades of the Cadillac Celebrity, shown at the 1955 GM Motorama

[Unknown, USA] 1955 camping car, used as a mobile parts outlet by collector/dealer Rudy Stahl whom I met at Carlisle many years ago [photos].

[Unknown, USA] 1955 camping cars, I don't believe any of these were Rudy's car. The center car was advertised on e-Bay: Caddy motor home, built by Superior Coach [??? - Superior may have built the commercial vehicle used as the base for this transformation]. 56k original miles. New: interior car & camper, tires, exhaust, carb rebuilt, fuel pump, radiator, water pump, tune up. Has L/P stove, oven, hot water, reg. LP & electric, fresh water demand pump - new toilet. New paint on car portion. Has rack on back for a 55cc 1964 Honda trail bike included. Cool machine. $18,000. In September, 2002 I got these comments from commercial car enthusiast, Jim Crabtree [Jim is very knowledgeable and has been very helpful in adding and correcting entries in the Database for this kind of vehicle]: Before the days of factory-built motorhomes, people always thought it was good or beautiful to cut up a hearse or ambulance into a camper. These were not built by coach builders but were backyard conversions. The upper and lower units (red) looks to be in better condition

.

[Unknown, USA] More 1955 camper conversions


Here are two more "campers": one "pick-up" version (left), one would-be "Airstream" (right)


Photo: Internet, by "Prairie Dreams Photography"

[Unknown, USA] Two-directional Cadillac photographed in Rawlins, Wyoming [advertising gimmick]; SS 4/94, p.9


Two-way Caddy, not allowed on 1-way streets ? Doesn't know whether it's coming or going!

[Unknown, USA] 1955 coupe "low riders"

[Unknown, USA] 1955 coupe "low rider" (2)


[ Photo: Internet, 2013]

[Unknown, USA] 1955 Series 75 (?) 6-door limousine conversion.

[Unknown, USA] This Chevy truck tail-fin design proposed by Harley Earl's team ended up being used successfully, in a slightly modified form, on Cadillac's Eldorado model in1955.

[Unknown, USA] I wonder what purpose this odd car served; the photo is from April 1956 and the tags are from Montana.

Van der Stricht, Patrick (Belgium) Patrick is a devoted Cadillac enthusiast. This is his artist's proposal for a 1938-39-40-41-48-49-51-53-54-55-56-57-58 custom Eldorado coupe (...and I may even have missed a couple of years in my speedy examination of this delightful drawing!


Drawing courtesy of Patrick Van der Stricht

Vignale (Italy) Cadillac Fina-Sport, special coupe by Bill Frick (small photo in RA, AM collection) [see "Cunningham, Briggs", "Fina, Perry" and "Frick, Bill", above].