1940

Cadillac (USA) Professional cars and chassis


1940 Cadillac commercial chassis


1940 Cadillac business sedan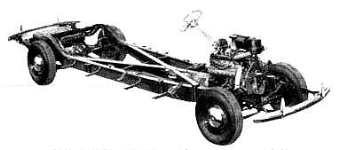 Series 72 business chassis (left) and sedan (right)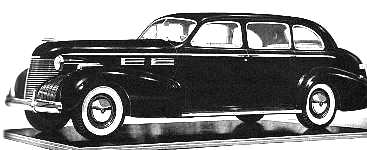 These two Series 72 business are easy to recognize on account of
their high-mounted tail-lamp units; the two illustrations are from period ads


Catalog illustration of funeral coach on 1940 LaSalle chassis
Derham (USA): [This entry is from an Internet web site devoted to Derham custom coachwork] One unusual-looking invalid car was built in early 1940 on a Cadillac Series 75 chassis for Irving R. Strauss of Behnar, New Jersey. It featured an unusual-looking extra-tall roofline similar to that found on a modern limousine equipped with commercial glass. The main feature of this body was a disappearing inclined ramp the fit under the rear compartment floor that could be pulled out and used from both sides of the car. Also included was a back seat that was cut in two, one half was replaced with a portable wheel chair luxuriously upholstered to match the car's interior. A totally flat floor was also installed so that the chair could be easily rolled into the space then securely locked in place. The Barclay Portable Chair Auto Body Corp. at 55 West 42nd Street also specialized in the conversion of invalid cars. Its owner, Wright Barclay, had patented an auto ramp and wheelchair in the early 1930s that looked remarkably similar to the arrangement used by Derham. He even sent a threatening letter to Derham's current client threatening action if any of his patents were used in the conversion. Derham had dealt with Barclay before, and assured their customer's attorney that they would indemnify Mr. Strauss in the event of a lawsuit.

Flxible (USA) Various professional car styles for the ambulance and funeral trades


Flxible ambulance on 1940 Cadillac chassis


Flxible ambulance on 1940 LaSalle chassis

Flxible (USA) AA carved panel hearse on LaSalle chassis, McC p.247

Meteor (USA) limousine style hearse; see also McC p.243

Meteor (USA) funeral flower car, McC p.244


Tray with removable stainless steel railings

Meteor (USA) 8-door, Woodie station wagon on LaSalle chassis, McC p.247. This additional information was received in March, 2003 from Hugh Nutting, a regular visitor to the Cadillac Database: In the 1940 'dream car' site you have two LaSalle station wagons [previously] listed as "unknown (USA)". Both are Meteor Funeral Coach bodies. The 4 door belongs to CLC member Tom Boehm, and the 8 door is owned by a guy in the Detroit area. It was built for the widow of one of the Dodge Brothers, Mrs. Wilson, who owned Meadowbrook Farms, where they have the classic car shows now. These station wagons are one serial number apart. They were Funeral car chassis when delivered. I think Meteor cut each chassis in a different place then switched rear halves as neither finished wagon has a standard long wheelbase. Hope this helps.
Miller, A.J. (USA) funeral flower car, McC p.247


In the inscription on the side of this 1940 La Salle ambulance by A.J. Miller
may be seen the name "Howard Hughes" (the billionaire and ultimate recluse)
He had donated the vehicle to the Canadian Red Cross organization


This La Salle ambulance, also from A.J. Miller saw service in London
during the Blitz; it has the mandatory, war-time black-out lights

Philadelphia Specialty Mfg. Assoc. (USA) special 8-door airport bus for American Airlines [have poor photo]

Sayers & Scovill (USA) S&S funeral coach on LaSalle chassis

Sayers & Scovill (USA) S&S Aristocrat landau funeral car, McC p.243
Schmidt & Bartelt (USA) Founded in 1887 in Menomonee Falls, WI, this company gained a reputation for building vehicles to transport sick persons or invalids. They started making motorized ambulances in 1919. Conversions were done on the following Cadillac chassis: a 1931 Series 355A 7-pass. limousine, then a 1940 Series 75 limousine (converted in 1948), then a 1948 Series 75 limousine in 1951. The conversion required careful removal of the "B" pillar and the making and fitting of special door locks at both the roof and floor sills. When used as an ambulance, the front bench seat was removed and a single driver seat fashioned and installed. The conversion from a 1940 Cadillac limousine is shown below. McC, p.242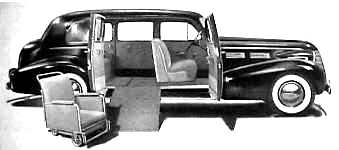 Removable center door pillar allows quick installation of ambulance cot (left)
Ramp facilitates access with an invalid chair (right and below, left)

Invalid chair fits conveniently in the area where the right half of the rear seat normally would be


These two illustrations show the front compartment
with full front seat (left) or half seat to accommodate invalid chair

Specialty Manufacturing Co (???) (USA), special 8-door airport limousine on Cadillac chassis, for American Airlines [photo OCW, 22.8.91]

Superior (USA) Gothic carved-panel hearse, McC p.244


Superior built also this fire department service car, as well as some ambulances on La Salle chassis
[ Photos from factory product brochure on professional cars ]

Unknown (USA?) Gothic carved-panel hearse, possibly by Superior (above). This one was used in the funeral procession of Rosa Parks, an unwilling African-American activist who made history by refusing to give up her seat on Georgia a bus to a white man.

1941

Cadillac (USA) Professional cars and chassis


Cadillac's new "egg-crate" grille (left) and the ..." wheel base commercial chassis (right)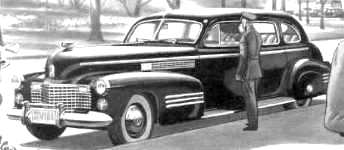 (Above two rows) Artists loved to stretch and lower the otherwise boxy Series 75 sedans and limousines

Eureka (USA)


Eureka ambulance

Eureka (USA) custom 15-passenger bus, McC p.254

Flxible (Loudonville, OH , USA) Various professional car styles for the ambulance and funeral trades


Flxible limousine style hearse


Flxible built 100 of these coaches in 1941, for the ambulance and funeral trades; it was
a new style of coach and had an unusual rear door and window, setting it apart from the competition.


Similar to the preceding model, this Flxible ambulance has the "tunnel" style emergency lights


Flxible flower car, Model. #C61-FC, finished in white with
high grade mohair upholstery and stainless steel flower
bed; the rear door is equipped with casket rollers

Hess & Eisenhardt (USA) Airport shuttle bus (limousine)


Left: the airport shuttle; right: tradional front ensemble of S&S ambulances and funeral cars

Knightstown (USA)


Knightstown ambulance?

Little, John (Ontario, Canada)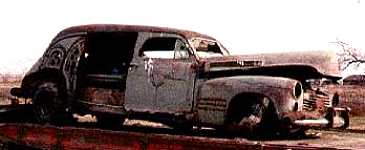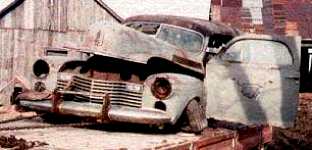 This carved-side, gothic styled hearse was converted from a Series 62 coupe in the shops of John Little, of Ingersoll, Ontario, Canada. The "cathedral"glass in the rear body was stained blue and the interior was lined with maroon mohair. Originally delivered to the Needham funeral home in Ontario, the car subsequently was sold and saw further service with the Dodson & Habkirk Funeral Home in Kingsville, Ontario. Sadly, after it was retired from service in 1958, it ended up in a field [two upper pictures]. Fortunately, it was recovered before it was too late and got a professional, ground-up restoration. Currently (2002) it is owned by Lloyd Needham of Blenheim, Ontario (a descendant of the original owners?)
Meteor (USA), the limousine coach, the service car, the carved Gothic hearse, the Landau funeral coach.


Gothic carved hearse on Series 62 chassis [see McC, p.255]


This survivor was for sale in Cars & Parts, in the mid-seventies


This Meteor Combination coach belongs to a Database visitor and Cadillac enthusiast who wishes to remain anonymous; he wrote: here is a picture of Pugsey [hidden, right] fulfilling its current purpose...the kids love it at Halloween;
it does have the compartments on the back of the divider, for ambulance service. It also has a rear heater
built into the rear of the divider that is housed by the ambulance compartments.

Miller (USA) classic combination coach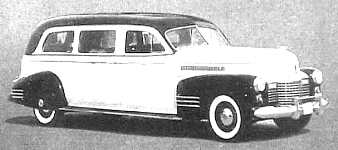 Combination coach with an attractive paint scheme


Miller ambulance
Miller A.J. (USA) included in their program this year the regular limousine, the Art carved model, the Cathedral carved coach, the flower car and the service car [McC p.264]


This is the Cathedral carved-side funeral coach

The two unidentified vehicles below (picked up on the Internet) may be Miller models





Silver Knightstown (Indiana, USA)

S&S (USA) by Hess & Eisenhardt, offered the DeLuxe, the Superline, the Statesman and the Macedonian funeral vehicles [McP, p.200]. Ambulances too were available.


S&S Victoria


S&S limousine style ambulance

Superior (USA), Military field ambulance [McC p.255]. Other professional cars offered this year include those illustrated below:


Briarcliff side-loading limousine funeral coach


Landau hearse


Superior ambulance dressed up in drab olive
and used by the U.S. army's medical department


Two different views of the same car


Fire department ambulance used at Coney Island, New York
[Unknown, Spain]: break-down truck conversion from 1941 Series 60 Special believed to have been owned at one time by renowned artist Salvador Dali.


I saw and photographed this break-down truck in the province of Barcelona, Spain, while driving from Geneva to Valencia in the early 60s [in a tiny, Italian Fiat 500!]; among the few people in that area who could afford a Cadillac at that time was the great artist, Salvador Dali who in fact lived not too far away, near Figueras, in the province of Gerona; I often wondered if this might have been one of his old cars




[Unknown, USA?]:

1942


Above two rows, the roomy Series 67 business sedan


Above two rows, the equally roomy and more luxurious
Series 75 business sedan and limousine


1942 Cadillac commercial chassis

Eureka (USA)


S&S carved-side funeral coach


Eureka flower car


The table (left) extends onto the door, which includes
four rollers; note the tray cover (right)

Flxible (USA) carved panel flower car, McC p.261. Also miscellaneous other professional vehicles for the ambulance and funeral trades. America went to war this year; Flxible built a mere 26 funeral coaches and ambulances on the Cadillac chassis


This is NOT a flower car; note the smooth top of the rear deck; this was a new style offered by Flxible that year
called the Innovation; unlike regular flower cars, it had a fully upholstered rear compartment

Meteor (USA)


Meteor flower car

Miller A.J. (USA)


Miller flower car with unique roof line and decorative landau bars


The table (right) extends onto the door, which includes
four rollers; note the tiered flower tray (right)

Miller(USA) landau style funeral car, McC p.261

Proctor Keefe Co (USA) rescue squad car for Detroit Fire Department (2 built), McC p.261

Sayers & Scovill (USA) One of a number of professional cars built for the funeral trade


This lovely survivor turned up in the Netherlands circa 2007-08
It was brought to my attention by "Philippe", regular contributor to the Forum of the American car Club de France - ACCF
[ I have Philippe and the ACCF to thank for these three superb images ]
Silver Knightstown (USA) One of a number

Schmidt & Bartelt (USA) Were these effectively built ? Not according to research, as recorded above in the 1940 section. According to professional car enthusiast and expert, Bernie De Winter, this may be a NuSystems conversion. This was a sedan ambulance conversion available through a network of shops scattered throughout the US before the war; their conversions were available on any number of different sedans.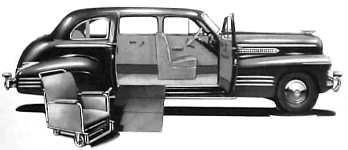 Superior (USA) One of a number of coach-built vehicles offered by Superior for the ambulance and funeral trades

[Unknown, USA] Cadillac hearses [Internet photos]


This pick-up truck was found in Florida by a French biker and Cadillac collector; it is
one of two 1942 pickups converted in the forties from the Series 62 sedan at the request
of a Las Vegas casino; they were used as baggage trucks for the casino's VIPs
[ Photos: courtesy Daniel "Zoot" Dimov and France's Nitro magazine ]