1955
Eureka (USA) This company, like others listed below, specialized in commercial vehicles including hearses, funeral limousines, ambulances and flower cars.

Hess & Eisenhardt (USA) Skyview Limousine [6 were built as tour cars for the Broadmoor hotel, Colorado]. All were finished in Mandan red with Pecos beige upper side window trim. These wagons could accommodate twelve passengers. There is at least one known survivor; it was offered for sale in SSA89, p.32. Photo McC p.311 [test prototype] and SS 10/96, rear cover. Article in SSA96, pp.20-27. One more survivor (perhaps the same one?) was on sale in the Self-Starter issue for April, 2001. Look also at the Dream Cars section for 1955, to view other another creation by H&E, considered to be more a dream car than a professional model. Built to replace a group of aging Cadillac Series 75 sightseeing coaches built in 1947, the Hess & Eisenhardt Skyview limousines were built using a Cadillac Series 86 commercial chassis mated to a slightly altered Sayers & Scovill limousine-style hearse body. On some of the cars, four large smoked Plexiglas panels supported by a framework of exposed chrome-plated cross-members were inserted into the roofs for year-round sightseeing. The other Skyviews featured a roll-back canvas roof similar to the ones found in A.J. Miller's pre-war Broadmoor coaches. The Skyview's were built using a body-shell from a S&S Victoria funeral coach, but the Broadmoors's sloping C-pillars differed in one respect. Although set at an angle, they were perfectly straight and unique to the Skyview while the sloped C-pillars found on a Victoria funeral coach were noticeably curved. Skyviews shared the 3-piece rear windows found on most S&S professional cars (except for the high headroom ambulance and flower car) but the glass was fixed in place. The bottom half of the rear loading door opened into a small storage cavity behind the rear seat and the spare tire was stored in an under-floor compartment. A feature unique to 1955 Broadmoors was their Eldorado-sourced rear wheel openings, which did not continue into the 1956 editions. Six were built and three are known to survive. Surprisingly when the Broadmoor Hotel replaced the aging 1955-56 SkyViews in 1959, Hess & Eisenhardt's arch-rival, Superior Coach was awarded the contract.


This portrait of Messrs. Hess & Eisenhardt
is believed to be from the mid-fifties


(Left) one of the first Skyview observation coaches built for Colorado's Broadmoor Hotel
(Center) artist's impression of the proposed Broadmoor Hotel Skyview tour car
(Right) this survivor was sold for $7,500 at a Kruse auction (lot #3663, Auburn, IN,
September 1999; the program asserted that only five units had been built)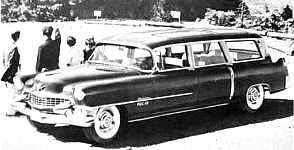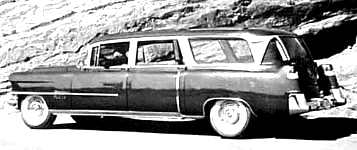 Above: the Broadmoor hotel takes delivery of a full complement
of the year's Skyview observation limousines; five of them are seen here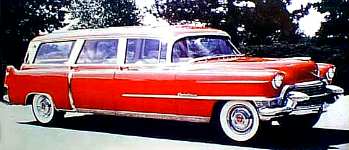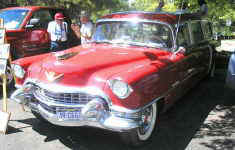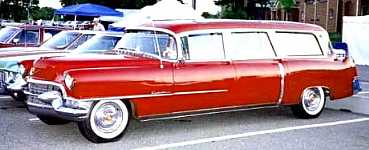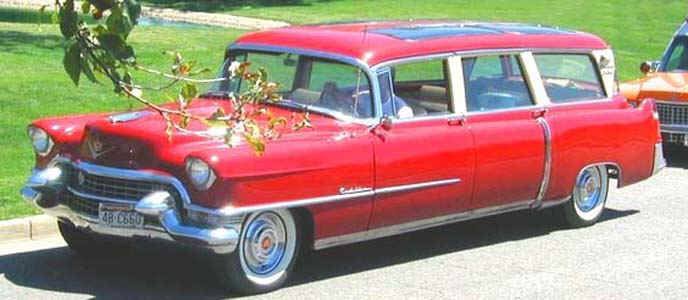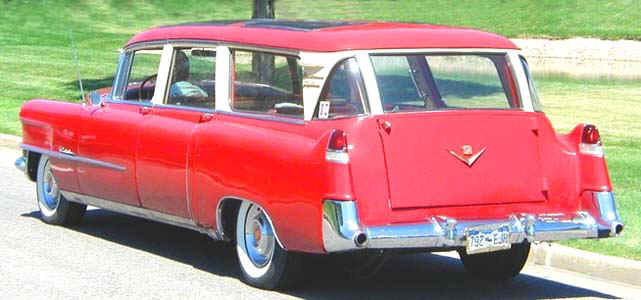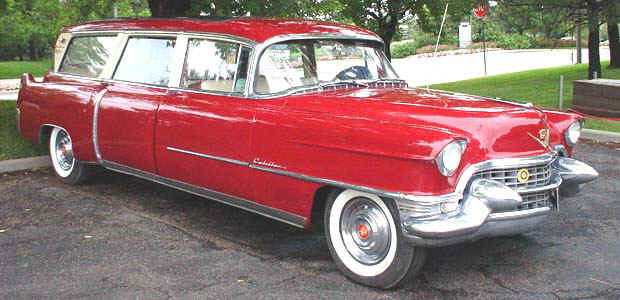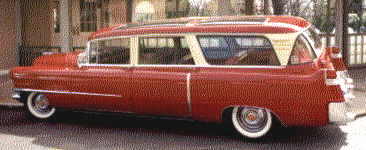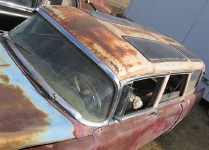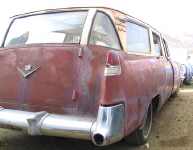 A survivor needing TLC (2007)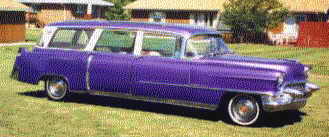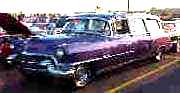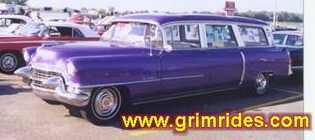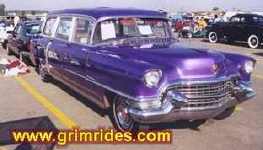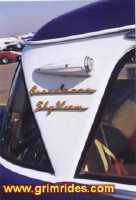 Perhaps this is the car ... after a full restoration?
[ Pics (immediately above): © and courtesy of "Grim Rides" ]
Hess & Eisenhardt (USA) Special custom limousine for Mamie Eisenhower, wife of the then 34th US President, Ike Eisenhower. Features include elimination of "C" pillars, a Series 62 coupe rear window, a rear roof line with lower, Florentine curve, sabre wheels and a retractable roof panel over rear passenger compartment. Photo McC p.309. This car is believed to be today (2004) in the collection of French enthusiast, Olivier Delafon, at the Chateau de Monjalin, near Avallon, in Burgundy, some 155 mi. SE of Paris. Olivier collects the cars of heads of state.


Factory publicity photo


Left: behind the Renault Vivastella once owned by Marshall Pétain, who was
France's premier under the Vichy government, during the German occupation,
is the custom Series 75 limousine without "C" pillar (see enlargement)


These original showroom photos were found in an old album that the (Cadillac) factory had discarded;
recovered in a dumpster in MI, the album was subsequently sold on e-Bay in 2003

Lehman-Petersen Coachbuilders (USA) Built for a handicapped Senator, this car incorporates a wheel chair and metal ramps that exit the passenger side, much like the invalid cars designed on Cadillac chassis by Schmidt & Bartelt in the early forties. It has the regular limousine divider window as well s factory air conditioning.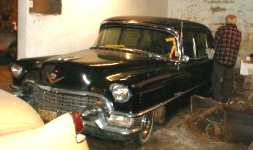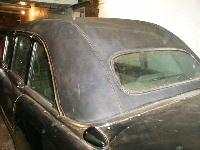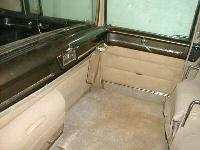 Meteor (USA)


Even though they may resemble creations by the larger commercial car manufacturers
(Eureka, Miller, Superior), in fact, this car and the one below are "nothing" cars,
drawn by Cadillac for their commercial chassis ads

.

Meteor (USA) This company specialized in commercial vehicles including hearses, funeral limousines, ambulances and this type of flower car, below.

Miller (USA)

S&S [Hess & Eisenhardt] (USA) again built their famed S&S models on the Cadillac commercial chassis. Two are shown below, in addition to a B&W factory drawing.

Superior (USA) This company specialized in commercial vehicles including hearses, funeral limousines, ambulances and this type of flower car, below.


Superior combination coach


This survivor was found on the Internet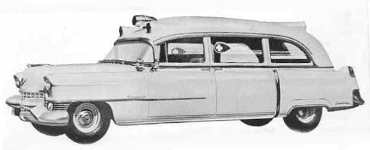 Superior Super Rescuer ambulance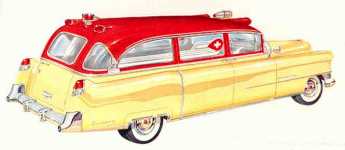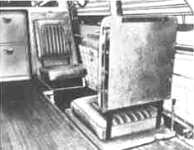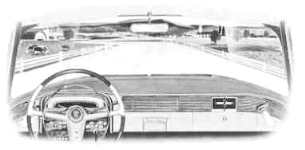 Superior ambulance attendant seats (left); compound curve windshield for greater visibility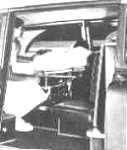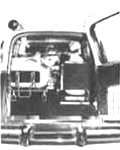 The illustrations or this entry are from the 1955 Superior ambulance brochure

Surviving Superior Moderne ambulance


Could this be the one in the previous row? Although it carries '56 wheel covers,
it is a reconstitution of a '55 Superior Moderne limousine ambulance
[ Photo: © Bud Juneau, Self Starter annual, 1998 ]

[Unknown, Greece?] Special funeral coach. This one was photographed on the Greek island of Leros [sorry for the poor picture]


Photo: courtesy Stefan Achilles, Aachen

[Unknown; possibly Meteor] Special flower car, photographed in Cuba


Photo: Internet, 2014

[Unknown, Switzerland] Special ambulance body on Cadillac chassis. Used by Metropole Clinic in Lausanne.

[Unknown, USA] Special ambulance