1965

Hess & Eisenhardt (USA) Various commercial vehicles for the funeral and ambulance trades, under the renowned S&S label, like the examples below:


The S&S Parkway model


S&S Park Row combination coach


S&S Park Hill combination coach


S&S Victoria funeral coach


Despite the absence of any markings, the general lines of this artist's view of a
busy ambulance suggest the S&S series of professional cars; opinions are welcome
Miller Meteor, USA] Classic limousine; the standard "airliner" drapes on the model below [found on the Internet] have been tied together in the rear window in a fashion which wasn't common on those cars when new. Professional car enthusiast, "Charles", owns this vehicle. He contacted me in November, 2008 and provided this additional information: I have owned this vehicle for about 4 years now; it is currently going through a motor changeout. The original motor was rebuilt twice, and finally blew up. I do not have much information about the vehicle, although when I bought it, it did have the siren under the hood, and has a few extra switches on the dashboard the purpose of which I'm not sure of, as yet. Also, I believe the car carried a single light above the passenger compartment; there is a connection on the roof, which appears to be for mounting a light. I was told by the former owner, that there were light markings on the rear windows as to a funeral home the car may have come from, but I haven't seen them. The car is currently located in California.

UNIDENTIFIED


Despite the absence of any markings, I suspect this artist's view, from a period
merchandising catalog, illustrates the Miller-Meteor Landau Tradiional funeral car
Superior (USA) Various commercial vehicles for the ambulance and funeral trades, like the examples below. The red Royale ambulance with black roof (below) was used in the '66 Superior ambulance catalog, in a photo that was airbrushed to make it look like a '66 model, sans the Mars 888 lights atop the fenders. This particular car has many unusual features about it that aren't typical of a Superior-Cadillac, such as the side facing front attendant's seat and extra large partition cabinet. It was custom built for a fire department in the suburban Chicago area, which explains the color scheme [source: Bernie De Winter].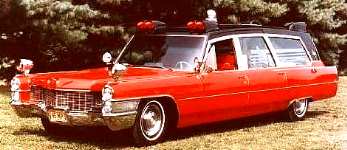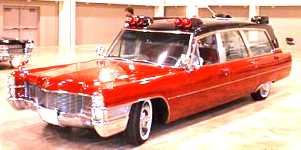 Possibly the Royale ambulance pictured on p.297 of Thomas McPherson's book Superior, the Complete History; this car is a 19,000-mile,
mint original, including the original paint; my friend Sarah, from Cleveland, OH, said this vehicle had been owned
since new by Bob, a resident of the Chicago suburbs; professional car enthusiast and expert, Bernie De Winter disagrees;
he says that the vehicle was originally owned by the Clarendon Hills Fire Department. Two opinions are always better than one!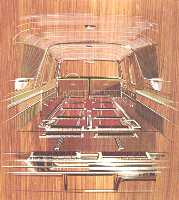 Illustrations in the above two rows are from a Superior product catalog for the 1965 models

Crown Royale limousine style hearse, like the one pictured on p.295 of
Thomas McPherson's book Superior, the Complete History.


I believe this nice survivor is a Crown Royale limousine-hearse


Although it looks like a landaulet, this Crown Sovereign is actually
a limousine with optional, removable landau panels (on which the imitation
landau bars have been mounted the wrong way round)


This Coupe de Fleur flower car is owned by Bill Donnell of Greenville, IL;
the rear wheel openings have been modified to eliminate the fender skirts;
this modification wasn't at all typical of a Superior-Cadillac.
[ Photo: Internet, 1999 ]


Here's another Superior-designed flower car; this one is mentioned in the book
by Thomas A. McPherson, "American Funeral Cars and Ambulances Since 1900";
it belongs to Stanley Sipko of Dupont, PA and is believed to be 1 of 12 built
[ Photo: © 2007 and courtesy Stanley Sipko Jr. ]
Visser [meaning "Fisher", in Dutch] (Holland) Various commercial vehicles (hearses and ambulances on regular or stretched Cadillac chassis, like this one from 1965. My friend Dirk-Jan de Jong wrote: This ambulance is made on a 1965 Cadillac commercial chassis. As you can see the model design has not changed much from the 1956 model. This car has also a non standard windshield, which appears to be almost flat! This car served for the ambulance services of Utrecht. In the sixties, the ambulance services of the big cities had almost unlimited money and could therefore drive cars like these (which were very expensive by Dutch standards of the time). At the start of the seventies it was all over for the Cadillac ambulance as regulations (and money supply) were tightened and a switch was made to the (Chevy)van-based ambulances.


Visser built an entire new upper body, including the windshield
[ Photo: "Ambulances in beeld (1945 - 1975)", courtesy Dirk-Jan de Jong, Holland ]
1966

Miller-Meteor (USA) like other manufacturers of commercial vehicles for the hospital and funeral trades, this one built a limited series of such vehicles. Some examples are shown below. The illustrations are drawn from the factory sales literature for that year, which was the first year the Citation was offered. The first car shown was an end loading hearse.


Miller Meteor: Citation, 3-way, end-loader or combination coach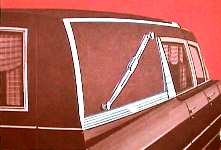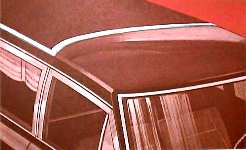 Styling details: non-functional, purely decorative landau bars (left), molding roof arch (right)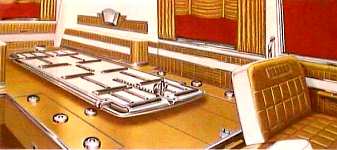 Luxurious interior appointments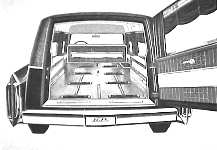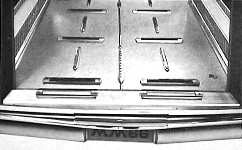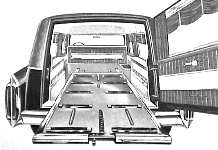 Miller Meteor: Classic Limousine, end-loading hearse/ambulance, shown with optional removable landau panels;
1966 was the only year that Miller-Meteor ever listed such a car described in the catalog as the landau-limousine, though the car
in question was available for many years; it is a common misconception that removable landau panels were standard equipment
on limousine combination coaches, and that all limousine style hearses were combination coaches; while landau panels
were most commonly found on such coaches, a few straight hearses, including one '66 Miller-Meteor 3 way, were so equipped


This beautiful "Patty Hearse" (!) belongs to the equally beautiful,
young enthusiast, Sarah, of Cleveland, OH


Like a Phoenix risen from its ashes...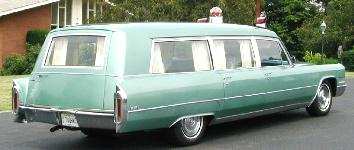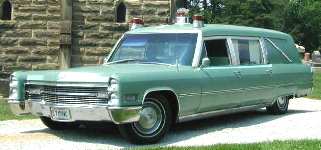 The model is MM's Classic Limousine combination or Duplex; it may be used in ambulance, hearse or limousine format,
with or without the panel inset over the quarter windows; in the ambulance configuration (above), it features the optional
Federal Beacon Ray, in addition to a pair of optional Miller-Meteor Full Vue demountable beacons
[ for more detailed views and a history of the car's restoration, visit the owner's Web site ]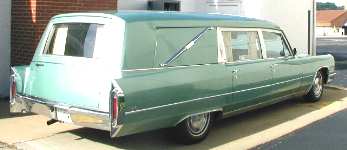 In limousine or hearse configuration, it is featured again, with and without the quarter window insert panels

The interior is just as stunning as the exterior

1 2
Miller-Meteor exclusive Convert-A-Floor, for combination coaches;
tables flip over to conceal or expose casket rollers (1); attendants' seats fold into floor (2)

The combination car floor illustrations show a car with what was commonly known as a Foster Floor, named after the dealer who devised such a feature. It was only advertised in sales literature that one model year, but a number of cars were sold by that dealer over the years with that particular floor option. The ambulance floor under the "Insert-a-floor", below, also has an optional under-floor stretcher compartment [source: Bernie De Winter].
1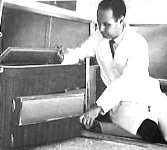 2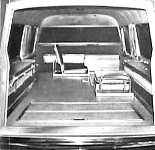 3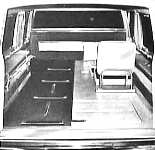 4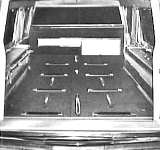 Miller-Meteor exclusive Insert-A-Floor, optional in combination coaches; (1) functional partition has linen compartment (above)
and dispensary cabinet (below), (2) side-facing attendant seat was optional, (3) and (4) casket rollers fit precisely on top of ambulance floor

Miller Meteor: limousine combination in ambulance form, identified in that year's catalog as a Landau-Limousine
This vehicle was just a limousine combination coach with optional removable landau panels

1 2 3 4
Accessories included add-on dispensary cabinet (1), mobile-oxygen compartment (2),
air-circulation booster (3) and control panel for heater controls, dome light and optional ash tray (4)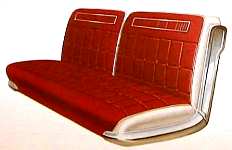 Miller Meteor: Paramount Landau, 3-way, end-loader, combination coach or ambulance (latter had white
cross in lieu of landau bows); comfortable front seat (right) already had seat-belt anchors
The car shown is the end-loading funeral car.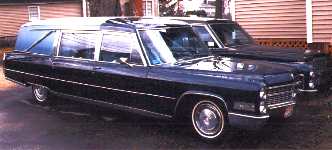 A survivor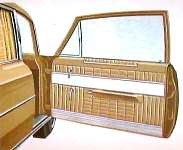 Miller Meteor: Landau Traditional, 3-way, end-loader, combination coach or ambulance (latter had white cross
in lieu of traditional, decorative landau bows); wide-opening doors (right) are trimmed in deluxe, deep-fluted upholstery
The illustration shows the car as a 3 way, evidenced by the door hinging

Miller Meteor: Classic Limousine, 3-way, end-loader, combination coach or ambulance
The model illustrated is the end loader


A very nice, restored survivor


Miller Meteor: Flower Car, a stylish way to lead a funeral procession
This is an Embassy flower car with a 22 1/2" deck height, while the
interior photos (below) show a flower car with a 25 1/2" deck height


(Left) Flower decks are raised and lowered electrically
(Right) Stainless steel tray, side rails, interior walls and floor






Miller Meteor: Classic ambulance with 42" inner roof height


(Left) Spacious, comfortable, washable ambulance interior; air-conditioning and
window shades were standard (Center and right) door panels and front seat finish


Standard dash-mounted, illuminated electrical console
(was optional in combination car)


Miller Meteor: Classic ambulance with 48" inner roof height



Miller Meteor ambulances: Paramount (left), Volunteer (right)

Pollmann (Bremen, Germany) Custom hearse on Fleetwood Series 75 chassis; conversion done by well-known Conrad Pollmann factory of Bremen. It was built for the Grieneisen funeral home of Berlin in 1966 and is still in use for special funerals of the German government [this info from German custom Cadillac enthusiast and hearse expert, Ingo Marx, April 2002].

S&S [Hess & Eisenhardt] (USA) Various commercial vehicles for the funeral and ambulance trades.


The S&S Victoria funeral coach


This is an unusual S&S Victoria with metal back roof and 3-way table; it was built for the Vaughn
funeral home in Parkersburg, West Virginia; a padded top was standard on all S&S Victoria models and its removal,
on this car, cost the client more money [correction supplied kindly by Bernie De Winter]; my friend Sarah, from Cleveland,
OH, tells me the car is owned by Tim, a PCS member from Indiana [photo: PCS International Meet, Grand Rapids, MI, 2003]

Superior (USA) Various commercial vehicles for the ambulance and funeral trades, like the examples below:


These illustrations of ambulance layouts are drawn from that year's product catalog


Superior Cadillac Rescuer ambulance; right, a survivor in the New Millennium


Above three rows: Sovereign limousine combination coach (lower photos show the car
fitted with red, ambulance dome light); my friend Sarah, from Cleveland, OH, tells me
this survivor is owned by Matt, a PCS member (like Sarah) from Missouri


Superior Crown Royale funeral car


Above 2 rows: Survivors on Internet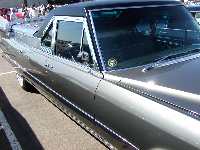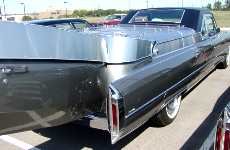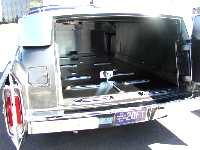 Above three rows: Cadillac Royale flower car, known as the Coupe de Fleur
[ Bottom row photos: © 2002, J. Scott Harris ]


Not quite the same condition but a survivor nonetheless
[Unknown, USA]: So far, I have been unable to identify this 1966 survivor, seen on the Internet in 2008


This ambulance under restoration is getting ready for paint
Visser [meaning "Fisher", in Dutch] (Holland) Various commercial vehicles (hearses and ambulances on regular or stretched Cadillac chassis, like this one from 1966. My friend Dirk-Jan de Jong wrote: This is a 1966 model which is special in that it was built on a regular, non-commercial Cadillac chassis. It started its life as a normal Sedan De Ville, being used for weddings etc. After a few years of service it was converted to an ambulance, a practise quite common with some big taxi companies in those days. At the start of the seventies it was all over for the Cadillac ambulance as regulations (and money supply) were tightened and a switch was made to the (Chevy)van-based ambulances.


Visser built an entire new upper body
[ Photo: "Ambulances in beeld (1945 - 1975)", courtesy Dirk-Jan de Jong, Holland ]