1937

Cadillac and Fleetwood (USA) limited edition commercial cars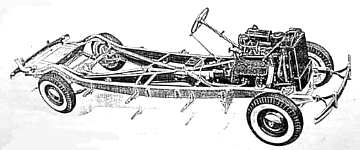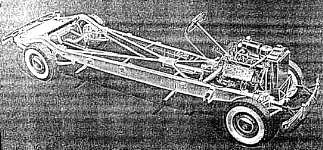 Cadillac Series 60 commercial car chassis

[ no image ]

Series 37-75, 138" wheel base commercial chassis


Left: professional car front clip (similar to regular Cadillac line)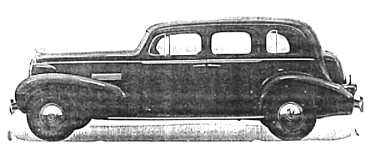 Fleetwood style #7523L, 8-passenger touring car [trunk], V-12 motor (left ???)
Fleetwood style #7503L (right) - no trunk



Fleetwood style #7523L and #7533L, special 8-passenger Imperial Touring sedan and limousine
[ the bodies are identical but for the interior layout; the limousine has a partition and division glass ]


Fleetwood style #8003L


Fleetwood style #8013L


Fleetwood style #8023L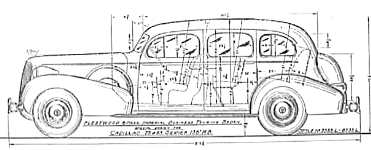 Fleetwood style #8033L



La Salle flower car
Eureka (USA) Miscellaneous professional cars for the ambulance and funeral trades. This was the company's 50th Anniversary year. These vehicles were licensed under basic Heise patents #1721391 and #1845570 and pending patent applications.



Eureka Chieftain hearse on Cadillac chassis



Chieftain model on La Salle chassis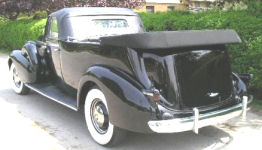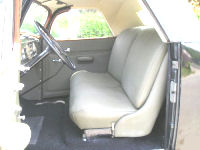 A surviving Eureka flower car, offered for sale on eBay in June, 2006
Meteor (USA) custom hearse, McC p.210

This surviving ambulance was seen at a large swap meet in Utica, MI, in June 1978
[ photos © 1978, Yann Saunders ]


It was still around, 30 years later
[ Internet photo ]

Miller, A.J. (USA) 12-seater, 10-window Yosemite National Park tour bus; 10 were built on Series 75 chassis with 204" wheel base; removable canvas top. Three are believed to have survived. One was in the fabled Harrah collection, until after his death, when it was sold by auction. Another was offered for sale for $3500 o.b.o. in the early Seventies by Joseph Schiro of San Jose, CA. I don't know the whereabouts of the third unit.


The above color PC shows the Yosemite tour bus when it was owned by the late Bill Harrah


The color postcard (right) is an artist's view of the 1937
Cadillac tour "bus", based on a period photo in B&W (left)


The Harrah tour bus has survived and will be restored (2000)


Not 100% sure of the coach-builder; am guessing A.J. Miller who built a similar car on the LaSalle chassis

Miller, A.J. (USA) Custom funeral car on 160" wheel base LaSalle chassis, McC p.212

Oldings Coachcraft (Australia) Originally exported from the United States as a commercial chassis, this La Salle hearse is fitted with a side valve V8 engine which originally saw service powering a Cadillac tank. It's panels were manufactured by Holden, whilst the coachwork was completed by Oldings Coachcraft, in Glebe. It has a floor mounted, three speed transmission. Restoration has taken approximately three years to complete with virtually all systems, be they electrical or mechanical, being completely rebuilt or replaced.


[ Photos: Internet, 2004 ]

[Unknown, USA - possibly Miller of Bellefontaine, OH] 8-passenger, 6-window, sightseeing car with removable canvas roof; used by Colorado's Broadmoor Hotel to convey patrons to the top of Pike's Peak.

[Unknown, USA - possibly Miller of Bellefontaine, OH] 12-passenger, 8-window, sightseeing car with removable canvas roof; used also by Colorado's Broadmoor Hotel.
S&S (USA) Damascus style carved-side hearse


...on La Salle chassis
These excellent pictures were taken at the CLC Grand National, Detroit, 2002
[ Photos: © 2002, J. Scott Harris ]


S&S (USA) Byzantine style carved-side hearse on Cadillac chassis.




[Unknown, USA] Custom flower car on La Salle chassis
1938

Eureka (USA) four-panel carved hearse on LaSalle chassis, McC p.221

Eureka (USA) four-panel carved hearse on Cadillac chassis
Fleetwood (USA) style 9006, special 7-passenger convertible sedan on 165" wheel base V16 chassis, for White House security agents [2 units built]. The V16 engine was replaced with a flathead V8 in 1946 and with an overhead V8 in 1952 [art. SS, 9/2005, pp.1819 et seq.].


This photo was taken of at the time the car was ready for delivery to the White House

Car #1


One of the two surviving cars was located for many years in
Belgium's National Auto Museum, under the care of Ghislain Mahy;
it was sold (in the late nineties?) [together with one of two 1956 White House
security cars] and is now back in the USA ... where it belongs
[ Photos: © 1984, Yann Saunders ]

Car #2


Fleetwood V-16 style #9006, car #2 (White House security car) was for many years
in the collection of my friend Jack Tallman, Cadillac dealer in Decatur, IL
[ Photos: courtesy Katie Robbins ]


Left: behind the 1956 White House security car, while in Jack's collection
The car was for a while in a private collection in Florida (2003/04)
[ Photo (left): Yann Saunders; (right): Andy Chrisanfov, Russia ]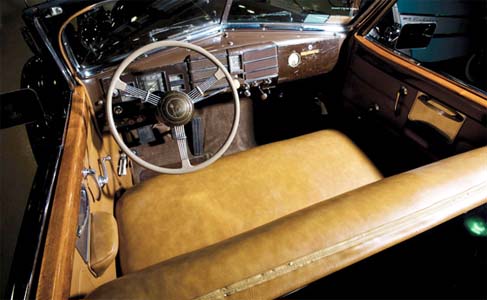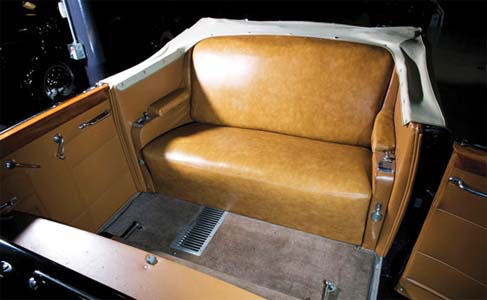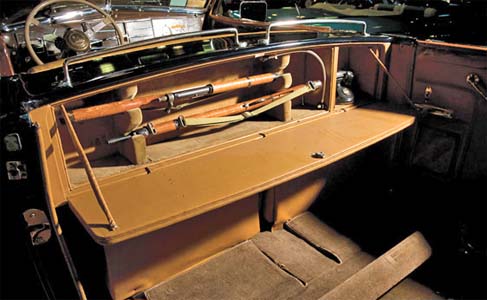 These three rows of photos are from the RM Auctions catalog (Scottsdale, Arizona) for January 2012;
the car was sold there for $269,500 (it had been estimated to sell for some 20% more)
Flxible (USA)


This hearse appears to be built on a 1940 Cadillac chassis;
actually it is a unique 1938 model

Meteor (USA) open front, town car funeral coach, McC p.216

Meteor (USA) Hearse on stretched Series 60 chassis


Upper image is a factory drawing; lower image is of the actual car
Meteor (USA) Ambulance on stretched Cadillac chassis


[ Photo: Internet, 2014 ]

Sayers & Scovill (USA), the S&S Corinthian, sculptured-side hearse, style #716

Sayers & Scovill (USA), the S&S Damascus, sculptured-side hearse on LaSalle chassis, McC p.221. This particular car was featured in a movie entitled "The Black Book", filmed in Holland in 2006, about the persecution of the Jews in Nazi-occupied Holland during WW2.


(Top two rows): this carved-side hearse was in service in Belgium, where it still resides


This carved-side S&S hearse on the La Salle chassis
was photographed in Denver, CO at the CLC annual Grand National
[ Photo: © 2001, Yann Saunders ]
Superior (USA), limousine hearse, McC p.216

Superior (USA)
[Unidentified, USA] Fleets like these were quite commonplace among the larger livery companies and funeral homes alike

[Unknown, France?] Cadillac "movie car" conversion on Series 75 chassis, style 7533 [ser. #3291374]; this car was acquired in the early nineties by French Cadillac enthusiast, Laurent Tesseyre, who found it in the south of France. He said it had been converted to a "movie car" by the Victorine Movie Studios in Nice who had bought it (I guess as a regular used car) in the early fifties. The rear body was removed and replaced with a tubular frame construction for mounting movie cameras. It saw about 20 more years of service in this new configuration and participated in the making of many movies. The car was featrured in France's NITRO Magazine for Oct-Nov, 2003.


Left: On the job in the Victorine Studios, at Nice, France
Right: Some years later, in need of restoration
[ Photos: © 2001 Laurent Tesseyre ]

[Unknown, USA] Flower car on La Salle chassis, with convertible top

[Unknown, USA] Eight-door airport limousine on stretched Cadillac chassis
[Unknown, USA] Modern-stretched "Series 75", 8-pass. limousine with 472ci engine and 3-speed automtic transmission.


[ Photos : Internet, 2008 ]

1939

Cadillac (USA) Professional car chassis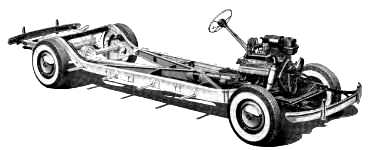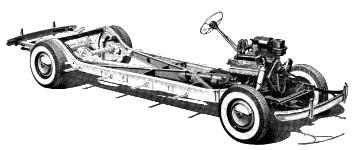 Cadillac (left) and La Salle (right) professional car chassis


1939 Business Sedan
Eureka (USA) Byzantine style carved-side hearse on La Salle chassis.


[ Source: CLC, Self Starter magazine ]

Fleetwood (USA) 8-passenger limousine [imperial business sedan], style #7533-L, for the funeral trade; only two units were built.


Fleetwood style $7533L [livery] business sedan; 2 were built

Flxible (USA) Various professional car styles for the ambulance and funeral trades


Flxible hearse car on 1939 Cadillac chassis;
this one was specially built for the Worlds' Fair


Body style AM, ID #2D21314 on LaSalle chassis
the owner of this survivor seeks any info about his car; can you help?
Write to Ian, at SickInnovations Llc., 1317 S Barker Ave., Evansville, IN 47712 (Tel.: 812-303-0711)


Flxible (USA) limousine funeral car, McC p.234

Meteor (USA) funeral flower car on La Salle chassis, McC p.235. Also possibly the flower car below.


This appears to be a Meteor flower car
[ illustration from Cadillac professional car catalog ? ]

Meteor (USA) Carved-side hearse


[ These photos: courtesy Zenobia Agency, Wings Wheels and Watercraft,
Los Angeles, CA ]
Email: props@WingsWheelsWatercraft.com / props@zenobia.com

Miller (USA) limousine ambulance (see also McC p.234).


This stepped tray model appears to be a Miller flower car
[ illustration from Cadillac professional car catalog ? ]

Sayers & Scovill [S&S] (USA) S&S ambulance


This is an early high headroom car by S&S; it was a special job

Sayers & Scovill [S&S] (USA) S&S Landau funeral car on La Salle chassis, S&S Masterpiece carved-panel hearse on La Salle chassis [both, McC p.235], S&S Damascus, carved-side hearse. Story of a Belgian survivor in V8, #21, pp.34-37.


This is a surviving S&S Corinthian carved hearse on Cadillac chassis
[ Color differences are due to lighting conditions ]


S&S Florenmtine flower car; this vehicle has the trademark
'date marks' on the front, an S&S feature still in use today [2004]
[ illustration from Cadillac professional car catalog ? ]

Superior (USA) limousine funeral coach, McC p.230. Also fleet vehicles, below


These three are on the LaSalle chassis (rooflines differ owing to model year changes)


Tail end of Superior carved-side funeral coach

[Unknown, USA] Ambulance on Cadillac chassis


1939? (with 1940 grille?)

[Unknown, USA] Fire Chief ambulance, New York Fire Department

[Unknown, USA] Various fleets of business limousines and sedans


A fleet of 1939 business limousines operating in New York, in 1939


...and here's another that was operating in Kentucky during the same period

[Unknown, USA] Ambulance on LaSalle chassis


[ Photo: courtesy Zenobia Agency, Wings Wheels and Watercraft,
Los Angeles, CA ]
Email: props@WingsWheelsWatercraft.com / props@zenobia.com

[Unknown, USA] Ambulance on Cadillac chassis

[Unknown, USA] Carved-side hearse on Cadillac chassis