1954
Cadillac (USA) Commercial chassis for the funeral and ambulance trades:
Eureka Company (USA) Various commercial vehicles for the funeral and ambulance trades, like the examples below: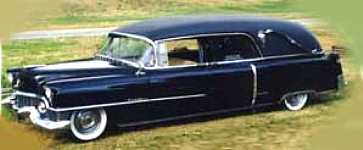 Eureka hearse, with electric 3-way casket table
[Photo (right): Internet 11/2001]

Pollmann (Bremen, Germany) Possibly a custom hearse on Fleetwood Series 60S chassis; conversion done by well-known Conrad Pollmann factory of Bremen [this info from German custom Cadillac enthusiast and hearse expert, Ingo Marx, April 2002 - to be confirmed].

S&S by Hess & Eisenhardt (USA) "Superline" Professional cars, as below:


Rear quarters and tail of S&S Knickerbocker Combination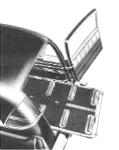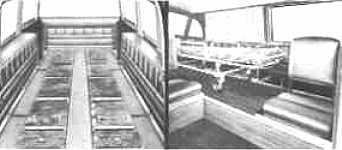 S&S extending table (left) and Duo-Floor arrangement (center and right)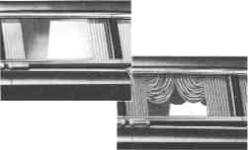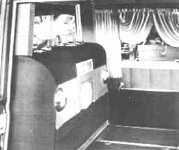 Choice of drapes (left), Frigidaire A/C system (right)


S&S Victoria landau style hearse


S&S Kensington ambulance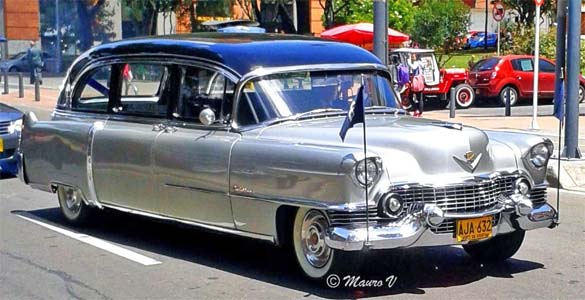 Not sure of the model but am thinking S&S because of the wrap-around rear window glass
Meteor (USA)

Superior Coach Corporation (USA) this company built commercial vehicles (ambulances, hearses, flower cars) on the Cadillac chassis. I believe the low numbers built warrant their being shown in this section. A few examples are shown below:


Superior Moderne limousine style hearse






Above: three different ambulances by Superior on the 1954 Cadillac chassis




Above and below: interior views of typical 1954 Superior ambulance

Superior (USA) Various ambulances, hearses, flower cars like this one. It has been erroneously identified as the Moderne style; in fact, the latter style had small oval windows cut into the "D" pillar or rear quarter panel.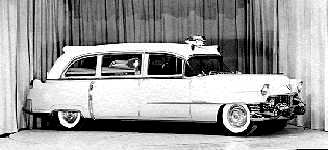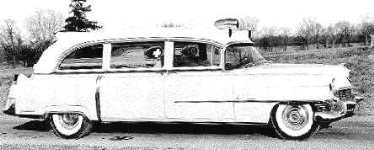 Superior limousine-style ambulance, costing $7,878
Unknown (possibly Australia): apparently a conversion of a Series 75 sedan or limouisne, this car resides in Sydney, Australia.


[ Photo: © 2008, Warren Hawtin ]

Unknown (France) Conversion of a Series 75 limousine into a movie camera-car. Information and photos here are borrowed from France's NITRO Magazine issue for Oct-Nov, 2003 (I met the editor, Claude Lefebvre, at an international Cadillac meet in Castelsarrasin, France, in the early nineties). A work platform is mounted over the roof; additional platforms could be mounted outboard of the front and rear bumper. Towards the end of the fifties, Loca-Films owned this vehicle, as well as a converted 1950 Limousine, two Fords from 1950 and 1956, a converted 1967 Eldorado coupe. Sadly, only the latter has survived and has clocked up over 800,000 miles in 30 years.


None of the vehicles had hood ornaments, considered
"dangerous appendages" by the French licensing authorities


Originally black, the vehicle was repainted first bright yellow...


...then shocking pink
[ All photos: courtesy NITRO Magazine, France ]

Unknown (USA) Flower car (survivor)

Unknown (USA) Conversion (stretch) on Series 75 or commercial chassis


[ Photos: Cadillac Community Gallery, 12/2005 ]

Versteegen (Netherlands) Cadillac aficionado, Jo Thewissen of Holland sent me in December 1999 a series of photos of custom Cadillac ambulances and hearses built in the forties, fifties and sixties by this relatively unknown Dutch coach-builder. The photos below are typical of that Dutch coach-builder's styling. Thanks for the pics and the information, Jo.


The stretched limousine (above) and the first two funeral vehicles (below)
appear to have been built on modified Series 60 Special chassis for 1964






This custom job has a lengthened mid-section and a shortened overhang in the rear