1952

Bohman & Schwarz (USA) custom "woody" sedan


The color photo, at right, is the more recent of the two

D'Agostino, John (USA) To this renowned California customizer par excellence we ow this ruby red low rider.

Derham (USA) formal sedan (SS 1/93, p.7). Late extra [Feb. 2004]: a car like this [or even THIS car] was acquired recently by an enthusiast in Georgia who uses the car to ferry passengers to and from his Florida-based classic motor yacht ...that is five years older than the car.


Could it be this car?

Fisher/Fleetwood? (USA) Clay styling model for proposed 1955 Cadillac Eldorado

Fisher/Fleetwood? (USA) John and Heather Mozart of Palo Alto, Calif., owned (in 2013) this unique 1952 Cadillac convertible Special 1951-52 Cadillac roadster conversion on 1951 Series 62 (style 6237DX) coupe chassis. This was custom-built as a gift from Harley Earl to his good friend Harold R. "Bill" Boyer who was then executive VP in charge of tank production during the Korean conflict. Wheel base was shortened 10 inches and the overall height by 6 inches, thanks to the custom convertible top that folds into a metal boot (a design used later on Chevrolet's Corvette models (it reminds us also of the prototype Eldorado convertible built for GM's 50th Anniversary show in 1952). Seen here with modern-day Cadillac wire wheels, the car was owned up to 2005 by Boyer's grand-daughter, Priscilla Roney. The car was photographed at the CLC Grand National in Detroit, in August 2002 by J. Scott Harris. On the front seat (you can see it in one of Scott's photos, below) was some original factory art work relating to the car. An article published in the Cleveland Plain Dealer on October 6, 1952 describes it as the Tank Manager's Special Speedster; the text reads: The sports car builders have nothing on Harold R. Boyer, manager of the Cadillac tank plant here, who has rigged up something ultra-ultra for his personal use. Boyer is shown getting into the car [there is a photo]. Powered by a special 230HP Cadillac engine [like the one used later in the 1953 Eldorado], the speedster is 10 inches shorter than the standard Cadillac convertible and it is 6 inches lower. Width of the body, however, is the same. Boyer's car, which was designed to his specifications by the General Motors Styling Section, can attain 130 mph with ease, has dual carburetors and a special ignition system. The convertible's top is pretty special too, it disappears completely with the press of a button, after which a lid drops over it in the rear. It's a two-seater with plenty of room for three and an armrest in the middle. There's Hydra-Matic transmission, power steering too. Weight of the car is 4200 pounds. The aircraft type instrument panel has manifold, pressure gauge, electric tachometer, oil temperature and aircraft type clock. G.M. is so impressed by the vehicle that there is a great possibility it may be factory-produced before too long. This rare custom was completed shortly after GM's Le Sabre show car, that was built on a Buick chassis; it incorporates a similar, shortened folding top and metal boot cover as found on Le Sabre. The engine was replaced, later, with a 1955 Cadillac V-8, installed by the factory. You may read more about this car in Car Collector for March 2005, pp10-16. The article is by David W. Temple; photos are from GM archives and others by Dennis Adler. The car was sold for an incredible $320,000 at the Pebble Beach Concours d'Elégance in August, 2005, whereas a unique V-16 sedan (Fleetwood job #9002), built for former GM President Bill Knudsen, sold for "only" $297,000!


All pictures © 2002, J. Scott Harris


[ Photos: Gooding Co., auction catalog, 8/2005 ]


The restored car, circa 2012

Fleetwood (USA), special Golden Anniversary model, [1952 Motor Show prototype], dubbed the Cadillac Eldorado by Mary Ann Zukosky [now Marini] of Cadillac's merchandising staff [retired]. This was the auto show prototype leading to the following year's limited-production Eldorado. The press release issued on 22 January 1952 had this to say about the car: Cadillac has created two special automobiles to symbolize its Golden Anniversary. The motorist who shares the craftsman's pleasure in exquisite handicraft will instantly find kinship with Cadillac's fabulous ELDORADO. This exotic convertible dramatically blends two great fields of human endeavor. In an expression of the ageless arts, ELDORADO reveals a treatment of gold on a gleaming, ivory-like surface. For appointments of the future, ELDORADO presents an aircraft-type crash pad and jet-like rear fender air scoops and dual exhaust openings in the rear bumper. A sports car in character, the long, low body of the ELDORADO is finished in a dazzling, white lacquer. Specially designed, the vertical pillar windshield houses extremely curved, tinted, heat resisting glass. Rectangular wings of the same material are installed on the upper leading edge of each door. Radio antennas are mounted just forward of the tail-lights on Cadillac's now traditional rear fender fins. The Antennas raise and lower automatically, depending on the on-off position of the car's radio. Bright, East-Indian, Pepper Red leather heightens the enchanting effect of the artistic interior. Seat cushions are stitched in parallel three-quarter inch rows with a heavy, white, waxed cord. The seatbacks are piped in modern horseshoe pattern with door inserts of the same theme. Crash pad and instrument board top are of an expanded Royalite skin, perfectly matching the leather. The steering wheel carries on the theme with its covering of hand sewn. East-Indian, Pepper Red leather which is baseball stitched on the back. Floor coverings are a modern texture weave backed with deep foam rubber. The ELDORADO's instrument board inserts, door moldings and kick strips are of gold plated, ripple patterned material. The Eldorado story was told in SS for 1/95 and the press release appeared on the inside cover of SSA for 1978. For another photo, see McC p.297.


B&W photo: Self Starter annual, courtesy CLC member Larry Steig


Few people realize that the first Eldorado was in fact built in 1952, not 1953. This is that car.
[ BTW, it was not included in the production run of 532 units built the following year ]
Fleetwood (???) (USA) Cadillac Townsman, a special Series 60 Special 50th Anniversary Golden Anniversary model. The press release issued on 22 January 1952 had this to say about the special car: The Cadillac Townsman presents the luxurious 60 Special Sedan in appointments of regal splendor as a token of the Golden Anniversary. Lacquered a glistening Nubian black the TOWNSMAN is crowned with a soft, gold-hued top of linen-grained, coated fabric mounted over felt padding. Framing the golden top are moldings of highly polished stainless steel. In the world of automobiles the quest of interior artistry is ceaseless. Many attempts bring common results - a few are fine works. A masterpiece is achieved rarely - such is the TOWNSMAN. Those who view the interior gaze in hushed awe upon the jewel case-like interior of rich gold and soft, deep black. Here,. indeed, the jewels do appear - for crested emblems of gold metallic thread have been woven into the cloth by Jacquard loomsmen. The cloth, on which the symbol of Cadillac has been reproduced, is a rich Deauville (golden beige) nylon. These gem-studded panels contrast elegantly with an edging of soft, black velour. Two accordion folding cases for robes, touring equipment, wraps and other miscellaneous items are built into the paneled font seat back. The cigarette compartment with ash receptacle and lighter is concealed in the upper front seat molding. Door controls are grouped in an oval cluster and are of 14 karat gold plate, as is all interior metal trim. Moldings reveal the beauty of treated New Hampshire limed oak.


Text and cropped photo (right): courtesy Larry Steig, CLC "Self Starter", 1978

Fleetwood (USA) Prototype 1954 [future Series 62 sedan]; the photo was taken in1952, on the roof of the GM tower in downtown Detroit. All the distinctive features of the coming '54 models are there.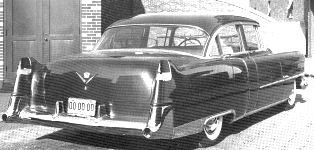 [ Photo: ©1952 GM - Self Starter annual, 1998 ]
Indianapolis Power Hammer Works (USA) Custom convertible (2 versions). I got the information about this odd car from its current owner. Here is what he said: The car was last licensed in Indiana with #DK-6237. It has a brass plate under the license indicating "Designed and Built by Indianapolis Power Hammer Works, Indianapolis, Indiana." The side panels have been slab sided and the original doors have been skinned with aluminum panels. The missing front clip was latched at the firewall and the front bumper guards were hinged down to clear for sliding the body forward to access the engine compartment. There is a custom made aluminum grille that holds the air ducts and stays fixed with the radiator. I have the original radiator and mounting. The chrome nameplates on both sides read "Cadillac" in script. I am submitting photographs of the car as it was shown in the 1952 INTERNATIONAL MOTOR SHOW IN NEW YORK; these were recently sent to me by Mr. Geoffrey Hacker; I have attached also some picture of the car as it now looks. He added, later: I was researching the history of this car since I acquired it in 1983. I was not able to find any real pictures until last year, Mr. Geoffrey Hacker of Florida found the pamphlet about the 1952 International Show. The 1952 pictures also show two versions of the car, one with the front hood completely covering the front wheels (probably restricted turning) and then the other pictures showing the car as it later was revised with front wheel openings. The instrument panel was completely re-done but still used the Cadillac instruments. The car has been stored outside for several years but now is in my enclosed building. The condition as you can see from the photos is not good. The rear fenders, lights, trunk lid, recessed and covered license pocket and exhausts projecting out of the rear trunk panel were all custom made. Apparently before getting this car onto the road for some reason the taillights and gas tank opening was changed from the right side to the left side of the rear fenders. I am forwarding some extra views of the car as it now awaits restoring. I expected to restore this car when I retired but now after being retired for 12 years it looks like I will not be able to bring it back to its original huge Cadillac Custom status.


In this, the initial version, insufficient clearance behind the (then)
fully enclosed front fenders must have made steering very difficult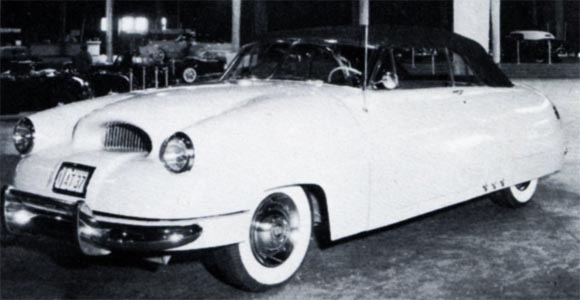 I believe this is the second version, with full front-wheel cutouts to allow steering clearance;
in the lower RH corner of this cropped image was the visiting card of the photographer:
Photographs by W. Frank Jones Studio, Inc., 221 N. East Street, Indianapolis, IN
The following pictures show the car in its present condition (2012)
There's work to be done to bring this exceptional custom job back to what it was in 1952!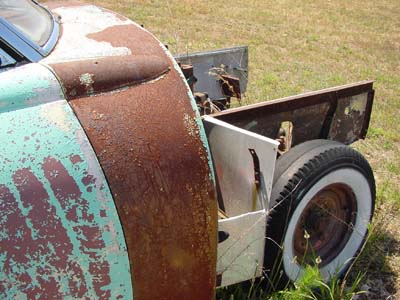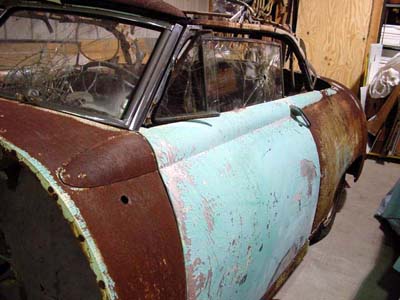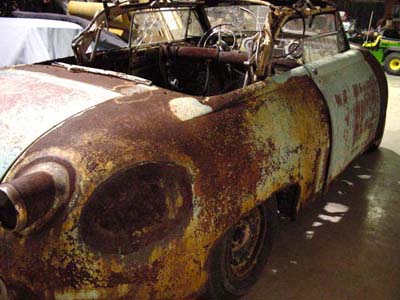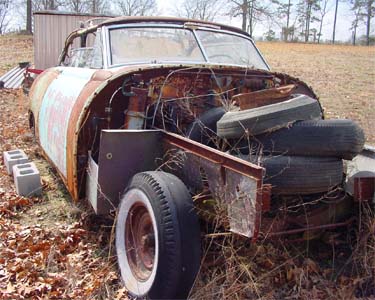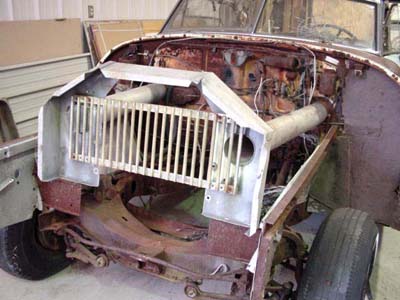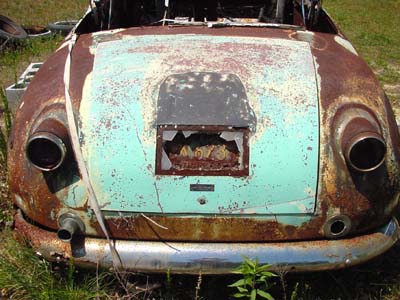 Muntz, Earl "Madman" (USA) here's one of 28 Cadillac-powered sports car (out of a total of 394 [349 ???]) built by Muntz from 1950-54; see CA 9/85, p.3 + pp.50-63.


1952 Muntz Jet-A-Custom sports car; photos at center and left show car #125; this one had an alligator
interior and was painted light green; it was for sale in Chicago in the early seventies


Here's a restored example from the 1952-54 (limited) production

Pinin Farina (Italy) special coupe design (was it ever built). Copy of air-brush rendering by Adriano Rabone (original size given as 70x30cm), seen in book Figurini, p.6 (GM Styling Library - 9/94)

[Unknown, Belgium] Special Custom Golden Anniversary Series 62 convertible. This car was shipped from Cadillac to GM, Antwerp, Belgium to be prepared for the London Motor Show [Olympia, October 1952?]. In Antwerp, it was converted from LH to RH drive by an unspecified coach builder. At London's Olympia show it was on display with two other Cadillac models. From London it was shipped to Australia for the Melbourne show; after that show it was sold. It had two owners before the current one (one in Sydney up to 1978, and another in Melbourne from 1979-80 up to 1997). In 1997 it was acquired by the current owner. He has receipts showing that Aus. $40,000 work was done on the car. The Australian Dean brothers (auto dealers) were involved with this car at one time. It carries an unusual and certainly rare 50th Anniversary badge. More photos will be added on completion of the restoration.


During the conversion from LH to RH drive, the rear body was also stretched a full 10 inches




Left: you can see the 10" rear fender panel insert, before paint was applied (right)



[Unknown, USA?] Custpom pick-up truck on 1952 Cadillac chassis

Stevens, Brooks (USA) 4-door Woodie station wagon, McC p.302

[Unknown, Beverly Hills, USA] Maverick, a sporty-looking convertible coupe a la Jaguar XK150, on the 1952 Cadillac chassis; six of them were reportedly built. [source: Muller & Hensel, Germany]. Another Database visitor, Rob Muirhead, adds that this rare model was built by Maverick Motors of Mountain View, California, from 1953 to 1955. They were three passenger cars on the Cadillac chassis, available with optional wheel base from from 122 to 130 inches; the finished car was 16 feet long. These where available with 1, 2, 3 or no doors and they had a spun copper instrument panel with a Stewart-Warner vacuum gauge, tachometer and a 160 mph speedometer; the car had plastic covered seats and floor and the floor was made from half inch marine plywood. According to Rob's source, 10 were built (not 6), one of them even had a roof [a removable hardtop ?].

[Unknown, USA] Custom low-rider with "yeegads" zebra-like upholstery


[ Photos: Internet, 2004 ]

[Unknown, USA] special test sedan (towing its own "rainstorm"), SIA66, p.80.

[Unknown, USA] Possibly Derham or M. Schwartz, special woody wagon on what looks like a Series 75 Cadillac chassis [photo OCW, 22.8.91].

[Unknown, probably USA] 1952 proposal for station wagon with Woodie finish. Photo of designer's drawing in SS 10/96, pp.12-13. Project was shelved up to 1955.

[Unknown, probably USA] A similar design is shown below, but without the "woody" trim

[Unknown, probably USA] 1950-53 Woodie on Cadillac chassis (undergoing restoration in 2008-09. Does anyone recognize it ?

.
[ Photos: Internet ]

[Unknown, again probably USA] Converted news camera car built on 1952 Cadillac "Series 75" limousine chassis. This particular car filmed President Dwight D. "Ike" Eisenhower's inauguration parade in January, 1953


[ Image: Z. Taylor Vinson collection, courtesy Hagley Library and Museum, DE ]

[Unknown, probably USA, possibly Derham of Rosemont] 1952 custom limousine reported to have belonged (or simply have been used) by former US President, Ike Eisenhower.

1953

d'Agostino, John (USA) Custom Cadillac "Marilyn"

Buick "XP 8 Le Sabre" (modified), Alfred P. Sloan Museum, Flint, MI.

Barris, George (USA) Custom "Parisienne" look-alike ... or prototype of the next generation "Parisienne"?

Cadillac (USA) Prototype 1953 model

Cadillac Club of Finland (CCOF): This "prehistoric" Cadillac, the Eldosaurus Rex, inspired by Spielberg's Jurassic Park, was on display at one of Finland's American car club exhibitions.


[ Photo: © and courtesy CCOF ]

Derham (USA) : This is one of the rare conversions built post-WW2 by the well-known Pennsylvania coachbuilder. Even though orders for their Cadillac Series 75 limousine conversions increased, compared to the demand for Chrysler-based conversions, unfortunately there are scant records of Derham's post-WW2 productions; my guess is that fewer than a dozen of these superb limousine conversions were built. Rhis rare example resides in Australia (2013)

[ Derham lookalike ] (USA) : This is a faux Derham sedan with padded canvas roof finish; in addition rhe car has a Chevy 350 engine block and has been converted to 12-volts. The interior is trimmed in suede buckskin. It was offered for sale in Texas, in 2010.


[ Image: courtesy the Self Starter classifieds ]

Fleetwood (USA) Cadillac Le Mans (special order # 1709); Le Mans is the name of a French provincial town located some 60 miles west of Paris. It is renowned for its annual 24-hour road race. Two Cadillacs were entered in that race in 1950: an almost stock Series 61 coupe and a racing barquette nicknamed Le Monstre; both cars fared very well, placing 10th and 11th overall (in 3rd place was a Cadillac-powered Allard J2X roadster). Three years later, Cadillac used the name Le Mans for this sporty, 2-seater dream car. The motoring press were not enthused. Road & Track called Le Mans "that thing". Following a test drive of the car at the GM Proving Grounds, Motor Trend drivers acknowledged the car's surprising performance and road-holding ability, but found it nonetheless much too heavy and spongy for any kind of competition.

About show car the company had this to say in a 1953 press release: "Le Mans - Cadillac Luxury Sports Car in GM Motorama of 1953. Cadillac's newest American-styled luxury sports car - the Le mans - is fascinating spectators at General Motors' Motorama of 1953. A single seat convertible type, the Le Mans represents an ideal of motor car enthusiasts - combining elegance with power. Its silver-blue body is constructed of plastic fiberglass. The car is low - only 51 inches in height to the top of the deep-angle panoramic windshield. Le Mans is powered by a stepped-up Cadillac V-8 engine which delivers 250 h.p. at a 9 to 1 compression ratio. This three-passenger sports convertible has speed, power and roadability. The Hydra-Matic transmission has been adapted to the increased engine output. The engine is painted in a silver-blue with chrome trim to match the elegance of the car. Le Mans has an overall length of 196 inches, shorter than the standard Cadillac. Part of the reduced length is accounted for by reduced bumpers which in the rear are vertical strips of steel. They appear to be part of the body design but are internally braced and capable of withstanding shock the same as the more familiar bumper. A view of the interior from the driver's seat provides a thrilling taste of sports car emphasis in a setting of sheer luxury. The instrument panel presents a matching series of chrome housed dials extending the width of the front compartment. Instruments include a tachometer to show engine revolutions [no kidding!], a speedometer, fuel gauge, radio dial, ammeter and oil pressure gauge and clock. An engineering advance is represented in the radio by single pushbutton tuning. Twin speakers are recessed behind the panel. The Hydra-Matic indicator has been moved from the customary place on the steering post and customized into the instrument panel between the tachometer and speedometer. The entire instrument panel is topped with a crash pad insulated with a special, slow recovery plastic which eliminates the rebound found in rubber. As a special complement to the exclusive workmanship in the car, the creation of many details were entrusted only to specially skilled craftsmen. Leather workers from England were assigned the task of embossing the Cadillac "V" and Crest into the fine leather of the seat back. Jewelers fashioned the hand engraved surfaces of the hood emblem, the Le Mans script on the wheel discs and the lettering on the instrument panel. As an extension of this artistic refinement, the carpeting is specially created nylon needlepoint. A special feature of the Le Mans is the "memory" seat. Electrically controlled, it automatically slides back as the door is opened to provide easier access and egress. When the door is closed it "remembers" its former position and returns to it. The seat is, of course, also adjustable to the comfort of the driver. [this feature was later incorporated in the exclusive Eldorado Brougham 4-door sedans of 1957-58]. Upholstery of the Le Mans is of finest hand-buffed leather of a matching silver-blue and embossed with the Cadillac "V" and Crest in the leather at the center of the seat back. The bolster at the forward edge of the seat contains a tube for umbrella storage. The tube has a chromed cap carrying the Le Mans insignia and when the cap is removed the umbrella is pushed out by an ejector spring for easy grasping. The top of the Le Mans is silver-blue Orlon and, when lowered, is recessed in the rear deck. In addition to the manually operated control, the top is also automatically actuated by a rain switch to provide automatic raising if the car is left out and a shower comes up. For this special convertible the wheels are distinguished by chromed blades radiating from the hub - a design inspired by the flashing appearance of an aircraft turbine." Read what the press release had to say about it on this additional page [Motor Trend referred to Le Mans it as "that thing"!].

It has been ascertained that four units were built, including the Motorama show car [Le Mans #1], initially built for Cadillac's own Engineering department. Mr. John Crowell, who owned the car briefly, told me in October 2001 that Le Mans #1 [Serial #2] was badly burned [fortunately, the original motor was not in the car]; this is the car mentioned in the hobby weekly, OLD CARS, for May 14, 1985; it was destroyed in a warehouse fire (with some other rare collectible cars) in Pleasanton, CA. Mr. Crowell said he still had some cosmetic parts off the car; the remains were sold for salvage by the insurance company. According to one enthusiast, the late Charles Barnette, who has thoroughly researched all four Le Mans models, this one is indeed the Motorama car. It was first exhibited at the Waldorf Astoria, in January 1953, together with the Cadillac Orleans. It was displayed on a revolving stand, the backdrop depicted a night scene from the renowned road race, painted by French artist Claude Genest. Late Extra [3/2006]: CLC member and researcher, David Temple, has published a book on the GM Motorama show cars, including a large section on Le Mans.

The late Charles Barnette, who was probably the world's greatest admirer of the Le Mans, said this about #1 in October, 2008: with a special frame and a sporty look, the number one 1953 LeMans made its triumphant debut on the Motorama Show Circuit combining elegance with power. When the 1953 Motorama was over, the car went to the shoe store mogul Harry Karl after Dixon Cadillac sold same to him it is believed in Hollywood, California. Mr. Karl had it customized through George Barris and gave it to his wife, the actress Marie McDonald. It eventually changed hands and landed in Centerville, Ohio. Through a lawsuit, ownership fell to a D. A. Thomas who on Dec. 1, 1984, through his agent Fred L. Miller sold the car by Bill Of Sale to John Crowell of Pleasanton, California. Mr. Crowell placed the car in a building in Pleasanton with other exotic cars and unfortunately on May 14, 1985, the building and its contents were totally destroyed by fire, including "LeMans" #1. Mr. Crowell still is emotional about the loss to this day. A copy of the Bill Of Sale still exists and will be shown here on this site bearing the serial number 02, which proves it is indeed "LeMans" #1 (remember serial number 01 was the Cadillac "Orleans" for the 1953 model year and therefore the first LeMans had to be serial number 02). I did contact Mr. Fred Miller about the matter and to my great surprise he still had some miscellaneous dash parts to LeMans number one that accidentally got left behind in Ohio and thus did not go through the fire. He gave them to me unconditionally, and I greatly cherish having them as remnants of the great car. After all these items were probably touched by Marie and also the one and only Mr. Earl!


On display during the1953 GM Motorama, in company with Don Ahrens at the wheel and James Roche standing


Left: James Roche entertains some visitors
Center and right: Same stage setting, different drivers


The backdrop (left) is a night scene from the Le Mans road race, painted by Claude Genest


(Left) HH the Duke of Windsor, C.F. Kettering and Alfred Sloan squeeze aboard "Le Mans"
(Right) James Roche, Cadillac CEO looks on while other celebrities try out "La Mans" for size




Note the rectangular shaped (white?) plastic piece that appears only on the driver's side of Le Mans #1, on the front LH fender, just behind the front
wheel opening; enthusiast Charles Barnette asked the current owner of LeMans #3 to check that on that car what was its purpose; he traced a wire to the area
and found a light bulb behind the plastic cover; he concluded it must have been some kind of "cornering light," needed only by the driver to assist in night-time LH turns


Le Mans #1 on display at the 1953 GM Motorama


I am assuming this is Le Mans #1 and that the photos by Cadillac staff photographer, Hocking, dated May 8, 1953,
were taken just after the GM Motorama closed its doors in San Francisco and was about to move to the next venue,
Dallas, TX; visible in the photo (far right) is the protective material taped over the carpets


(Left) youngster admires Le Mans custom wheel (center); right, trunk emblem reads Fleetwood, not Le Mans


Again, presumably the original Le Mans show car ( body #1)


This colored artist's view is from the wonderful collection of the late ZTV of Alexandria, VA

As I have mentioned above, Body #1 was later customized by the legendary George Barris [read more about it in Dream Cars for 1954-1955]; he added large, chrome-plated imitation tail fins, a la Buick Skylark, as well as a continental kit. It was acquired by shoe magnate, Harry Karl, for his singer-actress wife, Marie ("the body") McDonald. It has been rumored that movie actor, John Wayne, once owned it but there is no proof to this effect. Another unconfirmed source says Debbie Reynolds hd got it. Under the headline "A BARRIS BONANZA with glittering silver and gold to whet the desire of the most exuberant advocate of gracious living", Bill Babbit, the columnist, gave this enthralling description of that specially customized Le Mans in the magazine Motor Trend for December, 1955: Boasting a television set, radio-telephone, tape recorder, and cocktail bar among its many other expressions of all-out individualism, this Cadillac Le Mans by Barris [X] cuts a wide swath anywhere. Its basic chassis is the experimental Cadillac Le Mans, which was shown over the country in the GM Motorama exhibits of 1953. This modification (by Barris Kustom Autos, 11054 Atlantic Blvd., Lynwood, California) was submitted to Harry Karl, the shoe store executive, before construction began. The body is mostly Fiberglas with the exception of the lower fender panels, which are formed of body steel and then blue-white chrome plated. Trim between the lower chromed parts of the fenders and the Fiberglas part of the body is 1/2-inch steel bar, plated with 24-karat gold. To stop rattles before they start, a strip of 1/8-inch rubber separates the gold-plated trim and the body panels. Hubcaps are done in a combination of gold and chrome; the thirty individually inserted "spokes" and the protruding center are gold, with the remainder in chrome. Paint is 30 [yes thirty!] coats of "platinum dust" sprayed over a polychromic base sealer. The rear window and top are trimmed with chrome-plated steel. The whole top assembly including the rear window can be removed, or the window may be left in place and the top removed. The engine is the 300-horsepower Cadillac with dual 4-throat carburetors set up by the factory for the original Le Mans model. All engine accessories, valve covers, etc., are chrome plated, of course. A dynamotor [current inverter], installed by Ernie's TV (8133 Compton Blvd., Paramount, California.) converts power from the 12-volt system to the proper voltage for the television, tape recorder and radio-telephone. The TV, wired thru the ignition switch, can be played only when the engine is not running. C. & C. Bar Specialists (6826 Crenshaw Blvd., Los Angeles) styled the bar in Formica, inlaid wood, and gold leaf. It hides under a red leather panel, which matches the upholstery.

The car is photographed in Motor Trend, August 1958, pp.38-39, where it is thus described: "A spectacular showpiece is this Fiberglas-bodied two-seater, which was designed and rebuilt for Marie 'The Body' MacDonald at the request of husband-shoe manufacturer, Harry Karl. Barris is well-know for his high-gloss, mirrored exterior finishes; this Le Mans Cadillac is painted with crushed platinum dust and trimmed with 24-karat gold and platinum accessories. The removable top is transparent Plexiglas. The interior features a TV set, bar, and tape recorder, as well as a full range of instruments." As you can see, body #1was considerably restyled, particularly in the body sides and rear areas; the ostentatious Plexiglas hard-top adds to its unique looks.

Late Extra (Nov. 2010): About Le Mans #1, the late Charles Barnette added: Mr. Crowell always thought he had and lost the second LeMans, since the serial number on his contract of sale said 02. When I arrived on the scene in 2005, Mr. Crowell was kind enough to fax me a copy of his contract of sale on the Barris LeMans. It then became my bitter sweet duty to inform him that he had bought and then lost LeMans number one, the great Motorama Show Car. Be gentle in dealing with Mr. Crowell. He still weeps over the tragic loss of this great, irreplaceable Cadillac by accidental fire in 1985 in California!.


Marie "The Body" McDonald


Above 2 rows: Le Mans #1, after being customized by George Barris for Harry Karl

Le Mans #2 [Serial #3] was supplied to Mr. Floyd D. Akers, Washington D.C. Cadillac dealer, in June 1955. This was confirmed to me by Richard Sills, former President of the Cadillac-LaSalle Club, Inc. In October, 2004, Richard wrote: Floyd Akers, the Washington Cadillac dealer, was the founder (in 1934) of Capitol Cadillac, a dealership that still exists and remains in the same family after 70 years. At one point, Mr. Akers was the distributor for all Cadillacs in the Washington, D.C. area. One of those dealerships was Suburban Cadillac-Oldsmobile in Bethesda, Maryland, now Jim Coleman Cadillac. According to the local grapevine, the LeMans somehow ended up in the ownership of the Jim Coleman dealership. Some local CLC members report having seen the "LeMans" many years ago in his showroom. According to Mr. Barnette, this "Le Mans" was owned briefly by Harley Earl; it was painted black. After display in Oklahoma in late 1953 it appears to have disappeared off the face of the earth and was probably destroyed or may have ended up as the basis for another show car although, again, there is no concrete proof of these two hypotheses. Thanks to a Mr. Frank, who found a GM release on car # two, we now know that when it was painted black the interior was changed to the color yellow.

Again, here are the comments made by "aficionadísimo", Charles Barnette said about #2 in October, 2008: by far the most intriguing LeMans of the four is LeMans #2 (serial #03) that we nicknamed "Raven" during our research. It was owned by the great Harley Earl at one time (1953) and sold back to GM by him for $1.00 according to GM records. It is believed that Mr. Earl had it painted black from its original silver-blue color and had the interior changed to yellow before September of 1953. It appeared on the Glidden Tour at Grosse Pointe Yacht Club on Lake St. Clair, MI, on Sept. 17, 1953. The event is recorded in a photo taken with none other than Wilfred Leland (son of the founder of Cadillac Henry Leland) who was 84-years-old at the time. It appeared again on Nov. 4, 1953, in a photo with Robert Moore of Greenlease-Moore dealership in Oklahoma City, OK. The picture is in front of the Oklahoma state Capitol building with what appears to be a large black bird flying near the state flag on top of the building. Within nine months after that picture is taken, Mr. Moore died by his own hands and from his own shotgun, shot in a locked bathroom on the second floor of his dealership in Oklahoma City. His death was ruled either as a suicide or an accident by police. Raven (LeMans #2) never was seen again after the Oklahoma showing.


[Left] Seen standing between a brass-era tourer and the black Le Mans roadster #2is Wilfred Leland, son of Henry M. Leland, founder of the Cadillac Automobile Company in 1901
[ thanks, Mark, in NJ, for helping to correct this photo caption - I had identified Wilfred as Henry! ]; Le Mans #2 is rumored to have been owned briefly by the great Harley Earl


Le Mans #2 was driven in a parade, in Oklahoma, during the state's "Oil Progress" celebration. The driver and passenger used an umbrella during a light rainfall.
If it had a functional top, then one would have expected it to be raised. Neither Charles Barnette nor I have ever seen a photo of any Le Mans with convertible top up.
[ Photo (left): courtesy David Temple ]


Le Mans #4 (?) during a Glidden tour in Ohio


The lens at the base of the front fender apparently was intended for a cornering lamp

Charles also answered a question whether the Le Mans cars were fitted with convertible top. He said, "yes and no". The fourth and last Le Mans was built for J.E. Goodman, president of Fisher Body; that one probably was equipped with a convertible top from the start; it also had a hardtop but the latter has been lost. The other three Le Mans were show cars and probably did not have a soft top, at least initially. Le Mans #3 three does have a top but Charles was uncertain when it was installed. He has also a photo of the convertible top switch for Le Mans #1 but he suspects it was non-functional. He suspects also that the convertible top on Le Mans #3 and #4 are not fully automatic but are each more like the production 1953 Eldorado in which the rear part of the top has to be raised by hand to be able to close the lid over the top well then it is lowered and latched in place. Charles has seen two GM press releases about Le Mans. One said the top was silver-blue; the other said white. The former press release was about Le Mans that was used on the Motorama circuit (#1) and Charles believes the latter concerned Le Mans #3. Whether or not Le Mans #1 and #2 ever had a top is a question he could not answer with certainty.

About Le Mans #4, Charles added: It went into actual production for one example. Missing from Le Mans #4 (which went on to be the "poster child" for all four units) was the "scuff pad rail" extending across the bottom of the car on each side. Further missing from #4 was the curious piece of almost rectangular shaped white (could be chromed color) plastic cover appearing only on the driver's side of the car at the bottom of the car behind the front wheel. I asked the current owner of Le Mans #3 to check that out on #3 as to exactly what it was. He did and his findings were that he traced a wire to the area and found a light bulb behind the plastic cover. His conclusion is that it must be a "cornering light" only needed by the driver to assist in night-time turns. At any rate, I have a message for Le Mans #4, "Move over because Le Mans #3 is fixing (a good old Southern word) to share the Limelight with you come Sunday, October 26, 2008, in Greenbelt, Maryland! Thank you Potomac Region of C&LC for bringing this about. When the Cadillac Le Mans was built, three of them were hatched together and (later in 1953) Le Mans #4 was built for Mr. Goodman of Fisher Body; it was like having three identical show cars. Mr. Barnette added:

Latest [10/2008]: Capitol Cadillac and the Cadillac & LaSalle Club Potomac Region staged a display where TWO out of FOUR were shown simultaneously at an historic event called Cadillac Dream Cars on Sunday October 26, 2008. One was Le Mans #4, owned by General Motors as part of its Heritage Center collection; the other was Le Mans #3 that has not been available for public viewing in over 20 years. The cars were displayed along with three other, well-known Cadillac concept cars, the 1959 Cyclone, 2002 Cien [meaning "100"] and the 2003 Sixteen. Here's what Charles Barnette said about the event: This is a monumental occasion to have the two remaining LeMans shown together when they probably were never shown together before. As one who has studied the history of all four LeMans, I am ecstatic about the Potomac Region accomplishing this feat. I congratulate the owner of LeMans #3three for allowing it to happen; that car is the only remaining LeMans in stock condition. Many a night I would study the picture of LeMans number three as provided by Richard Sisson as it sat in the Coleman showroom in the 80s, trying to figure out if it was number two or number three. I was assisting author David Temple in researching these cars for his book,"GM's Motoramas". It was not until we found a copy of the original title issued by the State of Washington showing that the car was sold to Floyd Akers that we established the car was #3 (with serial number ending in "04"). A copy of that title appears in David's Book. I will proudly be there when #3 emerges back into the limelight. I will be bringing with me several pictures to display about all four LeMans. To my fellow Cadillac lovers, I say this is Cadillac History in the making. I would not miss it if I were you even if you have to crawl through glass to get there - just be there!said

According to Mr. Barnette, Le Mans #3 was painted Apollo Gold or yellow and sold to Floyd Akers who subsequently painted it white. It was for a while owned by Jim Coleman of Coleman Cadillac before it was acquired by a buyer in the Washington D.C. area, who remained anonymous until he agreed in the fall of 2008 to loan the car to Capitol Cadillac and the Cadillac & LaSalle Club, Potomac Region. It was a historic event and probably the first time TWO Le Mans models appeared together [if ever?] since 1953! The first reference to LeMans #3 (serial number 04) in the GM archives is where she was loaded onto a flatbed truck and taken to Pemberton Cadillac Company in Toledo. Ohio, to be displayed there from May 14 through May 16, 1953. The next time it appeared is believed to be at a Toronto dealership, for display in late July 1953. Then she appeared at The Canadian National Exhibition in August of 1953, with other GM Show Cars.When the car appeared at the 1954 CNE, its external color had been changed from Silver Blue to Apollo Gold. The next known event in this car's life was that it was sold by GM to Mr. Floyd Akers of Capitol Cadillac of Washington, DC, on August 12, 1955. It was then made roadworthy with the help of Derham in Rosemont, PA. Paper (imitation) dials were turned into real dials on the dash. The car was somewhere along this time painted white. The car was then used by Floyd Akers' daughter. In 1977, the car was inadvertently sold with the Akers' other dealership known as Suburban Cadillac which became Coleman Cadillac. While on the showroom floor of Coleman Cadillac circa 1989, Le Mans #3 was sold to its current owner. That owner told Charles that he drove the car off the showroom floor of Coleman only to have the brakes go out! This is one of the three surviving Le Mans show cars. Two of them were on exhibit at the 2013 Amelia Island Concours d'Elégance. It is owned by Playtime Auto Collection, Potomac, MD. The other is part of the GM Heritage Collection.


Le Mans #3 on display at the Coleman Cadillac dealership
[ Photo: courtesy David Temple ]


On Sunday October 26, 2008, Capitol Cadillac and the Cadillac & LaSalle Club Potomac Region staged a display where
TWO out of FOUR Le Mans models were shown simultaneously at an historic event called Cadillac Dream Cars
This is Le Mans #3; it had not been seen in public for twenty years or more


Above 3 rows: Most recent public appearance: Capitol Cadillac, Washington, DC, October 2008
This may never be repeated: TWO Le Mans in one spot at one time !
[ Photo: © 2008 and courtesy Capitol Cadillac ]

We all seem to be agreed that Le Mans #4 [Serial number out of sequence with cars #1, 2 and 3] was the one built to order for J.E. "Bud" Goodman, a personal friend of Harley Earl's and Fisher Body CEO in the fifties. Restyled in 1959 with flat fins, quad headlights and a 1959 Cadillac drive-train, it is currently (2012) owned by GM and is on display in its Heritage Center Collection. Owing to the volume of information and photos for this particular Le Mans, I created a separate page for it ( below). This updated Le Mans is featured also in an article on the GM Motoramas, in Automobile magazine for August 2008. Le Mans #4 was for a while on sale/display in the showrooms of Frank Corrente, in CA; currently it is owned by GM and is on display in the Heritage Center collection. The GM-owned Le Mans is the fourth and final example to be built.

The modified 1953 Cadillac Le Mans


Le Mans #4 got a custom hardtop briefly
[ Photo: courtesy David Temple ]


Le Mans #4 was built to order for J.E. "Bud" Goodman, a personal friend of Harley Earl's and Fisher Body CEO in the fifties. It was updated (remodeled) in 1959 with the addition of quad headlights, tri-power motor, custom tail-fins, etc. His son Jack still owned the car in the nineties; Jack has the Dixon Cadillac dealership of Hollywood, CA.It was returned to the Cadillac styling studios in 1959, for major restyling, by its owner. Besides receiving new front and rear clips, including quad headlights, at that time, this car was fitted out with the new Tri-Power engine featuring three double-barreled carburetors. It received lower fender air intakes, a lower, flatter hood on which the former, ornamental "fins" were removed and replaced with a "V" emblem and crest. The imitation trunk "straps" also were removed.

In 1997, this car was offered for sale by Frank Corrente, a California used car dealer, for $375,000. It had a reported 18,434 miles on the clock. In February, 1999, the mileage was reported as 18,635. A that time I saw the car offered again for sale on the Internet ... for ONE MILLION DOLLARS! I don't recall where I saw that ad. Frank Corrente denies that he or his company ever advertised the car for that ridiculous amount (does anyone remember seeing the $1 million ad?)

It was seen at the Pebble Beach Concours d'Elegance in California in August, 2002. At that show, the ID tag said it was being shown by GM in Detroit, MI. However, it still carries a 1963 California plate on it (presumably the one issued in the name of Jack Goodman). It was on display again at the 2013 Amelia Island Concours d'Elégance. Le Mans #4 currently (2014) is on exhibit in the Cadillac Historical Collection; Todd Fitzgerald, a member of the CML (Cadillac Mailing List) saw it in the "back room" to the collection, in 1999, where it was being restored! I saw it there with Gita in 2012.


After the design and mechanical upgrade in 1959, the car remained the early metallic blue
seen on the Motorama show car in 1953; later it was repainted metallic gray (below)




These are good shots of the remodeled front and rear clips


These show good are details of the remodeled car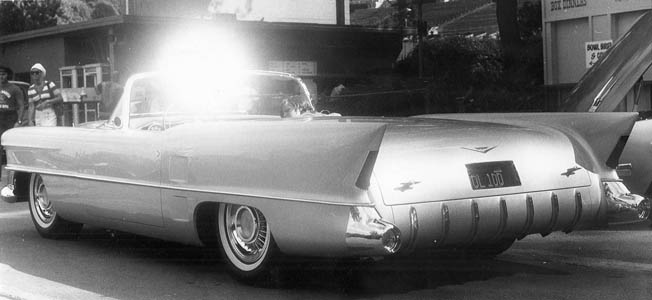 1972 photos by the late Gene Babow:

The modified Le Mans #4 was shown at the Bagatelle meet in Paris in the nineties


Above 2 rows: the 1959 modified Le Mans (#4) with restyled, flat fins and quad headlights

Cockpit, Instrumentation and Controls

The late Carl Steig of the Cadillac-LaSalle Club, Inc. provided the following description of the instrument panel of the Cadillac Le Mans roadster: (The) Le Mans interior pre-dates the Space Age, but has that look; or at the very least is the aircraft type, with full instrumentation and lever controls.

The ribbed steering wheel says "CADILLAC" in block letters at the top. Chrome plates at the floor edges are next to the finely stitched kick panels.


Starting at the left, the first instrument is the tachometer which reads "ENGINE REVS x 1000" over the odometer window, for a record of engine life separate from the mileage of the car.
The tachometer itself reads from 0 to 50 and says "x 100" under the letters "RPM". Between the tachometer and the speedometer, a rectangular window for the Hydra-Matic indicator has the letters
"N DR Lo and R". Above it is a window which will glow red for high-beam indicator. The speedometer, reminiscent of the early forties, reads 130, but is unmarked. We presume it means miles per hour.
Next we find four levers marked "VENT, TEMP, DEFROST and VENT". Below them are the ignition lock, starter combination and cigarette lighter. Above them, almost as an afterthought we
find the wiper switch. The next gauge is marked "GASOLINE" and reads "E, 1/4, 1/2, 3/4, F". The next dial is for the radio and reads from 6 to 16. A small crescent shaped button at the bottom
of the dial reads "SELECTOR" and is the pushbutton Wonderbar which signal seeks the next strong station. The button on the left of the radio dial manually selects the stations while its collar button
selects more or less stations for the Wonderbar. The button to the right of the dial is the on-off switch and volume control, while its collar adjusts the tone [Twin speakers are recessed behind the panel].
The next dial reads "TEMPERATURE" and has numbers from 100 to 240. Next to it we find the glove compartment door button and lock. The door opens downward to reveal the compartment below
the four dials on the right. The next dial is divided into two halves, the upper being marked "BATTERY" and showing "-D" [discharge] on the left, "0" in the center and "+C" [charge] on
the right. The lower half says "OIL" and reads "0, 30, 60". The last dial is for the rather standard electric clock with an adjustment knob at the 6 position. The inside mirror is mounted
on the dash, rather than hung from above, and the dash is specially padded. The steering column is chrome plated, the headlight dimmer switch is on the floor to the left, and the brake
and accelerator pedal which were found lying around somewhere at GM will look familiar to many Cadillac collectors.

The entire instrument panel is topped with a crash pad insulated with a special, slow recovery plastic which eliminates the rebound found in rubber.



Note the push-button for inside door release (left), next to the two buttons for left and right power window lifts.
The arm rest has a built-in ashtray at the leading edge; are the gauges on right only for passenger's information?

Photos (above 4 rows): GM Heritage Center (Richard Owen, 2008)


Above: (left) distinctive cast alloy wheels, (center) Cadillac's first wraparound windshield, (right) new air scoops
Below: (left) grille script, (center) '59 power plant, (right) power seat medallion


On display at Amelia Island, SC, March 2012



Trivia: In the movie, The Buddy Holly Story, the modified Le Mans appears in one of the scenes, about half-way through the movie; it was filmed inside the Cadillac dealership of Jack Goodman, in Texas; the actors who play Buddy Holly and the Crickets are all seated in car.

To read more about this car, check out SSA 1984, pp.22-25, special issue CCON, p.29, CS12, p.102, SIA #169, 2/99.

I have many photos of it, including a series of color shots taken after the 1959 modifications, from the GM/Cadillac Styling library, 9/94). Photo also in McC p.311. The updated Le Mans is featured also in an article on the GM Motoramas, in Automobile magazine for August 2008.


Le Mans replica project, 2005-06


Amateur attempt to replicate a custom Le Mans roadster from 1953;
it combines elements of the original with others from the Le Mans that was modified in 1959
[ Photo: Self Starter ]

Le Mans replica project, 2008


The body takes shape

Fleetwood (???) (USA) Cadillac Orleans (special order #1619, body #01). Like Le Mans, Orleans is the name of a French provincial town located approximately 35 miles south of Paris and east of Le Mans. This was Cadillac's first true pillarless 4-door hardtop sedan, precursor of the 1956 production Sedan de Ville and the later production Eldorado Brougham sedan. It was a much modified Series 62 sedan. The press release on this car reads: "The Orleans - Exclusive Cadillac Design Eliminates Sedan Center Post. The Orleans, Cadillac's custom-built Sedan de Ville, presents the ultimate in closed car luxury with unrestricted side window opening. The car reportedly began life as a Coupe de Ville; the addition of a pair of suicide rear doors and a wraparound Eldorado windshield resulted in this exceedingly beautiful custom creation ...that may have survived!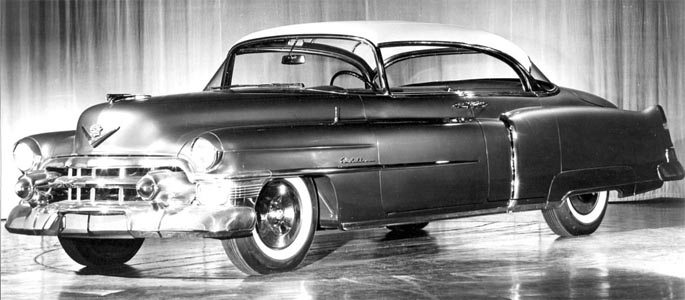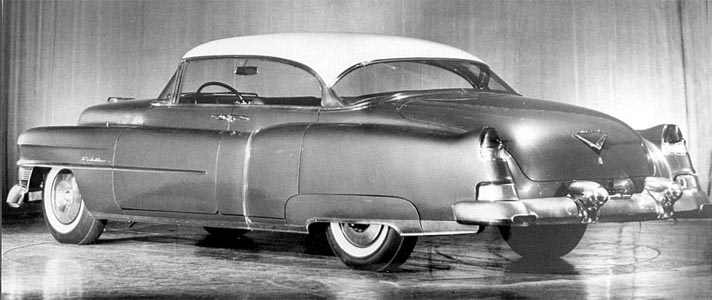 This singular body style is an engineering feature of the General Motors' Show at the Waldorf Astoria Hotel. Specially designed to explore the extension of airiness for closed cars, this model combines the smart style of the Cadillac Coupe de Ville with the additional roominess of the four-door sedan.

In creating this intriguing car of the future, the designers eliminated the usual sedan center post. Both the front and rear doors open from the center of the car. The rear of the front seat forms a structural brace for the body.

As a safety feature, Cadillac engineers have designed special electric locks, automatically controlled by the Hydra-Matic shift lever. With this mechanism the rear doors can only be opened when the gears are in neutral [could not this create a hazard in case of an accident?].

Designed with the panoramic windshield, vision obstruction for passengers in the Orleans is practically eliminated.

The Orleans is finished in Damascus Steel Grey with a contrasting beige colored vinyl-covered top. The luxuriously styled interior combines contrasting nylon beige panels with a gun metal finished leather. The carpet is nylon frieze. Zipper fastened pockets are built into the doors beneath the armrests.

As an exclusive "first" the Orleans is equipped with a standard household electrical outlet. A converter which changes the generator's direct current into alternating current permits the operation of radios and other electrical appliances requiring up to 40 volts. A compartment in the backrest encloses a standard electric razor and there is also a vanity case for Milady.

The car is equipped with the Cadillac air-conditioning system. The Orleans is powered by a Cadillac V-8, 210 h.p. engine."

See SSA 1984, inside front cover, CS12, p.103. Got interior view from GM Styling library, 9/94.

Fleetwood (USA) prototype of 1954 model; front view

Fleetwood (USA) advance styling models for 1955 Eldorado [ELD pp.27-28]

Ghia (Italy) Ghia of Italy was founded in 1926 by Giacinto Ghia; the former Carrozzeria Ghia was taken over in 1947 by Mario Felice Boano. In the late forties, Ghia-Boano set up a joint venture company, Ghia-Aigle, in the Swiss town of Aigle; within the year, however, the Swiss "branch" was operating totally independently. In 1953 Boano left and the Italian operations were taken over by Luigi Segre who had been hired by Boano initially to handle the firm's commercial interests. When Segre passed on, his family sold the majority of their stake to Raphael Trujillo, son of the former dictator of the Dominican Republic, who was assassinated in 1961 [his niece, Jessica Guerra-Trujillo is my son's Godmother]. Trujillo had little interest in Ghia and left the business, leaving Giacomo Moro to handle things for Segre's widow. In the fifties, under chief designer Giovanni Savonuzzi, Ghia produce a variety of aerodynamic "concept cars", mainly for Chrysler. Among them, however, were one or two creations on the renowned Cadillac chassis. One of these was reported to have been acquired by the Aga Khan as a gift for his wife, Rita Hayworth; that car was in the Blackhawk collection in 1999; it appeared later in Don Williams' Imperial Palace collection, in Las Vegas. I have a photo of one of the 2 Ghia "specials", taken in Italy; at that time it was painted metallic blue and had black wall tires as well as regular 1953 Cadillac wheel covers; that car is believed to be car #1 of 2 built. A color illustration appeared also in Road & Track for January 1955. I have photos two different, restored cars. One appears to have the original egg-crate grille and the original parking lights on the leading edge of the front fenders; however, bumper guards appear to have been added as well as a "Cadillac" script at the rear edge of the front fenders; the stock 1953 Cadillac rims and wheel covers have been replaced with a set of aluminum-alloy "sabre" wheels, although these only became available in 1955. On the second car (the Imperial Palace car), the grille is completely different; it has thin, gold-anodized, vertical grille bars), there are no front fender parking lights; it features two half "bumperettes" in front. Once again the original steel rims and regular 1953 wheel covers have been replaced with gold-anodized, aluminum-alloy "sabre" wheels. The latter only became available in 1956. In my opinion, whoever restored these two cars took some obvious liberties with the original design. But will we ever know who did the restorations and WHEN they were done? Late Extra [June, 2010]: Thanks to my eagle-eyed friend, Ross Morgan, in Australia, we have learned that this Ghia model (one of the two units built) was featured in the movie "Ironman 2".


To my knowledge, this proposal from Ghia (Aigle?) never saw the light of day




Ghia car #1 (?)
VIN 5362-253107 (?)


The most recognizable feature: the front fender mounted parking/side lights (right)
Upper photo and drawing above it: courtesy Ghia archives
[ BTW, the LH photo was used on the cover of Road & Track for January, 1955 ]
[ Y. Saunders collection ]


[ Photos: Internet, 1998 ]


VIN 5362-253107
Note how the sabre-spoke alloy wheels have been replaced by a set of 1953 Eldorado wire wheels
[ Photos credits (left): Richard Rowlands, (center) Internet, 2004, right Pebble Beach, 2007 ]


The color looks different in artificial lighting
This one has a bench front seat whereas the other has buckets
[ Photo: Peterson Museum ]


Amelia Island Concours d'Elégance 2011 (?)

Compared to original design (left) the restored car (right) has lost the Cadillac script on the front fenders as well as the original 1953 Cadillac wheel discs; on the other hand, it has acquired a pair of bumper impact guards, wide white-wall tires and the wire wheels of the 1953 Eldorado; note also how the inside rear-view mirror is on a longer stem and the windshield wiper blades lock right instead of left


Illustrated in the previous three rows is the first of the two (?) restored cars. In March 2001 this car was reported in the Petersen Automotive Museum in Los Angeles, CA [upper row]. It may have undergone a second restoration between 1998 [second row photos] and 2001 [lower row photo]; the color is now deep burgundy wine and the restored car has acquired a set of 1953 Eldorado wire wheels [in 1998 it sported cast alloy "sabre spoke" wheels from 1955-56]. The front clip looks similar to the factory photo [top row, left], although this car has acquired extra bumper impact guards since 1953.

Ghia car #2 (?)




[ Above 2 rows - except rear interior shot - © 1999, Yann Saunders ]


[ Photo: Pebble Beach, CA, Concours d'Elégance, 2007 ]



The second (?) Ghia sport coupe currently is [was?] part of the Don Williams collection at the Imperial Palace hotel in Las Vegas. This one has a different grille, no bumper impact bars and no front fender parking lights, suggesting a possible repair of the front clip following a collision. The tail lights also are different, as is also the rear license plate holder. Included among the photos, above, are a close-up of the regular Cadillac script, adjacent to the red, blue and gold Ghia logo plate. That Cadillac script and the apparently stock instrument panel are the only clues to the car's US and Cadillac origin.

About these two (?) Ghia specials, this information was received from Hugh Nutting, in March, 2003 (Hugh is a regular visitor to the Cadillac Database): I think the two Ghia coupes should have been registered as 1954 models. We were in Palm Beach over Christmas of 1954. I saw [one of] the Hayworth Ghia[s] on a side street there, and I was going too fast to get a picture of it . I was 15 at the time, not yet driving. When we returned home, my January Road & Track came so I then knew what I'd seen. The Rita Hayworth coupe was black with the side insert red [interesting], while the R&T cover car was blue with a white insert [I guess R&T used the factory publicity shot that I have shown above, top row, LH side].

Late Extra [December 2005]: from Database visitor and Cadillac enthusiast Howland Blackiston : The car is for sale (again); Mr. Williams is "certain" that this one is the Rita Hayworth car although (so far) he has no documentary evidence of that original ownership.

Even Later [March, 2006] ???: I found the car on the undated web page of the Imperial Palace collection in Las Vegas, NV. It included the following information, which pretty much follows what I already found out about the car. 1953 Cadillac Ghia Concept Car ID#536253053 1 of 2 built and formerly owned by movie actress Rita Hayworth [my emphasis]. This flamboyant design on America's premier luxury car chassis earned a cover photo on an issue of Road & Track magazine and, in its restored [modified?] state, this Cadillac immediately draws a crowd wherever displayed. Giacinto Ghia was apprenticed as a young man around the turn of the century to a carriage builder but soon his hometown of Turin was establishing itself as the center of Italy's infant automobile industry and Ghia was lured to it. After years of work in all phases of this rapidly growing industry, he and a partner started in their own business doing what Ghia had already gained a reputation for, coachbuilding. His talent became widespread earning not only awards but a titled and illustrious clientele as well, which helped flourishing enterprise until the destruction of his factory during WWII. Following his death at the age of 56 in 1944, his widow persuaded Felice Mario Boano to take over the company and he declared his aim of adhering to Ghia's original philosophy of producing cars in limited numbers but of very high quality. Margarita Cansino was known to the world as Rita Hayworth – The Love Goddess. Rita was one of the most captivating and glamorous actresses in cinematic history. But she was much more than a beautiful face. Rita was an exceptionally talented dancer (she was said to be Fred Astaire's favorite dance partner). Starring in over 60 movies over a span of four decades, she became one of the greatest Hollywood legends of all time. At a 1948 party in Cannes, Rita was introduced to HRH Prince Aly Khan. After a highly publicized year-long courtship, Rita Hayworth married Aly Khan. But the marriage only lasted four years. Rita was not happy living the life of royalty. In 1953, perhaps as a last-ditch effort to keep Rita happy, the prince gave her this unique 1953 "Cadillac". It was crafted by the Italian firm Ghia, who produced two nearly identical "concept cars" built on the Cadillac chassis. This particular car is the one that was owned by Rita Hayworth [my emphasis]. Although it is not certain what the original color was (we know at least one of the cars left the factory blue), this car is currently painted black. The car has gold Cadillac script emblems at the rear edge of both front fenders. The Cadillac crest adorns the hood, and the stock 1953 Cadillac rims and wheel covers have been replaced with a set of gold-anodized, aluminum alloy wheels (these became available in 1955) [actually, the gold-anodized version was available only from 1956]. The front grille consists of thin, gold-anodized, vertical grille bars. The interior is trimmed in tan leather. This car is currently [when?] in the care of the Imperial Palace Collection in Las Vegas, Nevada.


[ Photos (above 3 rows): Internet web site, courtesy Imperial Palace collection, Las Vegas, NV ]

Ghia (Italy) special Cadillac 4-door dual-cowl phaeton for H.M. the King of Saudi Arabia [see also 1953 Saoutchik, below]. This was a conversion done by Ghia of Turin on the Series 75 chassis. Among its features were retractable running boards for the security staff (two each side), with assist handles at the "A" and "B" pillars, standard Cadillac grille but with bumper "bullets" removed and replaced with extra road lights, two-way radio fitted in the trunk (antennae on the front fenders), modified rear fins, secondary windshield between front and rear compartments, wire wheels [on a car this heavy?], refrigerated drinks cabinet on the LH side of the division in the rear compartment, operated by a compressor in the engine compartment (note that the Muslim faith does not favor the consumption of alcoholic beverages), additional bottle cabinet in the center of the division.


The central (bullet) part of the front impact guards on this car were converted to additional
road lights; these were not of much use in case of impact but signaled to the population
the King's royal presence aboard the vehicle. One of the two radio antennae is used for the transceiver.
Note the grab handles on the "A" and "B" pillars, as well as the retractable running board "steps"


(left): "Mini-bar" cabinet, (right) refrigeration compressor for the mini-bar facing the rear seat


Radio transceiver in the trunk

GM (USA) special engineering conversion on standard Cadillac Eldorado convertible (chassis 5362-66847)fitted with supercharger and visible exhaust piping on either side of engine hood. In "Collectible Automobile" for Feb., 1991, Tony Steiner of Castlemaine in Australia wrote: In the August 1966 issue of Hot Rod is an ad stating that TWO of these were built. In your coverage (CA. Aug. 1985) it is claimed that Frank C. Burrell only built a single unit. One would hope that Mr. Burrell would know how many he built. The car was sold at an RM auction on 13th November 2010 for $385,000 (it was estimated to sell for between $450K and $650K).


Poor B&W image at left was found in an original GM-Cadillac photo album of the fifties
that was discarded in a dumpster behind the Clark Street plant in the nineties


Would the person who sent me the images in the above 2 rows please identify himself, for due credit




Did the car on the upper row inspire the cartoon car below it? The excerpt is from the French
language version of Mark Schultz' Cadillacs and Dinosaurs]. Have you ever seen a '53 Eldorado
with four-on-the-floor? The guy is saying to the gal, Try fourth gear... press down on the
clutch pedal... put it in gear and let out the clutch slowly... while depressing (the gas pedal)...


Getting out for some fresh air .an (same car ???)

Pinin Farina (USA) special Cadillac Sport roadster on the chassis of a 1953 Cadillac Series 62 coupe; the original color was silver gray with tan leather upholstery. The 2-door, 3-seater sport roadster is hardly recognizable as a Cadillac; only the regular 1953 Cadillac wheel discs and the stubby Cadillac emblem on the heavily-chromed oval front grille give it away, as do to a lesser extent the front bumper "bullets", the large, gold "V" on the radiator grille and the steering wheel. I have original photos (below, in B&W and color) from the PF archives in Turin, courtesy of Fredi Valentini.

  

 


Period ad for the new, custom job

  
(Left) Artist's view, (right) the car that inspired the artist


Sport roadster by Pinin Farina, Italy, on 1953 Cadillac Series 62 chassis
[Photos, above 4 rows: Pinin Farina, courtesy Fredy Valentini, PF Archives]


This large (poor color) photo rendering of the same car is done on an aluminum plate;
it was for sale on Ebay and I tried using PhotoShop to improve it slightly


Inspiration: the Cadillac roadster with oval radiator grille was inspired by PF's 1954
Lancia Aurelia "PF 200" B52 chassis   for 1954; note how the rear ensemble is very similar
to that of the later Cadillac roadster; however, the latter is a much smaller car; in addition,
it has RH drive and (as you can see) the front ensemble is quite different from that of the Cadillac


PF's later Nash "Palm Beach" (1956) has a similar circular grille opening but the remainder
of the front ensemble and the entire rear ensemble differ greatly from the Cadillac

The full history is unclear; according to the current owner, a new Cadillac Series 62 (coupe?) was shipped to Italy where Pinin Farina built this one-off roadster for Norman Granz, a Beverly Hills concert promoter and record producer; the price Granz paid PF is reported to have been the cost of materials, plus a complete collection of the Norman Granz record productions and regular access to the car for promotional purposes.  In an old issue of Road & Track (or was it Motor Trend?) - for January, 1955 - I found confirmation of some facts about this car; indeed, in late 1954 it was owned by Norman Granz, of Jazz at the Philharmonic fame. According to Wikipedia, Granz played a major role in the history of the music. Not only did he institute the famous JATP concerts, but also he launched and ran four record labels, including one of the most significant imprints in jazz, Verve Records . that later went belly up (it is even rumored that the Cadillac was part of the liquidation deal). He managed also the careers of two of its most widely known performers, Ella Fitzgerald and Oscar Peterson. In the process, he became jazz's first official millionaire ... so he could well afford to buy a custom Cadillac like this one; it is reported to have cost $15,000 - a LOT of money in 1954! The American magazine describes the car as a stock 1953 Cadillac with an all-aluminum body. Road holding was said to be better than a regular Cadillac owing to its low center of gravity. The 3-passenger front seat was deeply cushioned; the seat back folded forward to reveal a lined luggage compartment. Granz moved to Geneva, Switzerland, in 1959; he died there in November 2001 at the age of 83.


The PF roadster's first owner was Norman Granz of Jazz at the Philharmonic;
note the "moon" wheel discs instead of the original 1953 wheel discs used by PF
 [ Source: Motor Trend or Road & Track (?), Jan. 1955 ]

Dennis Simanaitis, Engineering editor for Road and Track magazine wrote in October 2009: His [Granz'] Pinin Farina Cabriolet - a jet engine nacelle on wheels - positively exudes 1950s exuberance and the Norman Granz lifestyle. Bill Dobson recalls seeing it parked on the street in Hollywood. Imagine what a traffic-stopper it must have been! In 2014, Dennis wrote again: From the exuberance of Granz's 1954 Cadillac Pinin Farina Cabriolet, we can also deduce that he was a car nut. It's said the Italian carrozzeria accepted the Granz commission in exchange for the cost of materials and a complete collection of his record production. The starting point was a Cadillac Series 62 convertible. The resulting two-seater is a joyously unrestrained and enthusiastic assemblage of jazz riffs representing the era. I like to imagine the presentation of its trophy was accompanied by jazz of the 50s.

I read somewhere that part of the purchase deal with PF included the right by PF to borrow the car from Granz, on occasion, for show and advertising purposes; this may explain why the car was back in Italy at one point, in 1957. That summer it turned up in Cortina d'Ampezzo where Leopold had been invited to unveil of a bust of his father, King Albert 1, who had been a keen mountaineer in this rugged part of northern Italy.


Leopold and Liliane in Cortina d'Ampezzo at the unveiling of a bust of just for information,
<![if !supportLineBreakNewLine]>
<![endif]>

It is said that he had shown an interest in buying the car; was the car possibly brought up especially from Turin? He got to take it for a test drive; racing driver Nino Ferrari followed the royal couple close behind. At one point, Leopold let Princess Liliane take the wheel; because of a later reported "technical hitch" the car careened off the road, rolled over 4 times and ended upside down in a deep ravine. Fortunately, neither of the two occupants were injured.  

It should be remembered that Leopold, who was then King of the Belgians, was involved in a tragic accident in Küssnacht, on the shores of Lake Lucerne, in Switzerland, on August 29, 1935; his 29-year-old bride lost her life in that accident; she was Astrid Sofia Louisa Thyra, daughter of the Duke of Yastergotland (Sweden) and niece of King Gustaf V of Sweden.


The roadster after the accident _ upside down in a deep ravine; the front cover of the Italian weekly "La Domenica
 del Corriere" (#59, for August 7, 1957) captured the dramatic accident in vivid color (artist: Rino Ferrari).




The first item that took me down the Royal Belgian path was a photo that turned up in the archives of the Antwerp Gazette (Belgium) in 1957, purporting to show the wreck of a large sports car said to have been driven by ex-King Leopold. Even upside down, the car's unmistakable front grille identified it as the 1953-54 PF sports roadster on Cadillac chassis described in these pages. That (second) "royal accident" occurred on July 21, 1957 (which happens to be Belgium's "National Day", their 4th of July) on a winding road (#SS51) between San Biaggio and Cortina d'Ampezzo, in Lombardy (which was also the venue for the 1956 edition of the 7th Winter Olympics). You can view the press photo and related comments (in Dutch) on this Web site. The "crashed" roadster was subsequently recovered from the accident site and fully restored in the PF shops in Turin.

I have been in touch with the Tourism Board of Cortina d'Ampezzo, a favorite resort of the Belgian Royal Family. They were kind enough to send me a map of the spot where the accident occurred; here is the "Google Maps" link to the spot, showing also the distance from the renowned resort. I got this partial reply from the Cortina Tourist Board: The memorial to King Albert 1 of Belgium is near the town center of Cortina d'Ampezzo. You will find it at the beginning of Via Cesare Battisti in front of the Hotel Francheschi. Last year (2009) in September there was a ceremony in memory of the King who used to come to Cortina for climbing.

Although I have seen in various US newspapers 2-3 snippets relating to the crash, that (almost tragic) second road accident was never reported widely in the world press? I guess that it was probably kept under "royal" and "political" wraps owing to the earlier tragedy that had befallen the Royal household in 1935. A historian of the Belgian Royal Family with whom I was in contact in November, 2009, wrote: Yes, that's true (referring to the 1957 accident); Leopold and Lilian had gone to Cortina for the inauguration of a memorial to King Albert I (who used to go mountaineering there). On the return journey, their car plunged down a ravine again, about 20 meters, but neither Leopold nor Lilian was injured. And yes, this was kept rather quiet.

For the history buffs: King Leopold was an "unwilling guest" of Germany during WW2; he and his sons were liberated by the American army on May 7, 1945. Owing to the political situation obtaining in Belgium just after WW2, the royals were welcomed in Switzerland (in Pregny, next door to where Gita and I lived from 1980-1995). In July, 1950, after months of political debate in Belgium, the royals were able to return to their own country.


Villa  "Le Reposoir" in Pregny, Switzerland, home to King Leopold from 1945 to 1950
 [ Photo source: Internet, 2015 ]

Nothing much is known about the PF Roadster after the "Royal" accident in Cortina. Not surprisingly the test drive taken by the King and Princess ended with a no sale. We must assume that the damage caused was covered under some Belgian royal insurance policy. PF recovered the remains of the car from the ravine near Cortina and - between August 1957 and June 1966 - the car was restored almost to the original specs.

A friend of mine in the Netherlands, a Cadillac aficionado like me, had this to say about the Pinin Farina custom car (these are excerpts from his eMail): On the Pinin Farina / King Leopold car, your information is very complete; the only things I could add are that when the accident occurred, the racing driver Giuseppe Farina (nephew of Pinin; he died some 10 years later in a road accident near Chambéry, France, in June 1966) was following in another car; he is the one who rescued the King and his wife, Lilian. Very little indeed was reported in the press because Leopold had abdicated in favor of his son Boudewijn (Baudouin) in 1950 and by the mid-fifties he was quite unpopular in the Belgian press. In addition, the accident happened on July 21 which is the Belgian "National day" (like America's 4th of July). A friend of mine, an automotive reporter for some Belgian newspapers visited Pininfarina a few years ago and asked about the Leopold car. He was told that the company built only ONE such car; it was repaired at their workshop after the acciden. This may explain the fact that the car doesn't look like it had been repaired.


In this (cropped) photo, from L to R: Former King Leopold III of Belgium,
his wife, Lilian de Réthy and Italian racing driver, Giuseppe Farina

The next sighting of which I am aware was in Rome (?), in the summer of 1966, when the restored roadster appeared in a movie clip featuring some of Pininfarina's then recent creations (copy-paste the URL, below):

http://footage.framepool.com/en/shot/401633659-1954-cadillac-pininfarina-roadster-cabriolet-fashion-show-women's-fashion


This still is from the movie; note the rectangular parking lights above the "Dagmar" bumpers,
as well was the "V" and crest from a Cadillac model of 1957 (an update from the 1953 original)

Between the latter venue and the time the roadster was acquired by Mr. Yeaggy (early 90s?), it was seen once in San Bernardino, CA, in the late 70s. CLC member, Mike Simmons, contacted me in April, 2012; he said: I just wished to add a postscript to your discussion of the number of PF Cadillacs. In the late 1970s, while I lived in San Bernardino, CA, an ad appeared in the local paper automotive classified section noting a lien sale to be conducted on a PF Cadillac, including the 1953 VIN, as required by law 5362xxxx. I showed up at the gas station where the sale was to take place, but the station was closed and after a while the very small crowd gave up and we all went our separate ways. About a month later, the same ad ran in the "personals" classified section; I and two others showed up, but again, no car or sale. It seemed clear to me that someone was trying to rig the "sale" so as to acquire its ownership. Some 10 or more years later (late 1980s) the car and the restorer's name (???) appeared in Old Cars Weekly, to which I then subscribed and I sent the editor a letter about my knowledge of it's history, alleging I am sure, some impropriety on the part of the current restorer/owner they had so lavishly praised for " saving" the car (sour grapes on my part, I guess). Unfortunately I cannot locate the letter or the clipping from the San Bernardino paper which I had saved for many years; I have a nagging suspicion that I threw them away last year, since OCW had not responded to my letter it was clearly of little importance. The car in question. of course, is the Norman Granz car pictured in Merlin's 1980 book on Pininfarina (who has a copy???). I don't know if this only muddies the waters more, but at least you will know that around 1978, that car was somewhere near San Bernardino.

Mike and I subsequenly exchanged a few comments about the PF car. He said, in conclusion, I can't comment on the car (and the King Leopold story) except for the San Bernardino newspaper ad, replete with the 53 VIN, but calling it a 54. I think that is what caught my eye with the first ad - the seeming error in the VIN first two numbers. To my way of thinking, King Leopold and the accident refer to an entirely different car (according to PF, however, only ONE such roadster was ever built). In any case, the eye of this beholder thinks it's one of the ugliest front ends ever! ... but don't tell Leopold I said that.

I believed the PF Cadillac had been destroyed; it was a pleasant surprise, therefore, to see it illustrated anew in the French magazine Auto Retro #170, in October 1994. The lines differ somewhat from the original car (above). The photos were taken in America and so I thought the car had gone there at some point and been restored there "à l'américaine"; in fact, as I discovered in 2015, the visible changes were again the work of the Pinin Farina shops in Italy; they were the result of the road accident described above.

You will note that the PF badge has moved from the front fender, where it was first located just ahead of the door, to the rear fender, just behind the door; a pair of large front fender air scoops - a la BMW roadster - has been added to the LH and RH front fenders; the large 1953 Cadillac crest on top of the oval grille was removed and a smaller PF logo affixed to the body, back from the grille itself; the interior trim was changed from tan to white leather; the rear fender wheel openings are quite different.. The modified car - of which there are color photos below - was on show at the Pebble Beach Concours d'Elégance in California, in August 2002. The current (2012) owner, is Harry Yeaggy of Cincinnati, OH; he is the CEO of Janus Hotels & Resorts, Inc. It is believed he acquired the car around 1992 (confirmation anyone?). I have seen the car valued at $300,000 but, IMHO, owing in part to the fact that it is a car restored from a wreck, its value ought to be less.

Finally some photos of the restored car in the New Millennium and some comparisons between it and the original PF design from 1954.


[


Pinin Farina logo has been moved from the front fender to the panel aft of the door; the rear wheel
opening has been restyled; the restored car also has acquired side vents - à la BMW - on the
front fenders (are these functional or merely decorative?) as well as wide white sidewalls


Front ensemble: 1953 Cadillac crest on radiator grille has gone; the PF  
logo has been added on the panel between the hood and the grille surround;


The car has been retrimmed in white leather; door panels too have been redesigned and possibly also
the seat cushion and seat back; the large door pull handles appear also to have been removed


The traditional Cadillac "V" and crest have been removed from the trunk; vent windows have
disappeared, as has also the center stanchion on the original windshield; the tail-lights have been
completely re-modelled; the curve of the rear wheels openings differ also from the original PD design

I saw the (restored) PF roadster in Amelia Island, FL, during the 2012 Concours d'Elégance; it was surrounded by equally rare Cadillacs and other custom jobs on Cadillac chassis. I struck up a conversation there with John Carefoot, curator of "The Auto Museum" in Cincinnati, current home to the '53-54 PF roadster. When I mentioned the wreck in Italy, he was unaware of it; he thought another, similar car might have been involved. John had no knowledge of the car ever having been repaired or restored.


This sketch and the latest facts and information:  Yann Saunders, August 13, 2015.

Saoutchik (France) special creation #1 for the Saudi Arabian royal household (no details available). It may have been this stretched parade car (photo source unknown).

Saoutchik (France) special creation #2 for the Saudi Arabian royal household (no details available)


I have numbered this car as #2 but it could well be #3, #4 or #5

Saoutchik (France) special creation #3 for the Saudi Arabian royal household (no details available)

Saoutchik (France) special creation #4 for the Saudi Arabian royal household (no details available)

Saoutchik (France) special creation #5 for the Saudi Arabian royal household (no details available)

Saoutchik (France) special creation #6 for the Saudi Arabian royal household possibly was this stretched parade convertible, much like the one below (and similar in design to the parade convertible built that year by Ghia of Italy - above). This car is believed to have survived, as it would appear frpom the photo. Note the TWO retractable running boards on each side of this car, compared to the car below it.

Saoutchik (France) special creation #7 for the Saudi Arabian royal household. This is a stretched convertible sedan (23½ feet long!) on the Series 75 chassis built for King Bin Seoud of Saudi Arabia [believed to be still in the Saudi royal garage]. It was ordered in May 1952, as a gift, by the younger brother of the Prince who was to be King upon the death of his lather, the late Ibn Seoud. The car was ready for shipment late in 1953 and arrived in Saudi Arabia in time for the coronation ceremonies and festivities, early 1954.There was a write-up about it in the Swiss annual Année Automobile, 1953. My translation follows: A Masterful Example of French Coachwork: The Car of King Seoud: Last May the younger brother of the man who was heir to the Throne of Saudi Arabia, and who since has become King following the death of his father, the well-known Ibn Seoud, ordered this beautiful automobile from the Saoutchik workshops in Paris, France with the intention of giving it to his brother as a coronation gift. It has just been shipped to Arabia where it is hoped it will arrive in time for the Coronation ceremonies due to begin early this year.

This is not the first car commissioned from the French coach-builder by the Arabian Royal family. This will be the seventh such car delivered by Saoutchik.

You will notice just below the front door the automatic retracting running board where the security guards ride, and between the front and rear door glass an assist handle. This body was built on a long chassis such as is used in America for ambulances. The fittings, therefore are exceptional and most probably unique in the world. It is fitted with the longest hydraulically-operated convertible top measuring a shade over 5 meters [i.e. 17½ feet]. The car can accommodate 6-7 passengers and the rear seat also converts into a bed. The grille was modified so as to represent two gold scimitars and a golden palm tree, which constitute the royal emblems; the color scheme is ivory white and Arabic green, the country's national colors.




There are captions to four smaller illustrations in addition to the front, ¾ LH view of the Royal car: these read as follows: There is good visibility all round, but especially forward. The radio may be controlled from both the front and rear seats. Everything including the steering wheel is finished in ivory and green. The thickness of the door is like the rest of the body which gives the car a 'boatish' look. However, the use of aviation alloys helps to keep the weight down. Above right: the [non alcoholic] drinks cabinet with its gilded goblets and flasks. Above it the clock, altimeter, thermometer and other gauges set in a folding tablet. Lower right: floor covering is of silky, close shaven , silky smooth mouton fur; upholstery is done in green leather. The controls at each side of the rear seat operate the windows by electric motor rather than by a central hydraulic power unit."






The small illustrations (above) include (a) a view of the steering wheel from the rear RH seat, (b) the rear opening LH front door in the open position showing the green leather upholstery of the driver's seat, (c) the writing tablet with inset instruments and, below it, the open drinks cabinet in the center of the division in the rear compartment, (d) the convertible rear seat with storage drawer below for bedding and accessories. The doors are said to be also electrically controlled (locks?). Below are two rare B&W photos of the car in Paris. A further article about this car appeared in the magazine of the Belgian Touring Club, just after the car was built.


(Left) the Royal Saudi car in the courtyard of the Saoutchik factory in Paris, late 1953
(Right) Prior to delivery to its royal owner, this publicity shot was taken on the
esplanade of the Palais de Chaillot, with Paris' famed Eiffel Tower in the background

[Unknown, USA] Special Series 62 convertible with continental kit, photographed at Cadillac meet in Castelsarrasin, France in the mid-Eighties.

[Unknown, USA] Special Eldorado convertible models with continental kit.

[Unknown, USA] Mildly (wildly?) customized Series 62 convertible still in regular service in the streets of Havana, Cuba.


Hard to distinguish in this small, low resolution image
but this car has FOUR fender-mounted rear-view mirrors !

[Unknown, France] Customized low rider


[ Photos: courtesy NITRO Magazine, issue Oct-Nov 2003 ]

[Unknown, Germany?] Customized wagon/ambulance?

[Unknown, USA] Special Series 75 limousine said to have been outfitted for the Panamericana (the Mexican road race that enjoyed great popularity in the early fifties); the car was offered for sale on e-Bay (the Internet auction site) in April, 2003. Some features include a 509ci V8 with custom 3-speed automatic transmission, front bucket seats, disc brakes, a/c, seat belts, power windows, dual exhaust, customized stock frame rails, bird cage with 8 point custom roll cage, a '68 Camaro front clip [on a car outfitted for racing in 1953-54?]. According to the vendor, over $100,000 were spent to modify the car which, at the time of sale, was titled in California.

[Unknown, USA] Repainted Seafoam Green and Organic Green, this car was featured in the movie Running Wild. Later it got a '53 Cadillac engine and (in 1955) a pinstriped dash by the legendary Von Dutch. Restored in the New Millennium, with an even brighter color scheme, the car is on show in the Petersen Museum.

[Unknown, USA] Cadillac pick-up consisting of 1953 front and 1956 custom flat-bed

[Unknown, USA] Series 62 convertible custom hot rod, low rider

[Unknown, USA] Another Cadillac pick-up with an original wrap-around cab window, owned by collectors Jim Jordan and Jay Douglas.


[ Photos: © and courtesy of the owners ]

[Unknown, USA] Cadillac "camper" conversion.

[Unknown, USA] Cadillac "low rider" with double Dagmar "mastectomy".

Van der Stricht, Patrick (Belgium) Patrick is a devoted Cadillac enthusiast. This is his artist's proposal for a 1938-39-40-41-48-49-51-53-54-55-56-57-58 custom Eldorado coupe (...and I may even have missed a couple of years in my speedy examination of this delightful drawing!


Drawing courtesy of Patrick Van der Stricht

Zanetti, Paul (Australia) "Tequila Sunset", a custom 1953 so-called Eldo-Roadster, based on a 1953 Series 62 coupe that is instantly recognizable as a Cadillac. This custom job is every bit as extraordinary as the Cadillacs displayed during the GM Motorama shows. The car's home is on Australia's Gold Coast (the eastern shore for you non Geography buffs). It was unveiled at sunset, on cartoonist Paul's birthday, at his home (where Gita and I were privileged to be guests in 2005). His lovely wife Michelle was present as were also many of the people who had helped to make the dream a reality. Steve Bowman of "Kustom City" supervised most of the metal work. Most challenging from an engineering point of view were the remotely-operated, rear-hinged 'suicide' doors and the revised belt-line, reminiscent of the bespoke 1953 Eldorado. The bumpers and hood are from a 1952 Cadillac; they had to be reshaped and modified to fit the car. When it was only partly finished, the car was displayed by Kustom City on its 2007 Brisbane Hot Rod Show stand, where it caught the eye of Owen Webb from specialist automotive paint supplier, House of Kolor. Owen offered to supply the paint and personally mix it to achieve the effect of a golden sunset. The embellished transmission shifter is from a 1969 Chevrolet Camaro. Timber veneer in blond walnut was used for the dash and door embellishments and was one of the final features added to the design. The seats are from a 1964 Thunderbird, just like the one used by Michelle as her everyday transport. On the dash are a GPS screen for the driver and a DVD display for the passenger, both hidden behind drop-down veneered panels. The tilt steering wheel was not an option in 1953 but is handy technology nevertheless. The windshield is off a 1958 Chevrolet Impala and imparts the car's Eldorado look. The powerplant is a 6.4-litre Chevrolet linked to a Turbo 350 automatic transmission. Hidden below the car and in the trunk is a complex network of pumps, hoses and electrical devices that operate the adjustable air-bag suspension and allow the car's stance to be raised or lowered at the touch of a button. Paul has the following artisans to thank for their valued efforts in helping to create "Tequila Sunset": Mick McLennan (panel and fabrication), Elliott Holtom (panel beating), Adam LeBrese (fabrication), Mark Wells (trim and upholstery), Terry Wilmoth (paint) and Matthew McShane (apprentice). Special thanks go also to Owen Webb (House of Kolor) and Steve Bowman (Kustom City). Late extra [2008]: the car was sold at the RM Sports and Classic car auction in Monterey, CA, for $130,000. Latest [December, 2008]: the car apparently was NOT sold but only bid up to $130,000, which was less than the vendor's reserve. It was back up on Ebay in December, 2008; bidding this time only reached $75K. The economy crunch appears to be affecting the collector car market too!


This is how it all began: 1953 Cadillac coupe "hulk"


Four bucket seats and central console are reminiscent of some Ford Thunderbird models of the early 60s


A real stunner, from any angle


Left: side view shows off cut down doors a la 1953 Eldorado
Center image: Paul and Michelle unveil "Tequila Sunset", with the artisan friends who built her
Note the rear-hinged "suicide" doors (right), harking back to coach-building techniques of the 20s and 30s


I've also seen that transmission lever somewhere before - yes, that's it: on a 1969 Camaro
RH images: "Zanetti Custom" V and logo between the two rear bucket seats and on the wire wheel caps