1960

A&A Auto (USA): mildly customized coupe named Goldilocks

[Barris, George?] (USA), custom "half-tip" conversion on 1960 Eldorado Biarritz. According to Tony Wood, a Barris associate, this car was actually built by Dale Gould at his shop in Hollywood, Ca. The leading on the roof was performed at the Barris shop, in 1968. Tony kindly supplied five of the photos of the car (below). It has the roof off a '65 Chevy Impala and may be displayed with or without the removable roof portion. This car was featured in the book, Famous Customs and Show Rods by Barris & Scagnetti.


The '60 Biarritz "before"


Left: Dale Gould and and George Barris leading the Impala roof onto the car
Right: the modified front grille



Photos [above three rows]: Barris archives, courtesy Tony Wood

This photo: from the book by Barris and Scagnetti

Barris, George (USA) special Series 75 limousine for Elvis Presley (special issue CCON, p.24-25); Done in a gold and white motif with portholes in the sail panels a la '57 T-Bird, all the metal on this car is 24kt gold-plated. The top panel is gold frieze imported from France and tufted with pearl buttons. Aboard, there is a display of some of the King's gold records. The semi-circular rear seat is upholstered in pleated white naugahyde [with that kind of money, I would have ordered leather!]. All the windows are screened with gold lame drapes and the floor covering is white mouton throughout. Facing the rear seat in the rear compartment is a center lounge seat; incorporated in the division are a gold vanity case with gold electric razor, hair clipper, shoe buffer and other grooming items. A refreshment bar is prominent; it will freeze ice cubes in 2 minutes. A gold-plated swivel TV set completes the rear accoutrements. Passenger and driver both may control electronically a 10-record automatic record changer, intercom and air-conditioner. The driver has a gold-flake telephone at hand to receive and relay calls. The body has 40 coats of pure diamond dust pearl which consists of crushed diamonds and pure fish scales from the Orient rubbed to a mirror-like luster. Oh yeah!?!? Sounds fishy to me. Watching TV on the evening of Jan. 24, 2007, I glimpsed another custom 1960 Series 75 limousine just like this one (with quarter roof portholes) but, for the life of me, I just can't remember the name of the program ! Is it possible Barris converted TWO of them ?

Barris (USA) Custom low rider conversion. According to Tony Wood who was a Barris associate, this conversion was one in 1998-99 for body-builder, Chris Sabatino.

[De Rosa, Frank] custom Land Shark or Sharkmobile owned [1980s] by Bob Bowen, a Lodi (CA) local. Stretched to 20'7", hand-made gull-wing doors, padded vinyl top, special wire wheel hubcaps, headlights, De Soto grille and steering wheel. I'm not particularly attracted to this kind of street machine, but now and again you find a head-turner like this one. I couldn't resist including it. This wild thing was offered for sale by auction at the annual Barrett-Jackson event in Scottsdale, AZ, in January 2001. The catalog for that venue described it thus: Frank Derosa's famous "Sharkmobile". Car is all metal and lead, with no plastic used. It includes customized widening and lengthening, is lowered with an upside down '53 DeSoto grille, Mercedes headlights, '56 Packard tail-lights, '63 Thunderbird interior including the wrap-around rear seats, "gills" (louvers) on the sides, a Packard hood ornament, custom exhaust and Lake pipes, T-Top, unbelievable paint scheme and Cadillac stock running gear. Late Extra [12/2004]: the car was offered for sale at auction en eBay. Her are excerpts from the vendor's description [complete with all spelling mistakes] : This started life as a 1960 Cadillac Eldorado Convertible. The Shark Mobile has been in many Magazines and a Museum in Alaska over time and is in great condition. This car probably weighs 8000 lbs as it is almost totally lead and steal. This was built by the world renowned Frank De Rosa in Pittsburg California and was probably one of his best achievements. Originally to be called the Vendetta it was to be De Rosa's answer to Barris' Batmobile. Four years in the making the shark rattled the custom car world. Painted in iridescent blue with metalflake and deeper blue flames that are more aquatic and wavelike then fire like. the sharks ominous presence is accentuated by monstrous fins, fenders and skirts that extend six feet behind the rear wheels. As an amalgamation of Lincoln fender components Packard taillights DeSoto grille and Riviera top complete with t tops. De Rosa is a member if the Oakland Roadsters Hall of Fame and was Builder of the Year ... Drive train is stock 1960 Cadillac.


Fisher (USA) special 4-door phaeton, lots of photos seen GM Styling Library, 9/94; excerpts of text says ...arrangements having been made with Mr. A. Limberg, with Mr. A. McVey and Mr. Charles White of Fisher Body to expedite a body through the Fisher body Fleetwood plant with the [following] specifications: ...The complete body in white is a 6239 body style with the front end assembly being replaced with a 6267 front end assembly. The following items were deleted: roof panels, all roof bows, No. 3 rear quarter pillar above the belt, rear cushion and seat back including all interior trim; the following were installed: all power units in doors, trimmed front seat with 6-way seat adjuster, 6239 wiring harness, front door convertible assemblies for 6267 being furnished. Other items to be furnished: all exterior hardware items, moldings, door handles, bumpers, locks, lamps, etc.; see also SS 5/94, cover + pp.4-5. In addition, this prototype had an ingenious top mechanism allowing room for 3 rear seat passengers; the system was subsequently adapted to the front-wheel drive Eldorado convertible. Story [as told by enthusiast, Jim Crabtree]: Lincoln had announced that in 1961 they would re-introduce the 4-door convertible. Nobody could guess how well it might sell. If the car-buying public desperately wanted a convertible sedan again, then Cadillac wanted to have "something" ready for them. In fact the Lincoln convertible never was a big seller, so Cadillac never had to follow through with this project.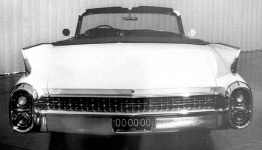 [ Sorry for the poor image quality; these are "photos of photos" I shot in poor lighting conditions at the GM Styling Library, in 1994 ]

Fisher/Fleetwood (USA) This designer is at the blackboard in the Styling Studio, putting the final touches to a coupe proposal for ...some time in the future! Take away the tail-fins and those sharp body creases seem to take you straight to the 1967 front-wheel-drive Eldorado...

Fleetwood (USA) (???) Cadillac Cyclone [in fact modified version of 1959 model, XP 74] (special order #90450), currently at GM headquarters, Warren MI ?

Fleetwood (USA), Sixty-Special prototype with rear grille à la '59 Eldorado and Series 60S, but with only two rows of small "bullets" [photos]

Fleetwood (USA), Sixty-Special or Sedan de Ville prototype drawing as proposed in late 1958 by the Cadillac stylists.


The photo was taken on October 10, 1958 and probably by Neil Madler

Fleetwood (USA), Eldorado 4-door prototype (not built for production, but only as a styling exercise - what a pity!)

Fuente, Larry (USA) The Mad Cadillac, a monstrous, mad, pearl-studded Californian creation.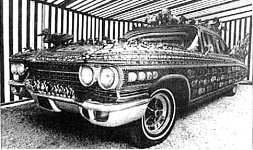 Ghia, Carrozzeria (Italy) Custom convertible parade car conversion from a Cadillac Series 75 limousines, for Josip Broz, aka Marshall Tito, former Premier of the former Yugoslavia. Late extra (June 2013): purchased from an associate of Tito's by a Dutch collector, who registered the car in Holland in 1991, the presidential parad vehicle was offered for sale by Bonhams of London in 2013, where it was sold for a few Sterling pounds short of £98K. This particular Cadillac is the 4th last limousine (Style #6733, body #828) of the 832 units built in 1960. It was fully customized in Italy by Carrozzeria Ghia, presumably at Tito's request; he had got the standard limousine as a gift from the US Government who saw him in 1960 as a possible ally after he broke relations with Joseph Stalin. Among the optional equipment is a portable Remington electric shaver, an altimeter and a pair of spotlights, one on each side of the windshield. Many of these photos are courtesy of Frans Vrijaldenhoven and Anthony Hazelaar of The Netherlands; others were gleaned on the Internet.






Details of the luxurious interior appointments of the customized Cadillac limousine


(Left) Power switch for the limousine's glass divider and stubby (non-Cadillac) custom switch for the convertible top
(Right) An altimeter has been incorporated in the dash pad in lieu of the standard Cadillac emblem or the optional Cruise-Control switch


The Ghia embem and nameplate, Carrozzeria Ghia Torino

Hess & Eisenhardt (USA) A conversion on the Series 75 chassis, for the Du Pont family [chemicals] featuring an ugly, razor-edged rear roof section. Photo, McC p.339


JF Launer (for JF Customs (Canada)


Stengel, Peter (USA and England) + Hess & Eisenhardt (USA) Custom station wagon with faux wood paneling. H&E were commissioned by Fleetwood to build this 5-door pillarless Wagon de Ville hardtop station wagon featuring simulated wood panels on the exterior and full power equipment including air-conditioning and electric tailgate. A particularly elegant car built after the 1959 Stengel model with the body set inboard of the fins. Regrettably, it did not go into production! Photos SSA, 1980, inside rear cover, and McC p.336. Here is an excerpt from a chat group I visited on the Internet: I pulled this one out of a barn where it has been sitting for the past 17 years. It has been owned by the family since the mid 1960s. They have decided to sell it at the Gooding and Company Auction this January (http://www.goodingco.com/scottsdale09.html not pictured in auction preview). The firm I work for is preparing the car for the auction and babysitting it until then. I LOVE LOVE LOVE this car and wish I could buy it. They are estimating it to go for $70-$90,000 though a little to deep for my pockets at this time in life. The car was built by Hess and Eisenhardt of Cinci, Ohio (they are mentioned above). It was orginally ordered by and sold to the man that owned Central Cadillac in Cleveland, Ohio. It is believed that he had an earlier one (possibly like the '55 pictured above) and his wife loved it so much he ordered a run of them in 1960. I've been told there were either 5 or 10 made (personally I believe 5) and he got two of them. He kept one for his wife, this one, and sold the other thru the dealership. His wife drove the family in the car for four years or so at which time he sold the car to my client's grandparents. They then passed the car to her father and now to her and her siblings. The car is has a very interesting build. We believe the roof is Buick and are for sure that the rear tailgate is. It is neat how chopped the back windows look. The interior is stock Cadillac in black with carpet and accessory pockets in the back. The wood on the side isn't wood but rather vinyl stickers. The pieces of wood surrounding the panels are metal with a sticker or paint covering it. I'm happy to be its caretaker, even if it is just for a little while! The wagon was eventually sold by the Gooding Auction Co., for a reported $66,000.

[Unknown, USA] Series 62 convertible with special rumble seat conversion [photo]

[Unknown, USA] Psychedelic, open-top Cadillac parade car on Series 75 chassis


CLC President, Glen Brown, makes an encounter of a strange kind
[ Photo: courtesy Self Starter ]

[Unknown, USA???] Camper conversion, probably from a commercial car. This one resides in Sweden (2008). The conversion is believed to have been done circa 1978.


Photo: © 2008 and courtesy Per Karlsson, Sweden

[Unknown, USA???] Series 75 limousine with custom padded top


[ Photos (cropped and edited): Automusée du Forez de St. Germain Laval, France ]

[Unknown, USA???] "Low-Rider" 1960 coupe from Germany


This conversion was done in Germany

[Unknown, USA???] Two-door coupe with continental kit; I have included this photo if only to show how an otherwise pretty sixties Cadillac can be made to look positively ugly by the addition of a continental kit. In my opinion, the 1958 models were the last that could [only just] "bear" a Continental kit without looking awful!


[ Same car ? Different lighting conditions ? ]


[Unknown, USA???] A rear ensemble with a definite 1959 influence !

[Unknown, USA???] Another rear ensemble with a definite 1959 influence !

[Unknown, USA] Another two-door coupe with continental kit; this one was offered for sale on e-Bay, in 2001, and dubbed the "Elvis Presley" pink Cadillac.

[Unknown, USA???] Custom low-rider job on '60 Cadillac base.

[Unknown, USA???] Another custom Coupe de Ville low-rider.


[ Photo: Barrett-Jackson auction catalog for Jan., 2008 ]

Unknown, USA???] Low rider on 1960 Cadillac base. Enthusiast, Murray Pfaff, sent this picture of a custom 1960 convertible; he says it is equipped with a 390ci engine, 2 four-barrel carbs, and a TH400 transmission. It is being rigged to shoot flames out through the exhaust ports.


[ Photo: courtesy Murray Pfaff ]

[Unknown, USA???]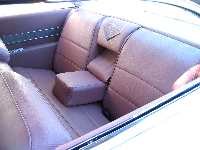 This mildly customized Coupe de Ville was found on Internet, 10/2004
[Unknown, USA???] Pop Camper, seen in book Weird Cars, by John A. Gunnel

[ no image ]

[Unknown, USA???] Looks like an amateur conversion from 4-door sedan to 4-door convertible.

[Unknown, USA???] Looks like another amateur conversion from 2-door coupe to a convertible with removable tonneau cover.

[Unknown, USA???] "Wild" custom job based on a 1960 Cadillac! Here's a You Tube video of this and one other Cadillac!


Before paint and trim?


[ Photos: Internet, 2008 ]

[Unknown, USA???] Here's the ideal trailer for towing behind a 1960 pink Cadillac !

[Unknown, USA]

This "car" appears to be riding on air. I don't have any details about it.

[Unknown, USA] These "curious Cadillac inspired cars include a 1955-56 Cadillac "van" and a 1959-60 "Chrysler Eldorado" finned 4-dr sedan! Interesting combinations.

[Unknown, USA] This strange, "hybrid" 1959 Cadillac Series 62 convertible is fitted with the body from a 1960 Series 62 convertible. It is the imaginative creation of, in my opinion, an unscrupulous used-car vendor in Florida by the name of "Marv", a "Power Seller" on eBay who uses the ID,"luvdg". Marv appears to have restored (or had restored by non-experts)) a '59 Series 62 convertible that had got a '60 body put on it during the first 45 years of its life. A simplified (and obviously less costly) Series 62 design was used for the leather upholstery and trim. Despite an alleged restoration cost of over $110,000 (!) the restorer "cut a few corners" (e.g. he did away with the recessed buttons on the seat backs and the distinctive, embossed Cadillac "V" and crest between the rear seat backs (costly and difficult to make up from scratch). He restored the B&W TV that a previous (?) customizer had installed in the modified dash. "Matv" then attempted on a number of occasions and at different venues in 2005 and 2006 to sell this car at auction ...for a HUGE sum of money). It was advertised, first, as "the" 1959 GM Motorama showcar, then later as a unique GM design experiment direct from Harley Earl's skunk works and, finally, as the first car in the world [and the LAST, we hope] to have TV installed in the dash. Fortunately, nobody fell for "Marv's" outrageous claims, although in one instance (August 2005) bidding did appear to reach nearly $167,000; however, it failed to meet the vendor's reserve. He eventually got himself tied in a knot with his incessant false claims. He even had two "witnesses" supply written testimony asserting they both had seen the car at the NY venue of the GM Motorama in October 1959 [when, in fact, it had taken place the previous year, in October, 1958]. Both witnesses asserted the car was blue; in my opinion, this was because the vendor had "coached" them by showing them a copy of the factory build-sheet with a code "20" in one column. Unfortunately, "Marv" confused the trim code (#20 - black & white leather) with the paint code (#12 - Dover white). He subsequently tried to wiggle out of his obvious mistake asserting, later, that the car first had been white, then re-painted blue [a likely story, indeed!]. Even later, he included as further "proof" of his fanciful claims, a picture of a "future Cadillac design" taken in the Cadillac styling studio; he had found that photo in a GM publication and immediately asserted that this "probably was his car". Trouble is, that car was painted red ...despite "Marv"s insistent, prior claims that it was blue, as attested by his two "reliable" witnesses who had seen it close up, in New York, in 1959. In fact, the paint code on the build sheet (#12) shows that the car was initially white. Many Cadillac enthusiasts who saw the car adverised on Ebay raised doubts about the car's authenticity; a lively debate ensued on the Cadillac-LaSalle Club forum. Anyway, after three unsuccessful attempts to sell the car on eBay (although there were - apparently - "private" bids, the highest being in the region of $170,000), "Marv" consigned it with the Barrett-Jackson auctioneers at their "no reserve" Scottsdale venue in January, 2006. The auctioneer person with whom I spoke (Steve Davis) refused to include "Marv"'s fanciful allegations about the car's origin; he eventually agreed to list the car but only as a "rebody 1960 Cadillac on a 1959 Cadillac chassis." I watched 30 hours of the show, hoping to see that car cross the block and to hear the owner/vendor make some more outlandish claims about it; he even tried to enlist the help of Richard Earl, grandson of the great Harley Earl, to back his claims as to the car's "skunkworks" origins; Mr. Earl Jr. was not fooled. To my lasting regret, the car went across the block DURING A COMMERCIAL BREAK! I learned, later, that it had been bid to around $85K (so LITTLE money for an alleged UNIQUE GM show car - like the Oldsmobile "Golden Rocket" that BJ had sold the previous year for a record $3,24 million - and that "Marv" had offered, in August 2005, to a collector friend of mine in Australia, for ONE MILLION DOLLARS!!!). The apparent high bid in 2006 did not meet the vendor's expectations; however, as this was a no reserve auction, it had to go to the highest bidder. It seems the auctioneers accepted a final high bid from the vendor himself (Marv); of course, he had to pay BJ's buyers' and sellers' commission ...making it an "expensive day at the races". I learned later, from the consignor himself that HE had bought the car "back". I learned also (and to my great surprise) that a "valid sale" occurs even if an auction item remains in the ownership of the consignor ... provided he/she pays the sales commission! Well, well, well! Who among us will ever believe an auction result again? Late Extra [Summer, 2006]: apparently the car found a new home, in Colorado [according to the new license tags it carried] ... but the buyer put it up for sale AGAIN, far too soon not to raise my suspicions again! Despite it being touted as "a UNIQUE creation for GM by Harley Earl", someone undertook to make a few modifications: for example, in some later photos, a vinyl tonneau cover replaced the "Eldorado"-type hard boot (although I understand the hard boot is still available with the car), the expensive, Fleetwood wheel discs were replaced with modern wire wheels, the steering wheel was changed (back?) from a 1960 to a 1959 model, seat belts were added, floor mats were replaced with a modern set and finally the engine bay was detailed following many suggestions by enthusiasts who had seen many errors there. Later [4/2008]: this message was posted on the Forum of the Cadillac & LaSalle Club by Peter Kulzer, son of the (then) current owner: Ok, let me set this straight for everyone ... My father now owns this Cadillac. It is a '59. It is titled as a '59 Cadillac. Let me start off by saying that this is one of the worst resto jobs ever. The thing is a bondo bucket. It sat outside for several years before the resto and it still had leaves under the dash when my father and I pulled the dash to rewire it all. The seats were beat up when we received it and now they are reupholstered. The motor was never rebuilt. The engine was repainted in the car; parts of the chassis are spray painted blue due to overspray. The car had tons of rust on it and it shows where they covered it. The finish of the body has terrible orange peel. The car was white with black and white interior originally. When we got the car off the car hauler (when we got it), the driver's side window was broken and all the other windows were un-aligned. The only brake that was working was the left front and it isn't easy stopping a 6-7 thousand pound Caddy that way. Later still [3/2009]: The car appeared at the Imperial Palace Hotel in Las Vegas (it may have been simply on exhibit there by its current owner); Gita and I saw it there in the summer of 2009 when we attended the Grand National meet of the Cadillac & LaSalle Club, Inc.. Even later [8/2009]: Offered at auction by Mecum, in Monterey (as lot S116), the car was listed (in error, you think?) as a 1959 Cadillac Autorama Prototype Convertible! The vehicle was described thus: Built for the 1960 Autorama [there never was such a thing - the next such show, after the "1959" venue - that was staged in the fall of 1958 - took place in 1961, at New York, Los Angeles and San Francisco], this captivating corporate showpiece has all the presence and panache so beloved by contemporary Caddy buyers. Even the brilliant Red-and-White color scheme is Cadillac-ostentatious at its best, with chromed wires [added recently and certainly not original] wearing wide Whitewalls and bold new [1960] grille-work front and rear. The boldest touch of all, of course, is the dash mounted television, a feature that was enjoying great popularity on the custom car circuit and seemed immediately destined for common use in the automobiles of the not-too-distant future, a future in which anything seemed possible. Highlights: (1) 1960 prototype, shown at [1959] Autorama [B/S], (2) new quarter panel design for 1960 [note the absence of chrome or stainless moldings on the lower rear fenders and fender skirts, compared with authentic Cadillac designs like the Eldorados and Sixty-Specials of 1959 and 1960 - it looks like that part of the body sill trim was "lost in the restoration"], (3) built at the height of the "Big Fin" era, this prototype [B/S] typifies the styling extremes of the times and includes a television [in the dash!!!], (4) with both the Cadillac and TV American cultural stars in their own rights, GM mated the two together [B/S. The hype (or is it just a bunch of lies) continues. I wonder if it ever REALLY found a new home and if "Marv" is still laughing all the way to the bank, having pulled off the "Cadillac scam of the century." And even later [May 2010]: Offered at auction by Mecum, in Monterey as lot T263; Mecum said: One of the many unique vehicles offered by Cinema Vehicle Services, this unusual [for sure] Cadillac convertible was born with a 1959 Series 62 [coupe] body. At some point in its life, the front and rear clips were changed to 1960 vintage. CVS [who is "CVS"] has documented that the car was restored in Florida in 2005 to its present very good [???] condition. With its classic and festive Red-on-White color scheme, chromed wire wheels [these were changed from regular 1959-60 Eldorado wheel covers circa 2007-07] and wide Whitewalls, this one-of-a-kind Caddy is a genuine head-turner, coming with both soft and fiberglass parade boots and a Fifties-Sixties vintage dash-mounted B&W television. Mecum described the car in these flattering terms: ... this spectacular motorcar has been beautifully restored [?] with no expense spared [?]. Nearly $100,000 spent on the restoration alone! [?]. This unique and special motorcar just might be one of the most important American classics [?] that you will ever have the opportunity to acquire. This exquisite motorcar comes with many unique features, including black and white TV. Recent activity: This hybrid "whatizzit" Cadillac appeared again for sale on Ebay; the vendor this time was Daniel Schmitt & Co. of St. Louis, MO, an Ebay "Power Seller" and a company that appears to enjoy a fine reputation for selling top-end classics and collectibles. The starting bid for both consecutive auction periods was set at $117,000 and there was a Buy-it-Now amount shown of $119,000. The first auction (May 2010), did not garner a single bid! I Emailed the company, asking if they knew the real history of the car they were selling; I got no reply. Again in June there was not a single bid. As I have said, and often repeat: caveat emptor. I suspect we have not heard the last of this car nor of the inventiveness of "Marv", who first put it on the market in 2005! BTW, this oddity is included also in the "Dream Cars" [or "nightmare cars"?] section of the Database for 1959.


Note how Eldorado-type stainless steel molding along the body sill stops abruptly, level with
the rear wheel skirt and does not extend up to to the trailing edge of the rear fender;
Eldorado turbine vane wheel discs and hard boot also are intended to accentuate the car's custom nature


Seat pattern is similar to the 1960 Series 62 design but does away with the seat back buttons
as well as the elaborate, embossed Cadillac "V" and crest between the rear seat backs
[ Photos: Internet, 2005 ]


These photos were taken in Scottsdale, AZ, in Jan. 2006, during the annual Barrett-Jackson classic car auction
bidders shied away from this "bizarre" car and the equally "bizarre" stories written about it; as this was a "no reserve" auction, and when bidding closed around $50K
(a far cry from the vendor's ONE MILLION DOLLARS goal!), the vendor himself put in a higher bid and was able to retrieve the car after paying seller and buyer commissions;
Meguiar's Mike Phillips commented: The TV was a later/custom addition to the car as mentioned over the speaker during the auction, that's about
all I know about it; one thing for sure however it looks cool and it would have been a really cool feature in 1959 to have a in-dash TV
[ Photos: © 2006 and courtesy Mike Phillips for Meguiar's ]


In this bird's eye view you can see the open door that encloses the TV set;
the seat pattern and interior trim are neither from 1959 nor 1960; there
is also no chrome radio grille in the rear seat back; vendor probably will argue
that this is "normal"; why install a radio in a car that has a TV in the dash !


[ Photos (above 2 rows): Imperial Palace, Las Vegas ]

[Unknown, USA] Here's a professional car (funeral coach?) converted to a kind of "hot rod". I'm not keen to add too many of these "rods" to the "Dream Cars" section of the Database, even if I have to admit they are just as unique, in their own way, as any pre-WW2 coachbuilt model.

[Unknown, USA] Here's an Eldorado "lookalike" that appears to be a conversion from a regular Series 62 convertible (look at the interior trim).

[Unknown, USA] Here's another converted professional car, possibly inspired by Superior's 1959 "Caravelle" observation coach.


Note the skeg on the lower rear quarters, possibly inspired by the 1959 Cadillac "Cyclone" show car


Amazing!

[Unknown, USA] Here's another "odd" custom coupe (almost) survivor) on the 1960 chassis

[Unknown, USA] Here are three more unidentified low-riders and rods on the 1960 Cadillac chassis. I am not keen on this kind of "art form" yet I admire greatly the work that obviously goes into them.

1960's

Seen in GM Styling archives, 9/94, lots of color renderings of special bodies, e.g. photos Nos. C5532/29/26, and station wagon photos Nos. (C4050/51/52/53).

1961

Fisher/Fleetwood (???) (USA) Mildly customized Series 62 De Ville convertible (changed to Coupe de BurgerVille for sales promotion of BurgerVille restaurants (a Northwest chain). Photos and cutting by Al Drake in Old Cars Weekly, 22.8.1991.

Fleetwood ??? (USA) "Bubble top" Series 75 limousine, similar to the 1959 Canadian Royal Tour car described above. Photo from GM Styling archives, 9/94

Fleetwood ??? (USA) styling models, built 1958, ELD, p.68

GM/Fleetwood ??? (USA) The rear ensemble is typical of the stock 1961 Cadillac models, but the front of the car has design similarities with the 1962 cars. The interior trim also is at variance with both the 1961 and 1962 Eldorado models. Although the body tag does not carry the usual "SO" indication (for "shop order" or "special order"), it was obviously ordered specially (some hidden interior parts are labeled "SO 50110"), possibly as an Auto Show display car. It was apparently not shown publicly until the 1962 Chicago show. The sill plates are formed of ribbed aluminum pieces and the car carries a light-colored belt molding similar to what may be seen on the 1961 Eldorado models, except that it wrap completely around the trunk area too. The car was in storage in a garage since 1973. Original factory photos of the car show it with a Le Mans script on the rear, RH side of the trunk lid; was it intended to revive the great Le Mans name that was first applied to 4 custom Cadillac roadsters in 1953? When Mr. Khan found the car, the exterior and interior are very clean but some repairs and finishing work were needed. Everything on the car (except the non-original wheel covers that were on it when found) is original, including the tires; the odometer shows 38,000 miles. There is anecdotal evidence that this car once belonged to Walter Hagen, the famous golfer; Hagen is known to have donated the car it to his church before he died; that is where the previous owner got it.it. Reversing lights are incorporated between the twin rear light nacelles. The car has a stock 1961 Eldorado Biarritz body tag with no special data plate on the firewall; it features open rear wheel arches although this styling idea was not on the books until the 1964 production Eldorado models. The car was built during the last week of November 1960 (as witnessed by the build code 11E on the data plate), making it technically a 1961 model, as evidenced also by the stock VIN. Oddly enough, it appears to not have been shown in 1961, until the 1962 models made their appearance in Chicago, at the 1962 Chicago (?) show. Other features include a center console and floor mounted shift level, double-thin white wall tires, (remote) RH outside rear-view mirror, chrome ribbed floor mats, 1962 style steering wheel, pneumatic (vacuum) door locks, Autronic-Eye and a fiberglas boot cover in the style of earlier, high-end Cadillac Eldorado convertible models. The new owners, Nadeem and Anna Khan of Orlando, Fla.. to whom we owe the bulk of the images shown here, bought the car off Craigs List in 2012 and restored the car, while respecting 90% of its originality. It is a spendid piece of work and workmanship and now carries almost perfect replicas of the original wheel covers, crafted by Nadeem himself.


Note Le Mans script on lower, RH side of trunk lid


Star of the Chicago Auto Show in 1962


[ Photos in the above 3 rows: © 2012 and courtesy of the owner, for the Cadillac & LaSalle Club ]


The original custom wheel covers were missing; the new owner has created from scratch these almost identical replica covers
[ Photos: CLC forum, courtesy of the owner ]


Custom bucket seats with console and stick shift


This rare period photo of Nadeem's car is from
the book by David Temple: Motorama, © 2015

GM/Fleetwood ??? (USA) Prototype of a proposed 4-door convertible with side trim off the year's Series 60 Special sedan.
George, Eric (USA) Eric is a keen Cadillac enthusiast and a regular visitor to the Database. He has submitted these neo-classical town car and town brougham designs, based on the Fleetwood Series 75 chassis for 1961. I find then particularly appealing. My favorite of favorites, of course, is still the 1930 Fleetwood town brougham, style #4264-B with French cane (small image below, right).


Eric dreamed up this formal limo/town car; note the 60 Special hash marks on the rear fender


[RH image shows canework applied to 1930 V-16 town brougham, a recreated Fleetwood style #4264B]

Hess & Eisenhardt (USA) custom, armor-plated Series 75 limousine for H.E. Abdel Karim Kassem, then Premier of Iraq; features include a specially modified windshield to accommodate the thick, bullet-proof glass. Photo McC p.343.

Lindburg Cadillac, St. Louis (USA) converted some "Series 62" 4-window sedans into formal sedans by adding metal to the roof and replacing the huge expanse of "greenhouse" glass with a much smaller window for the "Series 75" sedans and limousines. The latter were purchased from the factory....that was curious why the St. Louis dealer needed so many "75" rear window parts [see more, by CLC member Terry Wenger, in the Self Starter, May 2006, pp. 5-6].

Pininfarina (Italy) Cadillac Jacqueline coupe honoring America's first lady, Jacqueline Bouvier- Kennedy; this car is said to have been built on a 1959 or 1960 Eldorado Brougham chassis but I discovered by looking under car at the Geneva Motor Show in 1991 that this "automobile" was not at all "mobile"; it had neither engine nor transmission; it was merely a body, a PF styling exercise, mounted on a welded tubular frame. Was this the case for all PF models allegedly built on Cadillac chassis (???). Well, I know of two survivors : one built on a 1957 Cadillac chassis and drive train (offered for sale in Hemmings' classifieds in December, 1970) and Jacqueline that now is mounted on the chassis of pre-owned 1960 Cadillac Eldorado Biarritz with a regular 1959 Cadillac engine (not the Eldorado "Q" type); it was last heard of in Hollywood, CA (December, 2996), where it is offered for sale for $400,000 by the 2nd or 3rd owner. As I suffered an "epistolary aggression", in December 2001, by a Frenchman claiming to be closely associated with Jacqueline who asserted that I know nothing about the car's history, I decided to create a new page, just for her. Check it out!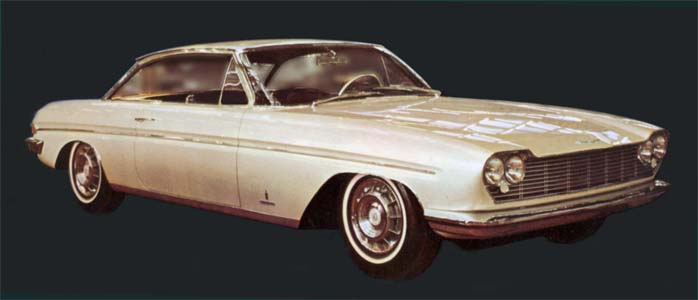 At the Turin show in 1961, this styling model did not yet carry the Jacqueline nameplate


In the gardens of the Palazzo Stupenigi in Turin, Italy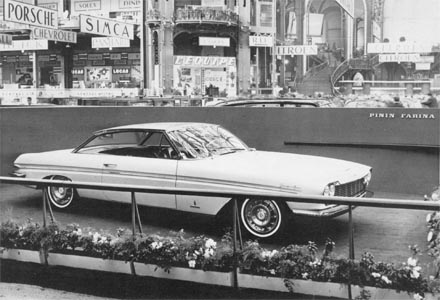 The Pininfarina stand at the Paris Salon, October 1961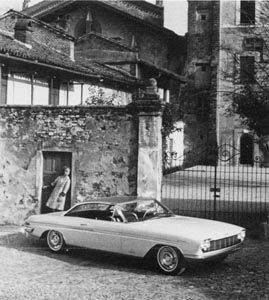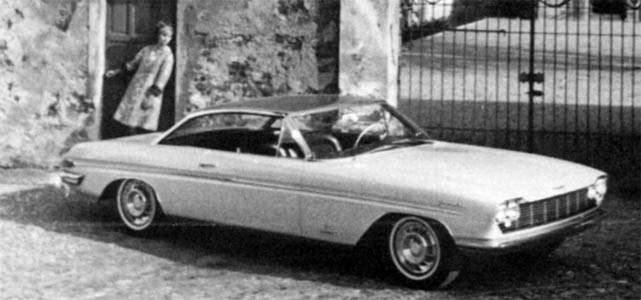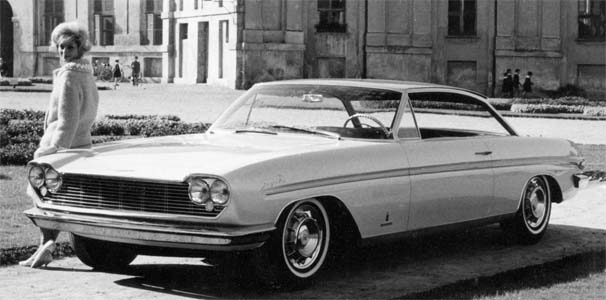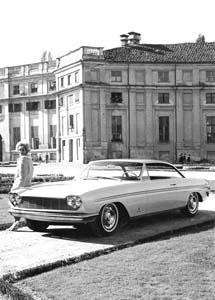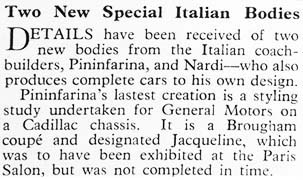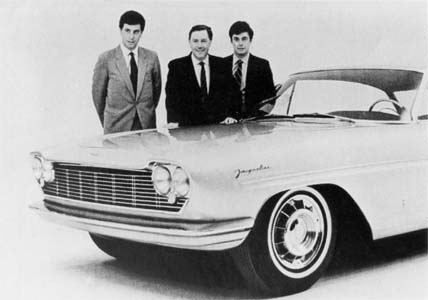 Right: Sergio Pininfarina and his sons pose with Jacqueline before she was finally sold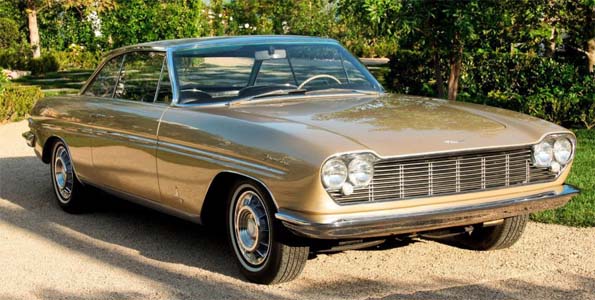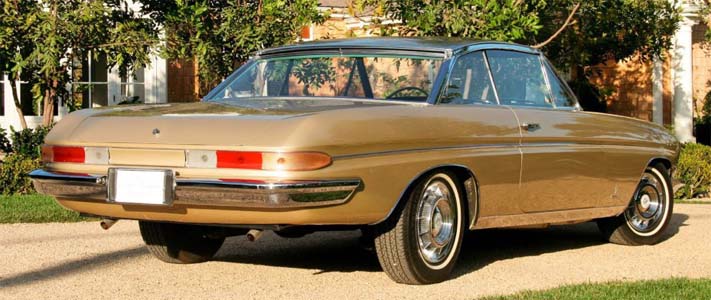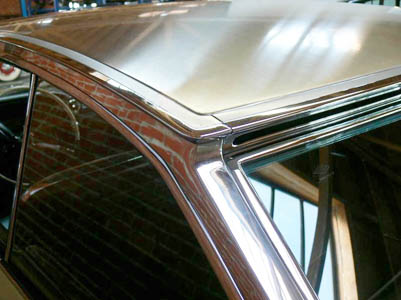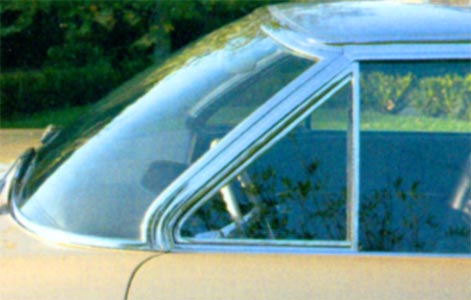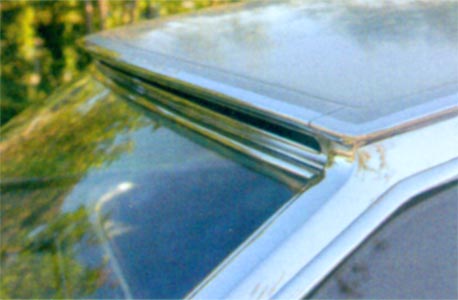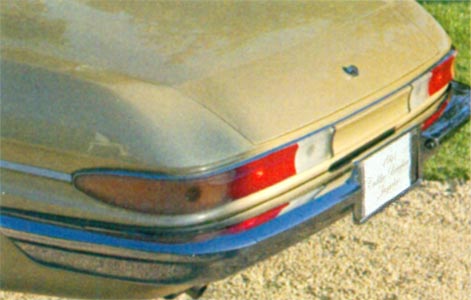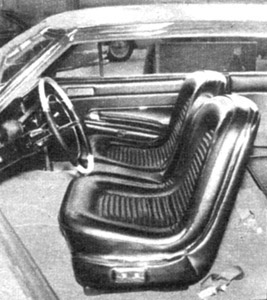 Before receiving a pre-owned 1959 Cadillac motor
the "shell" had a flat floor and a 1959 steering wheel and horn button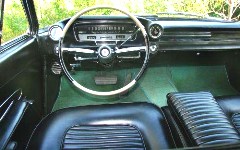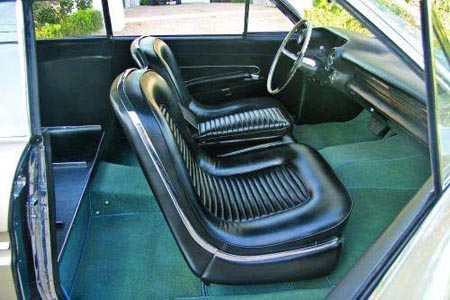 After a pre-owned 1959 Cadillac motor was installed (with considerable difficulty) the flat floor got a "hump"
(for the transmission tunnel), a functional instrument board and a 1960 steering wheel and horn button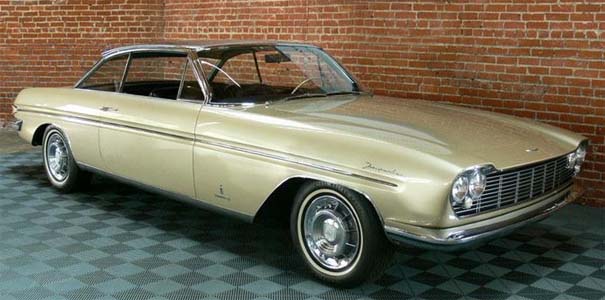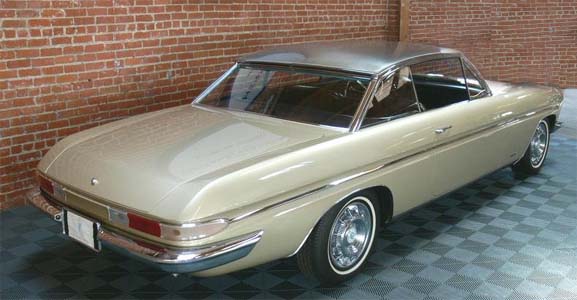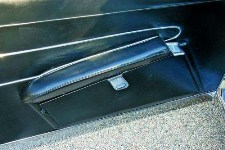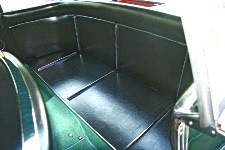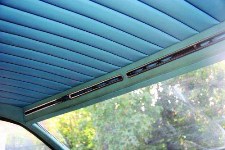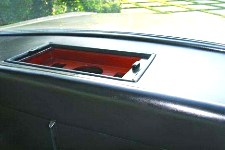 Jacqueline in company with a regular 1961 Cadillac coupe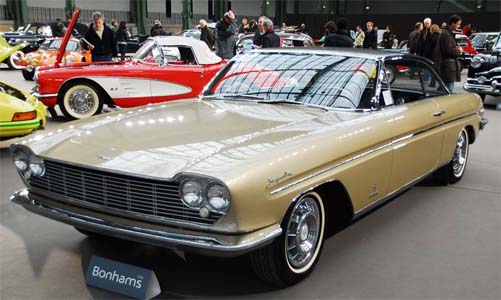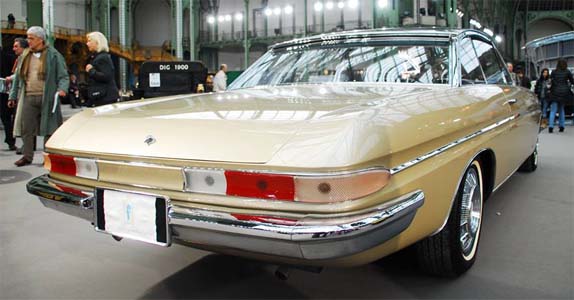 Jacqueline on display at the Bonham's auction in Paris
[Unidentified (illegible signature), USA] Interesting "prototype", 4-door, finless 60 Special sedan, by "Casey" (?)

[Unidentified (illegible signature), USA] Interesting "prototype", 4-door, custom "woody" wagon, by "Casey" (?)

[Unidentified (illegible signature), USA] Interesting "prototype", 4-door, Cadillac PF Jacqueline, by "Casey" (?). This os what a 1961 Cadillac Eldorado Brougham SHOULD HAVE looked like

[Unknown, Switzerland] a mildly converted 1961 Series 62 convertible with customized "Western" interior seen around the specialty car shows in the early Eighties [photo - AR, 3.5.1984]
[Unknown, USA] custom-built high-top Cadillac limousine, fully bullet-resistant, including 1¼" thick one-way mirror glass [see-out only]. Interior is trimmed in gold brocaded damask. The windshield treatment is different from the H&E car described above. This car was offered for sale in the early seventies for $9700 by Hufstader Cadillac Inc., 5900 Baum Blvd., Pittsburgh, PA [ad photo]. It was described as "ex-sheikh". Another source has this info: The Cadillac 'Shaikh' [or more commonly "sheikh"] was a $40,000 custom-built vehicle for His Highness Shaikh Abdullah Moobarak [read 'Mubarak'] Al-Sabah, the late ruler of the oil-rich kingdom [actually an emirate] of Kuwait [he was the 11th amir or emir (head of state) and ruled the ruled the kingdom (emirate) from 1950-1965]. The car was armor-plated, The intended owner never used the car as he died before it was completed.

[Unknown, USA] mildly customized series 60 Special sedan with leather covered roof (seen in Collectible Automobile, 6/1996)

[Unknown, USA] custom-built, Series 60 Special with Derham-styled rear window.

[Unknown, USA] custom-built, sliding-top Cadillac coupe, photographed at a car meet in the early eighties [photo].

[Unknown, USA] custom Series 75 limousine seen at Scottsdale, AZ, January 1999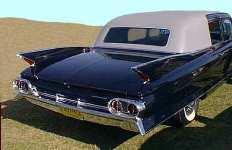 [Photos: © 1999, Yann Saunders]
[Unknown, USA] custom 4x4 conversion; 350ci Can Am motor punched out to 383 ci, Rancho suspension, simulated python-skin interior, built on 1-ton Chevy Blazer chassis. This car was sold at auction for $4,100 by the Kruse organization [lot #4043] at Kalispell, MT, in July 2000.

[no photo available]

[Unknown, USA] custom pickup photographed at car meet
[Unknown, USA] custom "El Camino" type pickup truck ... being passed of as an authentic flower car conversion by Hess & Eisenhardt. I don't think so!

[Unknown, USA] Here's another one that looks to have been converted from a professional car; you can tell from the tail-lights; these were used only on professional cars owing to the width of the rear door.
[Unknown] The owner of this finless 1961 Fleetwood Sixty Special heard that modifications like this were carried out by Italy's Pininfarina and refers to the car's resemblance with Jacqueline, the well-known PF styling exercise. In my opinion, however, this is an amateur conversion; it does show what pretty lines can be achieved on these bulky Cadillacs simply be removing the fins. The owner subsequently learned more about the car; it was brought to the UK from Germany were it had been used between 1965 and '66 after having been purchased in Italy. So it is very probable that the Italians were responsible for removing the fins.


From England come these photos of a finless 1961 Cadillac Series Sixty Special sedan
[ Photo: courtesy "Cliff" ]


Souped-up engine? No, the speedo is in kph instead of mph

[Unknown, USA] This is obviously one "mean machine"!

[Unknown] This "camper" is assumed to have been built on the commercial chassis for 1961.

[Unknown] Here's another "camper" that was mounted on a 1960 Cadillac chassis


[ Photos: CLC member forum ]

[Unknown, USA] Another camper conversion on a 1960 Cadillac chassis." Many years ago, Jim Garner used to travel through the Atlanta area and there was a business there that specialized in converting Cadillacs to campers. They had a lot of hearses on the lot waiting to be converted and several completed units to choose from. It looked as if they had a lively business. Jim does not recall the name of the place or the exact location. He thinks it was on the north side.

[photo?]

[Unknown] Here's an odd-looking 1961 2-door with what appears to be an open front, like a town car, or possibly a removable hard-top (see sales brochure photos below)

[Unknown] Here's a very interesting conversion on the 1961 Coupe de Ville ... or is it just a "photoshopped" artist's dream?

[Unknown] What an amazing tangerine color!