1958
D'Agostino, John (USA) custom 1958 Eldorado Brougham, Emerald Mist. John D'Agostino's Kustom Kars have earned him a fine reputation over the past 40 years and his creations have won many prizes at over 750 shows. Many are on display in the Petersen Automobile Museum in LA. This car was exhibited at the Seattle Roadster Show in 2003. An advertising flyer tells us that 400 of these 1958 Broughams were built (in fact, only 304) and that they were built in Italy (the writer may have been referring to the models of 1959 and 1960, assembled there by Pininfarina). The custom body work was commissioned from Oz's Kustoms of Oroville, CA; it incorporates a modified front end, resembling the regular Cadillac front clip for 1958. Doors are electrically activated by remote control. Gene Winfield applied the Mint Pearl and Platinum Pearl paint job blended with Candy Emerald and highlighted in Ice Pearl. Bob Devine of Martinez, CA did the interior which is a combination of 1-inch pleats and 4" biscuits; the white pearl vinyl is offset with sea foam green velvet imported from Egypt and there is an emerald Persian carpet.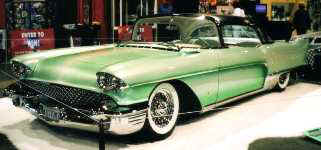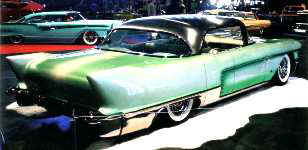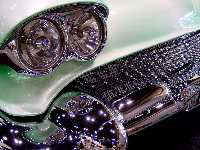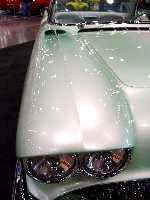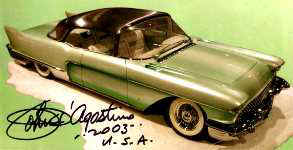 All photos courtesy John d'Agostino, through Sweden's greatest Brougham fan, Jerry Jansson
At lower left, the program of the 2003 Seattle Roadster Show, autographed by John
Derham (USA) This 1958 Cadillac Series 75 Sedan was ordered by the original buyer to be delivered to the Derham Coach Company (of Packard & Duesenberg fame) for modification. It was then used by its wealthy owners to convey the family around. It had a special low ratio rear end gear set and was in service until 1992! The second owner used it from 1994 to 2000 for antique limousine service.

Distinct Images, Custom auto builders of Canada (Canada) were building this customized 1958 Eldorado Brougham "invalid car" in 2008-09. Learn more about this company and its creations here. The project is called, simply, the 1958 Cadillac Custom. The customer requested that it be a one of a kind vehicle. That, it certainly will be. In my opinion it is unfortunate that the client chose a RARE Cadillac Eldorado Brougham as one of the base cars for the project. The vehicle is to be stretched like a limo, the roof removed, custom air ride suspension installed with six wheels, wheelchair accessible. The body will be married to the chassis and drive-train of a 2005 Cadillac De Ville wuth front wheel drive, a Northstar engine & trans; it will be fitted with custom bumpers, speedster "bumps" behind the rear seats and have a custom House-of-Color paint finish. The interior will be totally custom, mixing the old dash with today's new digital electronics, a custom high powered stereo system and more. According to the customizer's write-up, the client lives in France in an area "where the weather is very hot and it only rains one day a year at the most." I'd like the address, please ! I'd go back there in a flash ... but, I can tell you from having lived in France that there is NOWHERE in that country that offers such exceptional weather conditions !


The magnificent (and rare!) donor car


[ Above two rows: "transformation in progress" - 2008 ]


Anticipated result

Fleetwood (USA) 1956 prototype of 1958 model, front view of grille textured like 1956 models [see next entry photos]

Fleetwood (USA) 1956 prototype of 1958 Eldorado Biarritz


Unrecognizable in the small, low-resolution photo [left] are (from L-R) Bill Mitchell, Dave Holls and Ed Glowacke
[ Photos: Dave Holls collection - Self Starter annual, 1998 ]

Fisher/Fleetwood (USA) [???] Cadillac Series 62 convertible, custom designed for Cadillac Design Studio's Julio Andrade (one of the "fathers of the fin"); it featured inner and outer trim fins on the upper quarter of the regular 1958 tail fins; similar fins were installed on the rear quarter panels, extending into the rear bumper; there were also additional rear bumper guards as well as a custom "V" and script on the trunk lid. I have no indication if any modifications were carried out on the interior but I suspect the car may have had leather trim and appointments similar to the Eldorado.


[ Photo: courtesy the Self Starter ]

Fisher/Fleetwood (USA) [???] Cadillac Eldorado Biarritz, special automatic convertible. Like 1950 Le Sabre, the top and all windows closed automatically if a rain drop fell on a special sensor on the rear deck. Five production units are said to have been built; I've seen photos of two of them, apart from the factory prototype; one of these was offered for sale by Kruse in August 1996. Photo McC p.328. These cars were drawn from the regular Eldorado convertible line (815 built in 1958). Two members of the Cadillac-LaSalle Club owned one of these rare cars: Don S. Pike and John W. Vandegrift [see 1997 membership roster]. According to Cadillac enthusiast Stephen Nadon, a Mr. Rick Raciborski of Chicago owns one too [he may have acquired it from the previous owners named here]; Rick advertised the car for sale [for $270K] in the Self Starter classifieds section in Aug., 2008. In an article entitled The 'Thinking' Cadillac, Cars & Parts, 3/98, the writer, Bob Stevens, attributes one of the cars to Thomas W. Lentz of Lima, OH. Enthusiast Dick Heller said that this car was featured on TV's "Speed Channel". I have it also from Russian enthusiast, Andy Chrisanfov of Moscow's Auto Review newspaper that he saw this car on display (in 2003) at Classic Corvettes and Collectibles, 304 S.Pinelas Ave., Tarpon Springs, FL. [the car was featured in the Al Wiseman collection at that location]. As you can see, in the photos of the red car, below, it features a custom Goddess hood ornament, as used on the 1959 Eldorado Brougham. Also on display were one of the two 1938 V-16 White House security cars as well as a 1958 Eldorado Brougham. Late Extra [Jan., 2008]: The latter collection was scattered at an RM auction in November, 2007. The red "rain-drop" car fetched a whopping $330,000 ! Thanks to Mike Daly, President of the Central Virginia CLC, for this update. Latest [Feb., 2008]: Cadillac enthusiast Chip Lamb has written an excellent paper on the "rain cars" for Sports Car Market issue of March, 2008.


Photo, left, shows flush panel over top boot. Right: model demonstrates automatic top operation:
(1) she holds a small pipette filled with water, (2) she places a drop of water on the sensor, on the
rear deck, (3) the top boot cover slides back to reveal the folded top, (4) and (5) side panels flip
open, (6) top arcs up and comes to rest on the windshield header, (7) top locks on to the
header bar, (8) front windows close automatically, (9) rear windows close automatically.


There are two known survivors; above, the interior of one of them, with bucket seats front and rear, as
well as padded center console; the other car, below, has fins like those on the 1959 Cadillac ...only taller!
it was a special job for Cadillac head of styling, Harley J. Earl


This is one of the two known survivors (photo © and courtesy Lance Hirsch, TX); it was offered for sale in the Self Starter magazine of the CLC in August, 2008, for $270,000;
the vendor, Rick Raciborski of Chicago, IL, has owned it for the last 18 years; he confirmed it was one of five built and one of two known survivors (the other is shown, below);
Rick's car currently (2008) has just over 8000 miles and has been garage-kept all its life; the car has power bucket seats (the first Caddy to have them), a center console
with an ice bucket, Eldorado Brougham turbine wheels, air-conditioning, three carb set-up, gold grille and trim as well as power "everything"

A detailed account of Car #5 (the red one, below) was sent to me by Bob Bacon, well-known for his active involvement in the design and manufacture of the rare, 1965-66 Cadillac "Phaeton," 4-door convertible models. His condensed story has three sources of origin. The first is Kevin Wiseman, Al Wiseman's son who is actively involved in his dad's museum / sales showroom / restoration facility in Tarpon Springs, FL; Kevin is very knowledgeable in these areas; he was generous with his time and information about the car, as well as a gracious host during his interview with Bob. The second source is the text included in the elaborate full-color catalog published by RM Auctions for the sale of Al Wiseman's private collection; most of that information came from the former owner and restorer, through Al Wiseman. The third source is the March, 1998 issue of Cars & Parts magazine that contains a 5-page, fully illustrated feature article on this car [I too have a copy of that magazine]; that article was written shortly after the car was restored and before Al Wiseman bought it.

Bob said that from a purely objective viewpoint, everything presented was at least plausible. The likelihood of someone other than GM going to the great expense of extensively modifying an already super expensive test or concept car seems remote, but not impossible. Most car people know that a concept car is worth more if it is left original. Harley Earl was as flamboyant as his car, and high-level GM executives were encouraged to drive the concept cars [this statement reminds my of my visit with Chuck Jordan, back in 1978, when we tooled around in one of two PF-built Pontiac TransAm station wagons - neat!] As to the "one-off" hood ornament, Bob finds it bears an uncanny resemblance to the stock 1948-49 goddess. He wondered also if "Mr. GM Stylist" Harley Earl would ever have ordered the Cadillac badging removed from such a car.

Bob concluded that if this is truly a concept car designed and driven by Harley Earl, incorporating design features that were later put into production [e.g. the tall tail fins and the quad "bullet" tail lights], that GM subsequently ordered destroyed, then it has got to be a triple-rare and significant piece of automotive history that deserves recognition [I suspect that the price it brought at auction ($330,000!) is evidence enough that their is adequate proof of its provenance and significance]. Bob's commentary ended on these words: If it's NOT what it's made out to be, then it's just a nice piece of work and we've all been tricked! That final comment immediately brought to mind another car that generated considerable hype in the 70s: the 1959 Eldorado Seville half-top, landau that was reportedly commissioned directly from GM's Fisher Body Division by ex-King Farouk of Egypt from his exile in Rome. It turned out that "concept vehicle" was the brain child of an amateur customizer from Baltimore, MD !

Here's Bob's account of the "Rain Drop Car":

Preface:

I first saw the Rain Drop Car at Al Wiseman's "Corvettes & Collectibles" in Tarpon Springs, FL, in 2005. It was prominently displayed in his showroom. Mr. Wiseman sold his private collection at his Nov. 2007 RM auction, including the Rain Drop Car. I do not know who the new opener is.

The Story:

The Rain Drop Car is one of five 1958 Cadillac Eldorado convertibles pulled off the assembly line and specially modified under the direction of Harley Earl [who retired at year's end]. The modifications were done in the GM tech center [that I was fortunate to visit twice, in 1978 and 1994] and included the installation of the rain activated automatic convertible top, front bucket seats, a padded center console and narrowed rear seating for two. These cars were referred to as the "rain cars"? or the "thinking Cadillacs."

Four of these cars toured the show circuit on a limited basis. GM did not stage a Motorama in 1958. These car were subsequently sold, and have remained in the public domain since then.

The fifth car was designated a "working design study" by Harley Earl, and was further modified to his specifications. The result of these further modifications produced what has become known as the "Rain Drop Car".

Of the many further modifications, the most obvious is the removal of the stock tail lights and addition of the exaggerated 1959 style fins with the quad bullet-style tail lights. Other less obvious modifications include: no chrome trim on the fenders and no stainless quarter trim. In addition, the headlight bezels and the lower half of the bumpers are painted body color. reports indicate that Harley Earl was tiring of excessive exterior chrome on production cars, A one-off flying goddess hood ornament was added. The center console was removed and the entire dash was chrome-plated [just think of the reflection of street lamps in that chrome when driving the car at night!]. Both front seats were equipped with 6-way power adjustment. Other special features included a concealed ice bucket and first ever power door locks.

None of the other four cars received these modifications.

When it was completed, Harley Earl took possession of the car and on several occasions was seen driving it near his home in Florida.

Unlike many concept or show cars of the period, it is not believed this car was ever toured [it's a fact that there are no known factory photos nor any promotional material relating to this prototype], but rather acted as a "working design study".

Once GM retired the car from use it was reportedly cut in half and the chassis and running gear were scrapped. The body parts were sent to a local Detroit wrecking yard [Warhoops?]. The pieces were ordered by GM to be totally destroyed. This was common practice intended to keep design secrets out of the hands of the competition.

The destruction did not take place, however, and the parts were hidden away for years. In the early 1990s an Ohio Cadillac dealer heard off their existence and negotiated their purchase. During the negotiations one of the parties kept referring to it as the "Rain Drop Car" and the name stuck.

The car was purchase by Thomas W. Lentz of Lima, Ohio. During the research and restoration, done by Will Wedge of Lima, and Gary Coon of Cridersville, Ohio, there were many numbers and ID tags on the fiberglass parts that seemed to authenticate the source of the modifications.

The restored car has two deviations from the original. The Brougham wheels were replaced with Sabre Spokes, and the air ride suspension was not re-installed.


The first 3 photos were taken when the car was still in Al Wiseman's collection in Florida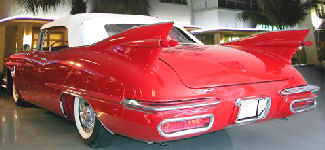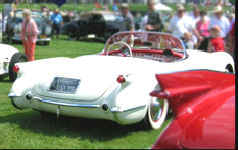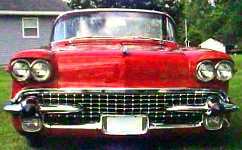 Right: tail-fin of Mr. Earl's very special 1958 "rain-car", photographed at Meadowbrook MI, in 2005,
in company with "Corvette #1"; the "Rain Drop Car" was sold at auction in 2007 for a reported $330.000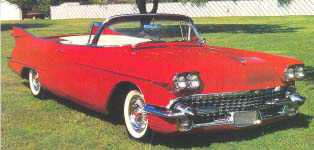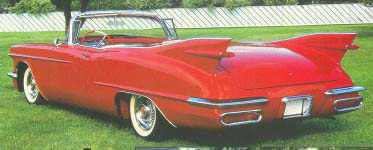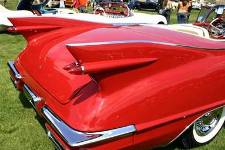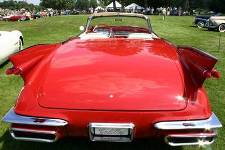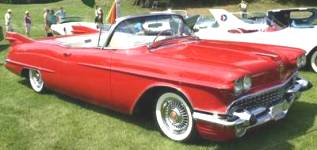 Initially, the second survivor was somewhat of a mystery to me; when I first saw it I thought some nutty customizer had converted a perfectly good (and extremely rare) 1958 "rain car"
into a pseudo 1959 model. Later, however, in the article by Bob Stevens, in Cars & Parts, 3/98, I learned that this is how the car looked originally (except it was painted silver
and the original 1957-58 Eldorado Brougham turbine wheels were replaced with the sabre-spoke type). This car was used by (and built especially for) Harley J. Earl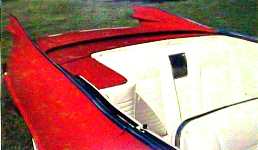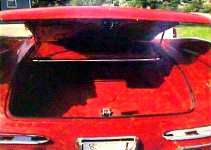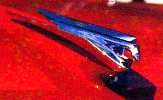 The tail-fins and dual "bullet" tail lights, left, look like those of regular Cadillac models of the following year; in fact
they are pure custom; the "bullets" do not have the chrome "crown" molding of the '59 cars; the fins also are
much taller; the photo at far right is a close-up of the custom built, fifties-styled Cadillac "Goddess" hood mascot
which resembles that used on the bespoke Eldorado Brougham models of 1959
[ All photos: © and courtesy of Bob Stevens, owner and Robert Bacon ]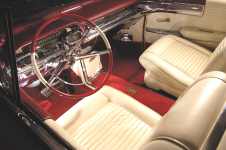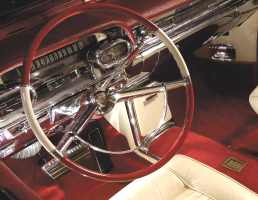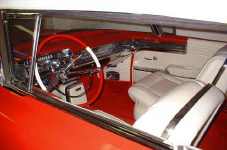 Photos left and right reveal the correct interior, with four individual bucket seats in piped white leather; this car does not appear to have the same center console as the other survivor; this is the only one
of the five (?) built that has 6-way, power-operated bucket seats and electric door locks; in addition it has a fifties-styled Cadillac "Goddess" in lieu of the 1958 "V" and crest; it was Earl's own car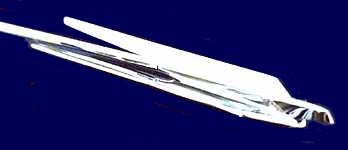 1959 Eldorado Brougham hood mascot or "Goddess"

UNE ELDORADO BIARRITZ DE 1958 UN PEU PARTICULIERE
Malgré l'importante récession qui frappe l'industrie automobile aux Etats-Unis en 1958, la General Motors fête néanmoins son cinquantenaire et la Division Cadillac la fabrication de sa 2'000'000ème voiture, une berline type "62". Il aura fallu pas moins de 47 ans pour atteindre le premier million de véhicules, et 8 ans seulement pour le second !

Parmi les 125,501 Cadillac sorties d'usine en 1958 (contre 153,236 l'année précédente) on peut admirer ce suberbe cabriolet spécial sur base du modèle Eldorado Biarritz de l'année. Selon certaines sources, cinq exemplaires ont été fabriquées, bien que les statistiques de production de la firme ne font état que d'un seule modèle spécial de ce type. Il est identifié par son numéro de "style", le 6267SSX, et la mention "Special Eldorado Coupe". Toutefois, les troisième et quatrième chiffres ("67") en font sans aucun doute un cabriolet.

Il animera diverses expositions de voitures tout au long de l'année '58 et notamment le salon de New York, en janvier 1958.

La photo de presse publiée par Cadillac à l'époque comporte un texte publicitaire d'accompagnement couché en ces termes :

Supprimez le cache-capote habituel des cabriolets Cadillac par un capot métallique affleurant la carrosserie environnante et vous obtiendrez alors les lignes parfaitement lisses et continues de ce merveilleux cabriolet Eldorado Biarritz de 1958. Ce capot entièrement réalisé en métal se compose de trois parties [une partie centrale coulissante et deux parties latérales basculantes]. Il ne s'agit là que d'une seule parmi les nombreuses caractéristiques inédites de cette superbe automobile.

Un interrupteur [au tableau de bord] permet de commander manuellement le dépliage et le repliage de la capote. Mais attention, il y a mieux encore: le dépliage est également commandé de façon entièrement automatique, sans intervention manuelle, dès l'instant où une seule goutte de pluie vient mouiller le capteur que l'on aperçoit au centre de la zone située entre le cache-capote et le couvercle de la malle, et que domine notre joli mannequin.

Une seconde photo, plus technique celle-là, est accompagnée d'un texte qui donne toutes explications quant au fonctionnement automatique de la capote.

La photo a été réalisée en deux temps: une première exposition sous un éclairage de studio normal, puis une seconde, en surimpression de la première, avec temps de pose important qui a permis de décomposer, gràce à de minuscules faisceaux lumineux, les différentes phases d'ouverture du capot, de dépliage de la capote et de fermeture des glaces latérales de la voiture. Cette technique s'appelle le "light-line photography" ou photographie par trait-lumineux.

Le texte est le suivant :

Nous avons procédé de la façon suivante: tout d'abord nous avons pris une photo de la Cadillac avec sa capote repliée, les glaces latérales ouvertes, le capot métallique en position fermée et le joli mannequin à l'arrière plan, comme on peut l'admirer ici [...oh oui, oh oui, oh oui!].

Puis on a fixé de minuscules lampes-stylo aux endroits suivants: 1° à la partie frontale de l'élément central du capot métallique, 2° sur le bord extérieur des parties latérales de ce capot, 3° au coin extérieur gauche de la capote elle-même, 4° au coin supérieur droit de la glace de le portière de gauche, et enfin 5° au coin supérieur gauche de la glace de custode à l'AR gauche.

On a plongé ensuite le studio dans l'obscurité, ne laissant comme seule source de lumière les minuscules faisceaux des six petites lampes-stylo. Dans la pénombre, l'assistant du photographe a activé le mécanisme automatique en laissant tomber, au moyen d'une pipette [1] tel que celle que tient dans sa main droite notre joli mannequin une goutte d'eau sur le capteur [2] de façon à simuler les conditions qui pourraient se produire lorsqu'on abandonne sa voiture, capote repliée, et qu'il se mette soudain à pleuvoir averse.

Au même instant le photographe a déclenché l'ouverture du diaphragme de son appareil en mode «pose» et l'a maintenu ainsi en position ouverte jusqu'à ce que s'acheve le cycle de fermeture de la capote et des glaces.

Ce sont alors six moteurs électriques qui sont entrés en action. Grâce aux faisceaux lumineux émis par les lampes-stylo on a pu saisir sur la pellicule [en surimpression de la première photo] le mouvement parfaitement décomposé des diverses parties mobiles de l'ensemble, à savoir: la partie centrale du capot métallique coulisse et se rétracte dans la malle (faisceau n° [3]), les deux parties latérales du capot métallique s'ouvrent en basculant en arrière (faisceaux nos [4] et [5]), la capote se déplie (faisceau n° [6]), elle se vérouille automatiquement au niveau du parebrise (au point n° [7]), la glace de la portière de gauche remonte (Faisceau n° [8]) et enfin la glace de custode en demi-lune se referme elle aussi en décrivant un arc de cercle (Faisceau n° [9]).

On retiendra de cette auto qu'elle reprend des idées déja esquissés en 1952, lors de la présentation de la toute première Cadillac "Eldorado", un "show-car" exposé à l'occasion du Salon Motorama de 1952 [exposition annuelle itinérante organisé par la General Motors].

On lui remarquera aussi les quatre sièges baquet, à la Cadillac Brougham, recouverts de cuir poli à la main, ainsi que les enjoliveurs de roues dits à turbine, imitant à la perfection les roues en alliage spécial de la Brougham, enjoliveurs repris et utilisés en 1959 et 1960 sur la berline Sixty Special, le coupé Eldorado Seville et le cabriolet Eldorado Biarritz.
Fleetwood (USA) Special Eldorado coupe, style 6267SSX. Has anyone ever seen a photo of this car???

Pininfarina (Italy) [Added to 1957 "Dream Cars" page in April, 2007 - is featured also in 1958 and 1959] Skylight coupe and convertible. These stylish cars were shown first at the Geneva salon, Switzerland, in March, 1958 (the coupe version) and at the Paris salon, in October 1958 (the convertible). Pininfarina asserted to me, in 1976, that the Skylight coupe and convertible models had been mounted on Cadillac chassis, standing at 130 inches. Since the wheel base of the 1958 Sixty-Special chassis is 133 inches, the chassis could NOT be from a 1958 Cadillac "60-S". Regular 1957 and 1958 Cadillac models used a chassis with 129.5" wb (close enough to PF's stated WB). The chassis of the 1959 Sixty Special and the restyled Eldorado Brougham both have a wheel base of 130 inches; but then the car could not have been shown in Geneva in March 1958, because the '59 chassis were not available until the fall of 1958. Initially, I had assumed in error that the coupe version had made its debut at the Paris show in October, 1958; in fact it was at Geneva. Late Extra (6/2005): Michael W. Schultz of Houston TX sent me a startling ad from the December 1970 edition of Hemmings Motor News (p.1324). Offered for sale for $5,000.00, in a ¼-page ad, is what appears to be the light-colored coupe (shown below) with the hood scoop. The text reads: Unique Cadillac - 1957 motor, chassis, 1959 [1958?] custom body by Pininfarina, Torino, Italy. Perfect condition. Can be inspected at Vicmar Garage, 8 E. 83rd Street, New York, NY 10008. Mileage over 50,000 - Asking $5,000.00. The text was "signed" H.v. T. Schwier, 342 Madison Avenue, New York, NY 10017. The phone number 697-4639 was listed. When I corresponded with Fredy Valentini of PF's PR department in 1976 (i.e. some six years AFTER publication of that Hemmings ad), he did not hint that the Skylight had survived, even less that it had been sold. If the ad is true, I wonder where that car is now? Did it find a buyer? Is it still around? A Google search in June, 2005 revealed that there is still a Vicmar Garage Corp. operating a parking garage at 8 E. 83rd Street, New York. The telephone number listed is 212-650.0675 ...if anyone is interested! Later still (4/2007): Australian enthusiast, Ron Wilson kindly went through his extensive auto history files and sent me some pertinent information from period magazines in his possession that put a definite time-line on the story of these two PF customs. Ron was able to confirm that the coupe was exhibited first at Geneva, in March 1958. He included a photo taken at that show and published in The Autocar for the week ending March 21, 1958. The caption reads: A sleek Cadillac by the same master [the previous caption had referred to a PF-designed Alfa Romeo]. The article describes the car thus: A new Farina work is a sporting saloon on a Cadillac chassis, commissioned by G.M. [???]. Externally this is sleek considering its vast dimensions, and its functional and delicate grille treatment is an object lesson for transatlantic stylists. It has a more capacious living room – trimmed in pale blue leather – than the Buick he showed at Paris and Turin, but there is evidence of compromise. Thus the floor level is high relative to the waistline [the belt], and the front seat backrest has had to be curtailed [kept low] to maintain this line. The steering-wheel looks oddly high in relation to the lower screen rail [what is the "lower screen rail"?], but cannot be lowered without jeopardizing clearance above the seat cushion. In line with other current Farina creations, there are very deep front and rear windows and side windows of curved glass. I have my doubts about G.M.'s "commissioning" these customs from PF, even despite the special brochure edited by Cadillac, in collaboration with Pininfarina, in 1999, on the occasion of the Concorso Italiano staged in conjunction with the annual Pebble Beach event in California. PF said that both these Pininfarina designed coupes featured a taut line that created an impression of slenderness in spite of its [the Cadillac's] large frame [chassis?]. The 1959 version [suggesting there had been an earlier - 1958? - version] presented some changes such as a hood scoop and an altered waist line. While the added air-scoop is visible in the later photos, there are, in my opinion, no noticeable changes at the belt line. Ron supplied also a photo of the convertible version, taken at the Paris Salon in October, 1958. That photo was published in The Autocar for the week ending October 10, 1958; that is the week preceding GM's release to dealers of the new, 1959 Cadillac models (an early released 1959 Fleetwood Series 60 Special was also shown at that Paris show). Ron remarked that the instrument panel of the PF custom job appeared to resemble more closely that of a 1958 Cadillac than a 1959 model; indeed, an enlargement of the Autocar bird's-eye-view confirms Ron's opinion. The article goes on to describe the car as a cabriolet version of the Cadillac coupe exhibited at Geneva last March – another example of [Pinin Farina's] work as consultant to the styling department of General Motors [???]. The tail fins are thin and mostly horizontal; the front grille is a clean simple design, also with a horizontal motif and the four head lamps blend nearly [neatly?] with the styling. Ron theorizes that the same chassis [one from 1957] was used for all "three" cars: first, the dark-colored coupe with white roof [Geneva show, March 1958], the convertible [Paris Show, October 1958] and the light-colored coupe with the new hood scoop [1959?]. The latter is the car that was offered for sale in Hemmings, in 1970. For want of a better explanation, I will go along with Ron's theory. What we need now is to find the light-colored coupe with the hood scoop ...and put it under the microscope!



This photos show the B&W Skylight coupe on display at the Geneva salon in March 1958;
[ B&W photo: © The Autocar, week ending 21 March 1958, courtesy Ron Wilson ]

Designer's frawing of rear ensemble on 1958 PF coupe and convertible
(image: © 1958 The Autocar, week ending Nov. 14, 1958, courtesy Ron Wilson, Australia)


The PF Skylight convertible on show during the Paris Salon, October 1958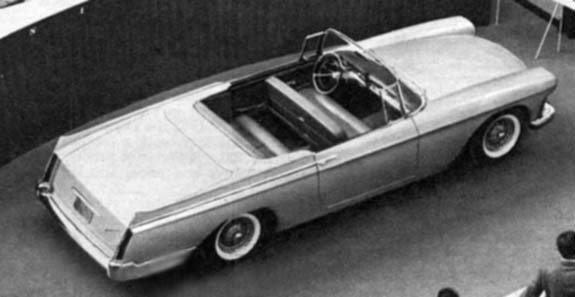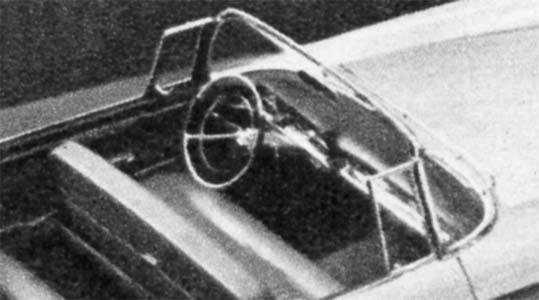 Larger photos (above): © The Autocar, week ending Oct. 10, 1958, courtesy Ron Wilson, Australia)


Image from Pinin Farina ad in Switzerland's Automobile Revue annual, 1958-59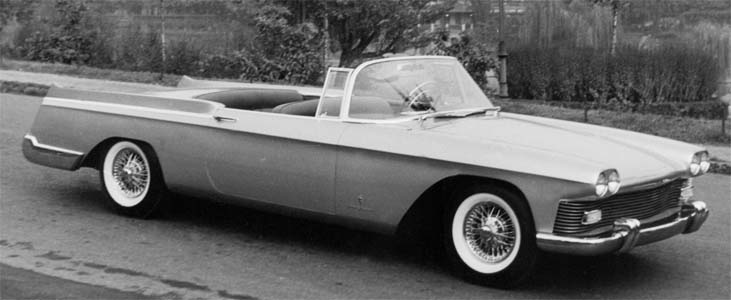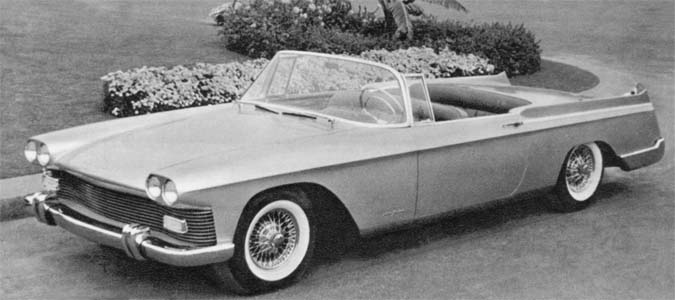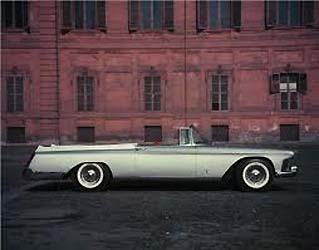 This color image was snapped in front of the Palazzo Stupenigi in Turin, Italy

This PF convertible, shown at the Paris salon in October 1958, is in my opinion a modified version of the foregoing
B&W hardtop coupe; PF confirmed to me in 1976 that the convertible on show in Paris was painted metallic silver-gray
and had bright red leather upholstery; the earlier B&W hard-top coupe was trimmed in pale blue leather
(color photos: © 1958, Pinin Farina, courtesy Revue Automobile, 1958-59)


[Unknown, USA] Cadillac low rider

[Unknown, USA?] Camper conversions on ambulasnce or funeral car chassis (the upper car was offered for sale on eBay in May, 2006)


Dig those rare and slightly anachronistic bucket seats
[ Photos: Internet, 5/2006 ]




[Unknown, USA] Series 62 converible with custom top-boot, Continental kit and "pixellated" pin-up on the tire cover

[Unknown, USA] This awful, customized interior was installed in an otherwise stately 1958 Fleetwood "75" limousine that was offered for sale on e-Bay in 2001. Yuk!

[Unknown, USA] This pick up on the 1958 Cadillac chassis is aptly named Camino de Cadillac; it was seen in the November 1998 edition of Mike Kelley's Cruise News, Florida's favorite automotive enthusiast magazine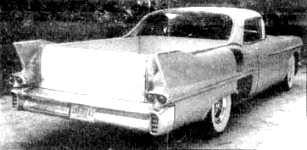 [ Photos: Ken Darrin ]
[Unknown, USA] I consider all Cadillacs fitted with Continental kits as "customized". This one, from 1958, was photographed at a meet of the American Car Club de France (ACCF), in France.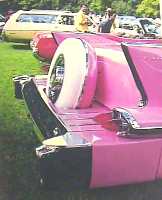 © 2002, ACCF
[Unknown, USA] This odd-looking Cadillac was offered for sale on the Internet, in August 2004

[Unknown, USA?] Currently owned by a Norwegian collector, the owner heard it was a 1958 prototype, built in 1958, and that it toured with GM in 1959-62 as the Caddy Sports car of the future. It was titled, registered, and street driven in 1963 in PA, USA. It is titled as a "Special Construction" vehicle under Pennsylvania state Law, owing to the fact that it never went into factory production. It has an all-Fiberglass body built on a 1958 Cadillac chassis shortened by 25" and narrowed by 8". It is powered by a 1958 Cadillac engine bored out and modified to 450 ci. It features roller rockers and a ¾ street cam, with a 4 "Quadrajet" carburetor and manual choke. The car has power steering and power brakes and a manually operated, roll-down rear window. Originally white, the car features magnesium Keystone Classic Rims, a Hurst Dualgate shifter with lock-out. It currently has non-original tail-light lenses and radio.


Cadillac identification marks include the renowned "V" and crest on the grille
as well as a large crest on the sail panel, with the letters "GT" ( Gran Turismo )
[ Photos: courtesy of the owner ]

[Unknown, USA?] Here's another strange looking Cadillac; it's a custom roadster that was offered for sale in the early seventies by a Paul Bell of Jacksonville, FL.


Is it still around?

[Unknown, USA?] Hot rod conversion of 1958 Cadillac 2-door.


[ Photo: Internet, 5/2013 ]

[Unknown, USA?] Another rod conversion of 1958 Cadillac 2-door.

[Unknown, USA?] This appears to be a regular Series 75 sedan or limousine with a custom roof treatment, such as the Derham Company made for many years. This one is NOT believed to be a Derham conversion (there are no badges to that effect). Late Extra (June, 2014): the car recently changed hands and is currently being cared for by "Bill" who says the car has been repainted and the fender crests removed along with any possible Derham badges. The top has also been replaced in the last 5-10 years. However several other knowledgeable people think it may be a Derham. I have very little history on the car having bought it from a re-seller.

[Unknown, USA?] What's this? It is included among the Kruse Group's auction results for their fall venue at Auburn, IN, from 27 August to 2 September, 2003. Did anyone reading this attend that auction? The car is descibed as a "4-door Eldorado" that was painted in gold metal flake 30 years ago. The Kruse description reads: Stainless steel top [making it possibly a 1957-58 Cadillac Eldorado Brougham] with Pina Farina all aluminum body [I guess "Pina Farina" should read "Pinin Farina," making the car possibly a 1959-60 Eldorado Brougham, although the latter did NOT have the stainless steel roof of the 1957-58 models, nor was the body "all aluminum"]. Gen. MacArthur died April 5, 1964; the Kruse description says the car [on sale] was chauffeur driven for MacArthur's wife at MacArthur's funeral [he and his second wife, Jean Faircloth, spent the last years of their life together in the penthouse of NY's Waldorf Astoria hotel. After his death Jean continued to live in the penthouse until her own death in 2000 at the age of 101].

[Unknown, USA?] What's this? It looks like something from the Jules Verne best-seller, "20,000 Leagues Under the Sea." I shall call it the 1958 Cadillac "Nautilus".

Van der Stricht, Patrick (Belgium) Patrick is a devoted Cadillac enthusiast. This is his artist's proposal for a 1938-39-40-41-48-49-51-53-54-55-56-57-58 custom Eldorado coupe (...and I may even have missed a couple of years in my speedy examination of this delightful drawing!


Drawing courtesy of Patrick Van der Stricht