1967

Barris, George (USA) custom Eldorado coupe Del Caballero [which I shall translate loosely from Spanish as "property of a gentleman"]; see Universal Coach Corporation, below. Cadillac enthusiast, Rick Anderson of Boston, MA, had this to say about these customized Cadillacs: The term "El Caballero" is the title we, on the East Coast, used for customized El Dorados and "De ["Del" ?] Caballero" for the De Villes and Fleetwoods. Here are extracts form an eBay ad from Ed Cholakian, in Feb. 2015; it concerns a '69 edition he had for sale: This is a rare Cadillac "Del Caballero". It is 1 of 13 made [from 1967 to 1970?] for Cadillac by the great George Barris ..."Not a factory option, the del Caballero was available for all 1967-1970 Eldorados. Consisting of a heavy chrome-plated grille enclosure, special wheel covers, a padded landau vinyl roof with stainless steel crossover band that eliminated the rear vent windows, simulated S-bars on the roof rear quarters, textured stainless steel or vinyl insert door sill trim, "del Caballero" script on the front fenders, and limousine-style rear window. Various stand-up grille ornaments were available, as was a power sunroof, at additional charge ... The del Caballero was created by George Barris' Kustom City in North Hollywood, California ...Barris contracted with Universal Coach of Los Angeles and Detroit to build these specially-ordered cars, which cold be ordered through any Cadillac dealer. Depending on equipment chosen, the del Caballero package added $2,500 to $4,500 to the sticker price!"

Barris, George (USA) custom "shop truck" on '67 professional car base, with metal flake paint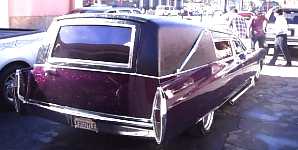 Photos: Barris archives, courtesy Tony Wood
Garthwaite-Derham (USA) [The following text is copied from an Internet website devoted to Derham custom coachwork]: Al Garthwaite Jr., former president of Conshohocken PA's Lee Tire and Rubber Company, bought the Derham building and the business in 1964. Garthwaite produced a sales catalog using J.H Grotz's line drawings in 1967. Although his designs were on contemporary chassis from both Lincoln and Cadillac [my emphasis], and were chiefly modifications to the production bodies, they gracefully blended past elegance with modern styling. The text in the catalog informed customers of the Derham policy that had been in existence since 1887: "Your choices are limited only by your imagination and desires. What you want, we will build." Part of the purchase agreement with Derham was that Garthwaite keep the name alive and keep the firm in its original building. Enos Derham continued to work in a small corner of the shop on a very limited basis until 1971.

[ no images ]

Glover, Gordon (Frog) (USA) Unique conversions by talented Maryland amateur, including this 6-wheeled 1967 custom rumble-seat coupe which began its life as a regular Fleetwood sedan for that year. Sadly, Gordon has passed on. The information and pics here were supplied kindly by Gordon's brother, Ronald.


The quality of Gordon's workmanship may be seen in the perfect, lengthened hood, made up of TWO hoods welded together; not a seam or ripple to be seen !
The car was featured in Playboy magazine some years ago; it was subsequently sold to a dealer in NY (the same one who bought
Gordon's converted 1959, half-top Eldorado Seville that later is believed to have been acquired by the late King Farouk of Egypt)

Miller-Meteor (USA) Unique custom station wagon on Cadillac chassis built for an unknown customer in 1967.


Professional car sleuth, Bernie De Winter,
kindly identified this car as a MM custom job

Fleetwood [Cadillac] (USA) Mildly customized 1967 Cadillac Fleetwood Series 75 limousine, commissioned for use by Queen Elizabeth II of England during a state visit to Canada in 1967 on the occasion of the country's "Expo 1967".

1967 June 29 (Arr. 5:30 p.m.)July 5 (Dep. 11:00 p.m.)
6
Official
Ottawa,

Montréal

- In Ottawa, to attend ceremonies relating to Centennial Anniversary - Visit Expo '67 in

Montréal

.


[ Photos: Internet, May, 2007 - where the car was offered for sale on EBay ]

Mitchell, William (USA) special Eldorado coupe XP825 photo of clay models seen GM Styling Library, 9/94; also lots of color renderings in library's '60s photo drawer.

Mitchell, William (?): Bill Mitchell's own, front-wheel drive Eldorado. It's outstanding feature was the two road-lights set low in the center of the front bumper, and 1969 style wheel covers. This car is still in operation today; I have photos of the car taken during the Cadillac-LaSalle Experience meet at the Gilmore Museum in June 1993. Car is currently [1994] owned by Ronald L. Brooks, 3729 Causeway Dr., Lowell, MI 49331. Have color photos. B&W frontal view in ELD, p.88.

Stengel (USA) Le Phantasme Cadillac Sedanca de Ville Town Car. Again, all I have is a color rendering [¾ rear RH view] of the designer's sketch of this car on the reverse of a business card sent to me by Colonel Abdulla Al-Rifai, Dubai agent of Peter Stengel - Carrossier.

Stengel (USA) Cadillac Manishor Estate Carriage - estate carriages, i.e. station wagons, were popular with Stengel. Once again, all I have is a color rendering [¾ RH front view] of the designer's sketch of this car on the reverse of a business card sent to me by Peter Stengel in the late Seventies.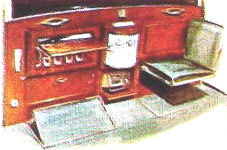 Stevens, Brooks: mildly customized Eldorado coupe; photo ELD, p. 92

[Unknown, USA] A Database user mentioned to me a 1967 or 1968 Eldorado conversion with a Targa- type top. Could this be that car? Or this could be the Barris Del Caballero [see above]

[Unknown, USA] Truck conversion from '67 Coupe DeVille; besides being crunched in the front and being painted lime green, it looked like a pretty good job. It ended up going to the crusher. It had Texas plates (a Texan's favorite cars are his Cadillac and his pickup truck, so why not have the best of both worlds) [italicized text from Dave Morgan, 4.18.1997]

Universal Coach Corporation (USA) on a design by George Barris, the Del Caballero [i.e. "belonging to the gentleman"] Model D-VII was a personalized front-wheel drive, half-top Eldorado built at UCC's Detroit plant at 7447 St. Aubin and at their Los Angeles plant at 7834 Balboa Ave., Van Nuys. This was built to Barris' design and specifications; it features include a retractable roof over the driver area, landau bars and sterling-silver owner's nameplate. Other special features include de luxe wheel covers, wraparound directional and parking lights, aircraft interior lamps, pin-striping, headlight shrouds carrying a winged Cadillac emblem, sun roof, padded top, triple chrome-plated Tiffany imitation landau bars, El Coche [i.e. "the car"] upper door trim and chrome accent spear and, finally, a Derham-type limousine rear window. Photo McC p.371. On the topic of "customized" Eldorado coupes of the late 60s, CLC member and Cadillac enthusiast David Smith commented (Oct. 2014): I like some of them. They represent a short period in time when they were popular. Barris had his del Caballero, Moloney had their Eldoral, Wisco had their elClassico and ASC Custom Craft had their elDeora. None of them were mass produced. Especially the Barris ones. Whereas the Moloney, ASC and Wisco done cars were new cars, most of the Barris delCavalleros were customer provided cars. That is why you see some 67, 68 and 69s with 1970 model updates. Same with les Dunham. Both he and Barris dealt with their customers while the others were done through your Cadillac dealers. While not sanctioned by Cadillac, dealers would have the new cars drop shipped right to WISCO to be modified. Often the dealer would order the car without a vinyl roof knowing it was just going to get ripped off to install a huge power sunroof and heavily padded cabriolet roof ... production numbers were never kept on such customs since they were all done via aftermarket customizers. Which shouldn't be confused with "coachbuilders" such as Ghia or Derham. So unless records were kept and saved, all that is lost to memory over the decades.

[Unknown, USA] Mildly converted 1967 DeVille convertible with a nicely integrated continental kit.

[Unknown, USA] Converted 1967 Fleetwood Eldprado coupe named El Conquistador (the conqueror).

[Unknown, USA] Chopped and stretched "gangsta" limousine?

[Unknown, USA] Another modest conversion .... but with "wild", Swanga wheel discs.

[Unknown, USA] Another "chopped" job; this time a "wild" hearse conversion.

Zagato (Italy) special Cadillac Eldorado [see 1970 page]

1968

Barris, George (USA) custom Casa de Eldorado Town and Estate Wagon; features include double roll-bar cage, simulated side-mounted spares, "His" and "Her" storage compartments in the rear fenders, optional sunroof, TV and wet-bar. Photo McC p.375

Barris Kustom City [George Barris] (USA) Customized Fleetwood Brougham sedan models for upbeat CEOs


The Barris Director's Limousine


Executive Limousine by Barris Kustom City , Hollywood, California

Mitchell, William L. [former GM Styling chief] (USA) Seen for sale a number of times on Ebay (2005-2008), but never sold owing to the high reserve, this mild custom job is described as: Uniquely spectacular restyling done by GM's then VP-Design Bill Mitchell for my [the vendor's] Dad, whom [sic] was a long-time friend of Mitchell's ... The exquisite frontal-motif of this specimen is the result of modification to reflect what Mitchell said was the styling that he and Earl preferred ... this motif has a certain stately-elegance that time has shown to be more enduring. Other changes made by the Mitchell's GM/Design-studio, was the subduing of chrome on both front/rear-bumpers, hubcaps, and outside-mirrors. The beautiful Black-leather interior (black-carpet never stepped upon) has the rare raised-armrest/center-console and the original bucket-seat option; the photos also show the handsome dash/brass-plaque commemorating the retrimming-treatment signed by Wm.L.Mitchell. ... Presently being offered on another website at $37.5K. IMHO this car may be worth 20-30% more than a regular '68 Eldorado coupe, but certainly not as much as the vendor is asking for it on that other Internet site! On its last appearance on Ebay [Sept.-Oct., 2008], the nameplate "Phaeton", in script, appears to have been added above the regular "ELDORADO" nameplate on the trunk lid. Why?


Factory photos of "before" and "after" front ensemble changes


(left) It seems a shame to hide the main feature of the front ensemble (center) behind the license plate
(right) Since the last time this custom job appeared on EBay, it appears to have acquired a new Phaeton script nameplate


The two central photos show the "custom" nameplate with twin embossed "V8"s and central Cadillac crest; so far as I can make out, it reads: Proprietary GM Styling-Studio Design
comprising custom classical central grille theme & extended paint trim motif; alterations approved by Wm. E. Mitchell, VP Design, GM Corp, Special Edition - 1968 Eldorado
[ Photos: Internet, 2008 ]

Fleetwood (USA) special Eldorado Biarritz Coupe de Ville created for the 1968 Auto Shows. Features were no roof over the front seat, landau rear roof sans ¼-windows, fine-mesh grille; the car was finished with 20 coats of gold-flaked olive Firemist [a heavily metallic hue] and the interior trimmed in antique gold velour [velvet] with mouton carpeting and walnut garnishings. The gold accents were intended to recall El Dorado, the "golden one", mythical figure of S. American Indian culture. Photo McC p. 375, SIA23, p.39; ELD, p.93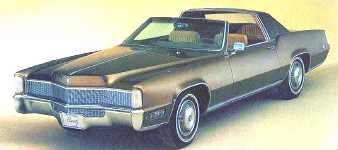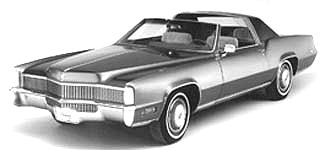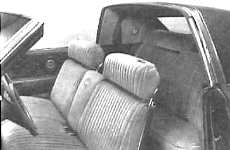 In a GM/Cadillac ad from the company's Commercial Department, that appeared in June, 1968 in a professional car magazine, under the banner headline THIS IS CADILLAC WITH ITS SLEEVES ROLLED UP, the copy writers had this to say about the commercial vehicle line:

A Cadillac-chassied ambulance is one of the hardest working professional cars you can buy. It is powered by the biggest production passenger car engine in the world - the 472 V-8. Heavy duty components ...balanced ride ...extra roominess ...famed dependability and lasting value - make a Cadillac-chassied ambulance the first choice of leading professional rescue-service men. And, if you choose a combination car, Cadillac's prestige is a priceless asset. Select from these fine coach builders: Hess & Eisenhardt Company, Cincinnati, Ohio, Miller-Meteor Division, Divco-Wayne Corporation, Piqua, Ohio, Superior Coach Corporation, Lima, Ohio.
National Coach Distributors, Knightstown, IN (USA) Larry Friedman, a visitor to the Cadillac Database in March 2003, says he has got a 1968 station wagon built by this Indiana firm; it carries #N8268479 and is believed to be one of only 22 made. That wagon, or one very similar to it was sold on Ebay, in 2006, for $14.5K.

Universal Coach Corporation (???) (USA) Like the Barris 1967 design (above), but El Caballero (?) [i.e. the gentleman], not Del Caballero [i.e. "belonging to the gentleman"] or even El Cavellero [no meaning in Spanish?]; probably just another trimmed up front-wheel drive Eldorado; this one too appears to feature a retractable roof over the driver area, false landau bars and upper El Coche door trim. The illustrated car was for sale on e-Bay in January, 2001. Late Extra [Jan., 2008]: I was contacted by an enthusiast who believes the car shown below was owned by his uncle. He wrote: I saw this site after searching for some pictures I had lost. Back in '69 and the early seventies my uncle was in the business of managing ladies of the night [!]. I was only 10 or so at the time, but I was infatuated with cars of all kinds. My uncle and his friends purchased several of these Caddy Eldo customs as this was their car of choice. I found two pictures on your site labeled 68elcab and 69delcav [below]. The one on the right (black one) [it's actually green] shocked me. I am willing to bet that that was probably my uncle's old car. That was the way it was left in my grandma's backyard when he moved to LA from St. Louis in late '79 or early '80. As a child I wanted this car, but being only a kid they told someone to get it out of their backyard! This was common practice; people wish they could have taken [them] back. Anyway, I was so mad, I took the hood ornament, which on these were cast metal flying ladies, and which I still have! OK: this is the breakdown on some of these: the Del Caballero was a hard top with a custom sunroof, limo rear window, thick vinyl top w/matching trunk vinyl, chrome grille cap, sometimes the bug eye treatment (optional) or running board and oversized bumper guards. As for the Del Caballero, it came with T-top or full, custom Targa top, with all the above options, although most of these had exotic interiors. moreso than the Del Caballeros. These cars were mainly built in the New York and New Jersey area. My uncle made plenty of trips there with his buddies to purchase these customs and which, when they got home, people would buy them out of them. There were also many companies, later, who tried to copy them but they are the ones that are extremely overdone, with similar names. The "el" and "del" Caballeros were kind of a cleaner custom than the later imitations. If I find my photos, I will send them. Thanks "depe40"; I appreciate your insight and your input.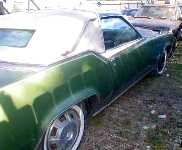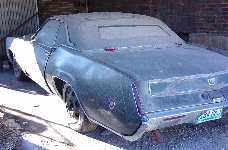 [ Photos of two survivors: Internet 1/2001 ]
Universal Coach Corporation (???) (USA) Like the 1967 design (above), but El Cavellero (?) which the brochure says identifies this Fleetwood Eldorado as "the car of the gentlemen". Where I learned Spanish (i.e. in Spain), "of the gentlemen" translates as de los Caballeros!) The following images are from the product brochure in my collection


Tiffany imitation landau irons are triple chrome plated; the landau half-top is covered with textured vinyl and the
car features a smaller, limousine-style rear window; Del Cavellero insignia graces front fenders, deck lid and dash


The front grille is said to be a beautiful blend of hand-crafted British tradition [Rolls Royce?] and modern
Eldorado design; the lower bumper is painted to match the body color and to accentuate the chrome grille


Del Cavellero features a large, push-button sun roof that is lined and totally weatherproof; pinstriping in contrasting
colors highlight the elegant Eldorado silhouette; El Coche door trim is a vinyl of the buyer's choice and creates a lower
general appearance; a repro Goddess blends the old with the new; it is cast in bronze and triple chrome-plated
[I have seen these offered on e-Bay as the "authentic 1941 Goddess"!]


El Coche transom adds custom look; trailing edge of rear deck is trimmed either
with matching or contrasting material to that used on the door and is framed in polish chrome;
deck trim includes either a mock tire or a complete tire with a rear deck power lift

[Unknown but possibly Universal Coach Corporation] (USA) like the Barris designs for 1967 and 1968, it's named Del Caballero. This survivor is in poor shape.

[Unknown, USA] De Ville series convertible with custom grille cap and door saddles (possibly a Barris creation).

[Unknown, USA] Mildly customized Eldorado coupe. All the work on this car was done back in 1972 by the late Ed Evans, at Marr Dodge body shop, in Oroville, CA. Photos kindly supplied by the owner himself, Mr. John R. O'Quinn

[Unknown, USA] station wagon, regularly featured in monthly SSA classified [photos]; a similar car is featured in a late sixties ad for Lincoln Highway Premium VIP Classic tires [2nd photo].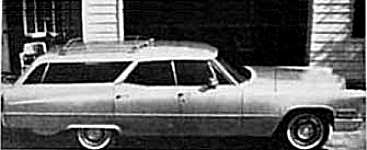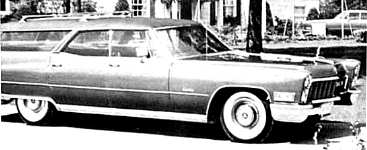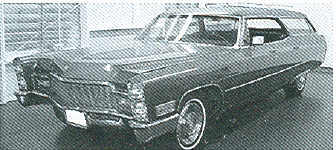 [ Possibly the same wagon as above? ]
[Unknown, USA] Here is a second such wagon along the same lines as the car above


[Photos: © 2000, Yann Saunders]

[Unknown, USA] Here is a beautiful wagon built on the Eldorado chassis for 1968. It was photographed at the Cadillac "Grand National" meet in August, 2002.


The same or a similar wagon photographed earlier

[Unknown, USA] Enthusiast Courtney Newman contacted me in July, 2004 and sent me this photo of her 1968 Cadillac Eldorado convertible. None were built, you say ? Wrong ! There is at least one driving around and here it is. Courtney says: I have a 1968 Eldorado that I made into a fully functional convertible and wondered if you would consider putting this on your web site. Done, Courtney, and congratulations on a very nice looking car. Pity that GM did not think to build this model.

[Unknown, USA] Here's another interesting "cut down" 1967-68 Cadillac Eldorado coupe

[Unknown, USA] The Pink Panther is the theme of this "work of art" on a 1968 Cadillac coupe. What's funny (and the reason I'm showing it here) is that I used the same theme on my 1968 Buick Electra 225 when I was still living in Switzerland [photos also shown here]. I think mine had more class !


1968 Cadillac "Pink-Panther-Mobile"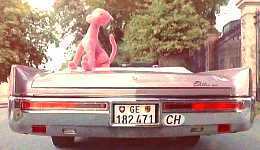 Right (and below) the author's own 1968 Buick Electra 225 Der- Pink-Panzer (Panzer is the German word for tank)
[ in Switzerland, where I used to live, large American cars sometimes are called "tanks" (des chars in French) ]
[Unknown, USA] This modified Eldorado coupe was offered for sale on eBay in 2004. It appears to be a conversion by George Barris but I prefer to leave it among the "unknowns" until I get confirmation.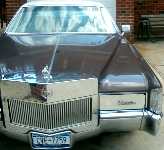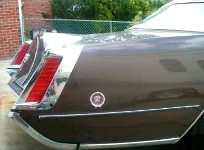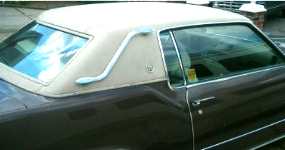 [Unknown, USA] This monstrosity started life as a Series 60 Special sedan. From the front it looks like a F109 fighter jet. Powered by a Cadillac 500 CI engine and street registered [believe it or not!], this 6-wheel non-car with an exhaust stack for each cylinder is shown here to please my friend and fellow Cadillac enthusiast, Derek Sherwood who kindly brought it to my attention and has asked me to nickname the "thing" the Sherwoodicus Horribilis ...quite right, Derek! Offered for sale on this web site in February 2002 for $85,000, I doubt if it will ever find a buyer in the Cadillac community.


[ Photos: Internet, Feb. 2002 ]



1969

Dunham Coach (Boonton, NJ, USA) [see next section, Dream Cars for 1970-74, for a lengthy description and explanations about this Eldorado coupe model prepared by Les Dunham for the James Bond movie, Live or Let Die].


1969 Cadillac Eldorado in "Superfly" garb by Les Dunham

Fleetwood [?] (USA) station wagon, featured in SSA, 1980, p.27. One source asserts that just 5 of these were made by GM to chauffeur their executives around for the 1969 Indy 500 race season. These starting their life as loaded Fleetwood 4 door Broughams, then they were modified in house with actual GM wagon parts.


This original factory photo "disappeared" from my collection,
as have also a few others over the years ... you can't trust anybody!


Rear views of two different survivors; the one on the left is (was) located in Minnesota;
it was offered for sale for $15,000 in the CLC's Self-Starter, in April, 199


Possibly the same car ? This one is (or was) in the Steve Plunkett collection.


This one was located in S. Carolina, in May 2001; the owner was told that his car is one of only 14 built; he is unsure
if it was made by Traditional Coachworks of Los Angeles, CA, or by Hess & Eisenhardt of Rossmoyne, OH
[Photos: Internet]


This one was offered for sale on the Internet in 2004 (thanks to enthusiast Tom Dowd for the tip)
[ Photos: Internet via Tom Dowd ]




Klett Cadillac, Detroit and Universal Coach Corporation (USA) Built in Detroit in 1968 at a reported cost of $32,500, this car is said to have belonged to singer Tom Jones as well as to a man in Ohio currently in prison for murder. FBI agent, Robert K. Ressler, wrote a book (Justice is Served) about the murder investigation and mentions this limo. Originally pea-green, currently it is painted white. Interior changed to red velour (probably at time of restoration). This limo is 22' 10" long with suicide doors, electric sunroof, partial vinyl roof, tinted electric division window separating driver and passenger areas, tinted windows, 472 cid motor, front wheel drive, a/c, tilt wheel, power windows & locks, power steering & brakes, fake "Continental" kit, front vinyl bench seat (black). Passenger area has a bench seat facing forward and 2 buckets facing the rear. Between the bucket seats is a TV, VCR and radio. The car uses 2 batteries (the extra one being reserved for passenger area amenities). Car was offered for sale on the Internet in October, 2002.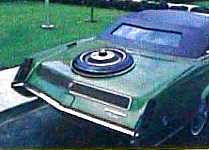 The stretched limo was originally metallic green
[ Photo (left): courtesy Tom Dowd, the current owner ]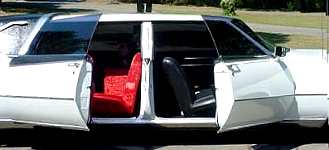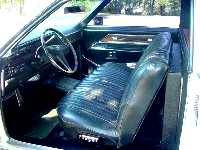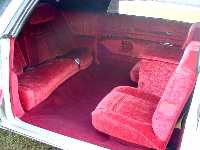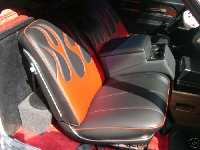 Singer Tom Jones is reported to have owned this stretched Eldorado limousine
[far right] Front bench has been replaced with "fiery" bucket seats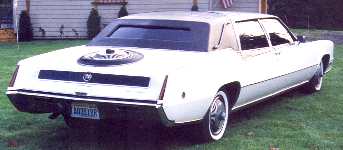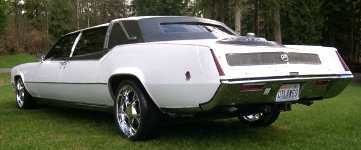 Photos in above two rows courtesy Tom Dowd, the car's current owner


This photo shows the car in its current condition [4/2004]; the hood ornament
and faux Continental kit have been removed; new, Jesse James 20" 44Magnum
wheels have been added [the original parts have been stored by the owner]
Ohrberg, Jay (USA) "rolling guitar" on the Eldorado chassis. I got this information from Rob Muirhead, a Database visitor in April, 2003. Rob adds that Jay Ohrberg is the man who built the longest Cadillac (100 feet!); he has the reputation of being a great car show promoter. Thanks for the update, Rob. My son, Philip, photographed this "Cadillac object" in France, early in 2003. It appears to be in a sorry state today. Rob says it was present at the Cannes Film Festival (what year?) where it arrived under its own steam. Late Extra: November, 2003 (thanks again to Rob) the "rolling guitar" has been acquired by an American collector and will be returning shortly to the USA together with a few other Barris creations that were seemingly exported to France.


This "car" is in France (2003), but I don't know how it got there
[ see recent (2003) photos, below ]



Photos in five preceding rows: © 2003, Philip Jolivald

Universal Coach Corporation (???) (USA) Like the 1967 design (above), but Cavalier De Ville and Edgewood Brougham on 1969 Cadillac chassis.


These two trimmed up cars feature the trademark El Coche door [el Coche is Spanish for "the car"];
the upper door trim may be either vinyl or cane, framed in polished chrome;
In my opinion, this is one of the more tasteful trim packages of the sixties and seventies


This is the Cavalier Edgewood on the Brougham chassis; like Del Cavellero, above, the rear deck is trimmed either
with a matching or contrasting material to that used on the upper door; imitation Tiffany landau bars again are featured


Here is the Cavalier Coupe de Ville; the bronze, triple-chrome plated
mascot, below, was available with both these trim packages

[Unknown, Switzerland (?)] Conversion of Eldorado coupe to stretched tow truck; poor images below are from video footage I took at the International Cadillac Meet I organized in Geneva, in 1984.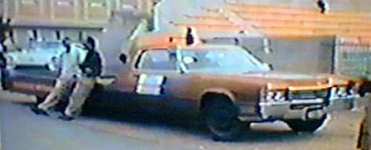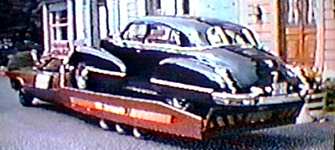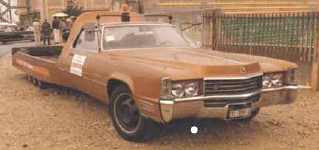 [Unknown, USA] Another breakdown truck from an unknown customizer.


[ Photo: © Bob Yarko ]
[Unknown, USA] It's not customary to make a "big foot" or hi-wheeler on a Cadillac base. Here's one that proves it can be done.

[Unknown, USA] (Possibly George Barris) customized coupe on Eldorado chassis


This survivor resides in France

[Unknown, USA] (Possibly Universal Coach Corporationston) Custom coupe on Eldorado chassis

[Unknown, USA] Custom station wagon on Eldorado chassis

[Unknown, USA] (Possibly George Barris) customized coupe on Eldorado chassis


[ Photo: Internet, 10/2001 ]
[Unknown, USA] "tarted up" De Ville convertible for sale on e-Bay (Internet) in 2002. Probably one of the ugliest Cadillacs on the road today. What was the owner/customizer thinking ?!?!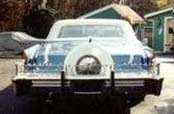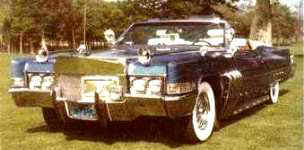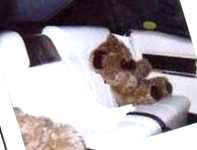 [ Photos: Internet ]
[Unknown, USA] Custom Coupe de Ville seen for sale on Internet (2002); $7,000 custom paint job: lime green with two "kameleon" colors [green to gold & red to gold]. Kameleon painted Cadillac symbol on shaved trunk. Flame grille. Dual turbo exhaust with chrome exhaust tips. Green alligator skin quarter top. Green LED side blinkers. 22" Chrome GenX Titans rims with 265/35/22. Pirelli tires and chrome disc brake covers. Two tone (green and brown) alligator skin seats and door panels. Kameleon dash. Billet flame steering wheel. Four matching painted mobile TVs: One 6.8" monitor up front, two 5" headrest monitors, and a 13.5" flip down monitor. JVC CD player with remote. "Compustar" alarm system with remote start, pager remote with picture monitor, and long-range detection. Power windows and seats. Playstation 2 with green controller...

[ mislaid photos ]

[Unknown, USA] Custom Eldorado, privately made.

[Unknown, USA] Said to be fitted with a dealer-installed T-Top, the owner of this car believes it is one of only fifteen built that year

[Unknown, USA] Camper conversion, presumably built on the 1969 Cadillac commercial chassis. This one was seen for sale on EBay in May 2007 and was claimed to be one of a number of such conversions made by the same company in Illinois. I have my doubts.