1935 La Salle Series 50 (L-Head Straight Eight)

Bore : 3"

Stroke : 4 3/8"

Displacement : 248 cu.in.

Compression ratio : 6.25:1 [5.75:1 optional]

Brake HP : 105 BHP @ 3600 rpm

Wheel bases : 120"

Total units built : 8,651 (one source), 8,653 (Van Gelderen and Ackerson)

Price range : $1225-up (one source)

$1255-$1325 (Ackerson)

(the "Torpedo" hood ornament listed for $20)

Introduced : March, 1935

Body styles
All Fisher bodies on 120" wheel base



Style #35-178 (Fleetwood #5077) coupe for 2 passengers, 3475lbs, $1225 [774 units]
Right: factory photo of the same model ...with no artistic license!

Style #35-182 (Fleetwood #5011) sedan for 5 passengers (no quarter windows) , 3620lbs, $1255
[1150 units - new for 1935]
(1935 Price List shows a Fleetwood-bodied LaSalle "Style 6330-S 5-pass. Sedan ..... $1,545")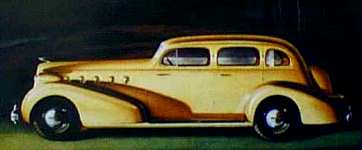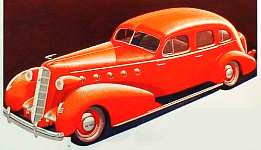 Style #35-159 (Fleetwood #5019) sedan for 5 passengers, 3650lbs, $1295 (or $1255? [5750 units]
Style 5009 five-passenger standard sedans [100 units]

Style #35-168 (Fleetwood #5067) convertible coupe for 2 passengers, 3510lbs, $1325 [820 units]


Beautiful surviving convertible coupe beside 1967 "sister" car needing TLC

N.B. the 1935 price list includes one Fleetwood model (style #6330-S sedan for 5 passengers, listing for $1545)

Bare chassis: 5

Commercial chassis: 53

Total 1935 production 8652 units [1 not accounted for]

Principal features: La Salles shared same GM "B" body as Oldsmobile, height of body up to 64½" or up to 67½", [easy ID = five round hood ports + new, single-bar bumper with two over-riders], new clutch, transmission and rear axle, Fisher, "Unisteel, Turret Top" roof, split-V windshield, pontoon fenders, cut off at the rear, tall, narrow, shallow-V grille with one vertical and six horizontal separations, three chrome chevrons on leading edge of front fenders, streamlined "bullet" tail-lights, 4-ribbed, vertical chrome flashes on each fender apron, independent "Knee-Action" front suspension, Oldsmobile straight-eight engine, hydraulic brakes, streamlined, "teardrop" headlights mounted on each side of the radiator shell, unlimited colour schemes, round, "LaS" emblem at top of grille, RH side, fuel filler cap moved from LH to RH rear fender, optional fender-mounted spare wheels, disc wheel covers, options (inter alia): dual side mounted spare tires and covers, two radios (Master or Standard), heater and clock.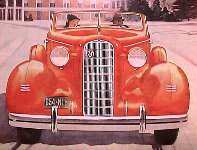 1935 LaSalle front clip
[low resolution computer image does not do justice to fine mesh grille!]