[last update: 09.25.2004] Best viewed with a screen image size of 600 x 800 pixels
The (new) Cadillac Database©

Photo Pages
La Salle

1928

Return to The (New) Cadillac Database© Index Page
or go back to the Cadillac photo index page to pick another year
or go to the La Salle photo index page
Unless otherwise specified all photos and illustrations are from Yann Saunders'
collection of Cadillac photos, advertisements and product catalogs,
reproduced courtesy of the Cadillac Motor Car Division and the Cadillac-LaSalle Club
The styling of Cadillac automobiles, in the recognized sense of the term, began around 1925, the year Fleetwood was absorbed by the company. Before the great Harley Earl joined Cadillac and was given the task of designing the entire line of the new La Salle models in 1927, J. Frank de Causse (for the Locomobile) and Al Leamy (for the Wills St. Claire automobile) both had earned respect for their successful styling of a whole a line of automobiles, rather than just a few individual custom jobs. However, it was Earl who effectively fathered the idea of establishing a special department in a motor manufacturing organization where styling and comfort, inside and out, would be given as much importance as an automobile's performance and reliability.

Earl's 1927 La Salle showed how art and technology could be happily married. By 1928 a conscious effort was being made by the new auto stylists to match interior designs to exterior styling themes and colors. You can tell easily, from the superb illustrations below, that Earl's "Art and Color Section" was gathering impetus following its recent creation and the introduction of the hugely successful La Salle - the first "stylist's car" - the previous year.

These pictures are from one of Cadillac's finest color brochures, the 1928 product catalog entitled "Color Creations from Nature's Studios" featuring a proud, preening peacock in a brightly colored garden on the otherwise black cover. Published in 1927 jointly by the Fisher Body Corporation, the Fleetwood Body Corporation and General Motors, the creations below [you will find others in the Cadillac photo section for 1928] were, according to the copy writers, Nature's own way of "revealing her masterly manipulation of color through the medium of superb motor car creations." Color is everywhere, "Here in the gay plumage of a bird, there in a gorgeous undersea fish; now in a rose resplendent in June sunlight, and again in the lavender shadows on January snows; in the fragile splendor of an afternoon buttrerfly and in the adamantine heart of a gem buried deep in the core of the earth - everywhere and always, Nature hangs her earth with rich tapestries and veins its rocky bastions with vivid hues."

Pause a while. Park your monotone Japanese jelly-bean car and now feast your eyes!
The 1928 La Salle Town cabriolet, with body by Fleetwood

"Splendid with the glory of underseas color" reads the text describing this elegant town
car, with its color-coded leather roof covering. It is painted over-all in Nassau Sand, in a hue
reminiscent of the Bermuda Angel Fish. The window reveals and pinstriping are Tidewater Blue.
The hardware by Ternstedt is satin nickel inlaid with delicate blue. Even the tan broadlace is
enriched by touches of blue. Note the large windwings flanking the chauffeur compartment.
There are also two folding auxiliary seats in the rear compartment.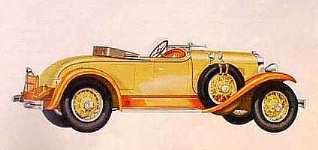 The 1928 La Salle roadster, with body by Fisher

In the opinion of this writer, this is one of the prettiest of all pre-war cars.
This one is painted in Ledge Orange and Ravine Yellow with Watercourse
Red pinstriping. The over-all appearance mirrors the curite stone,
discovered only seven years earlier in the radium mines at Katanga in
what was then the Belgian Congo, in the heart of the African continent.
The genuine pigskin upholstery carries the same tones and is
masterfully offset by the bright Orange Duco of the instrument board
The 1928 La Salle Transformable Town Cabriolet, with body by Fleetwood

"Aglow with the radiance of tropical seas," reads the description of this town car. Painted Rose Coral,
like the gem found on the ocean floor, the body color is thrown into sharp contrast with the ebony fenders
and upper panels. The coral theme is repeated in the pattern lace of the interior. The hardware too is inlaid
with Rose Coral. Two rear-facing auxiliary seats enable seven occupants to be accommodated in comfort
The 1928 La Salle Town Sedan, with body by Fisher

Like the orchid, exotic and richly hued, this compact sedan for the lady-about-town is described as
a masterpiece of color" [the tint is probably a tad showy for the man-about-town, don't you think?]
Painted in two tones of light and dark Orchid, the car sets on Sylvan Green wheels matching the
underside of the fenders. The inner walnut door trim has an orchid motif
Return to The (New) Cadillac Database© Index Page
or go back to the La Salle photo index page to pick another year
or go to the Cadillac photo index page
© 1996, Yann Saunders and the Cadillac-La Salle Club, Inc.
[Background image: patrt of ad for the 1928 La Salle, Yann Saunders' collection]