[last update: 05.26.2020]


Miscellaneous Cadillac Stuff
Cadillacs in the Movies


Yes, they even star in the movies... [Part 2]








(le résumé en français se trouve en bas de page)

If I had a Million, starring Gary Cooper [Cadillac aficionado, Ross Morgan from Australia, did an excellent job capturing the stills for this 1930s movie - the car is a 1930-31 Cadillac V-16, Fleetwood style #4391, 7-pass. town brougham; it is one of only 30 units built].





Movie stills provided kindly by Ross Morgan, a Cadillac enthusiast from Australia

In the Cool of the Day, starring Ben Gazzara and Jane Fonda

- features a 1955 Fleetwood Sixty Special

Innermost Limits of Pure Fun, The, a George Greenough film from about 1968

- has George cruising the beaches of northern California in a dark blue V16
convertible [from memory]; there was even a song, "Me and my V16 Caddy".
Tip from Aussie enthusiast, Alan Macoustra.

Inside Daisy Clover, starring Natalie Wood and Robert Redford [1965]

- features a black 1938-40 Cadillac V-16 Town Car that appears prominently in several scenes

Into the Night, Starring Jeff Goldblum, Michelle Pfeiffer, Dan Akroyd, David Bowie

- 1959 Cadillac Eldorado Biarritz with the inscription The King Lives written on both
sides. The car has a white exterior; it belongs to enthusiast, Vince Faiola
[info from Irwin Kho, Philippines]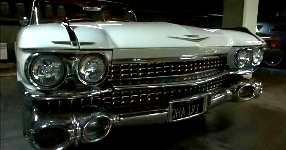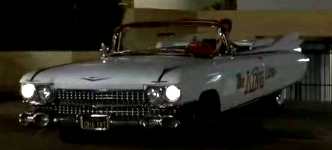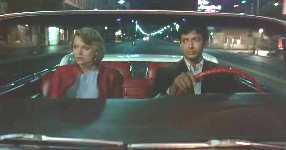 Movie tip and stills provided kindly by
Irwin Kho, Cadillac enthusiast from the Philippines
Inventing the Abbots, Starring Liv Tyler

- Miscellaneous models from 1956, 1957 and 1959 [possibly more]

Ironman 2, Starring Robert Downey Jr and Gwyneth Paltrow (2010)

- Thanks to my eagle-eyed friend, Ross Morgan, in Australia, we have learned that this Ghia-bodied 1953 Cadillac (one of only two built) was featured briefly in this movie.


This is the car ... but NOT the movie still




Isn't She Great, starring Bette Midler [the movie version of Jacqueline Susann's Valley of the Dolls]

- 1957-58 Eldorado Brougham, 1962 limousines (2), 1965 Sedan de Ville, 1967 ambulance
1968 Fleetwood, others ?

It Happened One Night, starring Clark Gable and Colette Colbert.

- Although this car is similar to the one that was featured in the Gary Cooper movie, above: If I had a Million, it is actually Cadillac V-16, Fleetwood style #4325 with the enclosed quarters.


Still from the movie, courtesy A. Mitchell and Roy Schneider

Jackie Brown

- features a mint blue 1975-76 Seville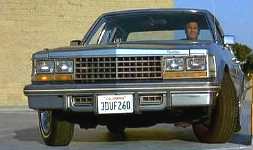 [ Info and (cropped) movie stills from Irwin Kho, Philippines ]
Jaws, starring Roy Scheider and Richard Dreyfus

- in this Spielberg thriller a bronze 1974 Fleetwood lurks in the background of one scene
Jerk, The, starring Steve Martin

- one of his customers drives a 1979 Fleetwood (recognizable by its steering wheel)

JFK, starring Kevin Costner

- Various Cadillacs; the DVD stills, below, were supplied kindly by Philippe Ruel, France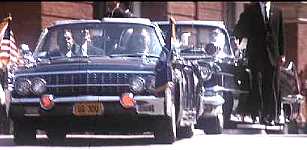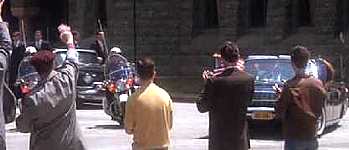 Leading the parade, Governor Connolly's Lincoln, with the President aboard; immediately behind it, the
White House security car, a (supposed-to-be) stretched 1956 convertible sedan (the "Queen Mary")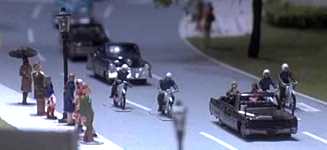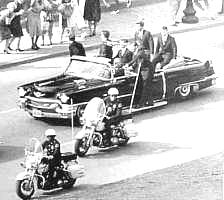 Left: Reconstruction of the scene, this miniature "diorama" by attorney Jim Garrison; the leading car in this case
appears to be a 1965-66 Cadillac convertible and the Queen Mary is depicted by a '50s Cadillac sedan model;
Right: B&W movie still of the Queen Mary; the movie car is too short and the running boards too far outboard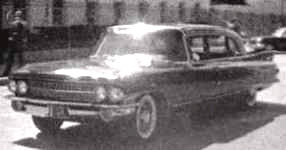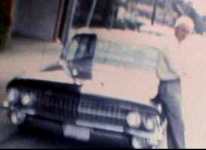 Left and right: this 1961 Fleetwood 75 also starred in the movie; leaning against it is actor
Tommy Lee Jones who plays the part of Clay Shaw in the movie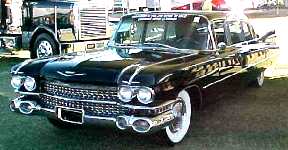 This 1959 Series 75 limousine, for sale on e-Bay in 2002
was reported to have played a role in the movie, JFK
Johnny Eager, starring Robert Taylor and Lana Turner, 1942

- CLC member, Robert Bothwell, passed on this tip in Jan. 2005: In 'Johnny Eager', 1942 starring Robert Taylor and Lana Turner. There are several nice shots of a 1938 Cadillac 60s near the end of the film. It's the first time I've seen a '38 in a movie.

Junkman, The

- According to Cadillac buff Cory Heisterkamp of the Cadillac Mailing List (CML), this remake of the movie features a late model Eldorado

Kansas City

- 1930 4-door sedan from the R. Kughn collection (recently sold at auction for $37,000); a completely restored 100-point car with Classic Car Club of America (CCCA) badge #1453 [my '42 Fleetwood has #601]

- 1938 Series 60 convertible coupe from the R. Kughn collection (recently sold at auction for $60,000); a completely restored 98-point car formerly from a private collector in Kansas City, MO (Marvin Enohs)

Karate Kid, Part 11

- 1958 Series 75 Fleetwood limousine plays quite an important role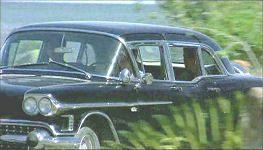 This 1958 Series 75 limousine is featured a lot in the movie
Kill me Again, starring Val Kilmer, 1989

- features a white 1964 Coupe De Ville

Kingpin, starring Bill Murray

- One more from Cadillac and movie buff, Brad Fauil. He says, in this one, Bill Murray has just betrayed "Munsen" after he hustled some bowling gamblers, then floors it [the Cadillac] over a curb to get away, leaving Munsen to take the fall.

[ photos ]

Killpoint

This custom stretched limousine was used in a the 1984 movie


[ Movie stills from IMCDB ]

Kiss Before Death


1954 Series 75 sedan or limousine

Kiss me Guido

- a movie about two roommates, a gay guy and a very straight Italian; the Italian's semi-mobster brother drives a red convertible.

Kukkivan roudan maa

- a Finnish film featuring 1954 Cadillac [info from Kai Savolainen]

- 1953 Cadillac Eldorado (white) [is this the Mickey Cohen story ???]
[info and movie stills from Irwin Kho, Philippines]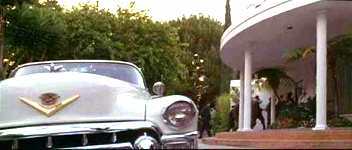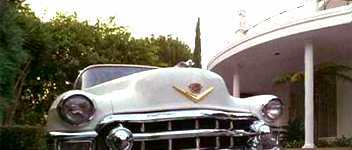 From the panoramic windshield you can tell that the movie car is a 1953 Eldorado
Las Vegas, starring Austin Powers

- this one sees a brief appearance of a 1964 Series 75 limousine

Leningrad Cowboys Go America, The

- two limousines: one black, 1975 model and one white, 1964 model

Leon, The, starring Jean Reno and cutie-pie Nathalie Portmann

- Luc Besson brings in a stretched nineties limousine into one scene]
Lethal Weapon 3, starring Mel Gibson, Danny Glover, Joe Pesci

- Leo Goetz (Joe Pesci) drives a Red Allante; the tires get shot out by "the good guys" to stop Leo getting in their hair! Thanks to my French buddy, Philippe Ruel, for sending these stills, caught with his DVD player.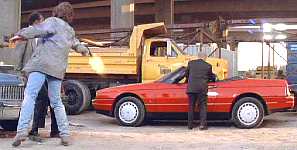 Leo Goetz (Joe Pesci) doesn't get far after the tires on his red Allanté get shot out by Mel Gibson
Liberty Heights

- John Horner of the Cadillac Mailing List [CML] passed on this interesting snippet:
We recently rented Liberty Heights, a real period piece set in Baltimore in 1954-56. Cadillacs are an integral part of the story. Highly recommended!

Frank Perch, also of the CML, adds this: Ditto! The absolutely best Cadillac line comes toward the very end of the movie -- the one about the religious service -- I won't
spoil the whole thing for those who haven't seen it. BTW, for the non-Cadiholic members of your family, they will enjoy it too; it's a wonderful movie besides the cars.


License to Drive

- 1972 Sedan de Ville

Line of Fire, in The, starring Clint Eastwood, Renee Russo and John Malkovich

- some presidential limousines are essential to the story line
Little Richard Story [correct title?]

- I viewed this movie on TV December 19, 2004; a red 1954 Eldorado is featured.
The singer drives up too his mother's home in it, just before he converts to the ministry.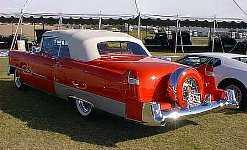 [ Not this car, but one like it ]
Live and Let Die

- a 1971 Fleetwood Brougham in Gold with a black or brown vinyl roof, with a lot of exterior modifications. Referred to by James Bond (Roger Moore) as a jukebox.

Two customized pimpmobiles in the movie were previously described here, in error, as a 1971/72 Eldorado coupe. This submission in July 2002 by Cadillac enthusiast, Rick Anderson, will set the record straight: In the Movie section "Live and Let Die" the white "pimpmobile" isn't a chopped or modified El Dorado. It's actually a Corvette with a fiberglass molding of an El Dorado attached. The builder is Les Dunham of Dunham Coach 234 Division St., Boonton, N.J.(.973-299-1900). The "Corvorado" and the other exotic cars in the film were supplied him (including the Fleetwood owned by a gentleman in Texas) The reason I know these facts, is that I have an uncle who still owns a '67 El Dorado customized by Dunham; he owned also a newer edition "Corvorado".

Lolita, starring Shelley Winters and James Mason (in a Stanley Kubrick film)

- Starring also in this movie is a Cadillac ambulance from the fifties (thanks to Philippe Ruel, from France, for this movie tip and still)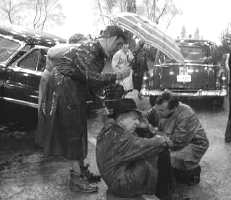 Background, right: tail end of 50s ambulance
Longer, by J. Brother

- Australian surfing movie, released circa June 1993, features a mid-sixties blue/green
4-door sedan [tip from Aussie enthusiast, Alan Macoustra]

Lost Highway, 1966, by David Lynch, starring Patricia Arquette,

- 1960 Cadillac convertible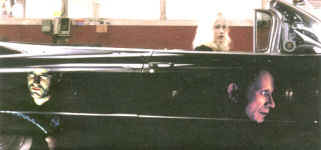 The car used for the movie carries the windshield
sticker of the Cadillac-LaSalle Club, Inc !
Lost Junction, starring Billy Burke, Neve Campbell, 2002

- Brief appearance of a baby blue, 1959 model (unidentified at this time)

Love Potion Number 9, starring Sandra Bullock

- Brief appearance of a blue, 4-door 1959 sedan

Mack, The, starring Richard Pryor

- Enthusiast Derek Sherwood mentioned the mid-1970s Eldorado pimpmobile featured in this movie

Mad Miss Manton, The, starring Henry Fonda

- 1940 V-16 town car, style 9053


It is believed that this town car, one of only two built on the V-16
chassis in 1940, belonged to movie producer Darryl Zanuck!

Madame X, starring Lana Turner, John Forsythe, Ricardo Montalban (1966)

- features one of only eleven 1938 Cadillac V-16 town cars built. About the movie itself, long-standing CLC member, Doug Houston, wrote]: Many of us are familiar with the 1930-31 body series named after a stage play titled: "Madame X" (with an "e"). I believe it was in 1966 that the story was made into a B&W movie [in fact, Doug, there have been a number of screen plays and at least one stage version; the movies include one with Pauline Frederick (in 1920), Ruth Chatterton (in 1929), Gladys George (in 1937), Lana Turner (in 1966 - the one to which you refer) and Tuesday Weld and Granville Van Dusen (in the seventies); Ms. Chatterton played also in the stage version at the old Fisher Theater, across from the GM building in downtown Detroit where Harley Earl met her backstage and - so the story goes - was so taken by her that he named the "Madame X" car after her]. The film starts out with a 1938-40 Cadillac 90 town car, driving through the country roads in Westchester County, NY. The car runs through beautiful settings, with various views of the car. At first, it's hard to tell which year it is, until it shows a quick view, over the chauffeur's shoulder, showing the unmistakable 1938 dash. The car finally comes to a stop at the door of a beautiful mansion, so typical of that county. I haven't checked to see if the movie is available on a "factory" videotape. I recorded it off of the air. The story is great, and portrays an unfortunate situation involving a young lady, who is exiled to Europe, and years later returns in her last days, to have involvement with her son, who somehow recognizes her as his real mother. She had assumed another identity, and it was questioned, bringing on the mysterious name: Madame X. .......something like that. Anyhow, it was a good movie, even after seeing the town car!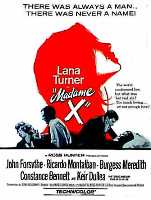 Movie poster of the 1966 version
Magnificent Obsession, starring Robert Taylor and Irene Dunne [1935]

- 1949 Series 62 convertible. Movie buff, Jams R. King, sent this additional information: This was the film that made Robert Taylor a star. There was a later version in the 50s with Rock Hudson in Taylor's role. Taylor plays a worthless playboy - in the scene pictured on your Website, he has just caused the accident that has blinded Irene Dunne. So he goes to medical school and becomes a doctor and operates on her so she can see again. It was based on a novel which was a huge best seller by Lloyd C. Douglas.
Thanks, James.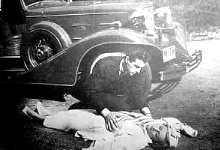 1933 Cadillac
Magnum Force, starring Clint Eastwood [1973]

- A few '70s Cadillacs are featured, including a Series 75 limousine and a red
Pimpmobile with all white sheepskin interior
Majestic, The, starring Jim Carrey
- This 1950 coupe apparently was featured in the movie (which I have not seen)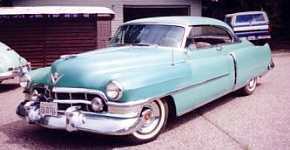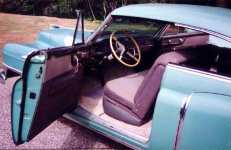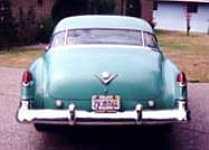 This 1950 coupe from the movie was offered for sale on the Internet in December, 2002
Man Hunt

- Federal Agent "Mel Purdue" hunts down the bad guys in a 1926 Cadillac Custom Touring in this 1936 Warner Bros. Film. If you ever wondered how a '26 Cadillac corners at high speed, here's your chance to find out! [supplied by CLC member, terry Boyce, 1/2002]

Man Who Wasn't There, by Joel and Ethan Coen, © 2001, USA Films, starring Billy Bob Thornton, Frances McDermond, James Gandolfini,

- Set in a small; California town in 1949, it's the story of a simple barber turned blackmailer to escape his dull existence. In the tradition of classic noir movies, nothings goes according to plan. Full of surprises, stunning revelations, and strange occurrences that will delight the movie-goer long after the film is over. Thanks to Jerry Jansson of Sweden, for adding this one to the list. The car appears to be a 1949 Series 62, style 6207 Sedanet.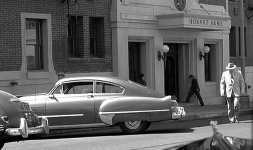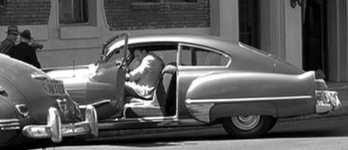 James Gandolfini leaves the place where he dropped of the blackmail $$$$s
Martin and Lewis, starring Will & Grace's John Hayes in the role of Jerry Lewis

- Saw this TV movie [November, 2002] relating the story of comedy duo Dean Martin and Jerry Lewis. Noticed a couple of Cadillacs, especially this gorgeous 1942 Series 62 convertible that the pair drove in Beverly Hills after achieving initial Hollywood fame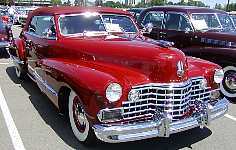 I believe this is that very car; the picture was taken
at the 2002 CLC Grand National in Detroit, MI
[ Photo: © 2002, J. Scott Harris ]
Mask, The, starring Jim Carrey

- Jim drives off in a nice, white, 1970 convertible at the movie's end. Also, the "bad guys" tool around in a nineties limousine (too dark to grab any DVD stills). At one point, Jim rides also in a super-stretch limousine with dozens of windows (seen only in profile view so unable to determine year or model - it may not even be a Cadillac). This info and DVD stills from Philippe Ruel, France. Thanks again !
Matinee, starring John Goodman

- 1959 convertible; that car is on display at Universal Studios in Florida. Closer examination revealed that this convertible was actually a 4-door sedan which had received some major custom work.

Matrix Reloaded, The, [sequel movie] starring Keanu Reeves, Carrie-Anne Moss and Laurence Fishburne

- CLC member, F. Lucas says (Jan. 2003): happened to be watching "Entertainment Tonight" this evening and I saw a couple of clips from one of the new "Matrix" movies due out later this year. There was a chase scene in one of the clips featuring not one but TWO Cadillacs -- a bullet-hole-ridden CTS and an Escalade EXT.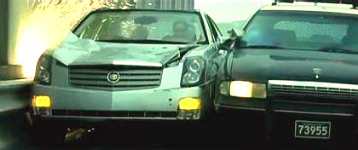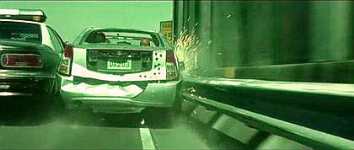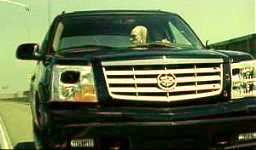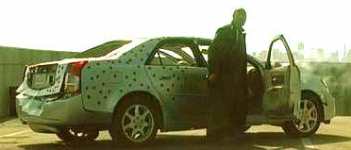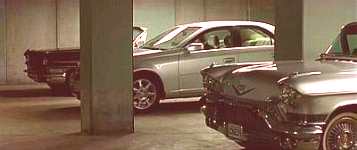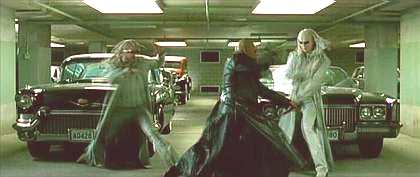 These movie stills supplied kindly by Irwin Kho of the Philippines
Maximum Overdrive

- A 77 red Coupe deVille gets crushed by a semi truck

Menace II Society

- featured a 1974 Eldorado Convertible

Menolippu Mombasaan [a Finnish film]

- features a red 1974 Eldorado Convertible

Metro, starring Eddie Murphy and Michael Rappaport

- watched a re-run on TV last night and did NOT enjoy the slow, deliberate destruction of an otherwise fine-looking baby blue, '69 DeVille convertible with light (but not white) leather (?) interior. Good Hollywood entertainment.

Mickey Blue Eyes, starring Hugh Grant and several actors from the TV series The Sopranos

- This from collector and enthusiast Rik Gruwez of Belgium: last night [01.14.2040] I watched "Mickey Blue Eyes", starring Hugh Grant. He plays this character of an auctioneer who marries the daughter of a New York City based mobster. The older members of the mob drive 1993-1996 Fleetwoods [James Caan drives a 1996 Fleetwood]. One of the sons uses an Allanté [1993] transportation.

Midsummer Nights Murders Made-for-TV movie

- features a rare 1956 Cadillac station wagon built on a 1956 Cadillac chassis by Hess & Eisenhardt; the car belongs to an English collector.

Mildred Pierce, starring Joan Crawford

- toward the end of the movie, she has a 1949 Cadillac 2 door fastback. It's two tone green (If you see the colorized version) and epitomizes '40s Cadillac styling

Miller, Glenn (The Story) , starring James Stewart and June Allyson

I caught the movie on TCM (Turner Classic Movies) and noticed that the band leader starts driving a gray, 1941 "Series 62" Cadillac convertible coupe after things get better for the band and they start selling hundreds of thousands of records (early '40s ?).

[ can someone supply a screen shot ? ]

Millionaire, The, starring George Arliss and a young James Cagney, Warner Bros. (1931)

- This is a story about a retired millionaire (George Arliss) who teams up (incognito) with a gas-station attendant (James Cagney), just to keep himself busy. In the photo, below, we see Mr. Arliss filling the tank of a 1928-29 Cadillac 5-pass. sedan or limousine.


Photo: © and courtesy Malcolm Willits
and the Classic Car Club of America (CCCA)

Moonlight Mile, starring Dustin Hoffman and Susan Sarandon, 2002

- [info from CLC member Kevin o'Keefe] A black 1968 Sedan de Ville starred in this movie; the interior is light baby blue cloth and the car features a power bucket seat in front (driver) and a console between the front seats.

Moonrunners, 1975 [like the TV series, Dukes of Hazzard?], starring James Mitchum, Arthur Hunnicutt, and Kiel Martin.

- No Boss Hogg or triple white Eldorado, but in this movie, but in 3 or 4 scenes, there is a '66 Sedan De Ville. The car does not play a big role, nor is it used to run "shine"; the car appears again in the last scene.

Murder My Sweet, starring Dick Powell- A rare 1942 Cadillac Series 67 takes private investigator Philip Marlowe (Dick Powell) for a ride in this 1944 film noir classic [supplied by CLC member, terry Boyce, 1/2002]

Murderers, The, a B&W movie starring Burt Lancaster in his first major role.

- You see him checking the oil on a 1941 Series 60 Special. The crew left the hood ornament "up" when the car drives up, for ease in opening the hood between takes. The "snick" of the oil dipstick can be clearly heard. Barry Wheeler of the CLC, who supplied the information on most of the movies listed here that featured a 1941 Cadillac believes a 1937 sedan is also seen later in the movie.

National Lampoon's Animal House

- pink 1963 4-door, 1961 convertible and 1962 convertible

National Lampoon's Loaded Gun

- features a 1963 Convertible with lots of dings and rust

Nightmare on Elm Street, A [1984]

- Thriller meister, Wes Craven, puts a colorful 1958 Series 62 convertible into
one scene
Nightshift, starring Henry Winkler and Michael Keaton [1982]

- Movie buff Brad Faul sent this one too. He writes: Here's some more pics I've attached to this email. I think you'll like these, from the 1982 movie "Nightshift" with Henry Winkler and Michael Keaton. In the intro, two pimps are trying to kill a third one, and they chase him with an all white (82/83?) Fleetwood. There are some really nice shots of this car. Also,there's footage of a '74 Limousine style hearse/ambulance, which they call a "morgue vehicle." In the garage shot, Michael Keaton is using it to supplement his income by running a unauthorized "limo service" with the morgue's cars.I'm thinking they never used any Cadillac morgue vehicles in real life, but it's neat that one's in the movie anyhow.

No Mercy, starring Richard Gere and Kim Bassinger

- Richard Harrison of the CLC Forum wrote, in March 2004: a 1972 Cadillac was used in this film

North by Northwest, starring Cary Grant [1959]

- Gary Grant gets kidnapped in a 1958 Fleetwood Series 75 limousine


1958 Cadillac Series 75 sedan pr limusine
[background: 1954 (?) Series 75 sedan or limousine]

Ocean's Eleven [1960], starring Dean Martin, Shirley McLaine, inter alia

- 1957-58 Eldorado Brougham [brief appearance - perhaps this is the car Sinatra is said to have owned]. Enthusiast, Jerry Jansson from Sweden writes: Hey, I just got a copy of the original movie Ocean's 11, the one with Sinatra, Sammy Davis Jr. ( I met the guy in Stockholm back in the 70's when I was doing lights at a show-restaurant), Dean Martin
etc etc. Of course you know that there is a '57 or '58 Brougham featured in that movie. It's either sandalwood or Kenya beige [or Nairobi Pearl, Jerry].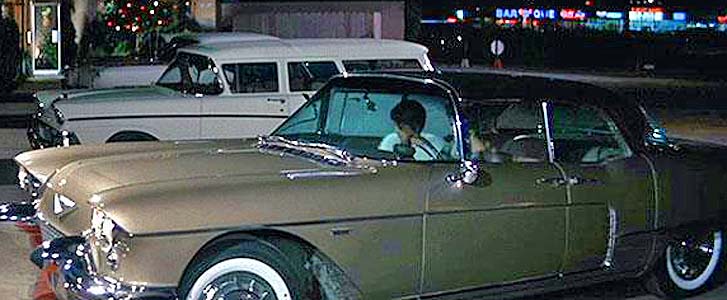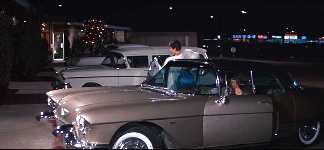 Brougham arrives and parks; Shirley McLaine alights from passenger side in blue lamé dress and ermine stole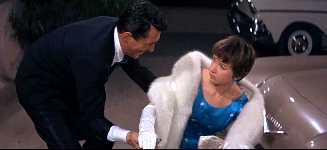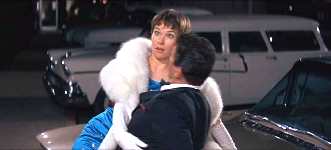 Dean Martin helps her to her feet (did she fall?) , sets her on the Brougham hood...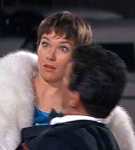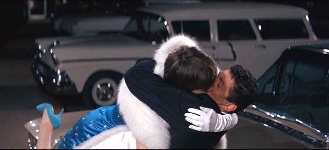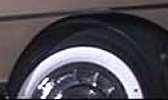 (Left) From the expression on Shirley's face, she may have sat on the hood ornament [except the Brougham does not have one!]
(Center) She embraces Dean; (Right) Are these the original, special Vogue tires made for the Brougham?
Oscar, starring Sylvester Stallone

- At a recent auction by the Kruse group, a 1930 Cadillac 4-door sedan was offered for sale [lot #1074]. Bidding went up to $45,500 for a car in condition "3" [average], but its owner did not let it go.

Parrish, The, starring Troy Donahue and Karl Malden, 1960

- Cadillac enthusiast Dave Smith added this one to the repertoire in January, 2004: I almost forgot one of my favorites! The 1960 movie Parrish starring Troy Donahue and Karl Malden. It focuses on the Tobacco industry in Connecticut between two rivals. Karl Malden plays a wealthy tycoon who has a black Limousine with his character's initials on the front doors. To show the passing of the years it starts with a 1956 Cadillac Series 75 limousine, then a 1957 (mid-movie) and finally a 1959 limousine. One of his sons has an early 50s limousine, a '52 I think. The entire movie was filmed in Connecticut and is a treat to watch.

Payback, starring Mel Gibson

- Early in the movie, hero "bad guy" Mel Gibson and his thug friend crash head-on into a '79 Cadillac limousine in order to stun its oriental occupants (who are NOT wearing seat belts) and steal their bounty. The hero later gets locked in the trunk of a '79 (?) Fleetwood limousine belonging to the Mob; he escapes by digging his way through the rear seat back and leather trim with a tire iron.

[submitted by Cadillac enthusiast, Derek Sherwood]

Pearl Harbor, starring Alec Baldwin, Ben Afleck, Josh Hartnett, Kate Beckinsale

- I caught the movie in the middle (on ABC, Sunday 2.8.04); part of the story relates to the bombing of Tokyo by Doolittle's Raiders. During a short open air dialog between Ben and Kate, in front of a gas station, you can see a two-tone, 1940 LaSalle sedan parked in the background. Just thought I'd mention it even though it plays no obvious role in the movie.

Pentagon Papers, starring Sylvester Stallone, Lames Woods, Rod Steiger, Sharon Stone

- There's a pink Cadillac inthe movie, from around 1954-1956

Period of Adjustment, B&W movie starring a very young Jane Fonda

- 1937 Cadillac hearse

Petrified Forest, The, starring Humphrey Bogart [1936]

- a wealthy couple and their chauffeur are driving through the desert in their 1933 Cadillac sedan when they are kidnapped by ruthless gangster Duke Mantee (portrayed by Humphrey Bogart) and his gang of nasties

Perfect World, A starring Kevin Costner
- 1964 Cadillac-based ambulance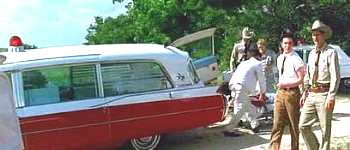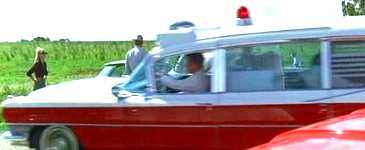 1964 ambulance: possibly the 42-inch Royale Rescue
model from Superior of Lima, Ohio
[ movie stills from movie and Cadillac buff, Irwin Kho, of the Philippines ]
Philadelphia Story, The, starring Cary Grant

- Two Cadillacs play a minor role in the story: a 1937 Series 60 convertible and a 1940 Fleetwood Series 75 limousine

Pink Cadillac, starring Clint Eastwood & Bernadette Peters

- 1959 Series 62 Convertible

Pink Chiquitas, The

- Terry Griffin, CML member from Australia writes (February, 2003): I found a Caddy movie at the Toowoomba Swap Meet on Saturday, so had to buy it as it has a '59 convertible on the cover. Its called 'The Pink Chiquitas' and is touted as a sci-fi comedy (with sexual overtones). Haven't had time to watch it yet. Regards, Terry

Place in the Sun, A, starring Liz Taylor and Montgomery Clift (?) [1951]

- The movie won 6 academy awards; in it, Liz Taylor drives a 1949 Cadillac convertible
Point Blank, starring Lee Marvin (1967)

- Features many Cadillacs in foreground and background action; Carroll O'Conner is a mobster who has a 1965 Limousine

Police Academy #1

- Pseudo-Latino, George Martín, is dropped off at the Police Academy by his many girlfriends in a beat-up, white 1960 Series 62 convertible

Police Academy [...yes, but which number?]

- 1959 Series 62 convertible (gold), used by the bad guys

Popi [1969],

- the funeral procession in this comedy-drama features a few Cadillac commercial cars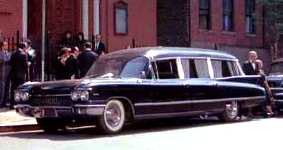 The broad, dividing molding down the side of the car
suggests a combination hearse/limousine model by Miller-Meteor
Public Enemy, starring James Cagney and Jean Harlow

- a La Salle convertible appears in several scenes

Prime Cut, starring Lee Marvin and Gene Hackman

- Marvin and Hackman both are bad guys; it's about the meat packing business; Marvin and his hit squad go after Hackman and his gang in a black 60's Sedan de Ville with a gun wielding chauffeur.

Prize, The, starring Paul Newman and Elke Sommer (inter alia)

- in this romantic comedy about Nobel prize winners, aired on local TV in November 2002,
I was able to catch a glimpse (between naps...) of a late 40s black Fleetwood 75 limousine,
as well as a black 1962 sedan

Quicksilver, starring Kevin Bacon

- Lynn Nichols of the CLC form wrote, in March 2004: It's been a long time since I've seen this, but if I remember right, there's a passing shot of a '68 in the beginning of the movie.

Raiders of the Lost Ark
- Enthusiast John W. Rauscher, a visitor to the Database "Guest Book" in January, 2004, says that a restored 1937 La Salle coupe is featured in this movie (no other details available)
Rat Race, starring Rowan Atkinson ["Mr. Bean"], John Cleese, Whoopi Goldberg, Cuba Gooding, Jr., Seth Green, Jon Lovitz, Breckin Meyer, Kathy Najimy and Amy Smart
- A Casino tycoon gives six money-crazed contestants the chance to win $2 million in a race from Las Vegas to New Mexico. One hilarious ride! Thanks again, Jerry Jansson, for this information and the two movie stills

- CML member Warren Hawtin from Australia added (Feb. 2003): The funniest scene I have watched involving a Caddy is in Rat Race where these two idiots are chasing a hot air balloon in a 76 Eldorado. The balloon is trailing a rope and one moron climbs out on the hood to catch it as they are careening across a dairy farm. He slips and gets his tongue stud caught in the wreath and crest on the front of the hood whilst his partner who is driving on cruise control grabs the robe and gets hauled out of the car. You have to see this one!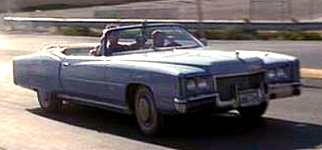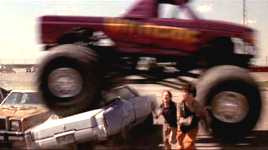 The 1971-72 Cadillac used in the race by Vince Vieluf and Seth Green unwittingly gets involved
in a "Monster" truck race, ending up parked in the line of cars the trucks leap over!
[ TM @ © Paramount Pictures ]
Rabbi Jacob, Les Aventures de [The adventures of Rabbi Jacob], French comedy movie starring Louis de Funès

- unidentified models including a 1965-1966 Fleetwood 60 Special

Radar Men from the Moon, 1952

- Featured in this older movie is a 1931 Cadillac V-12 (Series 370, sedan or limousine for 5 or 7 passengers), plus a 1937
Cadillac with Fleetwood body; there is not enough detail in the available stills to determine precisely the Series number,
power plant or body style.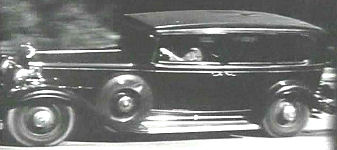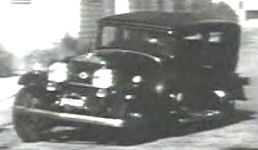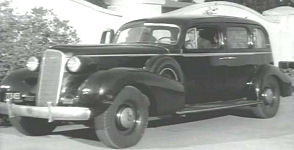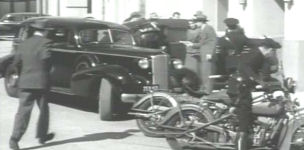 [Images: IMCDB library, 2006]
Ray, starring Jamie Foxx

- In this story about the life of singer-showman Ray Charles, at least three superb Cadillacs were featured in the movie. There were, inter alia, a red 1956 Series 62 Sedan or Sedan de Ville, a Wood Rose 1959 Series 60 Special sedan and a black 1964 Fleetwood Eldorado. There may have been others too in various street scenes.

Red Rock West [1992], starring Nicholas Cage, Dennis Hopper and Laura Flynn Boyle

- white 1967 Coupe De Ville in the first quarter of the film. One gas station attendant says: "They don't build them like that anymore".


Remember the Titans, starring Denzel Washington

- This from Rick Statham: I leased my 1960 Cadillac M/M Ambulance for the filming of Remember the Titans with Denzel Washington. I also owned the 1969 Fleetwood used in that movie, as also the 1976 Fleetwood limousine.

Revenge, starring Kevin Costner and Anthony Quinn (1990)

- This from French movie buff, Philippe Ruel: just viewed again this relatively little known movie about a horse trader from Montana who does business with Mexico. The car featured is a trailer-hauling, red 1961 or 1962 Cadillac convertible

Rising Sun, starring Sean Connery

- I caught the tail-end of this Kung-Fu movie on TV (Jan. 2003) and noticed in one of the closing scenes a pale-blue '59 Series 62 convertible gliding across center-screen from left to right. Can anyone tell me if that car had any other part in the movie, or was it just "accidental"?

Road Scholar (1993), [proposed addition by CML member, Ronald Threadgill, who says it's one of the funniest movies he's seen]

- The billboard features a '59 Cadillac but there is none in the movie; the Cadillacs featured are from 1967-68.

Roger Rabbit,

- I have not seen the movie but am told it might feature some Cadillacs of the thirties and forties.

Runners, starring: Jesse Harper, Theo Pagones, Christopher Jacobs, Elan James,
Betsy Monroe, Vance Strickland, filmed in 2000

- Aussie enthusiast Greg Short contacted me in July, 2004, with this information : I saw your recent post on the most excellent Cadillac Database with respect to Caddies in films and film strips. I just wanted to pass on some information about our '64 DeVille Convertible that was used in an independent film made in California in 2000 called "Runners." The film is basically a "road trip" drama, so the car features prominently. It is a very confronting film so is unlikely to be distributed widely although I thought it was very good (I obtained my own copy from the distribution company) and won Best Film at the Phoenix Film Festival of 2001under it's working title of "The Boys from Madrid." The car was owned by the Director, Carlo Gustaff, and I bought it off the guy who bought it off him, who had it shipped out here to Melbourne, Australia. Apparently, Carlo Gustaff's office is on Sunset Boulevard and the car was his daily driver, so I take great delight in telling people that our Caddy used to cruise up and down Sunset Boulevard every day! Anyway, I'm not asking you to re-arrange your Database to accommodate this information, I just pass it on for you to archive, as you see fit. The cars sequence number is: 64F141812. Cheers. Perhaps Greg could dig up a photo of his car for us!

Samurai, The

Scarface, starring Al Pacino

- CLC member and moviegoer Derek Sherwood brought this one to my attention; he said it featured a yellow 1963 or 1964 De Ville convertible; having finally seen the movie [3/2002] I can confirm that the car is a '63 Series 62 convertible with leopard skin seat covers; Pacino progresses to a white Rolls Royce Silver Cloud as his bad boy image grows!
Second Breath [Le deuxième souffle], a French movie filmed in 1966
- This one features a 1964 Series 75 limousine in a few scenes



[ Images: IMCDB library, 2006 ]
Shag, starring a young Brigitte Fonda

- This is a coming-of-age movie about four southern girls in the mid-60's. In it, they drive a girl's mother's new red DeVille convertible (66-67ish1, if I recall) down to Myrtle Beach for spring break [info from Jim Smithbauer]

_________________________________________________
1 Jannick Halben, an enthusiast from Denmark tells me [Jan. 2001] that the car is in fact a new, 1964 model and the action may have taken place in the Fall of 1963. Thanks for the update Jannick ...and also for the photos of those two lovely oriental cuties pictured with Elwood, your superb '64 Eldorado!

Shawshank Redemption, The

- The harsh realities of prison life; apparently a 1947 Cadillac Series 60 Special was used in the movie (the same one as was also apparently used in the movie Forrest Gump)

Shining, The

- A must see! The recent TV movie version of The Shining has Halloran driving
a red 1959 Cadillac Series 62 convertible (thanks to Richard Goulden in Australia for identifying it correctly). CLC member, Tom Coy, added this in July 2002: The 1959 Series 62 convertible that appears in the TV remake of The Shining belongs to Rocky Mountain Region CLC member, Skip Gorman. Its color is Coca-Cola red, and Skipper brings the car to our club activities for parades and shows. Note at the end of the movie when the camera zooms in on the CLC logo decal on the windshield.

Showdown in Little Tokyo, starring Dolf Lundgren

- One more martial arts movie showing off to perfection Mr. Lundgren's six-pack abs;
the only saving feature of the movie is the red (!) Fleetwood "75" operated by the
bad guys, that makes a couple of brief appearances.

Shortcuts

- featured a '71 in a very short scene in about two thirds of the (long) movie and in the last part the film an elderly lady singer pulls up her driveway in a '65 Sedan.

Sixth Day, starring: Arnold Schwarzenegger, Michael Rapaport, Michael Rooker, Robert Duvall, Sarah Wynter, Tony Goldwyn, Wendy Crewson; director: Roger Spottiswoode (Columbia pictures)

- In the not-too-distant future, when cloning plants, pets, and human organs is accepted, a sinister corporation has begun illegally duplicating entire human beings. They mistakenly clone the wrong man; a man who is now the only one with the power to expose their evil. They desperately want to kill him, but he will do anything to reclaim his family and life. Comm: Arnold outsmarts the bad guys after a car-chase where he drives his, to start with restored and at the end trashed, 57 Caddy. As seen in these photos, Arnold is not actually driving the car in the chase scenes [addition by Jerry Jansson, Sweden]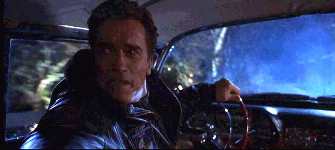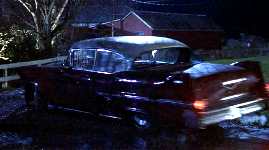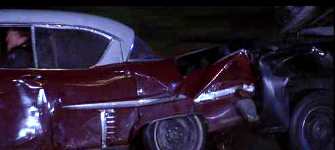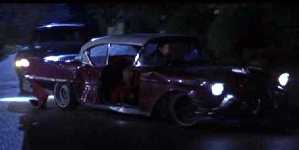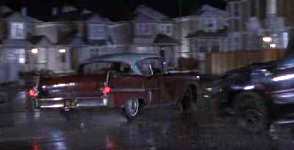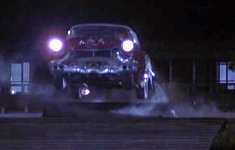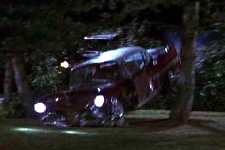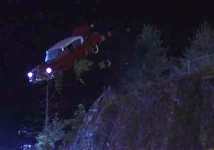 Car chase involving a 1957 Cadillac, with Arnold Schwarzenegger at the wheel;
he gets out before finally trashing the car [image, bottom right]
Sixth Sense, starring Bruce Willis and Haley Joel Osment

- CML member, Sal Darigo writes: ...when Bruce Willis walks Haley Joel Osment to school, watch the part of the scene where the characters cross the street. Over Bruce Willis' shoulder you can sort of see a 1980 Sedan deVille. I owned the car at the time and rented it to the production company. On the DVD, there's a much better view of the rear end and driver's side of the car in the scene entitled "A Visit to Mr. Mandebach" which may be found in the "Deleted Scenes" feature.

Slaughterhouse Five,

- Chris McBride, a subscriber to the CLC Forum, wrote (in March, 2004): I don't remember the year of the car nor the character (I think it was Mrs. Pilgrim) but the movie has a long sequence where she drives cross-town in her big white caddy desperate to see her hospitalized husband; she destroys all in her path and eventually crashes directly into the ER . ... I think she succumbs to carbon monoxide poisoning since she rips off her exhaust in the drive. A great testimonial to the car's ability to take a licking and keep on ticking!!! My wife often drives our white '64 deville ... she won't tolerate references to Mrs. Pilgrim .... but she did let us put an "ahab" plate on it since she sometimes teaches middle schoolers literature.

Sleepers, starring Jason Patrick

- The Mafia boss who helps Jason Patrick and his friends is driven around town in a mid-80's black Fleetwood with black-tinted windows. There may also be some other mid-60's Cadillacs in evidence in the earlier parts of the movie, which begins in the 1960's and ends in the present.

[from auto buff, Derek Sherwood]

Solid Gold Cadillac, The, starring Paul Douglas and Judy Holliday

- a 1956 comedy starring a gold-colored 1956 Eldorado Biarritz [background image to this page]. The movie is shot in black and white ...except for the final scene!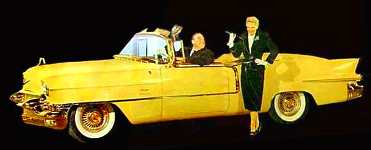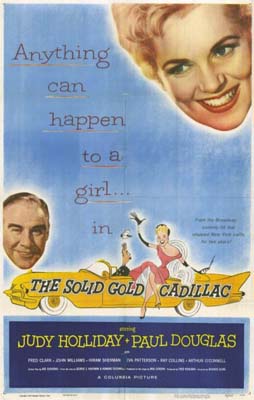 This is a still shot from the tail end of the movie which,
until the very end, was actually filmed in B&W
Some Came Running (c1959), starring Frank Sinatra, Dean Martin, Shirley McLaine

- Barry Wheeler of the CLC writes: This is the first movie my wife and I saw together when we first met. It was in a crowded downtown first run theatre and she almost left when I banged her knee and said, "Ohmygod! Look at that 1941 Cadillac convertible. I was driving a 1941 Series 6127 coupe at the time. She was interested in seeing the movie as it was filmed while she was taking some specialized nurses' training. (Madison, IN.) It was Dean Martin's car. In one scene, he drove it along Main Street, then got out and let someone back it up for the next "take."

Slums of Beverly Hills

- Caught this one by chance on TV, March 1, 2002. It features a '67 De Ville convertible

Smoke [details please ?]

Smoky and the Bandit, starring Burt Reynolds and Sally Field

- Peter, a CLC member added this one in January 2003 (it's an older movie so we have to rely on TV re-runs to refresh our memories): I'm surprised this one has not been mentioned. There's a 70's white Eldo convertible with oxen horns in lieu of a hood ornament. Burt Reynolds drives off with Sally Field in it at the end, after collecting the money.

Specialist (The), starring Sylvester Stallone and Sharon Stone

- The movie features briefly a turquoise '63 Eldorado with non-original fender spears;
also noticed a pink '56 Series 62 convertible in the background

Spy Games, starring Brad Pitt, Robert Redford

- features a 1960 Cadillac Series 60 Special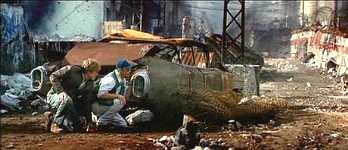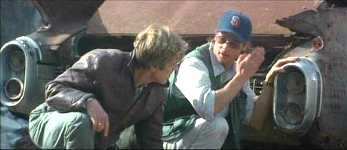 Movie tip and stills provided kindly by
Irwin Kho, Cadillac enthusiast from the Philippines
Spy Who Shagged Me, The, starring Austin Powers

- The current movie has the hero traveling back to 1975 in a Pimped-out Eldorado time machine. The amber turn signal lenses actually make it a 1976 model.

St. Tropez Cop [French movie: Le Gendarme de St. Tropez] starring Louis de Funes

- a delightful spoof about an imaginary police force in France's Riviera resort of St. Tropez; some of their antics will remind you of the early Keystone Cops; although the action centers around a 1965 top-down Mustang, a 1957 Fleetwood Series 75 limousine makes a brief but noticeable appearance at a formal reception

St. Valentine's Day Massacre, The starring Jason Robards as Al Capone

- Lots of twenties cars in this one, including a 1927-28 La Salle phaeton bought off a
used car lot by a mobster, for $750; on the same car lot, supposedly in late 1928 or
early 1929, stood a beautiful Cadillac V12 model ...although these were first marketed
almost three years later, in September, 1931 !

Starsky and Hutch,

- CLC Forum member, Eric S. Maypother, wrote (in March 2004): Hi, I was just looking through the March 2004 issue of Premiere magazine, and on the story of the movie Starsky & Hutch, there's a picture at a hospital that has the Torino and, in the background, a 1977 Cadillac high-top ambulance. Another mermber, "David", added : In the beginning of the movie there is also a gold '68(?) De Ville convertible that has a great cameo roll...and is mentioned in a later scene. Excellent movie by the way!!! Go see it.

Suddenly..., starring a young Frank Sinatra (yep, ol' Blue Eyes himself)
- This is an "oldie", in B&W (probably made circa 1954). Sinatra is a hired assassin bent on killing the President of the USA as he gets off the train for an official visit to a small town. The car sent to meet him at the station is a Series 75 limousine from 1948-49.
Superfly,

- Enthusiast Derek Sherwood mentioned the 1971-72 customized pimpmobile in this near-cult movie. I saw a similar car in a little known yet fabulous auto museum in Raamsdonksveer, Netherlands, in the summer of 2001. That car was said to have been owned by Elvis Presley [see Dream Cars section for 1970].

This submission in July 2002 by Cadillac enthusiast, Rick Anderson, gives an accurate description of this movie car [see also "Live or Let Die" (above)]:

The car in "Superfly" was customized by Les Dunham of Dunham Coach 234 Division St., Boonton, N.J.(.973-299-1900). The original owner, "KC", is featured in the film wearing a red hat in a bar scene. He is from here, in Boston. This car was later repainted to it's original color (white) after the movie was finished. Dispelling the rumor of it's existing anywhere else in the world, good word on the street is that it was destroyed in Delaware many years ago.
Superman, starring Christopher Reeves (?)

- CLC member, John Fleming, mentioned (in January 2003) a chase scene in the movie that involved a 1972 Fleetwood. The movie stills below [from DVD] were sent later by Philippe Ruel (who also corrected my "Steve" Reeves, to "Christopher" (Steve's son)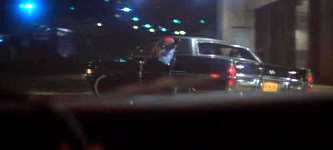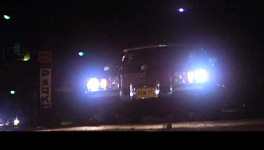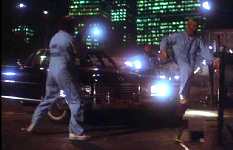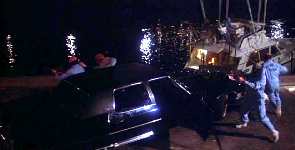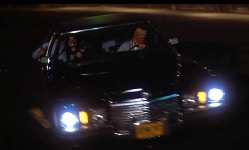 Sorry for the dark images, but the action takes place at night!
[ Movie stills: courtesy Philippe Ruel ]
Survivors, The, starring Walter Matthau and Robin Williams

- at the end of the movie Matthau, Williams and two others are in a 1977-78 Eldorado, plowing through the snow, chased by dog sleds; the car misses a curve and lands in a field of snow. They finally get it out and they charge an army of men and huskies. Hilarious! A tribute to the large Eldorados!

Sweet Bird of Youth, A, starring Paul Newman (1962)

- Movie buff and Cadillac enthusiast, Chris Platt, says that Newman drives Geraldine Page to the Mississippi Gulf Coast in a 1962 Eldorado Biarritz convertible. There are other scenes with Cadillacs as well.

Switchback, starring Danny Glover and Dennis Quaid

I caught the tail-end of a "thriller" on TV (Feb. 2003) in which Danny Glover [of the Lethal Weapon series] plays the bad guy. I did not see it, but apparently he drives a white Cadillac. The action takes place in a mountainous, snow-covered part of the country (Rockies, Canada ???), and on a railroad. I asked Database users these questions: Title ? Other players ? Year and model of the Cadillac ?

- Meanwhile CML [Cadillac Mailing List] member, Dermot P. Thompson wrote: Last night I watched Switchback, starring a beautiful white 1977 Eldorado. The Eldo featured prominently, and there was a lot of dialog concerning it. Obviously, it was wrecked near the end, although I hope that was just special effects. A State cop took one quick glance at the side, and immediately smiled and exclaimed: Hey, a 77 Eldorado. Amazing that after all these years a 75-78 Eldo could be so easily distinguished. The interior was lined with laminated girlie pictures, and Glover, the owner, told his sidekick that he used to have an 82 Seville similarly decorated, but he had ran out of space inside, and boy, but did it take a long time to sell...

I also got correct information, later, from another movie buff and Cadillac enthusiast, Shannon Steele.

Tarnished Angels, [pre WW-2 production?]

- I have it from a reliable source that the Cadillac V-16 roadster, below,
starred in that movie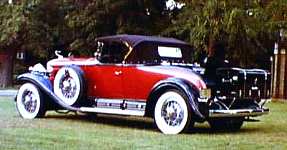 This car is owned by a Cadillac dealer,
my friend the late Jack Tallman, of Decatur, IL
Telling Lies in America, 1997 movie starring Kevin Bacon

- a 1959 Series 62 convertible
Tequila Body Shots

- CML member, Jan Hickman, writes: I was surfing TV this morning ]Feb., 2003] and saw a scene where 3 young men are riding in a red convertible early 60's model. I'm not sure of the year or model and didn't watch the rest of the movie. I didn't want to start in the middle of the movie, but have added it to my TV wish list to catch later.

Terminal Velocity

- in this movie, a red 1987-88 Allante is pushed out of an airplane

Terminator, The, Starring Arnold Schwarzenegger

- Reese and Sarah Connor were in a 1973 (?) Eldorado in a chase scene [and this just in (1/2004) from Cadillac enthusiast and movie buff, Dave Smith: I was just watching the original Terminator movie and noticed something funny. There is a scene where Michael Bien steals a 1977 Eldorado from a parking garage. It is a sharp looking light blue standard model with blue leather seats. At the end of the chase scene, it has become a similar color "Biarritz" model with the pillowed seats! You gotta love Hollywood!

Terminator 3 - Rise of the Machines , Starring Arnold Schwarzenegger and Kristina Loken

- a hearse from the eighties or nineties gets its roof ripped off by the Terminator

Thanks a Million, 1935 musical starring Dick Powell

- a 1932 dual-cowl phaeton is featured twice

The Two Jakes, starring Jack Nicholson and Harvey Keitel

- as I watched a re-run of this movie on Bravo channel, I caught a few glimpses of a
cream-colored 1948 Series 62 convertible

Thief, starring James Caan, Tuesday Weld, Willie Nelson (1981)

- A thriller; becoming closer to his dream of leading a normal life, a professional safecracker agrees to do a job for the mafia, who have other plans for him. In one scene some mechanics are working on a pair of green 1973 Cadillac Coupe de Ville models (this tip from Andrew L., a friend in S. Carolina who happens to have owned an identical model).

Thirteen Days, starring Kevin Costner
- A dramatic reconstitution of the thirteen days in 1963 when the USA appeared on the
edge of a nuclear conflict with the then USSR over the intended deployment on the island
of Cuba, of Soviet ICBMs.


Left: three Fleetwood "75" limousines and (far left) a '58 Mercury sedan
Right: Another Fleetwood "75" of 1963 vintage


Behind the Presidential Lincoln Continental, the car aptly dubbed
Queen Mary II, one of two 1956 4-door convertible sedans specially built
by Hess & Eisenhardt of Cincinnati as White House security cars
[ the same prop car apparently was used in the movie, JFK, below ]


The movie stills in the first two rows, above, were supplied kindly
by movie and Cadillac buff, Irwin Kho, of the Philippines
Thomas Crown Affair, The, starring Steve McQueen and Faye Dunaway (1968)

- In this thriller, a friend of Thomas Crown uses a 1965 De Ville convertible to tow his glider; also, in the finale which is played out in a cemetery, there are a 1965 hearse as well as a 1966 Fleetwood Seventy-Five limousine. Thanks again to Philippe Ruel (France) for this information and for the corresponding (and excellent quality) movie stills.
Three Thousand Miles to Graceland, starring Kurt Russel, Kevin Costner, Courteney Cox, Christian
Slater, Kevin Pollack, David Arquette and Howie Long.

- 1959 Coupe de Ville (...with a sad ending!); also a tan 1967 convertible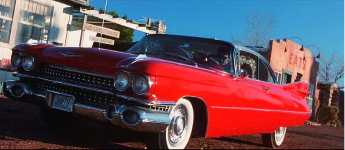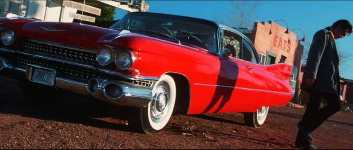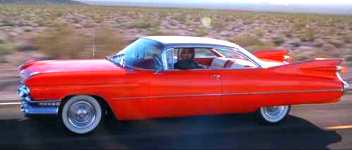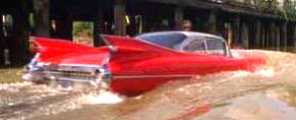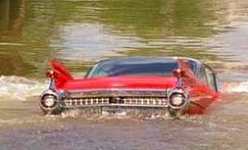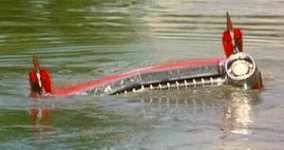 The last two movie stills, above, were provided kindly by Cadillac enthusiast, Irwin Kho, of the Philippines
Three Wise Girls (1932) starring Jean Harlow and Andy Devine

- This one was brought to my attention in July 2009 by V-16 owner-enthusiast and friend, Rick Kellman. In the movie are clear scenes featuring two Cadillac V-16 models (Fleetwood styles #4325 town car and #4375 limousine).


Designer's drawings of Fleetwood style #4375 limousine (left) and #4325 town car (right), on the V-16 chassis




Thunderbolt & Lightfoot

, starring Clint Eastwood

- see the early scene where a guy is tearing up the prairie in a 1959 Cadillac. Also, at the end, Clint's character rewards himself with a '74 Eldorado Convertible in which Jeff Bridges has his dramatic death scene.

Tin Cup, starring Kevin Costner

- Costner plays a washed-up golf pro who drives a 1974 Eldorado convertible that sounds as if it runs on only 5 cylinders!

Tin Men, starring Richard Dreyfus and Danny De Vito

- Dozens of 50s and 60's Cadillacs; a "must see" movie for all Cadillac buffs; I saw the movie again on TV [10/2001] and made a mental note of these cars: blue '58 sedan, red '59 convertible, Persian Sand '59 Eldorado Biarritz, tan '60 sedan, red '60 Eldorado Biarritz with non-original painted white stripe between the dual stainless fender moldings, a la '59 Eldo, yellow '61 coupe [Danny de Vito's car], other '61s, blue '63 coupe [Richard Dreyfus' car]

To Wong Foo, Thanks for Everything Julie Newmar

- Drag queens on the road in a 1967 Cadillac convertible


(Above and below) this is the car from the movie; it was offered for sale on e-Bay in December, 2000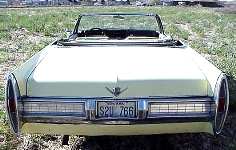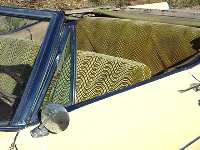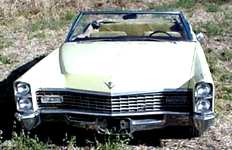 TNT, starring Evel Knievel

- enthusiast Thomas Dodd says a '70 De Ville convertible is featured as Knievel enters the crowd at Snake Canyon. It is seen a second time as they leave the area, raising the top as they drive off.


Training Day, starring Denzel Washington
- red 1959, Series 62 convertible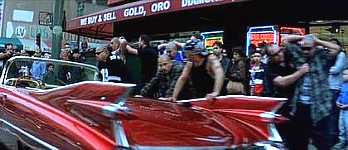 Movie still supplied kindly by Irwin Kho of the Philippines
True Romance, starring Christian Slater and Patricia Arquette

- plum-metallic colored 1974 Eldorado convertible (but it has a 1973 front clip). Slater does some amazing spins and smokey burnouts in this car.

Tucker,

- Features the 1941 Series 60 Special belonging to Carl Steig, former President of the Cadillac-LaSalle Club, Inc.; several cars of other club members also are featured.

Tully

- CML member, Jan Hickman added this movie on February 23, 2003. He said: I caught this new movie in the theater yesterday. It features the main character driving what I believe to be an early 70s Series 75. One of the leading actresses comments to the main actor that she can't see what women see in him unless it is his car.


Twins, starring Danny de Vito and Arnold Schwarzenegger

- the pair travel through the USA aboard a 1985-1988 Sedan de Ville.

Tycoon, starring John Wayne and Anthony Quinn

- Features a dark blue 1941 Cadillac convertible [may have been a coupe]. The movie ends with The Duke driving off into the sunset in a 1948 Lincoln Continental.

Tycus, starring Dennis Hopper

- 1961 Cadillac 4-door hardtop sedan, six window (blue)
[info from Irwin Kho, Philippines]

Undercover Brother

- Gold-colored 1970 De Ville convertible [new movie, May/June 2002]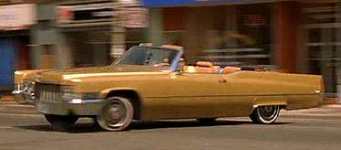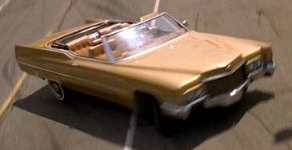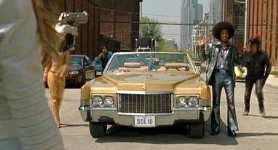 [ Info and (cropped) movie stills from Irwin Kho, Philippines ]
Untouchables (The) , a Brian de Palma movie starring Kevin Costner
- I have not seen the movie but I expect a few Cadillacs of the late twenties and early thirties are featured
Urban Cowboy, starring John Travolta

- John's mistress drives a nice brown 78-79 Seville

Used Cars

- According to Cadillac buff Cory Heisterkamp of the Cadillac Mailing List (CML), this movie features a late model Eldorado

Usual Suspects, The, starring Kevin Spacey

- One of the people that Kevin Spacey and his crew meet with, arrives at the meeting in a dark green mid-70's Eldorado convertible (1974?) .

[another one from Derek Sherwood]

Vagabond Lover, The, starring Rudy Valee and Sally Blane [1929]

- one scene features a new (for 1929) dual-cowl phaeton

Valachi Papers The, starring Charles Bronson

- black 1957 Series 75 limousine (others too)

Valentino Returns

- brand new 1958 [on Kai Savolainen's updated listing]

Walking Tall, [movie about Buford Pusser]

- enthusiast Thomas Dodd says there is a '69 or '70 Cadillac featured near the end of the movie.

Walk the Line, 2005 movie starring Joachim Phoenix and Reese Witherspoon (the Johnny Cash story)

- The love of a woman, given reluctantly, saves a man from addiction and self-destruction. The movie traces the life of country singer, Johnny Cash, from his boyhood, with loss of a brother and of his father's affection, to 1968 when his outlaw side and his unhappiness give way to the twin triumphs of his concert at Folsom Prison and June Carter's acceptance of his marriage proposal. Along the way there's his first composition, first recording, first marriage, daughters, being smitten with June, divorce, pills and booze, an empty life, and the Carter family's nursing him back to health. June eases Johnny out of a ring of fire. A number of 50s-60s Cadiollacs are featured as background props.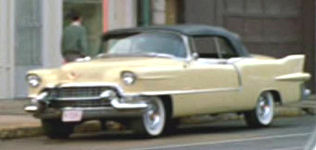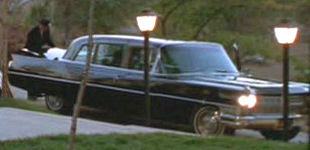 Left: 1955 Eldorado
Right: 1963 Fleetwood 75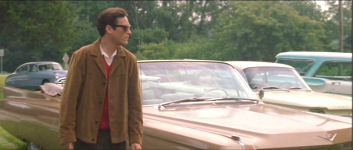 1963 Series 62 convertible
Wanted Dead or Alive, starring Rutger Hauer

- the hero drives a Cadillac Seville

War, the, starring Kevin Costner

Warriors, the (1979)

Movie and Cadillac buff, Bernie Hanssen writes [10/2004]: In "The Warriors", the 1979 street-gang movie, the Warriors gang has just returned home to their home base of Coney Island in NYC. As they regroup, however, they are being followed by members of a rival street gang, and that gang is driving a dilapidated black 1954 Cadillac Series 75 hearse with graffiti scrawled over the body. As the rival gang's '54 hearse stops in front of the Warrior's hideout, the gang's leader, while still in the car, is taunting the Warriors to "come out to play."

What's up, Doc, starring Barbra Streisand

- Features a car chase involving a black '69 DeVille convertible, a mid-fifties Cadillac limousine (1953?), a VW Beetle and a taxi cab. The '69 ends up in San Francisco Bay!
In the opening scene there is also a speeding 1973 Fleetwood Brougham [this info from CLC member, Dave Smith].

Where the Boys are, 1984

- A re-make of the teen movie of the early 60s. Features an 80-something red Eldorado
convertible full of girls looking for fun during Spring Break [submitted by Bob Coulter, San Jose, CA]

Where the Truth Lies, 2005 [title, plot and photo supplied kindly by Jerry Jansson, Sweden]

- A female journalist tries to uncover the truth behind the breakup, years earlier, of a celebrated comedy team after the duo found a girl dead in their hotel room. Though both had airtight alibis and neither was accused, the incident put an end to their act.


1957 Cadillac Fleetwood 75 limousine

Wings of Eagles, starring John Wayne

- The light gray 1941 convertible seen was used in many other movies.
Willy Dynamite

- Again a new one from from CML member, Jan Hickman, who says: a 1973 movie about a New York pimp driving a '72 (not sure) pimped-out Eldorado. I haven't finished watching this movie, but it opens with the main character driving this Cadillac. I haven't finished watching the movie yet but the last scene I've watched was just after the Cadillac was towed. I hope he gets it back before the end of the movie.

Wise Guys, starring Danny De Vito and and Joe Piscopo

- a comedy featuring a black Fleetwood Brougham from the 80s as well as a 1959 coupe.

Wrongfully Accused, starring Leslie Nielsen

- The hero steals an '83-84 vintage low-rider with full "jump" hydraulics fitted. Fun !

You're Telling Me, starring W.C. Fields and Buster Crabbe. This 1930s B&W movie was brought to my attention by Cadillac owner-admirer, Ross Morgan of Australia. He has done a great job of capturing these movie stills.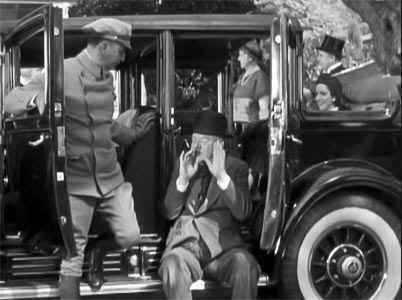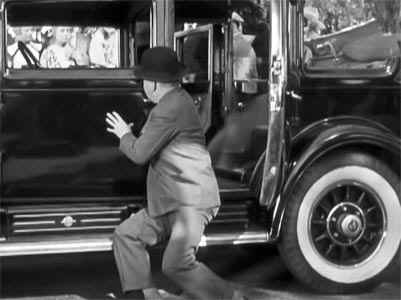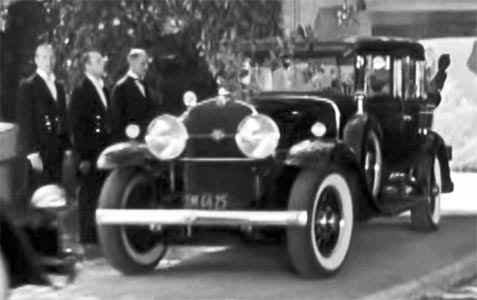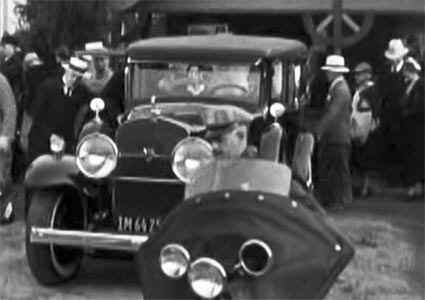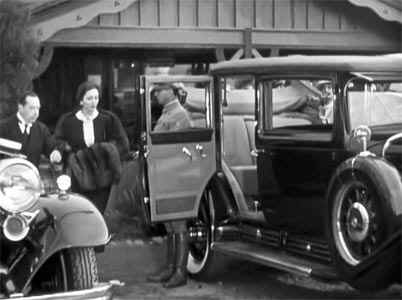 Stills from IMCDB, captured by Ross Morgan of Australia
XXX, starring Vin Diesel

- featured is a baby blue 1971-72 Eldorado [info from our Cadillac movie sleuth in Sweden, Jerry Jansson]. The scene is where the hero is being picked up by his associates after having completing a "getaway video" (involving the theft of a Corvette from a senator, outsmarting the police and finally driving off a bridge). The Cadillac is the getaway car!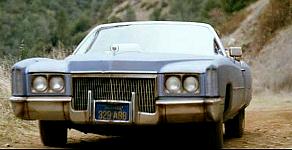 © 2002, Revolution studios Distribution Company LLC
Other Movies
- On this Dutch Web site with other great Cadillac content are listed a number of other movies said to feature Cadillacs; I have not had time to verify all of them but the source is believed to be very reliable.

- CLC member, Barry Wheeler, mentions also an early post-WW2 golfing short in B&W, featuring a beautiful, Dusty Grey/Rivermist Grey 1941 60S. (B&W). It starred whoever was the big golfing star just after the war. Everyone at that time wore white shirts, ties, and plus-fours.

- Harry and the Hendersons ('59)
- Scrooged (Bill Murray's Christmas movie) (1959 model)

- 80's TV show about an older man, a detective of some sort, who drove a 1975 Coupe de Ville.

- A CLC member who uses the alias "Matt V16" wrote in January, 2005: If you can find "A plumbing we will go" 1940, you will see Moe, Larry and Curly [the Three Stooges] riding in the back of a truck and they pass a real sharp black '38 60 Special parked on the street with the big Trippe lights on the front end. I paused that shot many times. This is the film where Curly thinks he can fix a leak in the shower! A real classic! Almost every time a big fancy car was used in a Stooges film, it was a Cadillac.. There was also a 38 60 Special used in a movie made in Canada around 1983 but I do not remember the name.

- Another CLC member, "Mike", responded: I also remember seeing a 3-Stooges short that used a V-16 car. Can't quite remember the skit or the year of the car, but they did include the soundtrack when the car sped off. This is the only time I actually have heard a V-16 exhaust note in anger! It was sweet!
"Cadillac" movies (not listed above) but included
in TV Guide magazine's MOTION PICTURE database search
- AMERICAN FABULOUS, 1992

- BEGINNING OF THE END, 1957

- BELLE AMERICAINE (LA), 1961
[the car in this movie is, in fact, a customized Oldsmobile - not a Cadillac!]

- CHASERS, 1994

- GIRL IN THE CADILLAC, 1995

- HITCHER, THE, 1986

- JUDGMENT NIGHT, 1993

- LOLA, 1961

- MOTORAMA, 1993

- PLUNDER ROAD, 1957

- POINT BREAK, 1991

- REFLECTING SKIN, THE, 1990

- ROBOCOP 3, 1993

- SUCKER, THE, 1965

- THERE GOES MY BABY, 1994

- VALENTINO RETURNS, 1989

- WE'VE NEVER BEEN LICKED, 1943

CML member, Craig Seman added these in February, 2003:


- CADILLAC 1997 starring Annabelle Gurwitch never heard of this movie.

- CADILLAC DREAMS 1988

- CADILLAC GIRLS 1993 1965-66 deVille convertible featured.

- CADILLAC RANCH 1997

- THE CADILLAC 1962

Movie Trivia

Paul Talsethagen, a Norwegian Cadillac enthusiast, writes: By the way, find any American movie with a Mafia-plot and you will see a lot of Cadillacs. Regarding the 'image' of Cadillacs in movies, I have studied that with great concern for many years. A bad guy in an American movie always seems to drive an American car. The good guys often drive Volvos or SAABs, or if they are wealthy, BMWs & Mercedes (or other exclusive European sports cars). If the bad guy has a very low status he's driving a dirty, beaten-up muscle car, and if he's an organized-crime-type, it seems he's driving a Cadillac. This image is typical of movies from the eighties. During the 90's the tide turned a bit, but we still have a long way to go to correct that image. It's still considered a bit suspicious and "bad taste" in some circles to drive a Cadillac, be it in the movies or even in real life. Does anybody else share this opinion (or rather observation)?

TV Series and Soaps
As Time Goes by (British TV-series aired on PBS in the USA)

- In one episode that was aired in SC in the Fall of 2003, the eccentric father of "Lionel"
(the male friend of Dame Judy Dench in the series) drives a gaudy pink Series 62
convertible, complete with grille-mounted Texas long-horns.

Dallas (TV-series)
- "JR" Ewing (Larry Hagman) drives an Allanté during the last couple of seasons. In the
very last episode, JR is visited by the devil who shows him what life would have been like,
had he (JR) not existed. Bobby Ewing (Patrick Duffy) was portrayed as a compulsive
gambler living in Las Vegas. He drives a maroon 1975-1976 Eldorado Convertible.
Carlie's Angels [TV-series]

- In an unidentified scene from the popular TV series, Jaclyn Smith is seen wearing tight pink pants, standing beside a 70s white Eldorado coupe


At this writing (2013), Jaclyn (center) is now 65 years old (right)

Chips, [TV Series]
- in one episode I saw, a pink 1956 Eldorado Biarritz was being chased by the cops
Columbo, [TV Series]

- CLC member, John Fleming, mentioned (in January 2003) an early V-16 model being
visible in one episode, in a couple of quick scenes; in the episode in question, Star Wars'
William Shatner has a guest role as the "murderer" (Ward Fowler).

- Nick Noviello, a visditor to the Cadillac-LaSalle Club internet forum mentions an episode starring Robert Culp that
features a 1969 Eldorado. In order to get the car in the shop, Columbo shoves a potato in the exhaust. Classic!!!
Nick says that almost every Columbo episode has a beautiful Cadillac.

- Nick mentioned also episode #24, first aired in 1974, in which is featured a 71-73 Eldorado.

- In another episode that was shown again in April 2004, the central character and bad guy
owns a 1970 De Ville convertible


Dallas, [TV soap]

- CML member, Craig Seman writes: Courtesy of the spouse: BOBBY EWING on
DALLAS from the 1980s drove several Cadillacs over the years. Early episodes had a
75/76 Eldorado convertible occasionally, for several episodes a black ETC was seen being
driven. Sue Ellen Ewing's mother Ellen Shepherd had an 83/84 Sedan deVille. Miss
Ellie's second husband, Farlow, drove an 88/89 STS for some time. Towards the end of
the run in the late 80s, JR Ewing drove a burgundy metallic Allante.

- Enthusiast, Guy R. Moore wrote in the Guest Book (12/2003): ... on Dallas, there
is one episode where Ms. Ellie and Clayton Farlow are driving a 1983 Fleetwood
Brougham, it is black and just exactly like the one I used to have, that is why I
remember, I taped that part and kept it.

Dukes of Hazard [TV Series]
- Boss Hawg drives a 1970 white De Ville convertible with long horns attached to the front grille

Falcon Crest, starring Jane Wyman [TV Series ?]
- 1986 Cadillac Series 75 limousine
Good Dog [TV program: Animal Planet]

- CML member, Ross Klein writes: We were watching "Good Dog U", which is a dog
training program on the 'Animal Planet' TV station yesterday morning [Feb. 2. 2003],
and what was the host driving? Joel Silverman was riding around in a sharp San Mateo
Red '68 de Ville convertible! It sure made me sit up and take notice!

Heat of the Night, in the

- One episode that ran on March 3, 2006 featured a black '47-49 Cadillac sedan,
owned by the brother of one of the leading characters in that episode

Jack Costello [TV series]
- The main character, Jack, drives a baby-blue 1966 DeVille Convertible [info from Ruben
Baeten, Netherlands]
Lassie [re-run TV Series, 2003]

- One episode which ran early morning on June 30, 2003 on the Italian channel RAI-DUE,
featured a coral-colored '55 Series 62 convertible

Las Vegas [TV Series, 2003-2008?]

- One episode featured this "De Ville" series convertible

Kingpin [new TV Series, 2003]

- Episode 1 features a 1980's Seville, standing in the background, and a custom, stretched
late-model limousine in 2-3 other scenes

Macmillan and Wife [TV-series]

- Police commissioner Macmillan, played by Rock Hudson, drives a 1975 Fleetwood
Brougham.

McCloud (TV-series)
- One episode has McCloud in Australia, where he is in a parade and a chase involving a
1974 Eldorado convertible in Terra Cotta Firemist which has been converted to RHD.
Many interior shots too.
McGyver (TV-series)
- one episode has McGyver rebuild (like new) a 1959 Series 62 convertible
that got trashed along the way by the bad guys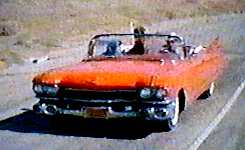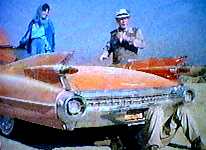 Left: '59 convertible being pursued by the Mob
Right: McGyver gets under battered and dusty car to get a piece
of the exhaust ...with which he creates a makeshift bazooka!
Miami Vice (TV-series)
- Baby-blue 1964 De Ville convertible
Murder she wrote (TV-series, Angela Landsbury)

- In one episode [aired in SC, 4/2004] the villain owns a collectible Cadillac; I only
caught a glimpse of it, near the end of the episode; it looked like a large, maroon
and black 1930-31 V12 sedan or limousine style [or possibly a town sedan]; in a
false bottom, in the trunk, was a stash of stolen dollars. The car had anachronic
full wheel covers from a 1933 model

Northern Exposure - TV Series
- Maurice, former NASA test pilot in the series, has a gold 1960 Eldorado Biarritz
Sopranos, the [TV series - HBO]

- M.J. Donnelly, a subscriber to the CLC Forum wrote (in March, 2004): In season 2 or 3 the story had Tony Soprano remembering his father in the 60s when he drove a powder blue 1965 De Ville convertible - say what you will about mobsters - but they have great taste in Cars]

- Irwin Kho of the Philippines kindly supplied the (cropped) movie stills, below, that feature a couple
of late- model Cadillacs
Rockford Files [TV series]

- Angel drove a 1959 Convertible

Taken [TV Series] -by Steven Spielberg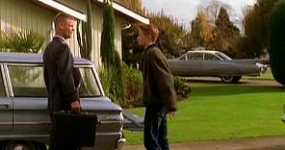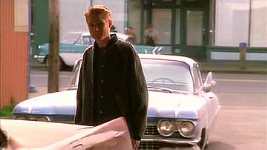 Background (left): 1960 Eldorado Seville, identical to my own former car
Image (right): 1959 Cadillac coupe
[ Info and (cropped) movie stills from Irwin Kho, Philippines ]
Touched by an Angel [TV Series]
- features a beautiful, red Eldorado convertible.
Music Videos [few entries - need YOUR help here!]

- Ain't no Sunshine, DMX (1964 Coupe de Ville)

- Come Away with Me, by Norah Jones (Lime green 1970 DeVille coupe)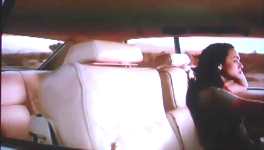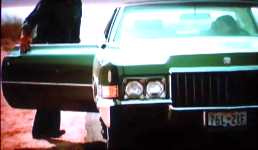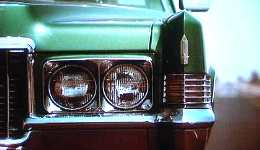 [ Info and (cropped) movie stills from Irwin Kho, Philippines ]

- All the Love in the World, the Corrs (1959 Series 62 convertible)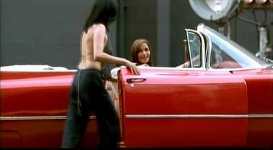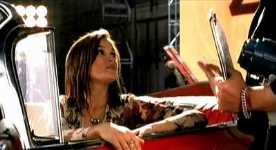 [ Info and (cropped) movie stills from Irwin Kho, Philippines ]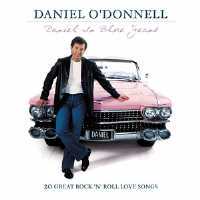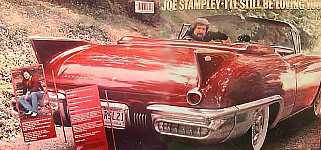 Sometimes the recording artist owns the Cadillac (lower photo);
sometimes the car just serves as a prop for the photo shoot (upper photo)
- [ Title ???], features black "Rap" artist and lots of modern-day Cadillacs, including EXT or Escalade and 1968 convertible (seen on MTV music video in April 2004)

- Something More, by Sugarland, features a white 1960 Cadillac flat-top sedan (or Sedan de Ville)

Commercials
[classified by year of Cadillac featured]
- in a 1999 clip for Payless Shoes, a gal has her husband's 1957 Series 62 convertible
crushed, just to make room for more shoes in the family garage.

- Surpass antacid clip features a cartoon character in a red, top-down '59 Cadillac

- Kool-Aid commercial aired in California features a custom, 1959 4-door convertible

- 1999 Eldorado clip features 1959 Eldorado Biarritz [excellent !!!]

- 2002 clip for the Longhorn Steakhouse features a blue 1959 Series 62 convertible, that a
theatrical cowboy ropes by its decorative longhorns to get a ride to that fast food joint.

- 2002 clip has the new CSTS coupe (2002) vying for the limelight against a (much more
desirable) 1959 Eldorado Biarritz

- Gold 1960 Eldorado Biarritz used for Wrigley's chewing gum (with twins in the car);
this tip from Robert P. Millian, a Database visitor and Cadillac buff.

- 2002 clip for Eclipse chewing gum, features a 1965 convertible

- Roundup ad broadcast in 1999 featured an old couple backing out of their driveway in a
sky-blue 1966 Cadillac convertible

- 2002-03 commercial for Merita bread features a brown, 1967 De Ville convertible

Documentaries

- Seen Feb. 18, 2002 on TV's "History Channel" ("History's Lost & Found", circa 11 p.m.
EST) a documentary about the Cadillacs of Elvis Presley, including in particular, the one
that he had re-painted the color of "crushed grapes". That car was restored in 1977;
work was completed just after the King's death. Many other Cadillacs from another
"History Channel" documentary also are featured.

Cadillacs in Books and Comics

- Cadillacs and Dinosaurs, a series from Epic Comics done by a man named Mark
Schultz. The story is set in the 26th century, with much of the US under water. The hero,
Jack Cadillac Tenrec, drives a blown '53 Eldorado convertible [of which an experimental
one was actually built by Cadillac - see Dream Cars section for 1953]. Unlike the real
car, Jack's Eldorado has a "4-on-the-floor" stick shift!

And finally some movie quotes that refer to the Cadillac
- Jake Blues in Blues Brothers, The (1980) said: First you trade the Cadillac for a
microphone. Then you lie to me about the band. Now you're gonna put me right back in
the joint!

- Darwin Mayflower in Hudson Hawk (1991) said: If Da Vinci was alive today, he'd be
eating microwave sushi, naked, in the back of a Cadillac with the both of us.

- In Francis Ford Coppola's The Conversation (about phone tapping in the sixties) one of
the actors refers to the leading man (Harrison Ford, who plays Harry Caul) as the guy
who heard first that Cadillac was dropping the tail-fin... [1964-65].

Readers' comments

- Merry Christmas [2000] to all [from Volker Meerkamp in Germany]. Volker says:
There was a press release here saying that GM will sponsor the next two Matrix movies
(starring Keanu Reeves) to the tune of 10 million dollars and 90 cars. Movies 2 and 3
will be produced together by Warner Brothers; the 2002 Escalade Pick Up and the
"new Catera" will be the featured cars. I guess the Catera may be an Evoq, since the
Opel Catera production was stopped this year.



(résumé en français)

L'un des sujets de débat qui revient souvent sur le tapis lorsque les membres du Cadillac Mailing List (CML) discutent entre eux, ce sont les nombreuses Cadillac qui ont tenu un rôle plus ou moins important au cinéma, dans des séries télévisées ou dans la pub à la télévision.

Le liste présentée ici est le fruit des recherches d'un collectionneur et ami de la froide Finlande, M. Kai Savolainen.

Il ne peut s'agir que d'un premier jet, car ces autos vont continuer longtemps à évoluer sur grands et petits écrans. Alors, si vous en connaissez d'autres, faites-moi signe.

© 1996-2020, Yann Saunders, DLM Group, and the Cadillac & LaSalle Club Museum and Research Center Inc.
[ Background image: Paul Douglas and Judy Holliday in the 1956 movie The Solid Gold Cadillac ]