[last update: 05.26.2020] ]
The Fabulous
Cadillac Eldorado Brougham
1957 - 1960
Part 13a (1b)
Best of the Brougham Breed (1957-58)
Being a record of the Brougham survivors of 1958 [cars #601-704]
[Go back to cars #401-600 of Brougham survivors of 1958]
Go to the record of Brougham survivors of 1957




[Go to cars #401-600 of Brougham survivors of 1958]
Car #601 was acquired by Art Arfons, of land speed record fame; it too has survived. In the late seventies it was owned by J.W. Durkin of Clanton, OH. Currently [1999] it is owned by Peter Krell of Texas.

Car #602 was advertised in Hemmings; it is said to be in very good original, unrestored condition and runs well; the color is Lake Placid blue; it has 65,000 original miles and has had the same owner since 1963. See estate auction, Sept 29, 2000, Port Royal, PA. 717-667-9033, PA; e-mail: jdb1@acsworld.net. This info kindly supplied by Jason Frey. Late Extra [10/2007]: Owner-enthusiast Michael Brooks reports that the 82-year-old lady owner still has the car; he does not want to give out her personal information to protect her from a horde of potential aggressive bargain-hunters.

Car #603 used beige Bedford cord instead of beige leather for the seat inserts; it is on the list of survivors.

Car #605 was owned by BOA member Prof. (Em.) John L. Barnes on Mulholland, Los Angeles, CA. Subsequently it was offered for sale by a Ms. Mabel Barnes [his wife/widow?] for $7500. Included in the price were also cars #197 [last seen in England, 2008] and 388!

Car #606 [possibly a new find for 2008] was discovered in December, 2008 by enthusiast, Randy Kimberly who provided this information: I saw body number 606 today. It was painted maroon with beige cloth interior. It is complete including air ride, but tired. It runs and drives but is in need of a complete restoration. It was in dim light but I think it had trim 148 [that is the paint code for "Kenya Beige"] and paint 242. That does not match any codes so I think it is incorrect [it may have been "4242", which corresponds to beige cloth and leather]. He has another one but I did not see it I will go there again and get all the facts. He has at least eight other Cadillacs or LaSalles which are in fair condition or better.

Car #607 was being "parted out", in Texas, in the first quarter, 1998 [five down, 699 to go!]

Car #608 is a new survivor [2004], not previously listed here; it was brought to my attention by its new owner, Kjell Kraakmo, an enthusiast from Norway. The car is still on the original air-ride and has been in storage for the last 29 years. I expect I shall get more information and possibly some pictures from Kjell in the near future. Enthusiast, Stephen Kirkwood, has been able to povide some of the history of this car. He wrote [Dec. 2006]: I recently met and befriended Mr. Glen Cole of Alexandria, Virginia (he belongs to the Potomac Region CLC). He owned 2 Eldorado Broughams for many years and, in 2004, sold them to the "mysterious" Swede who is buying up so many ["Mr B", whose cars are or were being restored by Hans Emeren of Autocraft in Vikarbyn, Sweden]. Neither one was listed in the Cy Strickler surveys of the 70s. EB #608 was purchased by Mr. Cole in 1972 from a U.S. Army soldier stationed in the Washington, D.C. area. It was red . It may be seen in the photo of the Swede's garage, among several other Broughams, pictured below in the center, right foreground! Mr. Cole kindly pointed this out to me. Mr. Cole owned these two broughams from 1969 and 1972 respectively to 2004. He knew of Cy Strickler and Alan Downing but did not participate in the periodic surveys of Broughams.. The other car is #172.

Car #609 was owned in the late seventies by Chris Zora of Houston, TX. Late extra [3/2009] it was brought to my attention by owner-enthusiast, Jean-Claude Franchitti (58EB#479, 60EB#58 and 60EB#68). The owner had passed away and his cars were being sold at auction (Bud Ward was the auctioneer). J.-C. wrote: I watched the auction today; the 1958 Eldorado Brougham #609 sold for $35K, and the 1960 Eldorado Brougham (#66) sold for $15K. Both high bids came via the Internet. Both cars are in #4 condition and need full restoration. The '58 is in original condition but the engine has most probably been replaced with a non-Brougham engine. Also it is not on air suspension. The '60 had been repainted black (wrong color) [an original Texas car, #66 was first painted Kenya Beige and had sandalwood leather upholstery]. Not much is left of the mouton carpet, and the beige interior needs to be replaced. The interior had this nice smell when I looked at it. Both skirts and hubcaps were there. Jean-Claude kindly supplied the photos, below. They were taken on a bleak day, with a camera-phone yet they do represent the car very well. Check the 1960 car on this page.


[ Photos: © 2009 and courttesy Jean-Claude Franchitti ]

Car #609 [Late Extra (Oct/Nov., 2010)]: The car was acquired by "Josh" from California who has been in touch with former Eldorado Brougham owner, Lance Hirsch of TX and current Brougham owner, "JC" Franchitti. Josh wrote: Hello Lance, I hope you're doing well! Just to refresh your memory, I bought car #609 and have been doing research into its history. Today I got a stack of documentation from the Chris Zora estate. It is a stack of old paperwork, receipts, owner info and some photos. I noticed a couple of the photos are of what looks like a different Eldorado Brougham. The color is the same, but they have different license plates. I could be wrong, but I don't think this car ever carried either of these plates. I have a pretty good lineage and these plates do not fit in anywhere. You mentioned that you had heard of the car in the Chris Zora collection, do you know if he had any other 57/58 Broughams? (I know he had the 1959 Brougham). Also, a few of the photos have these plates on them…. Do you know if any other Texas owners might have these plates? (If so I can give them these photos). (Vintage Photos) TEXAS: 622 FFA; (Vintage Photos) TEXAS: P-10891; (An old advertisement) NEW YORK: 870 XHA. All appear to be black cars like Car #609. Any clues on if these were owned by Chris Zora or if maybe he just appraised them and kept photos? Or maybe who owns them now so I can send them some vintage pictures of their cars? In a second eMail to lance, Josh said: Thanks again for all the help and information over the last couple of years on my Cadillacs. I finally received #609 on Saturday. It's in a lot better shape than I thought it would be. The trunk and glove box had been stuck shut, but I was able to get the trunk open and found a box of original parts. I will post photos on the CLC forum in hopes of identifying individual parts. I have never seen similar parts on any of my Eldorados or 62 series cars. I am hoping the glove box will yield something as well, I just ran out of time before I could get it open.

Again, thanks for the help. I would love to pass the photos and documents on to the owners if they are found. I have to say, I am a little surprised at the lack of camaraderie and support amongst Brougham owner and historians. I hope that David King [car #494] can get some momentum and reignite the interest in some of these guys. "Josh" will be pleased to know that he is not alone in hoping that owners of the bespoke Eldorado Brougham models will get together again, as they have done in the past (e.g. Cy Strickler's original BOA and Allan Dowling's "revived" BOA) and perhaps form a Brougham Owners' "Chapter" of the CLC. "Josh" told "JC" that this car was ordered new from Coulter Cadillac in Phoenix, Arizona. It was purchased new and titled to Ada (Foote) Wrigley, widow of chewing-gum tycoon, William Wrigley Jr. She was almost 90 in 1958 and passed on the following year. So car #609 was actually used by Philip K. and Helen Wrigley (William's son and daughter-in-law) for stays in the 16,850 sq.ft (other sources say 18,000 sq.ft.) family mansion, La Colina Solana [i.e. The Sunny Hill], located just above the family owned Biltmore Hotel. The car was later sold to a Mr. Henry Kaestner, a Cadillac buff who collected V12 and V16 models; he lived in Phoenix, AZ. The Brougham was converted to coil springs during his ownership. In 1975 it was sold into the Chris Zora Auto Collection. Zora stored it for 33 years, until his death in 2008. An estate auction was staged by Budd Ward's Auction Co. and in 2009 the car was sold to Daniel Schmitt & Co. "Josh" bought the car in 2010. it has the white leather trim with black leather inserts (code #859) and the Karakul carpet (code #1). This is a very solid and complete Southwest car with no rust, although the original factory interior, paint and plating all need restoration. [Late Extra (July, 2015)]: The car was offered for sale on Ebay. The vendor's description read: Up for sale is this extremely solid and rust free 1958 Eldorado Brougham, unrestored 80K miles 57 year old car, aged original interior, aged and worn factory paint, needs work but solid project. Leaks fluids and needs some going through. These cars were all built by hand in a special assembly building in Detroit. This car is one of the most rust free cars I've seen. It was originally purchased in Arizona at Camelback Cadillac and spent just 12 years on the road. It was then purchased by a well known Texas collector and stored in dry storage for 40 years. The car has aged due to the heat and dry weather, but remains completely solid. All the body panels are factory, so they line-up really well. The sheet metal has never been taken apart, which is a HUGE thing for a Brougham. The trunk does have two good size indentations that were made during its long storage but otherwise the body is extremely straight with no apparent history of accidents and only very minor dings. The paint is factory with plenty of blemishes, but you know exactly what you are getting with no hidden secrets. The car is definitely weathered, but will make someone the perfect cruiser. The glass is all very nice and factory original. The chromed steel parts are in great shape and original, the chrome plated aluminum rear bumpers need to be rechromed and are flaking. All stainless trim is in really nice shape, with only one rear trim piece needing to be taken off and re-aligned. It's rare to find a Brougham in this specific shape. Most are either totally rusty, disassembled project cars or are completely restored. Good solid drivers like this aren't as common. Personally, I bought this car as a solid driver that I could just enjoy, only to restore it way down the road when I was ready. I've owned the car for about 6 years and with my kids at the age they are and the number of cars I have, I can't seem to spend enough time with all the cars, so it's time to find a better home. The engine and transmission are numbers matching original. The car comes with a GM certified factory build sheet that clearly states the car has the same drive train it was built with. If you're in the market for a Brougham, matching numbers is a MUST. If you want a Brougham, make sure to stay away from incorrect engines and rust. This car has neither and is a prime starting point for a reliable driver or restored car. If a driver, there are some relatively minor things to square away, but well worth the efforts. While the engine and transmission were both freshly rebuilt about 200 miles ago (that's about all I've driven it in 6 years), the car sat in my garage for some time and dried out a few gaskets, so new fluid leaks will have to be addressed. I'm guessing the rear seal too since it has a noticeable drip when running. The transmission shifts excellent when warm and goes through all the gears as it should, but needs to be warmed-up a few minutes before it begins to shift. I'm not sure if this is some kind of adjustment or if it might be a little gunk on the governor from sitting. The car just needs someone who will tinker with it and use it like it should be used. If you are looking for a car that is ready to go, this isn't your car, but with a little work it could be. It's a very beautiful car and while a little rough around the edges, it's not a cookie-cutter '50s car. The original leather interior is intact enough to make patterns from, but is shot due to the heat in the Texas garage where it sat for 40 years. The rear seats are preserved, the front driver's side is rough. All four windows go up and down, but can be sluggish. All the electrical contacts should be gone through and cleaned throughout the car. It has sat a long time and I've never really put the car through its paces. It's an ideal car for a tinkerer, as most of the project will be to just fix little things like the gauges and electrical stuff. The great part of the car is it can be driven and enjoyed while you work on it. To sum it up, the car is a perfect foundation. It's pretty much a 20 footer, but has a ton of potential. You could easily take this car as far as you want. Either just addressing the leaks and getting her roadworthy again or you could decide to do more and start a full restoration… not having to deal with all the rust repairs and surprises when you start taking her apart. Either way the car is worth it. Brougham values are excellent and the car is a beautiful, formal color combination. I confirm that this is 1958 EB #609, originally purchased by Ada (Foote) Wrigley, widow of chewing-gum tycoon, William Wrigley Jr. While, I did receive positive info from the Wrigley family and employees of the estate who swear on it, I never received any vintage documents. Please note that about 7 years ago a member of the CLC was thrown by the Blue valve covers and thought the engine may not be factory, but Cadillac Historical Services has verified that the engine and frame numbers both match the original build-sheet and are factory stock to this car. Numbers matching is crucial for a Brougham, and it's verified 100% this motor is. See pictures. For the history buffs: La Colina Solana was a 50th anniversary present from William Jr. to his wife Ada; it was intended to be a part-time "winter cottage" where the couple might enjoy the warm desert winters and entertain their wealthy friends and dignitaries. By the time work was begun on the home, Wrigley had become one of America's richest men. He had begun manufacturing soap, in 1891, in Chicago, with the help of seed money from his uncle. To help sell the soap, he gave away baking powder with each purchase. When the baking power became popular enough to sell on its own, he switched to giving away a new product: chewing gum. The gum became so popular that in 1911 he bought the company that made it, and dropped the soap and the baking powder. The Phoenix "pad"- which is on the U.S. Register of historic places since 1989 - was Wrigley's fifth home; his primary home was in Chicago. He had also a vacation home on Lake Geneva, Wisconsin, a summer home on Santa Catalina Island, and a home in Pasadena, CA. With its 24 rooms and 12 (other sources say 17) bathrooms, the Phoenix home was the most modest of the group! When construction was completed, in 1932, the Wrigleys moved in for a winter stay. Only a few weeks later, William Wrigley Jr. died. He left his fortune to his daughter Dorothy Wrigley (Offield), and son, Philip K. Wrigley, owner of the Chicago Cubs as well as the eponymic "Wrigley Field" ball park; Philip continued to run the company businesses for the next 45 years until his own death, in 1977.


Restoration has begun with a good "spit and polish" but Josh will gradually redo the whole car
[ Photos: © 2010 and courtesy of "Josh" ]


Car #610 was for sale in Los Angeles, CA, for $2,500 ...but that was in the late seventies (!) The vendor was listed as Jim Waldrop. Late Extra [Oct., 2009]: I came across the car again while browsing on the Web site of Daniel Schmitt & Co., Classic Cars. It is said that it will be "coming soon".

Car #612 [NEW images]

Car #613 had no radio speaker installed in the front; this car too lives on. In the late seventies it was owned by Marilyn Lewis of Salem, OR.

Car #614 was owned in the late seventies by Glen Hughes of Toronto, Canada. In October 2002 I was contacted by the current owner, Joe Rubert, a member of the CLC. The car is currently being restored. On October 4, 2002, Joe wrote: vanities are complete and appear to be all original; missing are the instructions for the perfume spray; keep up the good work you make life a real joy for a Cadillac nut. Thanks again. [update needed: On sale in Tulsa July 2009...]

Car #615 was known to exist but its whereabouts were a mystery. This car was found recently (November, 2002) by enthusiast Claude Walker who reports as follows: This EB looked the best as far as I could see [Note: 1957 car #316 is also at the same location]. It is another white car (paint #112). It had a white leather and blue cloth interior. I looked inside and found it pretty much complete and did not look in real bad condition. All the glass in this one looks good. The cars are very dusty and it is hard to see every small problem. This EB has had some parts removed but I was told they are all there. Most of the tires are up and it would not be a big problem getting them out of the garage. Style 7059X, Body PD 615, Trim 2382 [Medium Blue bayou cloth and White leather; mouton carpets], Paint 112 [Chamonix White]. I was told that none of the interior accessory items are there [that's too bad!]. I didn't look for them nor for the owner manuals. The owner passed away this spring and his son has not found the titles. I think both of these could be restored or made into one nice one. If you know of someone who is up to the task of saving these two EBs I can get him in touch with the owner. I looked at the list of known numbers for 1957 and did not find #316 [you are right Claude, that one is definitely a new find]. For the 1958 I found #615 in the numerical listing but not in the descriptive list. So maybe these are new finds [in fact, this car was known to have survived but its whereabouts were a mystery]. The owner's son told me they had a 3rd one, a 1958, that was very bad and sold as a parts car several years ago. No info is available on this 3rd one. I hope this helps the EB folks out there in preserving these valuable cars. I have had "old cars" since 1966 and count a few Cadillacs in the bunch. The first was a 1941 Sixty Special, then a 1957 CDV and a 1958 CDV. I have recently bought a 1960 CDV. I don't have the means to take on these EB restorations or I might own them. I only hope we can get these into the hands of someone who can bring them back to their former glory. Thanks for sharing this information with us, Claude. If any Database user wants to contact Claude, his e-Mail address is: wbudwalk@attbi.com. Late extra [January, 2004]: the car was acquired in late 2003 or early 2004 by enthusiast, Ray Cruise. Later [March 2006]: formerly included at the foot of this section, among "unidentified cars", this one is now in good hands. In March, 2006, I had noticed two Broughams (1957 and 1958) offered for sale, as a package, by the Imperial Palace collection in Las Vegas, NV, for $33,000 [date of actual posting on Internet is unknown: http://www.cars-on-line.com/17742.html. Both were sold. This one was described thus: Cadillac Eldorado Brougham. Easy restoration. Car is 99.9% complete and body is strong. Perfect glass and stainless roof. Also have a 1957 Brougham. It is 95% complete and could be restored or used for parts. Will sell both as a package for $33,000. Further on, the ad said: PRICE REDUCED $ 17,500. I thought this pair had gone to Sweden; in fact, this car has gone to Australia. The the other car is #560. It was described as : A rare black beauty indeed. Almost too nice. Completely restored in 2003. Naturally pampered since. Fly in and drive her home or I will help arrange shipping anywhere in the world. The pictures speak for themselves. PRICE REDUCED $ 58,000. That car is still for sale.


[ Photos: Imperial Palace web page, Internet, 3/2006 ]


Restoration under way in 2008
[ Photo: © 2007-08 and courtesy David King, owner ]


Progress is being made gradually, and David has sent in these new snapshots for us

Car #616 [current whereabouts unknown] used vermilion (red) and white leather, a standard Cadillac trim number, except for the top of the instrument panel, the doors and the carpet, all of which were black.

Car #617 was found by our keenest Brougham sleuth, Jerry Jansson from Sweden; it had been hiding in the woodwork for the last 28 years. He wrote : Hej! as I wrote the other day, I have been taking the liberty of responding to mails in the Guest Book regarding Broughams and 53 Eldos. Paid off great! Got this plus two images from the owner, Greg Stammich: The car is the real thing. It was stored in a garage of a building that my father owned since I was 11 years old. I'm now 39 and have bought it. The car will be moved into better accommodations very soon. Greg Stammich, Oak Park IL.. Fun, isn't it?!?!!!

Car #619 was brought to my attention by Brougham enthusiast Ron Susser. Here's what Ron said: The car was originally delivered to New York. In Sept. 1971, it was purchased by its second owner who loved and maintained it in Nashville until it was recently purchased in July 2004 by Custom Classics Restoration Inc. in Island Lake, Illinois. The car appears to have been kept up very nice over the years. The air ride has been removed and the car has had one repaint. The interior and dash are in great shape. There are no dents in the top at all. It runs and drives very nicely and most of the electrical things still work including the power trunk lid. The car will be cleaned up and tuned up before it is offered for resale by Ron Susser on www.ronsusser.com and on Ebay. the VIN number is # 58P053521; the miles are believed to be correct at 49,786. Late Extra [July 2004]: Enthusiast Kjell Kraakmo from Norway believes the car sold for just under $40K and is scheduled for export to Denmark.


[ Above Photos: courtesy Ron Susser ]


Is it just me, or do the ELDORADO letters [enlarged at left, above]
seem just a mite too modern for a 1957-58 Eldorado Brougham?
The correct font is the one on the right


Car #621 [NEW, May 2011] was advertised for sale in the Self Starter for May 2011. It has been a few months since we had a "new" survivor pop up like this. I think we shall be hearing more about it in the coming weeks. Meanwhile here is the vendor's display ad with a short description of the car.

Car #622 was owned in the late seventies by C. Vaughan Lewis of Utica, NY. At that time, Vaughan owned also Broughams #44, 214 and 627. This car was lot #443 at a Kruse Group auction in Hershey, PA, in Oct. 2008. Late Extra [1/2010]: The car has found a new home: the new owner contacted me by Email to say that he had bought this car around December 2009 from Troby's Memory Lane in Hackensack, NJ. He is keen to find out more about the car's history; unfortunately, I have only the name of the former owner.

Car #625 was owned in the late seventies by Milton Wood of Allentown, PA.

Car #626 is a parts car; it is owned by Leif Ingesbro who lives in Sweden. He wrote in Feb. 2001, saying he was also the lucky owner of 1958 Brougham #703 (below). Six down, 698 to go!


Parts from Brougham #626 currently hang in a Swedish garage...

Car #627 was owned in the late seventies by C. Vaughan Lewis of Utica, NY. At that time, Vaughan owned also Broughams #44, 214 and 622. In December 1999 I was contacted by the car's new owner who is currently restoring the car as close to perfection as possible. This is music to our ears! In July 2000, Vic Brincat of Canada (Brougham #402, above) confirmed that the car was undergoing a full restoration. The car is now owned by Mr. Paul Kelly. Freshly restored, in beautiful Jamaican Green [code #132], the car showed up in Canada at the Trillium CLC Show 'n Shine [Cadillac-La Salle Club of Ontario]. Parts from #494 were used for the restoration; the remains of that car belong to enthusiast David King (20087).


[ Photos: courtesy David King ]

Car #631 In December, 1999, I learned that this 1958 Brougham (black with black and white interior) was owned by Joe Bortz of Blue Suede Shoes Enterprises in Highland Park, IL. It was previously owned by Willy Davidson of the Harley Davidson Company. The car was later offered for sale on e-Bay (December, 2003 and May 2006) and described thus: 1958 Cadillac Eldorado Brougham aka The Harley Davidson Eldorado Brougham - This vehicle was formerly owned by Willie Davidson of Harley Davidson Motorcycle Co. The car is unbelievably original including mostly original paint, chrome - all original black & white interior. Original mutton [mouton, or lambskin] carpeting and a full set of all accessories including shot glasses, clear plastic cigarette case, compact, mirror, note pad w/pencil and perfume bottle - all in correct matching color. Stainless steel top near perfect condition! Most electrical working perfect. Currently small problem with electric memory seat and drivers vent window. Car has correct multiple carburation and is riding on springs. Car is straight as an arrow. It would be hard to find a car in more beautiful original condition! Currently small problem with electric memory seat and drivers vent window. In December 2003, the car was bid up to $55K but the owner had a higher reserve on it. In May, 2006, the minimum starting bid was given as $75,000. Thanks to CLC member, Tom Barnard [58EB#450], for tipping me off to the May 2006 auction. I believe his was a Kruse auction held in Fort Lauderdale, FL (can anyone confirm?). Bidding reached $95,600 (!) but there still was no sale; the vendor had a higher reserve. It appears that 2006 marks a turning in Broughams values. Not many may be sold but prices will reach six figures!

Car #632 was initially reported to have been "destroyed" on Interstate 70, in the mid seventies. This came in from the current owner, John Jones, in Texas, in 2002: Well over a year ago I sent you an E-mail regarding Brougham PD 632 (it may not have gone through). In your Survivor section this car was supposed to have been destroyed. It was in fact in a basement near Central Park (New York) at that time but is now safely home with me in Texas (Paint #98). It is complete, including the Air Suspension (not many vanity Items though). This is one of only two 1958 Broughams that was originally painted Desert Bronze (copper) [code #98], from the color palette for the regular 1958 Cadillac models, where it was called Desert Gold. The other was car #414.

Car #633 was owned in the late seventies by Daniel Georgie of Lawrence, KS. It was described as being white with black and white leather upholstery [correct according to the build sheet]. This may be the car that was subsequently sold by Barrett-Jackson, at Scottsdale, AZ, in January, 1995; it was identified in their auction results as having engine #5770-0058691. The "5770" prefix certainly identifies a Brougham but the only number that is close to the BJ catalog number is "58681". The body number for that car is #633; this car has been listed on the BOA roster since the seventies. The car is reported to have undergone a frame-off restoration. It has a "perfect stainless steel top, full power and air."

Car #634 was purchased new by Ms. Hazel Block McLaughlin of Peoria, IL, who owned a large chain of drugstores; she ordered the black car with a custom interior (white leather throughout, except red and white leather armrests and a red mouton carpet) - all Broughams with SO trim have code #0000. In 1959, she sold the car to Joseph H. Fleischli of Springfield, IL [it was a graduation present from his dad - he had seen the Brougham on a used car lot and had to choose between it and a brand new Corvette!]. Later, Mr. Fleischli converted the car to coils springs and changed the interior to gray and white leather with gray mouton carpets. Lance Hirsch's friend Morgan Murphy of Birmingham, AL, then acquired it in April 2001, for $17,500, through an ad in Hemmings; Lance had strongly recommended that he buy it. Morgan kept it for only six months; he advertised it for sale on eBay and it was sold in October 2001, for $22,500, to Sandy Edelstein of Los Angeles, CA. In late 2002, Sandy in turn sold it (also via eBay) to the fifth owner The car went to California [May, 2002] and once again was offered for sale on eBay with a starting bid of $18,500 and an unspecified reserve. It was acquired for $28K by a collector in Sweden who plans a frame-off restoration. There are no vanity items except for a standard Arpège perfume bottle (no atomizer top). The new owner is Mr. Jan Sahlen who resides in Gothenburg. He is a collector and restorer specializing in 1958 Cadillacs ...has a whole bunch of them in his garage on the west coast of Sweden. Thanks Jerry Jansson for the latest update!


[ Photos: courtesy of Morgan Murphy ]


These two photos : Courtesy Jerry Jansson, Sweden

Car #636 has been on the roster of survivors for 35 years but its whereabouts were not known. This one was recently [9/2004] brought to my attention by its current, new owner. I am expecting to get from him in the near future some details about the car, as well as some pics. Late Extra [6/2009]: Frank Pinkus, the new owner, wrote: I do not know much of the history of this car. All I know of the early history is that it was sold in N.J. [correct]. The previous owner (who I never met) had the air replaced with coils, put on new tires and did a brake job. The car then spent 25 years on the third floor of a warehouse in Newark, N.J. A friend of mine was asked to get the car running and to sell it. I was not looking for nor needed another car, however when I saw it I had to have it. It took one whole year until I got a price and was able to buy the car. The car was repainted many years ago in the correct color [Lake Placid Blue]. Should be redone, but probably will not. After going through the fuel, brake, and cooling system, the car runs very well. Much to my surprise, with the addition of a little R-12 the A.C. works perfect. I have no vanity items, the car is not a show car, but what a wonderful car to own and to drive. Some of you may have seen the car last year at Cherry Hill when I drove it down there one day.


[ Photo: © 2009 and courtesy of the owner ]

Car #637 was acquired by screen star, Clark Gable; it has survived. In the late seventies it was owned by Paul Dumas of San Francisco, CA.

Car #639 is located in France where it was owned in the late eighties by a company called Ciné Limousine that rented movie props [articles in Auto Passion #29, November, 1989, and Auto Retro - date unknown]. Originally painted Dakota red [i.e. stock 1957-58 Cadillac color #50 - one of four Broughams painted this color], the car was repainted first blue then a bright metallic green, when it was re-upholstered with an ugly, scintillating green velour in place of the original light gray leather. Up to 2003 it remained on French tag #8888ZR95. The car was repossessed by a bank in the late eighties then sold to a collector in Bourg-en-Bresse; it was acquired in 2003 by another French Cadillac enthusiast, Mr. Branthomme, who already has three other Broughams (1957 #55 and 1960 #72). He says the car is in such excellent condition that he won't try to convert it back to the original paint and interior specifications. The car had traveled around 3,000 miles between 1989 and 2003. Other than one brake line that needed to be changed, it is in excellent mechanical condition and rides on conventional coil springs. Vanities include the mirror and notepad. I believe the new license tag is #6841XV27 [that is France's "Eure" department].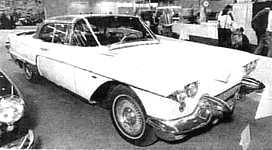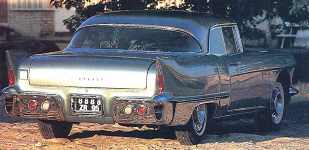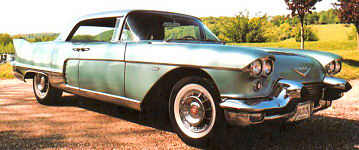 [ Photos: Auto Retro ]

[ Two photos (left): © 1989, Yann Saunders ]

Car #640 is said to have been destroyed

Car #643 is believed to have survived. It was brought to my attention by Brougham owner/enthusiasts, Ray Bentley. He says: Don't know of this is of interest, but last night I contacted a fellow who had an advertisement in the latest B.O.A newsletter. I believe that he [Mr. Duke Gerke] mentioned that he has car #643 (and I think he said he had 2 or 3 others). Anyways, I noticed that you didn't have his car listed in your survivor database... Perhaps we will hear more about Mr. Gerke's car(s) in future.

Car #644 [if it survived, its current whereabouts are unknown] was trimmed in gray Parisienne cloth and red leather.

Car #645 is titled in Massachusetts (2001) and has had two owners (the same one since 1960). It has the original special order interior trim, substituting black leather for gray, for the seat bolsters and trim; it had specially dyed blue mouton carpeting (now it is white). In 2001, Kruse advertised it for sale and rated it as being "like new"and possibly "the finest in existence" (!). Originally Olympic White (code #112) it was repainted (non-original) pearl white in the early sixties. The car was offered for sale by auction at e-Bay, from September 30 through October 6, 2000 [item #453641042]; the vendor was the Kruse organization. Mileage is given as 44K+. It was again offered for sale by the Kruse organization from February 27 through March 6, 2001 [Item #565043492]. Apparently the car found a new owner, in Reno, NV; hearty congratulations, Greg, please let me have the full story at your leisure. Late extra [10/2007]: I never heard from Greg but the car was again offered for sale, this time on eBay (item #120167060742). The starting bid was $50K. Latest [4/2008]: The car apparently has found a new home in Scandinavia.


Note special trim code #0000 (RH image)
[ Photos: Internet ]


These two photos: © 2007, courtesy of enthusiast, Birgir Helgason

Car #647 is owned by new [1998] BOA member Michael Baillargeon of Plymouth, CT; no further details are currently available about this car.

Car #648 is one of a group of five EBs acquired in 2005-06 by enthusiast Robert Titone, most of them in "less than perfect condition". These are #222, 325, 594, 648 [this car and 697. This one currently has the front clip removed. I believe it would qualify in collector circles as a "parts car".


I believe The car in the foreground, LH photo] is #648, shown also at right
[ Photos: © 2007, Robert Titone ]

222 is what Bob calls the "telephone pole car". The reason is obvious. 325 is the blue car, but is supposed to Kenya Beige 148 594 is the Black car w/the LR fender peeled off it. 648 is the Black car w/the front clip removed.697 is the Black car the beginning of the photo shoot and slightly damaged front end.

Car #650 [NEW, 4/2009] has come out of the woodwork and was brought to my attention by TyBennett of Worldwide Auctioneers. He wrote: Body #650 has a very interesting story as it was purchased new and admired by a 14 year old boy next door for many years. Decades later, the boy was able to purchase the car from the estate and enjoyed the car for many years subsequently. The car has been a part of the Sterling McCall collection and remains largely original and unaltered with all components still functioning properly. The Brougham is now being sold, along with much of the Cadillac collection, at the 2009 Houston Classic Auction. A full description and event information may be seen at the website www.wwgauctions.com. Late extra [2/2010]: the car was offered at auction on eBay, with a "Buy-it-Now" price tag of $95,000. Here are excerpts from the eBay description of the car: This is one of only 304 Eldorado Broughams built in 1958. In addition, it is a three owner car and has museum stored since 1995. Upon examination, you will see a very very straight original car that has been carefully maintained. The air ride has been converted to spring ride for a better and safer ride. The old air suspensions were nothing but problems!! Finished in the original Apline White- code#112, and Trim #8592 (white leather with black inserts) all in excellent condition. Original 365 cide overhead valve V-8 engine rated at 325 horsepower and topped with 3 two barrel carburetors. The four speed Hydramatic transmission shifts smoothly and the ride is great. ...with only THREE owners from new, and only showing 43,000 miles (believed to be correct). I have just replaced the tires with new ones from Coker and added new chrome wire wheels [why ???]. The original sabre wheels come WITH THE SALE (they need to be restored) [what about the original Brougham turbine-blade, cast alloy wheels seen in the photos, below?] As you can see from the pictures, the body is straight as a pin and the door opening "lines" are perfect. I have priced the Brougham is [to] sell well below market. Any questions, please call my cell at 314-330--0877 Thanks for bidding, Robert. Latest [3/2010]: the car did not sell; it achieved a high bid of $59K but vendor had a reserve of $95K. I guess we shall see it on Ebay again.


[ Photos: © 2009, Worldwide Auctioneers, courtesy Ty Bennett ]


Car #651 was offered for sale by BOA member Ken Ward, in late 1999, for $35,000. This car has 34K miles, coil springs, perfect glass and roof and black mouton carpeting. Ken still had the car for sale in November, 2001; the price was down to $30,000. This car is described as "the John Foster Dulles car". Late Extra [8/2008]: According to Michael Brooks, the car is under new ownership to a Mr. Ken Alflen who is restoring it.

Car #652 had white leather throughout, as well as specially dyed white mouton carpeting; it is one of only two 1958 Broughams that were painted white (code #112) and had a "special order" trim (i.e. #0000). This car may be the only one in triple white (paint, leather, carpeting ...and dash panel!). It was shipped originally to Schooley Cadillac Inc., in West Palm Beach, FL who sold it to George C.J. Remington, of 529 Island Road, Palm Beach; the car is currently in The Netherlands (Holland) where it is owned by a friend, Frits Mast, a wholesaler of sheet music. All but one of the personal accessories are now with the car (still missing is the cigarette case). The vanity case, mirror, notepad all are the original items from this car, with matching white leather; I was able to find for Frits the missing silver Cross pencil as well as the Evans plastic comb for the vanity case; I also provided him with an original (...and full) Arpège perfume bottle (subsequently, he got a repro Lanvin atomizer top from Mike Rizzuto). Information on this car was graciously provided also by Peter Straathof of The Netherlands. In September, 2001, the car was undergoing a full restoration; I was able to see the progress being made at that time, when Gita and I visited the Mast family in Hillegom, Netherlands. A lot of work remains to be done but the end result will be spectacular. PLEASE, Frits, don't repaint it!!! Leave it white!


Brougham #652 undergoing a ground-up restoration in Holland
[Photo ©2001, Gita Saunders]

Car #654 is now known to have survived. It is special in that it was the only car of the 1958 production to have been painted Cobalt Blue, a very dark, metallic navy blue. This was not a regular Brougham color but was included, nonetheless, on the palette for the regular Cadillac models of 1958 [code #26]. Enthusiast owner, David King [car #615] informed me in December, 2007, that the car had been sold by another Cadillac enthusiast, William Lamb, to a collector in Michigan. Perhaps we will hear more about this car soon.

Car #655 It is exceptional for someone to call or write to inform me that they own a Brougham that is not on the list of survivors. This happened again today, March 12, 2000. Here's what was said: I was wandering around the web and came upon your site. It is an excellent site and I thought I would help you with your database. I am the owner of a '58 Cadillac Eldorado Brougham Body #655, which was not listed in your database as a survivor. The fact that I was finally able to get my hands on one of these wonderful cars is a story unto itself. The car was sold to me by a person who immediately afterward had a serious heart problem and was not able to be contacted for a period of around 6 months - I still hadn't got my car! This person gave the car to a local storage facility which had tax problems. The car ended up in the hands of the IRS briefly until I was able to prove the car was mine. Thank goodness I had registered the vehicle. It took me about a year to get the vehicle. In any case, the car is now being slowly restored. I intend to drive this work of art every weekend that I can find the time, so it will not be concourse condition. [ADDED 3.18.2000]: The car was owned by a Merel family in Illinois from 1965 to 1975 when it was sold to the Prossers who kept it until around 1988; it was then purchased by Bill Byler of Louisiana from whom I purchased it in 1997, though I did not receive the car until 1999. Story: Bill had a heart attack; I couldn't reach him for 9 months. Also I had agreed to his sending the car to a local body shop for a paint job, knowing things can get done cheaper in Louisiana than in California, and Bill also had vouched for the shop. The job was to take around 6 months, owing to the fact that they were extremely busy. Nothing was done the first 6 months so I gave them a couple more months. When I called back, the phone disconnected. The shop had been closed down by the IRS and the guy was in jail! I finally got my car early last year [1999] after much hassle and paperwork. The car still needs work.

Car #656 is listed as a survivor in this roster, since 1975, but its whereabouts were not known. In August, 2003, it was offered for sale on e-Bay; the ad read: The greatest automobiles ever built. There was only about 300 of these hand-built [???] beauties ever made. It has a stainless steel roof, suicide rear doors, 3 deuces, dual exhaust, alloy wheels, tilt [???], A/C,PS,PB,PS,PW, air ride suspension, and every other thing that the guys from GM could throw at it. This car is awsum [sic!]. It could be restored to be one of the best cars ever built in America, or a set of 20" wheels and candy paint and you've a great custom cruiser [yuk!!!]. They even make a Hot Wheels [version] of this car. It is very rare, check it out on line: Cadillac Eldorado Brougham.com [???]. This is a rare opportunity for you also! Apparently, the car sold for $10,000. Late Extra [Feb. 2009] : the car has gone to Australia and is in the capable hands of Brougham enthusiast, Trevor Pordage, whom I met while on holiday in Australia in 2005. I hope to get some more photos as the restoration of his "new" car progresses. Trevor owns also #329.

Car #657 was owned in the late seventies by James Crosby of Englewood, CO. At that time, James owned also 1959 Brougham #60.

Car #659 lives on! I had misplaced the story of this car ...but I found it again while cleaning out my e-Mail files. Here it is, as told to me by the current owner: The car was built 3/21/58. Firestone tires were originally fitted. The spare is still original. The car still has dealer installed clear plastic seat covers on the fabric portion of the seats. The edges of the seats and the doors are leather in gray and blue. Unfortunately it does not have the vanity items, but is otherwise complete and in excellent condition. The mileage shows as 44,000 and it still has mostly original paint with the exceptions of what appears to be some touch-ups. The carpet is original and is a shade of blue. It is not worn. The car was converted to springs long ago and it appears to be a professional job. All the chassis is left stock and it drives and handles like a new car. Interestingly, this car does not have the "ELDORADO" letters on the trunk lid, nor does it have the Eldorado Brougham emblems on the sides of each front fender (there is no sign on the interior of the fenders that an emblem was ever attached there). It also does not have the "spears" at the front edge of the scoop on the rear doors. Opening up the door panel on the left rear door there is absolutely no indication that any holes have been welded there. The bumpers (front and rear) are highly polished cast aluminum with no indication of ever having been chrome plated. I purchased this fine automobile from Andrew Darling in 1982 from his private collection in Minneapolis. He was an avid collector with many fine automobiles including a number of Rolls and a 100-point Duesenberg. Andrew was the president of Park National Bank back then and he told me he had taken this Brougham as collateral on a loan nearly 20 years before and the borrower defaulted. He did not tell me who that person was and I was so excited to get this car at that time I guess I didn't even ask. Andrew Darling passed away about two years ago and his collection has be auctioned so he is no longer available. By the way, I saw his Duesenberg this past summer at a Concours in La Jolla (near San Diego) but was unable to locate the owner. As I said, I contacted the Cadillac Historical Services sometime ago regarding this car but received very little information other that what I've shared with you here. It would seem this car was delivered with some slight modifications apparently to someone's particular order and taste as indicated by the trim modifications I noted [Nota: the car has a standard trim code number] and unplated, highly polished aluminum bumpers. I do, of course, know that all Broughams of this series had aluminum bumpers but the only others I've ever seen, either in person or photos, are chrome plated. One question... Under "outlet code" in the build sheet I received from the Historical Services it says "ROF." Do you have any idea what that means? The rest of the codes in the column for other Cadillacs (not Broughams) seem to be for cities such as "BOS" for probably Boston, "DET" likely for Detroit, "CLE" for Cleveland, etc., but "ROF" is a mystery to me [the only thing I can think of, John, is "Republic of France" ...but that is a wild guess]. I have been a member of the Eldorado Brougham Owners Association, Dowling's organization, for a number of years. I did not belong to the previous Brougham Owners group. I am a member of the Cadillac LaSalle Club as well. If you could shed any light on the background of this car I'd sure appreciate it. Meanwhile, if you'd like any further information, photos, etc., let me know and I'll be happy to accommodate. Hope to hear from you soon. Best wishes, John E. Farrar.

Car #660 is reported as a survivor that needs restoration; also it was repainted from black to "Candy Apple Red" [info: Jamie Tosi, April, 1999]

Car #661 was known to be a survivor and has been listed here for 35 years. However, it's whereabouts, until now [May, 2009] were unknown. It was acquired by Bo Bolino, President of World Motorsports in las Vegas. He wrote: I ,just purchased #661 ... added it to my 57 EB #258 ... I think this car has been in storage at least 30 years?? Tons of NOS parts in the car ... Have 4 original hubcaps still in unopened boxes!!! When I finally got all the parts out of the back seat, I found the original mirrror & notepad!! "WOW" ... Car still on Air ... I found lots of NOS Air suspension parts ... can't count 'em all ... Check out some of these pics ... More pics to come .. THIS WAS A FIND!!!! I bought it from a guy in Sacramento,CA who purchased it last year from the original owner's estate ... They told my he used to drive it around town, so the motor had a lot of sludge, so he put a different engine in the car. I have the complete original matching #s engine & all the air suspension parts!!! Even have NOS bellows for the air ride!!! I will be rebuilding them!!! The car was in Ontario,CA ... I found a lot of receipts with the name Stearns??? Maybe that was the owners name??? Also, there are a lot of receipts from Santa Monica, CA??? I will keep you posted as to the progress. Thanks Bo, and congratulations on this rare find.

Car #662 was listed as a survivor since the early 70s; unfortunately its whereabouts were unknown. Late extra [June, 2008]: the car was acquired by Aussie enthusiast, Ross Morgan and sailed to Australia to join #164. Perhaps we might get some more pics later. Ross reports the car as being rust free and having been properly stored since 1980.

Car #664 was reported as undergoing a full restoration in February, 1998 [info: from Lance Hirsch, Texas (CML member)]. At the end of 1999 it was on sale for $15,000, Lance described it as 75% complete but missing bumpers and windshield. Previous owner are reported to have invested already $50,000 in the car. At one time the selling price went down to $12,500 [7/2000]; it was said to be undergoing a frame-off restoration and to be two-thirds complete; the car still had no windshield or bumpers. The price soon went back up to to $15,000 [11/2000]. The car may have found a new home in February, 2002; its potential owner, Ray Bentley, informed me February 26, 2002, that the car was last titled to a John Gatling Phillips of Carrizo Springs, TX. I never heard back from Ray; the images below came off the Internet in 2008.

Car #665 was discovered on the Web site of Daniel Schmitt & Co., Classic Car Gallery. The photos, below, are from that site.

Car #666 was the cover car of BOA Newsletter, Vol. 10, #1, 1998; inexplicably, I overlooked it when I was preparing this section of the Database [added 06/2000]. The car has been in the ownership of Peter M. Dorey since 1960. When he bought it he was able to secure all the missing vanity items from the factory.



[Photo: courtesy Brougham Owners' Association - Allan Dowling]

Car #667 [NEW, 4/2009] has come out of the woodwork; it was brought to my attention by Mr. A.j. Midura of Chicopee, MA, who inherited the car from his father dome 30 years ago. AJ werites: The body of the car is in great shape and the inside in perfect condition. The car is in highly restorable shape. I do plan on listing it for sale soon. I will let you know if it changes hands. Late extra [May, 2009]: the car was offered at auction on Ebay and found a buyer for $36,000; this is a very resonable price for an original car in reasonably fine outward and interior appearance, with less than 50K miles on the odo. Good deal, sir!

Car #669 was owned in the late seventies by Lt. Colonel T.M. Webster of Grand Bend, Ontario, Canada.

Car #672 was offered for sale in the late seventies by Lory Murphy of Hillcrest Cadillac of Los Angeles, CA. It had a good body and the front (?) had been converted to springs. Late extra: according to CLC member, Jim Jordan of OK, the car is currently (Apr., 2007) at a repair shop in California, awaiting air suspension repair parts. It is NOT for sale. Jim supplied the photos, below. Thanks.


[ Photos: courtesy Jim Jordan, OK ]

Car #673 was not on my list of survivors; it seems, however, that this one too has survived; originally delivered to New York, it was offered for sale on e-Bay in October 1999 by a New Jersey resident [info from CA "Dutch" Cadillac enthusiast Ron Van Der Dussen]. Here's what the ad says: '58 Cadillac Eldorado Brougham, very rare, one of only 304 made for '58 model year (body # 673 in a total 2 year run of 704 '57-'58). Black with light/dark gray interior. Stainless steel roof, suicide rear doors, factory tri-power, automatic electric memory seats (working), electric trunk (not working but all components present) 87,000 original miles on original drive train, rebuilt transmission. Will run but needs thorough tune-up: carburetor/fuel line clean & flush, drain old gas from tank. 95% complete original, Needs minor body/complete paint. Has minor rust. Has several minor dings, but no serious body problems; 99% of chrome, stainless trim, original aluminum bumpers which can be rechromed or polished to bare aluminum. Original cloth seat upholstery excellent original, interior leather door panel and seat trim mostly intact but needing some restoration. Needs carpet. All glass good, all electric window motors good but need clean & lube (except vents, which are stuck). Roof in excellent shape. 1/2 radio present. Needs complete exhaust. All air conditioning components present, but compressor needs rebuild and evaporator needs leak repair. Has all five original chrome/alloy saber wheels. Original air ride converted to coil springs. Missing minor trim items such as some trunk letters. Frame good. Needs tail light lenses. Most items available as repro or through Brougham Owners Association club members. Extremely unique and strikingly attractive car, a great investment for the right buyer. Selling to finance recording career." The reserve was $9,800. On October 25, the vendor added this: "Hi. Sorry, no vanity items. History of this car as far as I know is I bought it in 1989 for $7800.00 from Bill O'Brien of Windsor CT, having discovered it in East Hartford CT. I wanted to celebrate both my birthday and my 6 month anniversary of becoming fully self employed. Bill had two of these, a white one with air ride intact and the one he sold me. I think he got mine from someone who bought it from the Newport R.I. Auto museum. Somewhere in the chain of ownership there was Robert Byron of New Hartford CT. He bought it from David Hart of Brockton Mass. I Believe it was originally sold by a dealership in upstate NY. Greg Field."

Car #674 was owned in the late seventies by William Baumann of Vestal, NY.

Car #678 One more Brougham added to the roster of survivors in November, 2002. I got this e-Mail from the nephew of the owner: Yann, I made an entry into the guest book before finding your email address. My uncle owns a 1958 Cadillac Eldorado Brougham. He purchased it 30 years ago. The car resides in NJ. The paint is original and the car is in decent shape. The information under the hood: Body No 678, Style 7059X, Trim 1111, Paint 118. The VIN number is 58PO72699. I wasn't sure if the car number is 678 (body #) or 699 (VIN#) and was wondering if you could help me. I am very interested in finding out more information about this car - and can provide you with more information on it for the survivor page. Your Website is excellent. Tom, we look forward to more of the car's history. Meanwhile thanks for the three photos (below) and for this additional information (received 10/2005: This car is an unrestored original that has spent the majority of its life in NJ. It is believed to have been originally sold from a PA dealership (any information on that fact would be appreciated) [yes, Tom, my records show it was delivered first to PA - probably to the Cadillac dealership in that city]. The car has been owned by my Uncle for 40 years. It has been stored for years but starts up every time and the original paint still shines. The car has some signs of wear and tear --some dating back 35 years when it was taken for a joy ride and was quickly abandoned. Thankfully this classic was retrieved and #678 can hold its rightful place on the survivor list.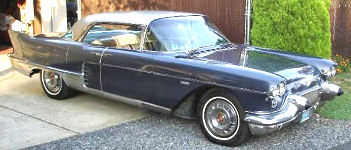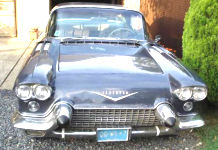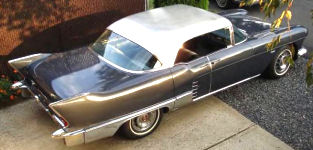 Looks blue in the photos left and center; in fact it is Deauville Gray [code #118], right
[ Photos: © 2005 and courtesy Tom Deignan ]
Car #679 currently (9/2001) is located in the Automobile Museum near Cointrin airport in Geneva, Switzerland. Originally painted Nairobi Pearl [code #149] currently it is painted metallic green. The interior appears to be the original color. I have no other information on this car, nor do I know if it had still any of the vanity items. Could this be the car I caught on video during an outing of the Swiss Cadillac Club, in the mid-eighties; I never was able to speak with the owner who, I was led to understand, was a garage owner in the Canton (state) of Valais. My son photographed what I believe to be the same car, some ten years later, at the Geneva Auto Museum, in Switzerland.


Photo (right) was taken by my son at the Automobile Museum, Geneva, Switzerland;
Stephen, my grandson, is pictured between a '56 Cadillac purported to have belonged
to Elvis Presley (believe it if you like) and an unidentified, blue-green Eldorado Brougham

Car #681 turned up for sale on Ebay in September 2007. The vendor said he bought it 7 years ago (2000?); the car is on springs and the transmission and carbs have been rebuilt. It is in generally good condition but chrome needs to be redone on aluminum parts, as well as other bits and bobs. Interior needs much attention; some vanitities are included; according to the vendor, thanks to the worldwide scope of eBay, some of the other vanities aren't as impossible to find as they used to be (nor are they as expensive). Good luck on that one! As I said before, this one must have been owned by a tall fellow; he had the front seat relocated two inches further back.

Car #682 One more for the roster of survivors in July, 2002. The following e-Mail was received from its owner: Hello, my name is Robin Baron and I read from your Eldorado Brougham section that you anted to know my body number ...for my 1958 Eldorado brougham. It is #682. I am hoping Robin will provide more detailed information about his car and perhaps a couple of photos. Unfortunately, I heard no more about this car for the next four years. Late Extra (Nov. 2006): in November 2006, I heard from Brougham enthusiast Morgan Murphy, in Alabama, that he had spotted the car in a shop in St. Louis, MO. He said it appeared to be stock, albeit on air springs and apparently repainted from Deauville gray to what appears to be Lake Placid blue). The car looks in good condition. Regrettably, it seems the owner is considering fitting a new Northstar engine under the hood. Morgan's photos will follow, and no doubt he will keep us appraised about this car. The owner is said to be Robin G. Baron of NJ.


[ these images courtesy of Morgan Murphy ]

Car #683 has been located; it is owned by a friend of Bill Buckingham who was kind enough to pass along this information. Bill and his father own/owned cars #245, 337 and 356]; he writes: When I see him next time, I'll grab a few pictures. He bought the car about 30 years ago from my dad, and is slowly getting it back into shape. The new owner is Ronald Schweitzer. In November 2004, he wrote: Sorry that it has taken me so long to send you any information on my Brougham. I will send a few pictures another time. I own #683 that I purchased from Bill Buckingham, Sr. in February of 1974. It is a mostly original car except for a rebuilt engine (2001) and a very old repair to the left front fender. It has over 100k miles on it and still is a presentable car. I drive it as often as possible and take it to many car shows. I have managed to drive it over 800 miles this year. What a thrill! Also, I wanted to let you know that Brougham #19 popped up on Ebay yesterday. I don't see it on your database... [I have since added that car to the Database]. Yet another find!


[ Photos: © 2006, Yann Saunders ]

Car #686 is not known to have survived ...but, who knows, it might turn up one day! According to collector-enthusiast Bill Wetzel of CA, this is one of SIX Eldorado Broughams sold by the Gene Winer Cadillac dealership in Bakersfield, CA. The others were #s 154, 277, 284, 323 and 462.

Car #688 was owned in the late seventies by Michael Burns of New Orleans, LA. Late extra [2006]: The car turned up for sale on Ebay in July, 2007. It was flooded out during the Katrina disaster of 2006 and put up for sale by the family who owned it since 1988. A member of that family believes this car spent some time in France and one of its previous owners was the owner of a Cadillac dealership in New Orleans; in the 70s he had a new crate motor installed at the dealership (believed to be a 472 c.i. motor). Prior to Hurricane Katrina, the car was in good condition and spent nearly all those years in a garage. Before the storm it was a nice, solid original car; it ran and drove and nearly all the electronics worked. Floodwaters reached just above the dashboard and the car was under water for about 24 hours during the storm, then sat for about 30 days before it could be retrieved, owing to road closures etc. There was a cursory attempt at resurrection; the air cleaner housing was thoroughly cleaned, and the spark plugs were not tight, suggesting that someone may have removed those items, realized the extent of the job at hand, and put it back together. CLC member David Armbruster acquired it at the auction for more than $20K (!) and will attempt to salvage the car or at least parts of it.

Car #690 has survived. It was not previously included in the roster. In March 2004, I was contacted by enthusiast Ron Susser who has been in contact with the owner and who, I anticipate, will soon provide us with more detailed information about this one. It appears to be an all-original car, with just 46K miles on the odometer; it seems to have a small complement of the vanity items, including the magnetic tumblers (in the plastic case), the plastic cigarette box, the beveled mirror and the leather notepad. If we get the OK from the owner, I shall add some pictures for this entry. Late Extra [June 2004] Got this message from Kent Steine, the current owner: Greetings, great job on the website! Had I known you were missing my car in your Database I would have contacted you long ago. It had been catalogued by the BOA back in the 1970's, so I was surprised to read that it had only recently been included in your records. I am the owner of Eldorado Brougham #690; Trim # 2282; Paint # 122. It has been a "member" of my family since 1963, and is indeed in it's original factory condition. In addition to the car itself, I also have various other support materials and numerous NOS parts in their original boxes, including bumpers; crown mouldings, etc,etc. For the record....nothing is for sale at this time. My car has an unusual and interesting history that began with my father, Arnold Steine at the '55 Motorama Show... If you would be interested in learning more, please feel free to write. I have a lot of information and material that my be helpful to Brougham Owners... With every good wish, Kent. We look forward to hearing more from you, Kent. Kent added that he knew of two Broughams in his home state of Wisconsin; one was copper-colored (code #98) and belonged to a Dr. Gonstead, a friend of Kent's Dad; the other was a '58 that had been totaled by a train! Seven down, 697 to go!


[ Photo: © and courtesy of the owner ]

Car #691 was on sale at auction in March, 2001, by RM Auctions. It was described as a mild and tasteful custom including custom paint and wheels. The air ride suspension has been replaced with the standard coil springs and shocks [info from Jerry Jansson in Sweden]. It sold for over $30,000.

Car #692 was offered for sale by Todd Todd of Corralitos, CA in 1992; the asking price was $37.5K for this 33K mile beauty, converted to coil springs. It was acquired by Nelson E. Valosen of New Jersey. He wrote (January, 2002): Owned it since 1995. I bought it from a guy named Todd Todd from Santa Cruz, CA. The original owner was Mrs. Roscoe Nettles from Clearwater, Florida. It's sandalwood [#144] with a 'Mauve' interior [#414]. Does not appear to have been restored just kept very well. On springs probably from the dealership. Has about 36,000 miles on it. Attached a couple pictures. I understand that since February 2002, this Brougham has got the original Arpège atomizer. Congratulations! ...but what a price!


[ Photo: courtesy Nelson E. Valosen, owner ]

Car #696 [current whereabouts unknown] did not have a radio speaker installed in front.

Car #697 is one of a group of five EBs acquired in 2005-06 by enthusiast Robert Titone, most of them in "less than perfect condition". These are #222, 325, 594, 648 and 697 [this car]. This one currently has some front end damage and may need to be downgraded to "parts car".


I believe The car in the foreground, LH photo] is #648, shown also at right
[ Photos: © 2007, Robert Titone ]

Car #698 was owned in the late seventies by Richard Riha of Baltimore, MD.

Car #701 was owned by "Fred", a visitor to the Database in February 2001. Fred said: Hello! I like your web page and database for the 1957-58 Broughams; you might want to add two more to it; I have #184 (this one is a parts car) and #701 which I bought in 1989 and have been doing a frame-off restoration since then. I hope to have it completed this summer. The car has 58,000 miles on it; it came with all the vanity items except the atomizer but the bottle of perfume is still full. This car will be offered for sale on completion. Fred wrote again in November, 2003, to inform me that his car had found a new home, in Georgia. Late Extra: apparently the sale did NOT go through and the car is being offered for sale once again, this time for $84,000! You can see it on this Web site [Aug. 2004]: http://www.specialtyauto.net/car_4891.htm. Latest Extra [10/2004]: Enthusiast Ron Susser tells me the car has been sold for the full asking price. Thanks for the tip, Ron.


Tip from Jerry Jansson, Sweden
[ Photo: Collector Car Trader on-line, October 2003 ]


Lower two photos were supplied kindly by the vendor


Photos (above 2 rows) : courtesy of Brougham enthusiast, David King
So far as I can see, the the correct Arpège box and atomizer are missing;
also the "silver" Cross pencil appears to be the gold-plated version

Car #702 was brought to my attention in July, 2002, by Jim Jordan who describes himself as a 'certifiable Cadillac addict' who regularly visits the Cadillac Database. He says: I wanted to let you know that I have located 1958 Eldorado Broughams body numbers 702 and 562 and both are in excellent original condition. Number 562 still wears original tires and has been maintained, but not moved from a climate controlled garage since 1962. Currently, the owners wish to remain anonymous but hopefully the great stories behind these two cars will be able to be told. I am counting on you, Jim! Late Extra [3/2007]: Jim wrote again, I haven't found anymore Broughams lately but can confirm that 1958 #702 has been sold by the original owner's family. I am told it went to the San Antonio area [TX]. Latest [4/2008]: I was contacted by friend and Cadillac enthusiast, Morgan Murphy of Montgomery, AL, who informs me that he bought the car from the original owner and is currently in the [process of restoring it. He writes: Brougham 702 is in remarkable, all-original condition. I purchased it from the original owner's family. The car has all the original vanities except the atomizer, which Mastermind Inc. used (and unfortunately had to destroy) to create the reproduction atomizers [that's why I refused to lend him mine, Morgan, back in the 70s!]. I have every receipt for this gorgeous Brougham. For the past two years I have been carefully restoring her mechanical components and hope to bring her to [the CLC] Grand National in August [2008]. She still rides on air! Morgan brought the car to the 2009 GN in Las Vegas after a circuitous route and a few mechanical mishaps.


[Left] The car appears low on its haunches; leaky air suspension ? [Right] en route to Vegas, Morgan advertized his company
[ Photo left, © 2005 and courtesy of Jim Jordan; photo right, © 2009, Yann Saunders ]

Car #703 Marten Carlsson, from Sweden, sent this update on October 23, 1999: "I can tell you that Brougham #703 is alive and well, in Sweden. It is red with gray/white upholstery, license #LXZ 292. Another of which I don't know the body ID, is green with license #FFU 533. There are probably four or five Broughams here (including #447 on your list) and one '59 model (at Kiruna! - check that on the map) that is reported to be in very rough condition. It could be the same car as has been seen in Norway, but its specific location is unknown at this time". Car #703 was originally white [code #112]. It was delivered to Texas. Since 1979 I had no news of it, other than it was a known survivor. Thanks, Marten, for bringing her back into the limelight. Can you tell us more about when and how this car got to Sweden? Tell us more also about other Swedish Broughams. On October 25, 1999, Marten added: "Hello again. Got some more info regarding #703. It was sold from Arkansas to Sweden early 1980. The present color (red) was sprayed on in the sixties. I will try to get some more info on other Broughams here. I was in touch with a guy from the Cadillac Club of Finland; he said he had seen a photo of a '57 Brougham with Finnish plates; current whereabouts are unknown. He gave me the address of the DMV in Finland. BTW, do you know what it's called in Finnish? Wait for it: 'Ajounenuvohallintokeskus'. Yep, no kidding!" Car #703 (the second to last Brougham of the first generation) (engine. #58P084934) is owned by Leif Ingesbo, Nedre Gardsjo 332, SE 795 Rättvik, Sweden. Leif may have another Brougham (details awaited). The latest info on this car was supplied kindly by Jerry Jansson, a Brougham aficionado from Sweden. Thanks Jerry! Leif wrote in Feb. 2001, confirming that he was also the lucky owner of this 1958 Brougham. He also owns a parts car (#626, above).


Photo courtesy Jerry Jansson, 2001



Car #704, the last Eldorado Brougham built of the first generation, is a non runner (BTW, production of the Eldorado Brougham was halted in July, 1958). This car was offered for sale in 1998, in New Jersey. Its fins had been amputated! In mid-1999 it was described as being painted Laurentian green with green cloth interior. The price: $11500 ! Contact David Barclay (732) 544-9035. Late Extra (5/2005): David just informed me that the car was sold by him from the estate of Edwin Alfred; it has gone to Minnesota. Edwin also owned #99 which he had bought NEW(!) and kept until his death. David said #704 was "tired" and rusty. The photo previously shown here turned out to be of car #468, as verified by enthusiast, Bruce Reynolds of Tasmania. Now, it remains to be seen if this car, #704, has indeed survived, or if David got the number wrong ? Complementary information [Jan., 2008], from CLC member Gil Dobbins: As I was reading through your listings of Broughams I noticed your comments regarding # 704. I knew Edwin Alfred well. He purchased the car when it was relatively new. The fins had already been removed. It was not a butcher job though. I believe that it was done by the Derham Body Company in Rosemont, PA. I have owned 2 Derhams and have marveled at their workmanship. This job is similar to three other 56, and 58 limousines that I have seen.

~~~

Trivia: The Scandinavians, especially the Swedes, have always had a fascination for American cars. The Cadillac Eldorado Brougham is very popular over there and a growing number of them are entering private collections every day. One collection in particular is growing rapidly but the owner wished to remain anonymous. Nevertheless, in the fall of 2008, an article about this particular collector appeared in Sweden's Nostalgia magazine so I guess I can now reveal the owner's name. He is Johan Tidstrand, son of the late Bo Tidstrand. The Tidstrand's are wealthy Swedes who made their money off some amusement parks and wildlife theme parks.


The car in the foreground (both pics) has been identified
by enthusiast, Stephen Kirkwood, as '57EB #172
[ Photos: © 2004 and courtesy Jerry Jansson ]

Leads and other sightings of 1957-58 Eldorado Brougham models
[body #s not known, so it is possible that some of these cars may be listed already above]

Can anyone match up some of the "unidentified" cars below
with cars already identified in this section of the Cadillac Database?


Looks like a museum setting


This one is believed to be in Japan; number, anybody ?


This blue one is licensed in Clinton, OH

[Added, 7/2008] Cars #240 and #... were seen on Frank Corrente's used car lot by an enthusiast in California. The photos below are from Frank's web site. One of the cars (the dark blue one?) apparently has been sold. One may be car #240; I don't have the numbers of the other one.

[Unknown car #] A 1957 model owned in 1983-84 by Abe Porter of California.

[Unknown car #] A 1957 model owned in 1983-84 by Bill Pozzi of California. Bill also offered for sale a 1958 model, for $7,000, in one of Bill's newsletters of the Brougham Owners' Club, in 1986; at that time the owner was one Gerald K. Millar, with a "704" area code.

[Unknown car #] A 1957 model owned in 1983-84 by Marv Walker of California.

[Unknown car #] This 1957 model was offered for sale in Cadillac Connoisseur, Vol. 23:5 (1983-84), p.16, for $12,000 obo. Contact phone number was Franz Ridgway, (503) 235-5555 [Oregon].

[Unknown car #] FOR SALE CADILLAC: 1957 Eldorado Brougham, restored from a low mileage original car, on springs, no leaks, $29,500. Tom Watling, (209) 668-8064, CA.

[Unknown car #] A 1957 Brougham was advertised for sale in the CLC's Self Starter magazine in April, 1984. The owner, Dave Walch Farms, Inc. of Gladstone, MI, was offering a collection of FIFTY Cadillacs from 1936 through 1973, including this and another Eldorado Brougham from 1959; the latter two cars were described as "beautiful". But before getting too excited about these cars, do check out the "Fact or Fiction" story by CLC member, Bruce Berghof, in the Self Starter for October, 2003 !


[ Photo: courtesy CLC and Self Starter magazine ]

[Unknown car #] This nice looking 1957 model was offered for sale on eBay, in 2007, by that master of inventiveness, "luvdg". Remember him? He's the millionaire with the museum and the Ph.D. in Ft. Lauderdale who tried to sell that bizarre, prize-winning red, restored-to-perfection "1959-60" Cadillac with in-dash TV, claiming it to be "THE" 1959 prototype 1960 Cadillac show car from the 1959 GM Motorama ...which was actually staged in October 1958! Then he tried to pawn it off as a "GM Design Experiment", straight from Harley Earl's own skunk works. Need I add, for the attention of potential buyers of the Brougham illustrated below: caveat emptor ! Interestingly, "luvdg" had another 1957 Eldo Brougham for sale on the Internet, via the Russo & Steele auction company of Monterey, CA [#40].


[Photos: Internet, 2008]

[Unknown car #] This 1957 model, was the object of an article in Hot Rod magazine some years back. It was converted from a "cherry original" (!!!) for enthusiast Bob Dando by Tim Divers of Divers Street Rodsin Startup in Washington, DC. It now has twin turbos developing 700+ HP coupled with a 6-speed Allaison automatic transmission.


[ Photos: Hot Rod magazine ]

[Unknown car #] This 1957 model was offered at auction by the J.C. Leake group out of Tulsa, OK (circa 2008-2009?)

[Unknown car #] This 1957 model is on show ina mueseum in reno, NV. Can anyone supply the VIN and or body number

[Unknown car #] This 1957 model was offered for sale at a Barrett-Jackson auction in 2010. Does anyone have the VIN or body number? The front license plate starts "3CRE..."

[Unknown car #] A 1957-58 model abandoned in the woods near a Florida orange grove in Orlando.


[ Photo: Wheels Magazine, Sweden May 2007 ]

[Unknown car #] Here's a potentially restorable 1957-58 model with an odd front ensemble made up of parts from a 1959 Cadillac grille

[Unknown car #] A 1957-58 model undergoing restoration in 2006-07. A 1958 model in Maharani Maroon (or similar) was owned in 1983-84 by Garth Higgins of California (top photo); could it be the same car?
[Unknown car #] One 1958 Brougham in Maharani Maroon [paint code 152], was offered for sale in the CLC Self Starter in January, 1995, for $40,000 [this is a Phoenix, AZ phone number]; only the following cars were painted that color: #424 [which is not on my list of survivors], #485 [possibly this car!], #548 [definitely not this car, since it had the small back light modification by Derham] and #591 [another possibility!]; this car may be the one (formerly?) owned by Ken Gimelli of Saratoga, CA; it is described on p.44 of the 30th Anniversary issue of the the Self Starter (1989); at that time, it had a reported 44K miles and included the vanity set, the notepad and the cigarette case.
[Unknown car #] A 1957-58 model photographed at the factory, presumably the day it was being picked up by its lucky new owner. Those were the days when factory deliveries were still quite common. This old (fuzzy) photo is from a factory album recovered from a dumpster behind the old Clark Street plant by an employee who knew what he as doing by saving it ...among other "souvenirs". Many of these rare albums were sold on eBay in 2003.


Did this one survive?

[Unknown car #] This 1957-58 model was recently [1st quarter, 2008] exported to Iceland. Anybody know it?

.

[Unknown car #] This Brougham (1957 or 1958 ???) was featured on the front cover of BOA Newsletter, Vol. 13, #2. It belongs to Robert and Judith Falcone of Baldwinsville, NY. Surely someone can send me the body number ?

[Unknown cars # ...] [1957-58] "Don ", a contact in Sierra Vista, AZ, informed me in December, 1998, that around 1983 he was in Long Island, NY, and saw a place in Freeport that had a bunch of Broughams. Later he saw ads in Hemmings by a Cadillac specialist in Freeport, NY, and he wondered if they were one and the same person/location. Anybody???

[Unknown car #] This one [1957-58?] was offered for sale on the Internet by the Chicago Exchange for $48,900

[Unknown cars # ... and # ...] a silver and a black 1957-58 Eldorado Brougham appeared frequently in the classifieds of Cadillac Connoisseur, magazine of the Cadillac Club International of Palm Springs, CA, around 1983-84. The silver one was priced at $20K, the black one at $12K; the latter was claimed to have been "celebrity owned". The phone number listed was (619) 321-1814. Who knows these two cars ?

[Unknown car #] [1957-58] This from Brougham owner, Michael D. Brooks (car #123), in March, 2003: I was at the shop of Dale Armstrong the other day in Temecula, CA. He said that his first Brougham was Deauville gray [code #118] with dark/light gray leather interior [code #150]. It was completely restored and he sold it to drag-racing legend John Force for $85,000 [!!!] several years ago. It currently resides in Force's "Museum" in Orange County, CA. I will work on getting more information. Mike, the only Broughams that fit this relatively common color/trim combination [8 cars in 1957 and 2 more in 1958] are #20, 69, 123, 209, 211 [currently red], 216, 319, 330 [said to be "rough"], 554 and 624. Which one is it ?


The snapshots in these two rows could all be of the same car, taken in different lighting conditions

[Unknown car #] [1957-58?] Seen at the Jenkins auto restoration facility in N. Carolina in 2005-06:


Who owns this one ?

[Unknown car #] [1957-58?] Offered for sale in Cars & Parts, in the mid-seventies; the color was not specified; car had full leather upholstery and the price set at $3,800. The vendor was Jere Clark, in California [Roy Schneider, the author, introduced me to Jere when I visited him in 1978 - this may be the white Brougham illustrated in Maurice Hendry's book, in the center section (color photos)].

[Unknown car #] Another 1957-58 Brougham for sale in Illinois was said to have the rare "Arpège" perfume atomizer, including the box!!! This one is said to be restored. The asking price is $19,500 and the phone is: 1-847-381-4295.

[Unknown car #] In the seventies there were rumors of 1957-58 Broughams at these locations in the USA: (1) Nevada Auto Wrecking, Henderson, Nevada, (2) Porter Auto Sales, 3231 Raytown, Kansas City, MO, (3) TNT Wrecking, Boise, Idaho, (4) Unknown junk yard, in Hudson, NY, (5) Polido Auto Parts, 7th Street, Burlington, NJ, (6) Crescent Auto Parts, Riverside, CA. Some or all of these cars may be included already among the foregoing survivors.

[Unknown car #] [1957-58?] was seen for sale in Hemmings, April 2001, for $12,900. Located in NJ; phone # (973) 579-9454 [New Jersey].

[Unknown car #] [1957-58?] was seen for sale in the BOA Newsletter, Vol. 13, #3, Fall 2001. Described as one of the nicest we have come across..., the car was on coil springs and priced at $25,000. The person to contact was Roland Windom at (504) 845-766 [Louisiana - the ad said that pics were available on the Internet but no URL was mentioned].

[Unknown car #] [1957-58?] Eldorado Brougham parts were for sale in November, 2001; from Rich Lauretano in Massachusetts, at (617) 847-4817 or (617) 688-4837 [Massachusetts]. The body numbers of these parts cars were not indicated.

[Unknown car #] [1957-58?] is/was owned by Fred Kanter of Kanter Auto Products [number needed, Fred]
[Unknown car #] The car pictured below [1957-58?], with 55K original miles, was offered as lot #4070 at the Kruse auction, Auburn venue, IN, in September 1999; the body number was not shown. It sold for a reported $18,250.

Could these three snapshots of a beige Brougham be the car of the auction?

[Unknown car #] The car pictured below is a custom job from 1957-58, powered by a modern Chevrolet Corvette motor. Does anyone know the VIN or the original body number?

[Unknown car #] This car was pictured in Mexico; although it seems in porr condition, it might be in runnming condition and restrable. Does anyone have ots ID?

[Unknown cars # ... (crushed!)] [1957-58?] This tip came from CLC member, Barry Wheeler, in October 2007: Today, I took a trip to one of my old favorite junkyards. Doug, this is the one on old US 31 north of Argos that the guy's wife was as big as he was, remember? It had a 1948 Cadillac convertible in the yard that you told me about. One of the things I wanted to do was see if the Brougham shell was still there and try to check the body # for you guys that love them. I was sorry to hear that it was crushed some time ago. The guy behind the counter still remembered it, but not much else. So, another one bit the dust. Nine Broughams were shipped to Indiana in 1957-58, Barry; I guess it could be one of those.

[Unknown car #] A 1958 model owned in 1983-84 by Anders Dahlborg of Sweden.

[Unknown car #] A 1958 model was listed for sale by Bob Hallada in the CLC Self Starter for June 1996; this beautiful black Brougham was the subject of a series of photos by Ron Kimball that have been featured in a number of books and magazines over the last 5 years. The asking price was $37,500 for this low-mileage beauty.


[ Photo: © Ron Kimball ]

Car #662 This car was lot #443 at a Kruse Group auction in Hershey, PA, in Oct. 2008. Does anybody know the VIN or body numbers? It was reported bid to $100K.

[Unknown car #] This car was lot #772 at a Kruse Group auction in Hershey, PA, in Oct. 2008. Does anybody know the VIN or body numbers? It was reported bid to $115K.

[ no photo ]

[Unknown car #] This 1958 Brougham was on display in 1983-84 at Cashman Cadillac, Nevada's oldest automobile dealer ship, in Las Vegas, NV. Could it be the car below, photographed in a museum in Reno, NV
[Unknown car #] This 1958 Brougham is/was on display at the Gilmore Museum in Kalamazoo, MI. Can anyone supply the VIN or body tag number?

[Unknown car #] Mike Fennal of Saugus, CA, owns a '58 Brougham painted a lilac hue (below) - or is it possibly just gray, photographed under special lighting conditions?
[Unknown car #] [more info from Jerry Jansson, Sweden] A 1958 Brougham was offered for sale in Hemmings Motor News for March 12, 2001. It was offered by the second owner who had the original owner's manual and papers for car; it is totally restored, has a white exterior and black & white leather interior; price sought is $59,000; contact Jim Cordell, (816) 365-0209 or (314) 533-8087, MO. Jim, the following unidentified Broughams were painted white and had black & white leather upholstery: #417, #434, #449, #496, #518, #600, #610, #633, #672. Which one is it?

[Unknown car #]

[Unknown car #] [1957-58?]


Anyone recognize this baby, fitted with a transverse Northstar engine (possibly another Dale Armstrong car?);
Dale converted already 57EB#208 to V-12 power and transmission; this could be a "twin"
it was spied on this Internet site by our Swedish Brougham sleuth, Jerry Jansson:
http://www.geocities.co.jp/MotorCity/4049/1957e.html

[Unknown car #] [1957-58?] (looks like an old California license tag: XHS-721")

[Unknown car #] [1957-58?] Offered for sale in Cars & Parts, in the mid-seventies; it is black, with black & white leather trim. Price was $4,400. The vendor, Ken Mausolf, Colorado.

[Unknown car #] [1957-58?] Offered for sale in Cars & Parts, in the mid-seventies; it was black, with white and black leather and the price was $5,750; it was described as one of the finest of the few in existence.

[Unknown car #] Joe and Angela Rakes, members of Rik Gruwez' Cadillac Mailing List (CML), reported also, in 1998, having seen a 1957-58 Eldorado Brougham in a small museum in Tennessee.

[Unknown car #] Here are three 1957-58 Broughams that were advertised for sale with only a phone contact number. Some of you may wish to call these numbers [if they happen to be still valid] to determine the current whereabouts of these cars: (803) 556-2243 [1957 - S. Carolina], (803) 763-2101 [1957 - S. Carolina], (972) 458-2094 [1958 - Texas].

[Unknown car #] This info from enthusiast Stephen Andrews [my comments in square brackets]: there is a 1957 Brougham in Florida [no body number supplied]); the owner claims it is in fine condition with all the books, papers and vanity items [All of them? Fat chance!] This one is reported to be Dakota red [none were painted that color in 1957, so it has to be one of the following 1958 cars: #428, 487, 4992 or 6393]. The car is a multiple show winner. If you want to check it out, the phone number is (305) 232-5517 [Florida].

[Unknown cars #... #... #...] Two 57s and one '58 in Australia, ownd by Gary Obren; I found this information in Fall 2008 in La Cad, the magazine of the Cadillac & LaSalle Club of Australia. One of these cars possibly was owned by Harley Earl.


[ Photos: courtesy "La Cad" ]

[Unknown car #] a 1957-58 model is part of the collection of Jim Rogers (Sun Belt Auto, Las Vegas). I was able to get a few pics (below) during the 2009 CLC Grand National meet. Unfortunately, the body number was not displayed. It could well be one of the Broughams listed alsewhere in this section.

[Unknown car #] this 1957-58 model needs to be identified. It appears to carry a California tag. Anybody recognize it? I may have it listed already listed.

[Unknown car #] a superb 1957-58 model, in grey.

[Unknown car #] There is also a 1958 Brougham in Arizona that is double turquoise and needs restoration; the asking price is $15,000 and the contact number is (602) 939-2711 [I may have a picture of this car, that my wife took in Phoenix, in 1997].


[ Photos: © 1997, Gita Saunders ]

[Unknown car #] My friends Magali and Genevieve Keyaerts, owners of the Robert Keyaerts Cadillac Museum at Langeais, near Tours, in France, own a white '58 Brougham. Number, anyone ?

[Unknown car #] Another 1958 Eldorado Brougham was advertised for sale, for $8,000, in the same newsletter; at that time it was owned by Lawrence Greenwald of Wyncote, PA.

[Unknown car #] A 1958 Brougham in Copenhagen blue with white leather was advertised for sale in the BOA newsletter for December, 1999. That car was located in Canada; it was reduced to $25,000 for a quick sale.
[Unknown car #] Another 1958 Brougham was advertised for sale 2/2000: tel. (757) 482-2813 [Virginia].

[Unknown car #] Yet another 1958 Brougham was advertised for sale in Canada for $12,500. Call (306) 359-6502 [Saskatchewan].

[Unknown car #] Enthusiast, Scott Lord, saw a 1958 Eldorado Brougham in the NY Times Magazine for March 19, 2000. It was owned by Mr. Robin Baron, design director for Periscope Sportswear. From the picture, the car appeared to be in excellent condition.

[Unknown car #] [from an ad in the Self Starter, September 2002]: 1958 Eldorado Brougham, black and white, needs restoration, no junk or parts car, condition #5, $5,000, Charles Moore, Riss, OH, Tel. (513) 738-4671

[Unknown car #] Russian enthusiast, Andy (André) Chrisanfov of Moscow's Auto Review newspaper says he saw (in 2003) a 1958 Eldorado Brougham on display at Classic Corvettes and Collectibles, 304 S. Pinelas Ave., Tarpon Springs, FL. Also on display is/was one of 5-6 custom 1958 Eldorado Biarritz convertibles from Fisher/Fleetwood with a rain-activated power top, as well as one of two 1938 V-16 White House security cars [the Jack Tallman car, or the one from the Belgian National Motor Museum - from the G. Mahy collection?].

[Unknown car #] This car was lot #S160 at a Mecum Group auction in Monterey, CA, in August 2009. Does anybody know the VIN or body numbers? Vendor's description reads (in part): This brilliant White 1958 Eldorado Brougham was completely restored by acclaimed drag racer and tuner Dale Armstrong, who also has a well-earned reputation as a talented restorer of collector cars. In its fifty year life it has only had three owners, all of whose loving care is reflected in the car's low mileage and high level of originality. Armstrong's talents and dedication to correctness are evident in even the smallest details, together which make up a splendidly finished automobile.


The ads below were sent to me in 2002 by our ever watchful Swedish Brougham enthusiast, Jerry Jansson (he owns two of them - see photo); if anyone has the body numbers, please let me know. Thanks:


These are Jerry's two Broughams
on display at a Swedish car show

[Unknown car #] FOR SALE CADILLAC: 1958 Eldorado Brougham, 48,500 original miles. Mechanically sound. Other than needing a paint job this car is in great condition. Will sacrifice for the unbelievable price of $22,500 Contact: Allan, Winnipeg, Manitoba, Canada, (204) 488-8636, MB.

[Unknown car #] FOR SALE CADILLAC: 1958 Eldorado Brougham, excellent original paint, leather, chrome, cosmetics, engine rebuilt 10 years ago, air suspension rebuilt with correct parts from Mastermind, 45K miles, all duties & taxes paid, Canada and EC, car now in England, $62,000 or Euro equivalent, pics available. PH: 44-1986-798300, 44-777-1868-024 cellular, UK.

[Unknown car #] this unidentified 1958 car is part of the holdings of the Branson Auto Museum in Missouri.

(58ebmisso)

[Unknown car #] a 1958 model, black, was auctioned by the Kruse Group at their Boca Raton venue, Jan., 2009. It was reported sold for $62K.

[Unknown car #] a superb 1958 model, black, seen in this unidentified photo in 2012.

__________________________________________
1 I have seen a number of these key fobs for sale at auction on the Internet; prices have ranged from $20-50
2 not listed as a survivor
3 Car #639, located in France, re-painted metallic green and re-upholstered in gray-green velour]

Photos of more Unidentified Broughams


This is an ad for Springmaid Fabrics (circa 1958-59) featuring the company's
eccentric CEO, Martin McMartin St.Martin, III. Money can buy the weirdest things,
including a Cadillac Eldorado Brougham [and sunglasses!] outfitted with navigation lights,
just like those on the family yacht (that may be seen in the oval medallion, below the great Dane).
Mr. McMartin inspired the Adelaide University Footlights Club to stage a revue entitled
That Adamant Eve. Here is a part of the hilarious dialogue:

Some of you probably know of my pater, Martin McMartin St. Martin III. I don't often talk about him ... he was such a frightful beast to Mummy … poor dear Mummy. But he's the one who sold the family name for all those positively awful advertisements that you see in "Esquire" and all those other positively awful American magazines. I think they advertise "Springmaid" sheets or something ... And there's our family name on all of them, and what's more photos of Daddy doing the silliest things. Poor dear Mummy … she almost has a fit every time she sees one. Positively she does! Just between you and me it's got me dreadfully worried because I've noticed that poor, dear Mummy takes straight off for the Whisky bottle the moment she sets her eyes on one of those dreadful advertisements.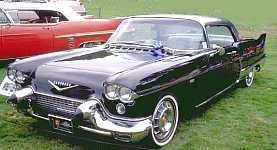 Who recognizes this one, with the "Award" rosette and ribbon on the windshield [Cranbrook Show, 2003]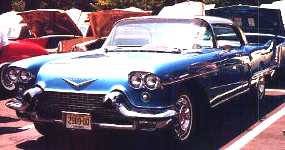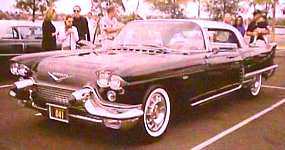 The one on the left is in the USA, I believe; the other one (right) is in Australia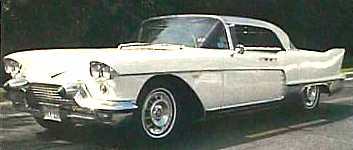 This one is (was?) in Texas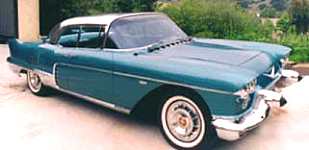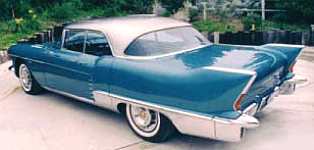 This blue beauty is reported to have only 9K miles on the clock - who knows the car ?


Only five Broughams were painted this regular 1958 Cadillac copper color
known as Desert Bronze (code #98): 121, 312, 328, 452 and 632; which one is it ?
Possibly also it is a repaint [see car #329 - except the latter has alloy sabre wheels ]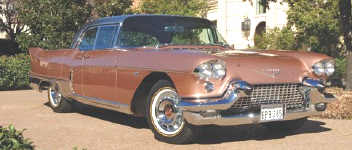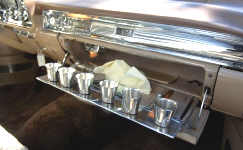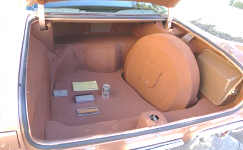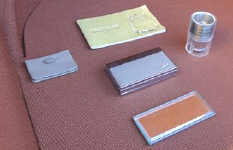 According to the vendor of this car (unknown number) it was repainted the original "Kenya Beige"
which, IMHO, looks very much like the above "Copper" tint. Who knows this car ?
I wonder if the foregoing car could be the one offered at auction by RM Auctions in 4/2008. Their description reads: This particular example was part of an identical pair purchased new by two brothers. Stored in a shed for much of its life, it has accumulated just 43,000 actual miles. Mr. Davis acquired it from the original owner's family, and repainted it in its original shade of Kenya Beige shortly afterward. Today the car remains remarkably original, from the dash, headliner, and door panels to the carpeting and shoebox-sized garage door opener. The car's exterior is simply fabulous. The flawless paint was professionally applied, the bodywork is excellent, the chrome has been replated, the glass is free of defects, and the stainless moldings are very nicely polished. The opulent interior is outstanding and the upholstery is in showroom-new condition. In fact, the door panels, instrumentation, steering wheel, carpeting, and chrome elements are all superb with the only imperfection being some slight disfiguration in the original padded dash, which in no way detracts from the overall quality of the car. While not concours quality, the engine compartment is very impressive and period correct, having been detailed and remains free of any dirt, grease, or grime. Most noticeable, of course, are the proper batwing air cleaner and rocker covers, finished in gloss gold. The undercarriage is likewise nicely detailed, clean, and highly presentable. The Air Ride system has since been replaced with a standard spring suspension ? a very common occurrence on the Broughams, given the difficulty and considerable maintenance costs the Air Ride system required.

Again I wonder if the foregoing car could be this custom "invalid carriage," a 2008-09 project of a Canadian outfit called Distinct Images, Custom Auto Builders of Niagara Falls, Ontario, Canada. They call it the 1958 Cadillac Custom. The customer requested that it be a one of a kind vehicle. That, it certainly will be. In my opinion it is unfortunate that the client chose a RARE Cadillac Eldorado Brougham as one of the base cars for the project. The vehicle is to be stretched like a limo, the roof removed, custom air ride suspension installed with six wheels, wheelchair accessible. The body will be married to the chassis and drive-train of a 2005 Cadillac De Ville wuth front wheel drive, a Northstar engine & trans; it will be fitted with custom bumpers, speedster "bumps" behind the rear seats and have a custom House-of-Color paint finish. The interior will be totally custom, mixing the old dash with today's new digital electronics, a custom high powered stereo system and more. Read more about this project by visiting the coach-builder's own Web site, here. According to the customizer's write-up, the client lives in France in an area "where the weather is very hot and it only rains one day a year at the most." I'd like the address, please ! I'd go back there in a flash ... but, I can tell you from having lived in France that there is NOWHERE in that country that offers such exceptional weather conditions !


The donor car is possibly the one at the right, photographed at a Car Meet in 2008


[ Above two rows: "transformation in progress" - 2008 ]


Anticipated result

Trivia
(1) On September 18, 1957, a certain Mickey signed a statement under oath declaring to the IRS, in Los Angeles, that he was destitute, but for his clothing and a few personal effects. The IRS were not fooled. Acting on a hunch they discovered that Mickey had bought himself, that very day, a spanking new Eldorado Brougham [around body #300] for which he had paid $16,222.24! This car must have had some costly additional features or equipment to have cost $3000 over list! [source: BOA magazine]. Research on Google. in 2009, brought up the notorious LA gangster, Meyer Harris [aka "Mickey"] Cohen, jailed in the Atlanta pen for tax evasion. A grand jury apparently summoned his stripper consorts and others to testify to Mickey's "lifestyle of Cadillacs and nightclubs that was hard to reconcile with the $1,200 income he reported from selling plants and ice cream"! Database user Don Olbers recalled in 2009 that in 1957, an unsuccessful attempt was made on Cohen's life, via a car bomb. He survived; unfortunately, his Eldorado Brougham did not ! Don remembers seeing a pic somewhere; it was the only casual, non-collector shot of a Brougham that he'd ever seen. He wrote, additionally, in addition to the many attempts on his life, Mr. Cohen did indeed have trouble with the IRS, serving time for tax evasion. I tried to find some info on the car bombing, but could only find stories of his home being bombed in 1951.

(1a) Gary Koch tells a story about the late George Putnam, TV anchor and Radio Talk Host. Putnam was conducting an on-air campaign against corruption and gansters in L.A., calling out Mickey Cohen in particular. Gary wrote: Mr. Putnam had his very limited production Cadillac Eldorado Brougham in for service. He returned to pick up his car and the service manager said, "Yes, Mr Putnam it's ready." So, he hops in the silver (with stainless steel roof) 4-door beauty and drives out. Something didn't seem right and he looked around and realized this wasn't his car! He quickly returned it to the dealership and retrieved his own identical automobile. He had driven out in Mickey Cohen's automobile that was in for service the same day!

(2) The following is an excerpt from "Chic" magazine, from the mid seventies (on the introduction of the new Cadillac Seville sedan): ...there hasn't been a genuine luxury car produced in this country [the USA] since the Cadillac Eldorado Brougham of 1958 vintage. As an example of that car's outrageous luxuriousness [luxury?] and extravagance of craftsmanship, consider just the roof: brushed stainless steel, and when it was somehow scraped or nicked, the body-and-fender man at the local Caddy dealership had to refer to a manual of more than 20 pages describing precisely how the roof must be repaired to factory specifications. Now that is luxury.

(3) In the late seventies, you [and me both!] could have bought from a Ms. Mabel Barnes on Mulholland, Los Angeles, cars #197 [last seen in England, 2008], 388 and 605 ...all three for just $7500 !!!

(4) [1957-1958?] In 1975, BOA member George Allgood from the Atlanta area, in Georgia, acquired SEVEN Broughams - in one fell swoop - from a collector in the San Francisco area, thus increasing his personal collection at that time to ELEVEN units. Four of the seven cars purchased were parts cars; one of them was fully dismantled and piled up inside the others.


Mr. Allgood's truck-load of Broughams [circa 1976]

(5) Users of the Database may wonder why I have such a great interest in the Brougham yet never owned one. Well, among my many faults, I am a procrastinator. I think too much ...instead of acting! I could weep just thinking of the number of GOOD to EXCELLENT 1957-58 Broughams I turned down in the seventies because I was sure I would find a better one, for less money, the following week/month/year. Here are a few: $1200 (Ft. Lauderdale, FL), $2500 (Faribault, MN), a pair for $2900 each (good to excellent condition - Worth, IL), $2995 (Dayton, OH), $3200 (Bowie, MD - needed only a repaint to be a showcar), $3250 (Elmira, NY - perfect!), $4000 (Iuka, IL), $4200 (Sudbury, MA - "near mint").

(6) I wonder if this one is among today's survivors?!?! I'm guessing the photo is from the late fifties


[ Photo: Internet ]


Quite a rare sight: three Eldorado Brougham models together in one location
[ Cropped Photo: Brougham owner, Bill Buckingham ]


Rarer still: five Eldorado Brougham models together ... at the 2012 CLC Grand National in St. Augustine
(actually SIX such cars were present - does anyone have a photo of the 6 cars together?)




OTHER NOTES

BOA member, Don Johnson [no, not the TV star] worked for several months on a process to repair leaky air diaphragms, by coating them with neoprene. Tel [in 1975!] was (313) 274 0221 [Michigan].

Interchangeable 3-way mirrors: the Brougham uses the same mirror as the standard Eldorado models from 1956-61, as also the 1959-1961 Series Sixty Special models.

There is an Eldorado Brougham publicity film. It was mentioned in a BOA newsletter. The film was shown again during the 1976 Brougham owners' convention at Indianapolis. I viewed it for the first time, as a video clip, at the home of Ruben Baeten, in Holland, in August, 1997. The setting is New York's Central park, around the Tavern on the Green. The car used is Brougham #3 of the 1957 production. You can see the clip on YouTube:

There is a Brougham color and trim book [www.car-nection.com/yann/Dbas_txt/brg12.htm]. I believe that there is one in the collection of Dick Baruk, who owns a half dozen Broughams, including the unique 1956 "Motorama" town car; another belongs to BOA member Charles D. Barnette (Brougham #590); Charles saw another one at the 1986 CLC Grand National in Fort Worth, TX (this is perhaps the one in the Baruk collection).

Persons interested in acquiring an Eldorado Brougham or parts for their car might find what they want in Texas, at this address: Mr. Peter Krell, 13509 Brookgreen, Dallas, TX 75240.


I like Cadillac wagons. Here are a couple of ideas of mine for a Cadillac Eldorado Brougham estate wagon


~~~~~~ Survivor Statistics ~~~~~~

| | |
| --- | --- |
| Year | Total |
| 1957 Total | 278 |
| 1958 Total | 203 |
| Grand Total | 481 |
| Percentage) | 68.3% |

Go to cars #401-600 of Brougham survivors of 1958

Go back to the record of Brougham survivors of 1957

Go to the record of Brougham survivors of 1959-1960

© 1996-2020, Yann Saunders, DLM Group, and the Cadillac & LaSalle Club Museum and Research Center Inc.
[ Background image: a fine survivor from 1957, car #198, Phoenix, AZ ]