[ last update : 06.27.2004 ]
The (new) Cadillac Database©


The Cadillac V16
1930-1931


Part 1
Introduction to the
Multi-Cylinder Cadillac Models


Return to The (New) Cadillac Database© Index Page
or go back to the V16 index page
Before the Cadillac "V16" came the Bugatti "U-Sixteen", in 1915. Designed for aviation use, that motor featured two banks of eight cylinders each, mounted side by side on a common crankcase, with two crankshafts sending power to the propeller shaft through a special transfer gear. An operational "U-Sixteen" prototype saw service in 1917 and it is reported that 11 similar units were manufactured in the USA, in 1917 and 1918, under license by Bugatti in association with Duesenberg.
In the late twenties it was considered a status symbol to drive an automobile with a coach-built body. In those days, many wealthy US customers thought nothing of spending from $10,000 to $20,000 for a custom or semi-custom body. By acquiring a majority interest in the Fleetwood coach building facilities in 1925, and introducing lacquer painting in the Pennsylvania plant that same year, Fisher hoped to corner part of that lucrative market.

The following year (1926) General Motors ear-marked funds for their own "multi-cylinder" engine project. There was a niche to be filled for custom and semi-custom automobiles powered by a smoother engine, delivering increased horsepower with little or no vibration. Lawrence ["Larry"] Fisher, then Cadillac chief, recruited Owen Milton Nacker, an experienced engine designer who had previously discussed the feasibility of a V16 motor with Howard C. Marmon.

Research on General Motors' "Sixteen" project began in 1926 All this was done in great secrecy under cover of a phony project to construct a multi-cylinder motor for a line of imaginary busses, and an equally "phony" project [at that time] for a 12-cylinder motor (the latter project did materialize, nonetheless, in the Autumn of 1930 when Cadillac introduced its new multi-cylinder motor for the already popular line of 1930 models).

Fisher met Harley Earl also in 1926, during a nation-wide tour of Cadillac dealerships. So impressed was he by Earl's designs on the Cadillac chassis for the Don Lee dealership in San Francisco that he offered him a consulting job in Detroit that same year. Earl and Fisher traveled to Europe in the Fall of 1927 to study European auto styling in greater detail. Many wood and clay mock-ups were built up, in 1928, following their return from that successful European tour. That was also the year when Earl created GM's Art & Color Section which, later, became the Styling Section.

From the drawing boards of Earl's team were to materialize some of the most beautiful automobile bodies of the twenties and thirties, not the least of which was Cadillac's "baby sister", the La Salle, introduced and enthusiastically received in 1927. There is no doubting that Earl's visits to Europe and his admiration for the work of many European coach builders inspired and influenced his own later creations. Hispano Suiza and Isotta Fraschini were but two among the many European marques from which he "borrowed" (presumably with no intention of ever returning) many styling features of the Cadillac "V16".

It is surmised that several V16 cars and engines were built and tested between 1927 and 1929. It is believed also that several were ordered already in 1929 by Cadillac and GM executives who had been appraised of its coming.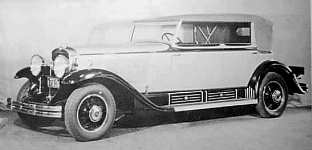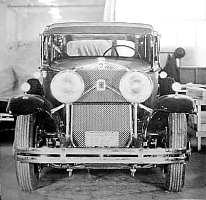 An early V16 proposal for a large, all-weather phaeton. Right, the front clip of a landaulet proposalwith its massive
headlights and two-bar bumper. The latter would give way to a single blade for 1930
[ Photos courtesy of the late Dave Holls ]
In 1929 the Fleetwood facility in the town of Fleetwood, PA, built $10,000,000 worth of bodies for Cadillac and La Salle1. On September 3 that year the stock market peaked, setting off massive selling one month later, resulting in the infamous Wall Street crash of October 1929. Despite a mild recovery in mid-November, there was to be a further plunge in mid-1930. It was during these austere, ominous times that Fisher announced to the world the coming of the costliest of all Cadillacs: the new sixteen-cylinder cars. The V16's debut had been set for the Fall of 1929. It was delayed up to the end of the year. Its arrival was broadcast on the radio in December 1929. Simultaneously, Fisher, informed Cadillac dealership's nationwide, by a circular letter of 10 December, 1929, that the new car was now available. Here are a few excerpts from that letter:
"Please inform all Cadillac and La Salle owners that the new sixteen-cylinder Cadillac will be exhibited for the first time at the Automobile Show, opening January 4th in New York City. It will be on view at both the Grand Central Palace and the General Motors Salon in the Hotel Astor3.

The new car will be called the "Cadillac V-16" because no name other than Cadillac would be fitting or adequate.

...

The "Cadillac V-16" will be custom-built -- the very ultimate in luxury, comfort and security. It will be serviced with an intimacy and continuousness of contact of which the public has had a foretaste in Cadillac and La Salle.

...

Cadillac has the confident expectation that there will be nothing in America or the fashion centers abroad to compare with the "Cadillac V-16". We believe that it will take its place beside Cadillac and La Salle in every home enjoying the utmost which can be attained in exclusiveness and desirability.

A crowd some 20,000 strong, elbowed to catch a glimpse of the new "Supercar" at the New York auto show when it premiered at the Astor Hotel on January 4, 1930. The car received rave reviews. Two sixteen-cylinder cars had been made ready in time for the 1930 show season. The first was a sixteen-cylinder version of the eight-cylinder Cadillac Madame X landaulet, a custom job that Harley Earl had designed in 1929. It was an almost replica of Earl's original "Madame X", except for its new, longer hood with individual louver doors in lieu of the multiple vertical louvers used on the V8 models of 1929 and 1930. This first V16 Madame X model was built at the old Fleetwood plant in the town of Fleetwood, PA. It was designated an Imperial-Landaulet, and given Fleetwood Job number #4108C3. Subsequently, all enclosed, sixteen-cylinder models with four doors (sedans, limousines and landaulets), whether fitted in Fleetwood, PA, with the almost vertical "V" windshield or in Detroit, MI, with the flat, 18º slanting windshield, became known as the Madame X cars. The regular "sixteens" were built on West Fort Street (later renamed Fleetwood). When Fleetwood closed down its operations in Pennsylvania in the Spring of 1930, production of the Madame X cars was moved to the Chevrolet Annex, behind the GM building; they were painted across the street in the so-called Research Building.

A total of four similar cars were built before production of the Fleetwood "imperial landaulet" was moved to Detroit, in the Spring of 1930 [Fleetwood continued some of its operations at it's Pennsylvania plant through December 1930].

The Detroit-built imperial landaulets for 5 passengers were assigned the standard Fleetwood styling code #4155C. Ten of the latter were built. They got a new, flat windshield, raked at an angle of 18 degrees, as well as a new instrument panel.


Ready for its salon showing in New York,
Fleetwood's landaulet style #4108C

Also ready in time for the New York show - although no photographs of it seem to have been taken there - was a razor-edged Town Brougham, Fleetwood style #4264B. It was shipped from the factory on December 28, 1929. This was a town car having an open chauffeur compartment, square corners in the rear and canework painstakingly applied by paint tube to the lower rear body; it featured also two large folding seats that increased passenger capacity in the rear compartment comfortably to five persons. Six of these town broughams were built; only three of them (including the New York Show car) had the imitation cane work.

It is interesting to note that company photographs of these two cars show them fitted out with the standard Cadillac wheel covers in lieu of those bearing the "V16" emblem. Perhaps the newer wheel covers were not yet available at the time the pictures were taken. Also, the earliest photos of the landaulet [style 4108C, above] show it without the sidemount rear-view mirrors.

These two cars were photographed at the same location, around the time of the New York show. The wooden floors, plush curtains complete with tassels [see 4108C photo, above], suggest a large hotel ballroom.

Perhaps the Astor Hotel? The absence of any photographic record of either Cadillac in the public areas of the annual New York Motor Show in 1930 makes it impossible to determine with certainty if only one or both these cars were actually on display.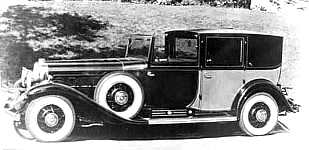 Left: one of only three Fleetwood style #4264B town broughams with imitation canework body at the rear.



Here are samples of French cane in sizes "55" and "90" from the French "L'Auto-Carrosserie" (circa 1919)
When correctly applied (examples above and below), the double beads of painted cane lie
horizontally and vertically, while the single bead runs diagonally through them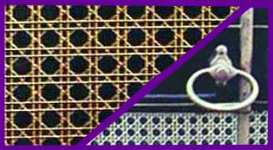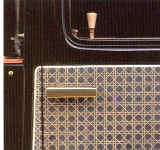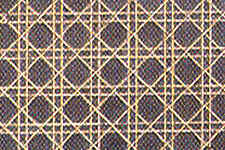 Some more examples of correct application of "cane" on a restored, pre-WW2 Rolls-Royce


Above, detail of correct cane application on custom
1948 convertible coupe by Paris' Jacques Saoutchik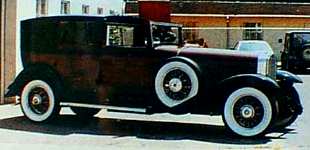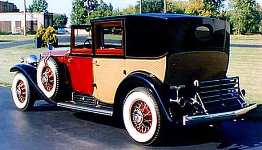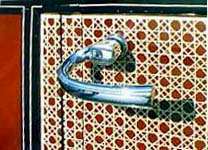 In the converted brougham, above, it may be seen that the cane was applied wrongly



V16 production got rolling in January 1930. From two cars a day that first month, production increased quickly to twenty-two cars a day by April that same year. The 1000th V16 was released from the factory on April 8, 1930. By June 1930, two thousand units, valued at $13,500,000, had been produced. However, the cost to manufacture the V16s was calculated at a phenomenal $54,000,000, of which $6,000,000 for dies, tools and machinery, $14,000,000 for wages and $34,000,000 for materials. Therefore, by the time production of the V16 was halted in 1940, Cadillac calculated that each V16 cost more to build than to sell. But what a boost it had been for the firm's image and reputation as a provider of fine, luxury automobiles! Of the first batch of sixteens [Series 452/452A of 1930-31] seventy were exported, as were also 21 bare chassis. The final destinations of these 91 units may be found in a separate table.

Among Fleetwood's early catalog offerings were a number of custom-built bodies; all were described in detail in a large dealer album that included B&W photographs of some 35 individual designer's drawings of creations on the sixteen-cylinder chassis. In the copy that album which I was fortunate to be able to consult at the Free Library of Philadelphia [Thomas McKean collection] in the early eighties were the following: Madame X styles 4130 and 4130-S, with both the vertical "V" and flat, slanting windshields, 4130-SC with vertical "V" windshield, 4161-S with flat, slanting windshield (2 drawings), 4175 and 4175-S with vertical "V" and flat, slanting windshields; next came styles 4207, 4208, 4212, 4220, 4225, 4235, 4264, 4264-B, 4280 (shown with top up and down), 4291, 4302, 4312, 4320, 4325, 4330, 4330-S, 4335, 4355, 4355-C, 4355-S, 4361, 4375, 4375-S, 4376, 4380 and 4391. Prospective buyers were lured further by the fact that they could have almost any special style or styling feature they cared for. These variations on the regular styles were described and priced in the annex to that special dealer album.
Beginning in June 1930, six spanking new sixteens participated in a promotional tour of major European cities including Paris, Antwerp, Brussels, Amsterdam, Utrecht, Cpenhagen, Stockholm, Berlin, Cologne, Dresden, Frankfurt, Hamburg, Münich, Nüremberg, Vienna (where they won prizes), Berne, Geneva, Lausanne, Zurich, Madrid, San Sebastian, La Baule and Angers (on the return journey from Spain, the V16 caravan stopped in the town of Cadillac, in south-western France, although that city bears no relationship to the marque, other than by its name2).

The cars that participated in this promotional tour were a close-coupled sedan (probably style 4361S although only a part of the front of the car can be seen in a contemporary photograph), an all-weather phaeton (style 4380, not visible on that photo), a sport phaeton (style 4260), a Town Brougham (style 4264B - perhaps body #1, after it completed the motor show circuit), a convertible coupe (style 4235) and a 2-passenger coupe (style 4376) with wide-whitewall tires.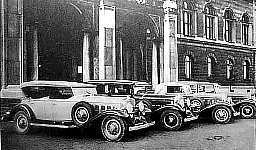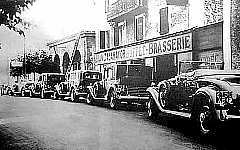 The photo at left was taken in front of the Swedish Royal Automobile Club (the KAK,
Kungliga Automobil Klubben) Right: the caravan assembles at Le Perthus on the Franco-Spanish
border, before entering Spain [having driven the French and Spanish roads starting in the early
sixties I can appreciate the effort that went into driving these huge cars over the same roads!]
Interestingly, the engine and chassis of the sport phaeton (style #4260) used on the European tour were acquired somehow by Paris' Jacques Saoutchik, who built on it a special semi-convertible sedan with an ingenious, full-length sliding roof [he built a few other superb bodies on Cadillac chassis too]. The latter car was discovered in 1964 in a Paris garage and acquired at that time by well-known French collector Johnny Thuysbaert who subsequently sold the car to Hubert Le Gallais, a restaurateur from Le Pavé du Roi, near Fontainebleau, 40 miles south of Paris; I took pictures of it there in the seventies. Some time in the late eighties, I guess, the car found its way back to the USA. Apparently it was sold at auction by the Barrett-Jackson group of Scottsdale, AZ. Collector Barnie Gliebermann from Michigan acquired the car and (over-) restored it. You can read all about it in the V16 survivors section. More recently [2001], the Saoutchik car was acquired at auction by yet another collector.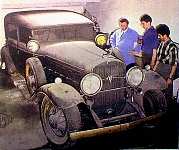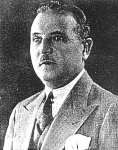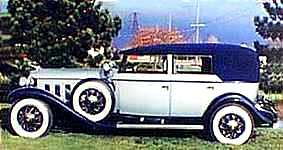 Left: How the Saoutchik car looked in 1964 when it was retrieved from the Paris
garage. Center, the French master coach builder, Jacques Saoutchik. Right,
after "over-restoration" in the late eighties and early nineties. Hood vents
have been chrome-plated and the original, large Marchal headlights replaced
with (in my opinion) less attractive Grebels to match the cowl-mounted spot-lights
The reliability of the powerful sixteen was put to the test in May 1931 in the form of the "M-B-D Scientific Expedition", so named after its organizers, Messrs. Menke, Behneman and Dixon. The trio took a stock sixteen-cylinder 7-passenger sedan on a round trip of the north American continent, covering a distance of 10'000 miles in 24 days. Starting off in San Francisco, they visited such scenic spots as Los Angeles, El Paso, Ciudad Juarez (in Mexico), New Orleans, the island of Cuba (after a ferryboat trip), Key West, New York, Niagara Falls (from the Canadian side), Detroit, Chicago, Omaha, Salt Lake City, Reno and back to San Francisco. The V16 proved to be 100% reliable throughout the trip.

Quip: A gas station attendant filling the tank of a V16 was heard to mutter, "Kill the engine lady, you're gaining on me!"
______________________________________________

1 As a matter of interest, V16s built in Fleetwood, PA, may be easily distinguished from those built in Detroit, MI, by the location of their body plate or body tag on the firewall. On sixteens built in Fleetwood, PA, the latter is found on the passenger side and shows the "Job No. ...."; on Detroit-built cars the plate is located on the driver's side and shows "Style No. ....".
2 Some people think that self-styled nobleman, Antoine de La Mothe-Cadillac, founder of Detroit in 1701, hailed from Cadillac, in SW France. In fact he was born at St. Nicolas-de-la-Grave, much closer to Toulouse than to Cadillac. He simply added the name "Cadillac" to that of "La Mothe", which he had usurped from its rightful owner, Baron Sylvester of Esparbes de Lussan, lord of Lamothe Bardigues [click here for the full story].
3 This statement would indicate that at least two V-16s were ready for show on January 4th, which adds credibility to the rumors that both a Madame X landaulet and a cane-bodied town brougham were on display. What appears certain is that they were not shown together an the same stand at the show.
4 In fact the car looked like Fleetwood style #4155C; it is only later that it was fitted (presumably in California?) with a light-colored leather top grained to look like convertible top fabric (the French called his material coupienne; it began to be imported to the USA in the late twenties).


Here's an old photo, probably taken in the
fifties, showing a surviving V-16 sedan with
non-original headlights and 1940-style
front bumper impact bars and guards

Multi-Cylinder
Cadillac Basics

(These notes are drawn from the V12 catalog for 1931)


Ten body styles were offered in the catalogs for the eight and twelve-cylinder Cadillac models for the year 1931. Six were by Fisher, four by Fleetwood (all interiors were by Fleetwood):

Fisher Styles
Fleetwood Styles
Coupe for 2 passengers
Roadster for 2 passengers
Town sedan for 5 passengers
Convertible coupe for 2 passengers
Imperial sedan for 5 passengers
Phaeton for 5 passengers
Coupe for 5 passengers
All-weather phaeton for 5 passengers
Sedan for 7 passengers
Sedan for 5 passengers

This was the largest V8, compensated engine ever produced up to 1931. It was lighter, more compact, quiet, powerful; it gave good acceleration and was "roar"-free. A 90° V8 of 3 3/8 x 4 15/16 " bore and stroke, its 353 ci engine developed 95 HP. Syncro-Mesh transmission, safety mechanical brakes, harmonized steering and Security-Plate glass throughout was standard.

Like the V12 models below, these cars featured a double belt molding. They were mounted on the 134" wheel base chassis. The Coupe roof was set at a racy angle. A chrome screen was mounted over the radiator. Dual horns were fitted below the headlamps; the cars had single-bar bumpers, five hood ports and a cowl ventilator. There was a new window treatment. Bodies were low and graceful, offering a balanced symmetry; they consisted of steel panels mounted on a frame of seasoned hardwoods and metal braces. A screen visor was fitted as were 2 interior sun visors. Interiors were upholstered with rich mohairs, broadcloths and whipcords. Metalware was in bright silver; metal vanity cases were inset with ebony and upholstery fabric.

Cadillac engineers developed the twelve-cylinder motor in parallel if not simultaneously with the V-16. It had a compensated engine with overhead valves, 45° between blocks, 3.125" bore with a 4" stroke, giving 368 ci developing 135HP @ 3400 rpm.

The V12 models could reach 80 mph and more. The engine had overhead valves, pressure lubrication, an individual carburetor for each block of 6 cylinders, a single distributor and patented valve silencers. The large "bowls" at each side of the engine are carburetor intake silencers to muffle the carburetor "roar". Like the V-8s these cars had Syncro-Mesh transmission, 3 speeds forward, one reverse. A vacuum assisted brake system was installed [fully described in the V8-V12 catalogue].

Cadillac offered its Standard Service Contract [one year, 12000 miles]. A 6-volt battery, 120a/h was standard; wheel bases were 140" and 143" [the longer one used for the 7-passenger cars]. Tire size was 7.00 x 19. There was a complete set of tools in a special fabric holder, tucked away in a rainproof tool box located in the left front fender. All glass was Security-Plate.

V12 bodies featured a double belt molding, a long hood, a modified coach sill with single running board light and long decorative chrome spears interrupted in the center by a small, round step light. There were hood ports, a cowl ventilator [the same size and shape as the hood ports] and two battery boxes [one on either side] inset into the front fenders and covered with an aluminum plate.

The long, low lines gave the V12 exceptional acceleration, speed, smoothness and silence. Interiors were luxuriously finished. There was a rear seat folding armrest and side arm rests; carpeting was laid over a heavy insulating pad, foot hassocks were individually sprung and upholstered, the front seat was adjustable, there were two adjustable sun visors and the instrument board was polished, damascened aluminum.

How to distinguish between V8, V12 and V16
Cadillac models for 1931


V8 models for 1931 are easily identified by
the absence of any sill decoration or molding


V12 models for 1931 are easily identified by the single,
horizontal spears flanking the small, round running board lamp

The three illustrations below, which are modified designer's drawings from the 1930 V-16 brochure, will improve your car-spotting skills. The three body sills highlighted are encountered only on Cadillac cars with the sixteen-cylinder engine, i.e. the Series 452 and 452A of 1930-31.


The straight sill, above, is found on the majority [about 90%]
of sixteens for 1930/31 including all the Madame X models;
the latter, however, feature a horizontal belt molding and not
the curved, so-called Le Baron hood seen here. The sill is divided
into two parts with a running board or step light between them.


This shows the next most common sill design
used on just under 10% of the V-16 production;
it is the so-called curved or coach sill.


This is a rare and "special" sill style; it is found
on only six cars, that is about 0.2% of the entire
1930-31 V-16 production; it is a "half-coach" or
"boot toe" sill, popular in France at the time.

Nota: Multi-cylinder Cadillac prices, in 1931, ranged from $2195 (V8) to $15000 (V16).


This photo was taken in 1933 at the GM exhibition entitled
A Century of Progress. The mighty V16 (right) dwarfs
the puny, but always reliable "one-lunger" of 1902-1908


The earliest V16 engines had the enclosed, streamlined distributor cap as shown in the first 3 images;
this is the type featured on p. 42 of the V-8-12-16 Shop Manual issued in 1931; the cap on the right is a later issue;
I assume that the initial model was abandoned in the 2nd year in favor of the less attractive one, right, for reasons of cost
Return to The (New) Cadillac Database© Index Page
or go back to the V16 index page
© 1996, Yann Saunders and the Cadillac-LaSalle Club, Inc.
[ Background image: cover of information flyer on the new, 1930 V16 ]