[ last update: 01.30.2003 ]
The (new) Cadillac Database©


The Cadillac V-16


Appendix
A V-16 Town car in the Family


Return to The (New) Cadillac Database© Index Page
or go back to the V-16 index page


This page displays some authentic, period photos of a rare sixteen cylinder town car, Fleetwood style #4325 (only 35 units built from January 1930 through February 1932). What makes them interesting is the fact that it was made specially for the maternal grandmother of auto buff, Alan Brander, whose mother and uncles all learned to drive in THAT car. What a great story !

This is the finest photo of the car from Al's family album
It is rare to find original photos of cars of such "high standing", since owners or their heirs and inheritors often are loathe to share information about their family and wealth with strangers. Alan Brander is an exception. As a devoted car enthusiast himself, and knowing my special fondness for Cadillac's sixteen-cylinder models he was happy to share these family photos and memories with me. He had many more, he said, all from the period 1930-1933

Unfortunately, I had one of those "computer melt downs" and lost all Alan's lengthy correspondence as well as the many photos of his family's cars. As luck would have it, however, Al had shared some of these memories and photos with a second car buff, Norm Zabala, whom I know through CML member Rik Gruwez' Cadillac Mailing List (CML). Fortunately for me (in fact for us all), Norm had kept Alan's photos (at least some of them) which he has allowed me kindly to share with you.

As the experts among you will see, this town car is Fleetwood's 7-passenger model, style #4325. The initial digits "43" of that styling code refer to the raised molding on the hood that curves across it and down to the sill behind the side mounted spare wheels. This design feature is said to have been borrowed from Le Baron.

Other distinctive features of this particular style are a long body, extending way back beyond the rear wheels, the straight sill below the doors, with their decorative chrome bars and center step light, the absence of windows in the rear quarters (making it a formal style), the large, folding, auxiliary seats accommodating two occasional extra passengers in the highest degree of style and comfort, the partition and division glass separating the passenger compartment from the driving position, the leather covering on the metal roof. This car included as standard fittings a leather canopy for the driver's compartment (stored under the front seat when not in use), a robe cord on the partition in the passenger compartment, a silk umbrella, a sheepskin mat and a ceiling mounted luggage net.

The original price of this model, according to a price list I have that is dated January 1, 1930, was $7150. In today's dollars that represents around $90,000. With a view to reducing the volume of stock on hand, prices of some sixteen models including this one were reduced in October 1930. This one dropped to "only" $6525.

The Brander family were from Chicago and, as I recall from what Al wrote some five years ago, were in the banking business. They were close friends of the J.P. Morgans and the Rockefellers, as also of screen star Clark Gable. About the Rockefellers, Alan wrote: one of the cute stories that went with the V-16 was that the Cadillac agency phoned my grandmother asking if they could have her car for a day to show Mrs. Edith Rockefeller so she could have an identical car made. My grandmother told them that Mrs. Rockefeller should have her own car made, not a copy of my grandmother's car. BTW....they were very close friends1.

Al mentioned to Norm that he had "thousands" of photographs taken by himself or his family, dating back to pre-1900. He spent considerable time reviewing them and picking out just the car pictures. He also regretted that many of them were ruined. He wondered if there existed a scanner for negatives (suggesting that he still had the latter). Yes, Al, if you are reading this, such scanners do exist; I have one made by Fuji (the FV10-D "Digital Photo Imager").

Now, dear reader, enjoy these photos of a superb automobile.
___________________________________________________
1 This reminds me of another cute Rockefeller story: Mike, my wife's brother, dated for a while a lass from New York called Sacha; Gita's and Mike's father, a Swiss businessman in New York, began dating Sacha's mother around the same time, eventually getting married to her; Mike and Sacha got to thinking it might be awkward for "father and son" to wed "mother and daughter"; they eventually ended their relationship; a short while later, Sacha married John D. Rockefeller's youngest son; had she married Mike, then Gita and I would have become "step-in-laws" of the Rockefellers. Is that cool or what?


The young men in this photo are Al's uncles
At far right is Joe (or Charles - Al is not sure), the family chauffeur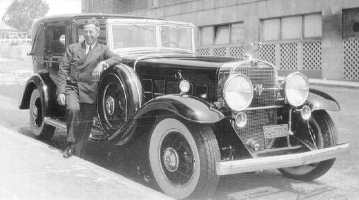 This photo was taken on July 29, 1932, in front of The Jonathan Club
in Santa Monica, CA; the man is the chauffeur (Joe, or Charles);
in those days, as you can see here, the Pacific Coast Highway
(i.e. H'way 101) was no wider than a normal residential street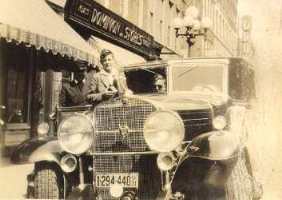 Who can identify the location?
In one of his letters, Al also mentioned having a "cool" photo of the actor, Clark Gable, with the family chauffeur, taken in L.A. in August, 1932. He was told the car in the photo was Cadillac. In fact, Matt Larson of the CLC, who co-authored in 2000 the magnificent book La Salle - Cadillac's Companion Car identified it correctly as a Chrysler Imperial [photo below].

This photo was taken by Al's step-grandfather, W. Clark Richards.
Al went to school with Gable's step-children.
Twenty-five years after the above picture was taken, Mr. Richards
met Clark Gable again, at one of Alan's school functions.
Other Fine Cars from
Al Brander's Family Photo Album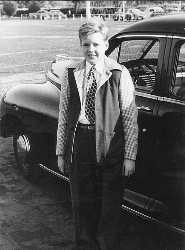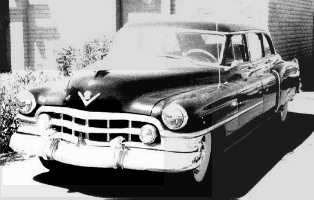 Left: a young Alan B. Brander with the family Packard (mid-forties ?)
Right: The Brander's bought a 1950 Cadillac Fleetwood 75 limousine that year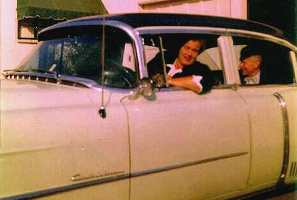 Left: Al's mother in the family's new Cadillac Series Sixty Special for 1954
Right and below: Exception to the limousine rule, this lovely 1958 Eldorado Seville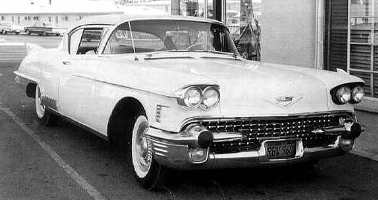 About the Seville, Alan wrote: I was 15 then and I got to pick out this car. They charged her
the full $9200 [actual factory list was $7,500 - I wonder if Al was perhaps referring to the price of
the V-16 (?) - unless that Seville was heavily optioned !] and allowed her $1500 for her '54 Fleetwood
with only 17,000 miles on it, then an additional $1500 discount. I have the original invoice.
My mom put the car on account. The '54 was the down payment, and she was billed for
the difference, which was paid by check. I wanted her to keep the '54 Fleetwood for me,
...but she refused to allow a 16 year-old to drive a Cadillac.



A new Fleetwood Series 75 limousine comes into the family in 1963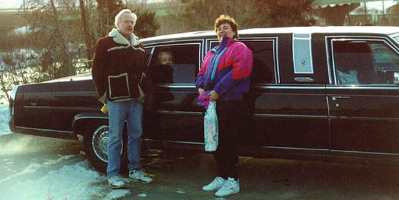 In the late eighties, Al (left) took his Mom (right) on a luxurious ride down memory lane from Scottsdale to Denver
in this stretched 1983 limousine; en route he met his brother (seated in the rear of the limo) and sister-in-law
[ All photos: © and courtesy Alan B. Brander ]
Return to The (New) Cadillac Database© Index Page
or go back to the V-16 index page


© 2003, Alan B. Brander, Norm Zabala and Yann Saunders
[ Background image: V-16 Fleetwood style #4325 Town Car (photo © Alan B. Brander, courtesy Norm Zabala) ]