[ last update: 05.01.2008 ]
The (new) Cadillac Database©

The Cadillac Eldorado Brougham
1957 - 1960
Part 7
Brougham Brawn and Brains
Being a list of some of the standard mechanical and electrical features
found in the Cadillac Eldorado Brougham of 1957-58
Return to The (New) Cadillac Database© Index Page
or select preferred chapter

The Cadillac Eldorado Brougham models and particularly those of the first generation (1957-58) were the most fully equipped American production automobiles of all time. The list of standard equipment included the following :
1. Hydra-Matic transmission
2. Power steering
3. Power brakes
4. Air-conditioning
5. Dual carburetors (1957); triple carburetors (1958)
6. Low-profile, high-speed, white-wall tires (these changed from 8:40x15, 4-ply on the 1957
models to 8:40/8:20x15, 4-ply in 1958
7. Tinted "E-Z-Eye" glass
8. Alcoa forged aluminum and steel, "turbine-vane" wheels (set of 5)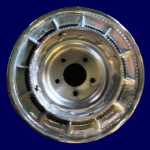 [ Only the "face" of the wheel is shown, above ]

9. Automatic "Favorite position" front seat; the background image shows the complex seat
mechanism located under the drivers seat; this photo shows the "control center" for the
memory seat, located on the driver's arm rest [more on this gadget later].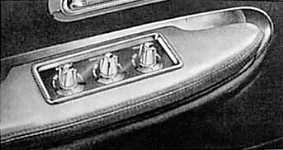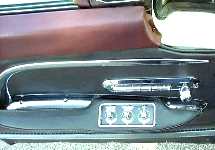 The control panel for the "memory seat" adjustment
is located on the armrest, driver's side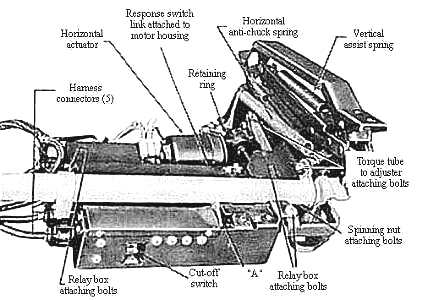 Part of the inner workings of the memory seat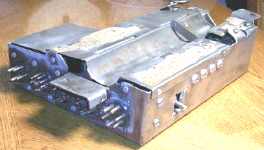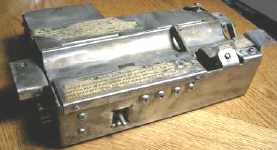 Here's what the "Memory Seat" control box looks like
10. All-transistor radio
11. Automatic antenna
12. Fog lamps
13. Heater (including two units under the rear seat, blowing warm air forward into the rear
passenger compartment)
14. Electric safety door locks
15. Automatic engine starting and restarting
16. Air springs with automatic and constant leveling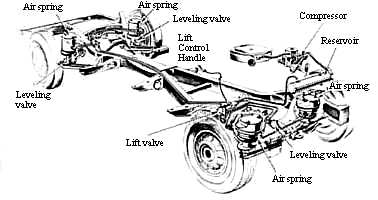 The novel air suspension system introduced as standard equipment on the 1957 Cadillac
Eldorado Brougham was plagued with problems from the start. Here is a diagram of the
updated and improved (?) layout for 1958. The cost of servicing the system was
so prohibitive (and so generally ineffectual) that it was abandoned in 1961

Exploded schematic view of 1957-58 Eldorado Brougham chassis
showing the principal components of the air suspension system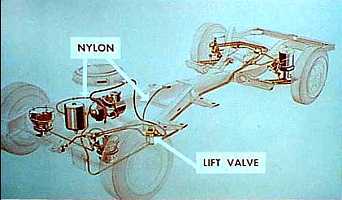 This schematic diagram explains the functioning of the system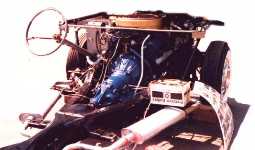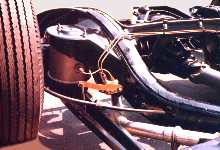 Here is a bare 1959 chassis with air suspension; in the image on the right
you can clearly see the air dome, the leveling valve and the copper piping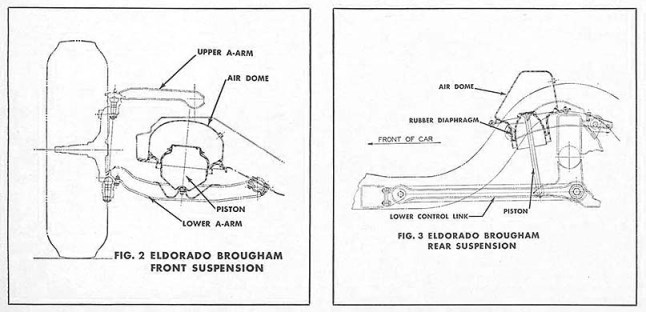 The above illustration is from an article by Joe Wherry that appeared in Motor Trend for July 1957 entitled Riding on Air in '58
17. Center arm rests front and rear (custom appointed in the rear)
18. Parking brake tell-tale light
19. Generator tell-tale light
20. Low fuel tell-tale light
21. "Autronic-Eye" automatic headlight dimmer [strangely enough, the operation of
the latter is not covered in the Owner's Manual for the 1957-58 models although it is
featured in the Cadillac Data Books for 1957 and 1958. In 1959, the system
became known as the "Guide-Matic Power Headlight Control'; its operation is
duly explained in the Brougham Owner's Manual for 1959-60.
22. Temperature tell-tale light
23. Oil pressure tell-tale light
24. Air pressure tell-tale light (for the air suspension system)
25. Four balanced-tone horns
26. Cigarette lighters (two in front and two in the rear)
27. Translucent sun-glare visors
28. Brushed stainless-steel top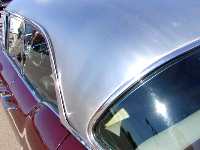 [ Photo: © 2003, J. Scott Harris ]

29. Four-unit headlamp system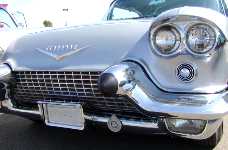 [ Photo: © 2003, J. Scott Harris ]

30. Remote-control outside rear-view mirror (left-hand side)
31. Electrically operated windows
32. Electrically operated vent panes
33. Electrically operated trunk lid (opening and closing) [unfortunately, I cannot guarantee that You Tube video clips will always be viewable]
34. Electric clock, revolving drum type [in the 1959-60 Broughams there was a further
electric clock for rear seat passengers on the back of the front seat
35. Directional signals
36. Dual back-up lights
37. Windshield washer-wiper
38. Lighted ashtrays (two in front, two in the rear)
39. Full-flow oil-filter
40. Oil bath air-cleaner
41. Courtesy lights
42. Map light
43. Luggage compartment light
44. Two lights in glove compartment
45. Three-way, glare-proof, rear-view mirror ("E-Z-Eye")
46. License-plate frames
47. Fully carpeted trunk area
48. Glove compartment convenience items

49. Glove compartment "Vanity-case" [see next chapter]

50. Rear arm-rest "Personal accessories" [see next chapter]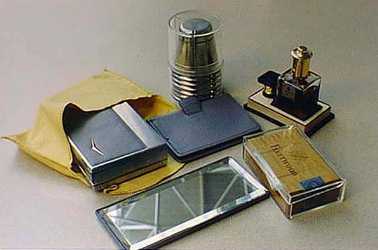 The complete set of personal accessories consists of six magnetized tumblers in a transparent
carry case (top, center), a ladies' compact in a felt pouch, color-coded to match interior trim
(2nd row, left), a note-pad with a Cross silver, propelling pencil - not seen in this image - (2nd row,
center), a perfume atomizer with one ounce of Arpège perfume extract, in a presentation box
with instructions (2nd row, far right), a beveled-edge hand mirror, color-coded to match interior
trim (lower row, left) and a plastic cigarette box - without cigarette packet - (lower row, right)
The 1959-60 Broughams are not so well equipped as the earlier series. However, they do incorporate one feature not available on the 1957-58 models, that is two handy, lockable storage compartments located on the rear shelf.

Return to The (New) Cadillac Database© Index Page
or select preferred chapter

© 1996, Yann Saunders and the Cadillac-LaSalle Club, Inc.
[ Background image: complex Brougham "memory seat" mechanism ]