[last update: 05.26.2020]009 ]


Cadillac Stories
Yann & Gita's
1960 Cadillac Eldorado Seville


Carlos & Elsie De Reuter

United by 50 years of happiness
for ever shall we be together

This epitaph is set in stone on the vault of a married couple in Cologny cemetery, near Geneva. Their lives may have been extinguished but their generosity, their love and their mission for humanity are written down for all time.

Carlos de Reuter was the youngest son of German banking giant, Johannes de Reuter. He was born December 27, 1892 in Amburgo, in the Argentine. He grew up in Latin America, where his father was a representative of the Deutsche Bank. He began his studies in the Argentine and completed them in Germany.

Elsie, his wife, was born in Potsdam, Germany, but lived in the USA. The couple met in Madrid. It was love at first sight and the beginning of a long, passionate union. So impassioned was Carlos with Elsie that he quit his job as attaché to the Argentine embassy in Berlin just to be reunited with her. Fate brought them together officially when they were betrothed in New York on March 21, 1921.

Carlos was a shrewd businessman and came to Wall Street through the front door. His flair as a financier enabled him to weather the 1929 Wall Street crash and the resulting financial debacle that followed in the thirties.

Elsie and Carlos spent the entire war years in Paris. Then they moved to Cuba where they spent many happy years together, sharing a love of life, of dancing, of sun and music. They left Cuba long before Fidel Castro came to power.

They came to Geneva in the summer of 1953 and stayed there, initially for just a few months. They loved Geneva's peaceful lifestyle and Elsie enjoyed the climate which seemed to have a beneficial effect on her arthritis, of which she had been suffering already for many few years. So the couple decided to settle in Calvin's city, by Lake Geneva. Carlos built a home there for his spouse, in the Louisiana colonial style; he named it La Louisiana.

I was fortunate to make their acquaintance in 1965, on the occasion of a reception by the Argentine Ambassador to the United Nations. I remember being struck by their joie de vivre and youthful spirit. The friendship that developed between us on that evening never waned.

The year we met, Carlos was diagnosed with a severe heart problem. He consulted Professor Charles Hahn. The bond of friendship that grew between them gave birth to the idea of a:

Foundation for Medical Research

After suffering a stroke in 1968, Elsie became a patient of Professor Gauthier in Geneva's Cantonal University Hospital (the HCUG). The treatment she received there prolonged her life until September, 1969. Her death was a tragedy for Carlos. His only solace, thereafter, was to visit every day the vault that he had built for Elsie in the cemetery at Cologny.

The result of the friendship that bonded the De Reuters to the medical staff of Geneva's University Hospital, combined with Carlos' immense generosity and his desire to serve humanity and see his name perpetuated, resulted in the creation, in 1981, of the Carlos and Elsie de Reuter Foundation and Center for Medical Research.

It was on a trip to Marrakech, Morocco, that Carlos' heart stopped on February 21, 1979. He was subsequently entombed at his spouse's side. The epitaph on the vault where they are forever united bears testimony to their unbounded love and happiness together.

By its research subsidies, the Foundation tries to pass on some of that happiness to those who are sick and whose only hope resides in successful medical research.

[Author: Karin Berclaz, President of the De Reuter Foundation]

On January 31, 1978, in a public Will, Carlos de Reuter, Argentinean financier, a Geneva resident since 1953, willed his executors and Geneva's Faculty of Medicine to set up at his death the:

Carlos and Elsie de Reuter Foundation and Center for Medical Research.

The Foundation, whose headquarters are in Geneva, was created on April 9, 1981, two years after the death of Carlos de Reuter. Its capital was ten million Swiss francs.
~~~
Yann & Gita
United by 37 years [so far] of happiness
and hoping for ever to be together

I met Gita in March 1971, while standing in line to buy a movie ticket to Kelly's Heroes at Geneva's Rialto cinema. She was in company with a couple her own age who had just become engaged. At 19, she was having some boyfriend problems and had decided to force her company, for the evening, onto the newly-engaged young couple.

At 32, Yann was in the throes of a divorce from Christiane, wife #1, who, he earnestly believed, was the "passion of his life". But she threw it all away; she claimed she could not keep up with his fast pace nor deal with his unorthodox lifestyle.

Who? Me ?!?!

Forward to Gita.

Pinned to the back of her beige cardigan was a manuscript note (obviously placed there, unknown to her, by her prankster friends). It read:

I am looking for a dark-haired, hot, Latin lover...

Needless to say, I tapped her on the shoulder. She swung around.

"Hi," I said, "I believe you are looking for me..." Gita looked at me quizzically. So I unpinned the note and showed it to her.

We all shared a good laugh ...and then Gita sat next to me all through the movie. We immediately bonded. The rest is a 35-year [as of July 2007] history of conjugal bliss ...just like the De Reuter couple, above.

In the Spring of 1972 we acquired for $1,600 [that's right, one thousand six hundred US dollars] our beautiful 1960 Eldorado Seville. At that time she was owned by a truck driver in Berne, Switzerland. He had inherited the car from an uncle who had bought it second-hand from a Geneva used car lot. I later found out the history of Lavender Lily.

She had been bought new, in 1960, by Ms. Elsie De Reuter, the wife of Carlos De Reuter, a wealthy Argentinean banker and financier [see above].


This is how the 1960 Eldorado Seville looked when it left the factory in the late fall of 1959.
Ours looked exactly like it when Gita and I bought a used one, some thirteen years later

Elsie used the car for tooling around Miami on her annual Florida vacations. At the time, she and her husband were residents of Cologny, the Beverly Hills area of Geneva, Switzerland, so the car really got very little use.

Then, in 1963, she decided to bring it to Switzerland. It was first registered in Geneva on May 9, 1963 [just a week before my 34th birthday!]. The Eldorado was issued regular Geneva license tags with the number "GE 107200" (I remember a girlfriend of mine got number "GE 107629" just 429 registrations later.

The troublesome air suspension system was a constant worry. Parts were not easy to obtain. Elsie finally gave up the Cadillac in a part trade on a brand new Mercedes.

Sadly, she passed away just a few years later, in September, 1969. Carlos, her husband, joined her on the eternal journey some ten years later. He had suffered a stroke in Morocco. Their beautiful mansion, La Louisiana, was sold to the North Korean Ambassador to the United Nations European Office.

~~~

I first saw "Lavender Lily" on a used car lot, in Geneva, in the mid-sixties (prabably quite soon after Elsie parted with it). That was just before I could afford my first "old Cadillac" (a 1956 Sedan De Ville, which I bought in December, 1966). At that time, Lily's odometer reading stood at around 28,000 kms [circa 17,500 miles] and she carried a SFr.8,000.00 sticker [by comparison, my '56 sedan cost SFr.1,700]. Taking into account the $/SFr. exchange rate at the time, that was about $1,800 (i.e. around $9,500 if you take into account inflation since 1966).

In 1965, Lily went to a more fortunate (and more moneyed) buyer than me.

Then one day in the Fall of 1971, I saw an ad in Switzerland's weekly Auto Revue for a "1963 Cadillac Eldorado". I had never owned a convertible Cadillac and thought it might be fun to get one - the price was right - even though 1963 is not one of my preferred model years. So I decided to check it out. The car was 150 miles away in the Swiss capital city, Berne.


The 1963 Eldorado
[ Photo: © 1963, Cadillac Motor Car Division, GM ]

I made an appointment to meet the vendor in the lobby of the Schweizerhof (hotel), located in town, opposite the main railroad station.

On entering the hotel I noticed, parked across the street in the dim evening light, the unmistakable outline of a 1960 Cadillac coupe. But that car was not the purpose of my visit, so I didn't give it another thought.

I sat for a while opposite a guy who seemed also to be waiting for somebody. Like me he kept checking his watch. Finally we got talking. It turned out that HE was my vendor! The 1960 coupe I had spied across the street was his "1963 Eldorado" !

I said there was a mistake but he proceeded to show me the title document showing the first registration date as "1963". Obviously, he was not aware that the car had been owned and operated in Florida for three seasons, prior to being imported to Switzerland.

I looked over the car. It actually looked and smelled like new ! I asked the owner why he wanted to sell it. He said he was a truck driver; he had inherited the car from an uncle but did not like its color scheme. Indeed, Lily was painted a superb metallic lavender hue called Heather Poly (code #99). She had matching metallic lilac and cloth upholstery with equally matching dash and carpets, as well as the rare bucket seat option (trim code #58B).

I did not tell him that his car was a "rare find" for me.

To cut a long story short, after I explained to him that a 1963 Eldorado was a convertible model, while his car was a closed model and that, in addition, it was three years older than he had said, he agreed to bring the price down.

So we got Lily her for about $1,600 [that's about $6,500 of today's dollars]. Her odometer reading by that time had climbed to around 35,000 kms (22K miles)!

~~~

Ah yes! Those were the good old days. Gita and I both had relatively well-paying jobs (our combined monthly income at that time equaled the cost of Lavender Lily) and we were living in a modest yet cozy apartment in Geneva, where the rent was only $40 a month (about $165, with inflation). The rest was "fun money" ...and fun we had!

We ran two Cadillacs as daily drivers; Gita drove Lavender Lily and I drove The Ambassador, a '64 Sedan De Ville that we had got in trade for my '67 Mustang and Gita's '69 VW beetle. The '64 had belonged previously to the Danish Ambassador to the U.N.


Gita strikes a relaxed pose across Lily's hood

Then we did something stupid! We got married, had children, dogs, bought a house, got an inordinately high mortgage. In other words we entered the "real world". The car had to go.

~~~~~

"Lavender Lily" never could settle down after that. She changed hands five or six times. But few of her subsequent owners cared for her as much as Gita and I had done. Each time we bumped into her, we noticed her worsening condition. Then she disappeared from view for about 10 years.

One day, I chanced upon her again, quite by accident. I was looking for a place to store our '60 Eldorado Biarritz for the winter when I visited an underground garage near the U.N., in Geneva, that was offering parking spaces on long-term leases for "collector cars". There, I found my beloved Lavender Lily under a dusty car cover. l made some inquiries and got the name of the new owner, a local eccentric by the name of Walter Wettstein. This gentleman had amassed quite a numbers of interesting old cars but seemed to want to do nothing to maintain or restore them.

Shortly thereafter, Lily was moved out of her protected environment, in that underground garage, and got put in a fenced lot, out in the open, on the other side of town (Chêne-Bougeries). There she lay, bottomed out on her deflated air bags, for another 7-8 years ... quickly reaching an advanced state of decrepitude.

Whenever I visit the area I like to swing by to say hello to Lily; I notice that bits and pieces of the rare Eldorado trim are gradually disappearing. Have vandals found access to the place, or is the owner parting out the car?

I did call the owner once to find out if Lily might be for sale. I did not mention the fact that I had been her fourth owner [Elsie, the truck driver's uncle, the truck driver himself, then me]. He was abrupt to the point of rudeness. Of course, it's possibler I was the 100th caller that week!

No, Lily was definitely not for sale.

The last I heard (2000), Mr. Wettstein had passed away and his heirs were said to be about as easy to contact as the former President of Standard Oil.

This baby is worth saving. Any takers? I'm way too old ...and too poor!
Souvenir Album
Lily was our wedding car in July 1972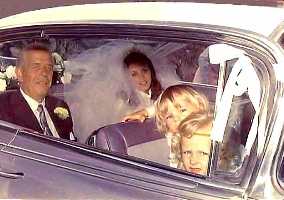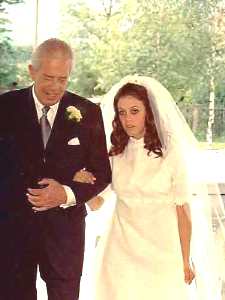 Gita arrives in the Cadillac then, on her Daddy's arm,
enters the tiny country church in Trélex, Switzerland...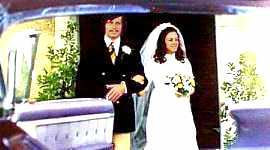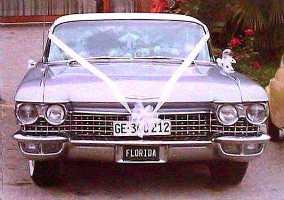 ...and emerges all smiles (above, left) on Yann's arm. At their request, the organist did NOT play the traditional
Wedding March, but rather a hit tune by Ennio Morricone from the movie Once Upon a Time in the West !
[ in those days, I was told I looked like Charles Bronson, who played the title role in that spaghetti western ]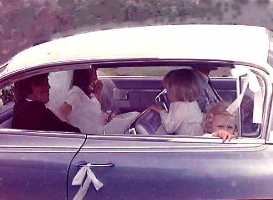 And now, off they go to an uncertain future
...and a lot more old Cadillacs, though none ever as fine as Lily!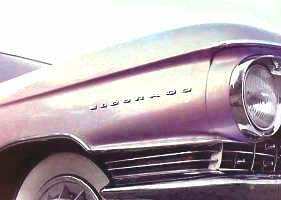 The lowest-mileage used Cadillac ever owned by Yann & Gita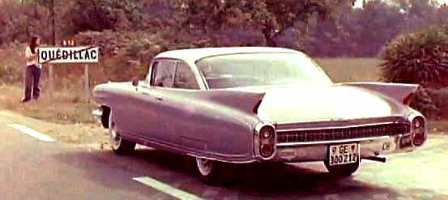 She is "Lavender Lily", a 1960 Cadillac Eldorado Seville they owned in the seventies
She took them on many a pleasant cruise, including this one to Quedillac [not Cadillac] in NW France...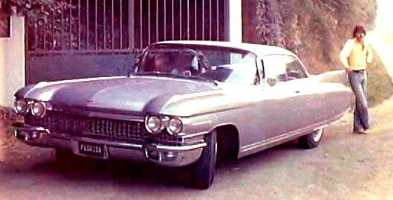 ...and this one through Touraine, with Yann's kid brother Alain [photo], to visit the Loire Valley
Châteaux, long before the Keyaerts sisters opened their fine Cadillac Museum at Langeais.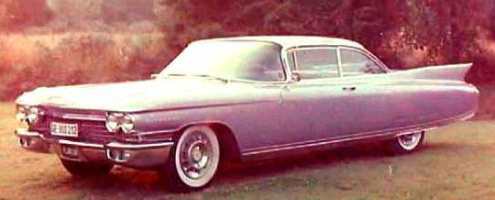 She took them all the way to the Côtes d'Armor, in Brittany, just a ferry-ride away from England...

She loved to get all dolled-up for weddings...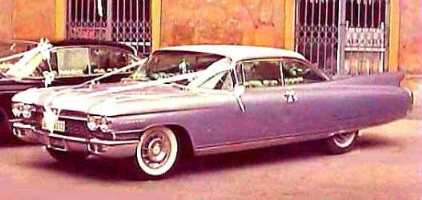 ...like this one in Asti, Italy, where she flirted with a black, 1959 Series 60 Special belonging to the father of the bride
(don't you think her robes blend in perfect harmony with Tuscany's golden ochres and burnt siennas?)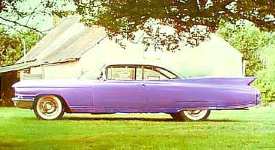 We used Lavender Lily also for the wedding of my brother Malcolm, in Brittany, France, in 1975.
In the background is the derelict Breton fisherman's cottage my late Mom called "home"; located at
St. Quay-Portrieux, near St. Brieuc, she had bought it for peanuts when she retired from teaching!
It was a cold place in winter but warmed up very quickly to our many fond family gatherings there.
© 1996-2020, Yann Saunders, DLM Group, and the Cadillac & LaSalle Club Museum and Research Center Inc.
[ Background image: Lavender Lily in France's Côte d'Armor, Brittany, 1975 ]